Rolling Back the Remnants of Worker Protections:
The Ford Government's Workforce Advisory Committee
On June 15th, Ontario's government announced the striking of the Ontario Workforce Recovery Advisory Committee (OWRAC). This new and hastily announced committee is cause for serious concern, given the Doug Ford government's decidedly anti-worker record. Based on the announcement, the goal of the OWRAC is to propose recommendations to the government for "labour and employment law reforms" contributing to "economic recovery through workforce development and new approaches to employment policy." That is quite a significant agenda. The vague but telling mandate of this committee, its composition, and the astonishingly short time-frame that it has to undertake a process appears to lead toward a rather fundamental re-writing of the already profoundly imbalanced relationship between business and workers.
It is early going at this stage, with little concrete information to draw on regarding precisely what the government sees as a problem and what manner of solutions might be considered. However, not a lot of time is allocated to figure all of that out. Written submissions from the public were due July 12th, less than one month after the announcement of the OWRAC's creation. Given the potential scope of this consultation and review, that is an unheard-of telescoping of time for such an important public policy review process.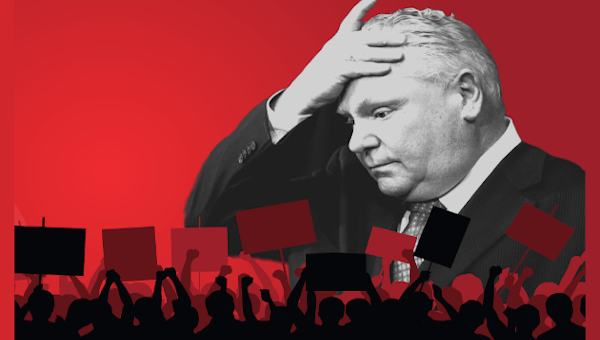 The Previous Review
It is instructive to compare this to the last comprehensive review of the suite of worker protections provided in Ontario labour and employment legislation that was initiated by former premier Kathleen Wynne. The ambitious final report of the Changing Workplace Review was tabled in May of 2017 after a full two years of research and stakeholder consultation. That comprehensive review was led by C. Michael Mitchell, who had previously been a Senior Partner at Sack Goldblatt Mitchell LLP, an Ontario law firm with a long history of advocacy for trade union and worker rights, and John C. Murray, a veteran mediator and arbitrator known for his 'neutrality'. The work of that review relied upon input from academics and experts, with a focus on workplace issues. Specific research projects were commissioned to closely examine specific policy problems and issues. As is typically the case with government public and stakeholder consultations, a discussion paper was released to provide guidance to the themes the review was interested in.
The review process was composed of two phases of consultation that provided stakeholders, and anyone who cared, with an opportunity to give written and oral feedback to the two special advisors. In this first phase, more than 200 public presentations were made at twelve open sessions held across Ontario. In addition, over 300 written briefs were received. All of this was digested and then informed an interim report, which again went through a process of deliberation with stakeholders and where a further 280 plus written briefs were submitted. The final report was based on this broad input from across the spectrum of stakeholders, academic experts, and research projects undertaken directly by Ministry of Labour policy staff.
Rushed Process
Regardless of what one thought of the resulting package of legislative changes, it was a well-designed process, allowing the time necessary for genuine public engagement and policy learning. The current process of the OWRAC allows, as stated in the press release, for approximately four weeks (original deadline of July 12) to draft and submit a written submission. There is no provision for in-person oral deputations and discussion between committee members and stakeholders. This rushed time frame leads to questions about the very legitimacy of this process. It is not a consultation by any definition. Indeed, based on my prior experience as a policy professional at the Ministry of Labour, it appears to be a process in which the policy choices and decisions have already been predetermined, perhaps not by committee members, but rather, by the government. That another 'review' covering much the same policy ground is established with nowhere near the same breadth and depth from a process perspective suggests a desire on the part of the Government of Ontario to rapidly re-write the existing suite of labour protections to favour interests other than those of working families. The rumour is that the government wishes to table legislation once the Legislature returns in Fall 2021.
The second significant issue is that of the composition of the OWRAC. Totally and astonishingly absent is the presence of any worker or any prominent worker-friendly ally on the committee. Susan McArthur, committee chair, is described as an "experienced Corporate Director, venture capitalist and investment banker." And she has been described as a "Conservative Party insider." Mark Quail is an entertainment and technology lawyer with expertise in intellectual property matters. Rohinton Medhora has a doctorate in economics and is president of the Centre for International Governance Innovation in Waterloo. Kathryn Marshall is an employment lawyer. The academic experts include Sean Speer, an assistant professor at the University of Toronto's Munk School of Global Affairs and Public Policy; Mark Beckles, Vice President, Social Impact and Innovation, RBC (Royal Bank of Canada) Corporate Citizenship, with "over 25 years' experience in financial services"; and Vasiliki Bednar, director of McMaster University's Master of Public Policy in Digital Society program and former chair of the federal government's Expert Panel on Youth Employment.
Taken as a whole, the tenor of this committee leans heavily in the direction of business rather than worker interests. The absence of any explicit and credible worker voice within the committee is made rather stark by the dominating presence of a highly business-oriented or technocratic set of members. There is not even the pretense of wishing to appear as a committee comprising a balance of perspectives and experiences.
The marginalization of a working-class voice and experience is not unique to this instance. Labour studies researcher Stephanie Ross and I documented this political practice – as that is what it is – in our book chapter "Policy Analysis and Advocacy in the Canadian Labour Movement: When the Force of Argument is not Enough" (in Laurent Dobuzinskis and Michael Howlett, eds. 2018. Policy Analysis in Canada). There we demonstrate labour's status as a policy outsider with relatively few opportunities to be heard by politicians and key government policy staff. The isolation of workers and worker organizations away from key political/policy venues within the state as political practice has become normalized over the past decades, obviously a function of the balance of class forces and politics more generally. That is another serious issue dealt with very recently by Sam Gindin.
Again, while it is early in the process, the time frame is extraordinarily tight. Word is that there is a desire to table legislation as soon as the legislature returns. In my ten-plus years as a labour ministry policy advisor, this has typically meant the deal was done the day before we had even heard of its existence. We shall see. •