Ontario Hospital Workers: Declining Compensation but Conservatives Want More Austerity
The Doug Ford government in Ontario suggests it must reduce the real wages of hospital workers via Bill 124, and now even proposes to appeal the court decision that found the legislation unconstitutional. However, no such need exists – quite the opposite. Spending on compensation has been shrinking as a portion of hospital budgets for many years.
The result of this shrinkage? The short staffing, workplace violence, staff burn-out, and falling real wages that are currently hobbling hospitals.
Spending on compensation has consistently declined as a percentage of total hospital spending in Ontario:
The decline in compensation is not something intrinsic to modern hospitals. The experience in Ontario is in stark contrast with the experience across Canada, where compensation started at a similar share as in Ontario but is now significantly higher – 3.9% more of total hospital spending.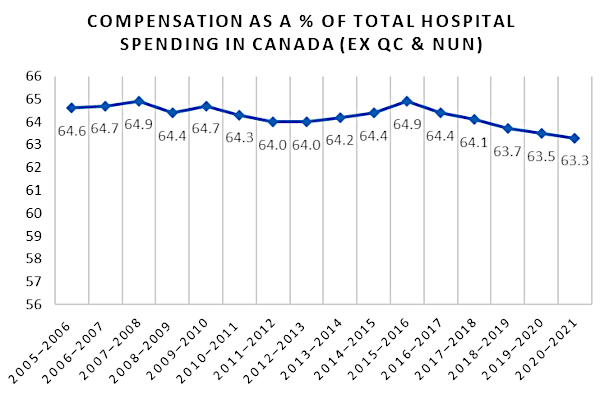 As Ontario actually makes up about 50% of the compensation reported, this actually understates the percentage spent on compensation in provinces outside of Ontario.
The decline in spending on compensation has occurred as spending by hospitals on four pillars of for-profit service has increased rapidly: contracting out, buildings and grounds, drugs and sundry expenses.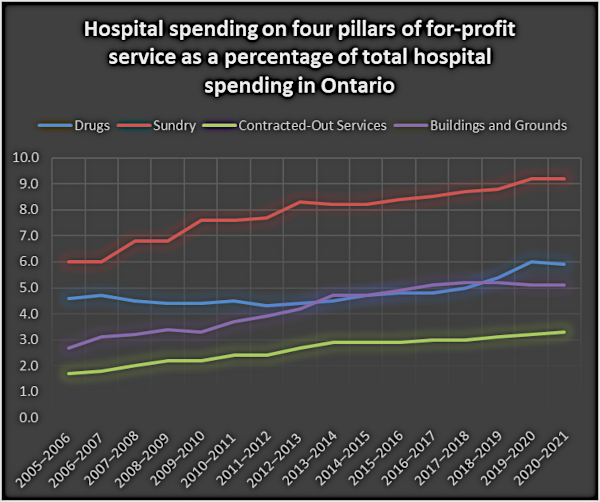 Spending on contracting out has almost quadrupled in dollar terms to over $1-billion. It has almost doubled as a percentage of total hospital spending.
The steep increase in spending on "buildings and grounds" is particularly notable as this period coincides with the introduction of hospital building privatization via so-called "Public Private Partnerships" – the P3s that are so beloved by the PC government. Annual hospital spending in this area is 3.5 times of what it was in 2005/6, yet the Auditor General has reported that we are not doing enough hospital infrastructure work to keep up with need.
Much more money – and we are not even keeping up. The extra expense is consistent with what opponents of P3 privatization warned of 20 years ago when P3 hospitals were first proposed – as well as two previous reports on hospital P3s from the provincial Auditor General. P3 privatization is having no more success in health care than with the 407 highway, the development of Ontario gas plants, or LRT train systems in Toronto and Ottawa.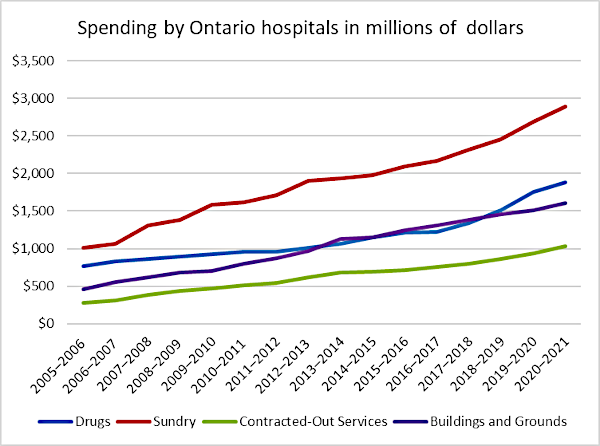 Privatization is wasting our time and treasure. Yet now the PC government is expanding privatization by moving lower acuity hospital patients to for-profit beds operated by home care corporations and surgeries to for-profit mini-hospitals. •
This article first published on the Defend Public Healthcare website.