From Lockout to Blockade at Co-op Refinery: Solidarity with Unifor 594
Members of Unifor 594 and the union's national leadership are waging a bitter battle against Co-op Refinery Complex, a division of Federation of Co-operatives, Ltd, and the company's efforts to force concessions on the workers' pensions. The company is demanding that the existing workforce as well as new hires move to defined contribution pensions, whereby workers contribute and actual pension levels are no longer guaranteed as negotiated but subject to financial market investments.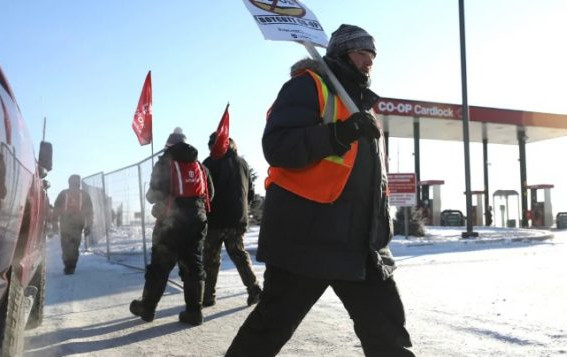 The company has viciously attempted to break the strike, initially through a lockout imposed on December 5, after the union gave strike notice. In response, the 800 workers, members of Unifor Local 594, with the support of the union's national leadership, organized a blockade of the company's Regina refinery.
Since then, the employer has used scab labour – especially dangerous in refinery work – and has relied on two clearly politically driven court injunctions and the use of cops and mass arrests to limit picketing. Fourteen members, including Unifor national president Jerry Dias were arrested for "mischief," and the union was fined $100,000. The union has remained defiant and organized mass picketing, blockades and demonstrations, making the struggle a focal point of union battles in the area. The union is also beefing up the picket lines with support from unionists from across the country.
While the employer crows on about how wonderful the "rule of law" is – a trumped-up law that prevents workers from protecting their futures and jobs – Unifor Secretary-Treasurer Lana Payne commented, "[t]his will not be settled in the courts. This will not be settled by police. We're holding the line. I don't know how much more clear I can be."
The Socialist Project stands in support and solidarity with the members of Unifor 594 and the union's national leadership in this struggle. We support the union's demands for an end to the prosecution of workers exercising their right to picket, removal of the trumped-up charges and injunctions, stopping the use of scabs and demand that Co-op return to the bargaining table and withdraw their efforts to change workers' pensions. •