The passing of a resolution to "develop a Policy Framework for Toronto Transit Fare Equity for consideration by the end of 2015" by Toronto City Council on July 8th, 2014 is a step forward. It reflects a series of struggles by low income people, social activists working in community movements, social agencies, transit activists, and allies in the trenches of the municipal government bureaucracy and government to address a particularly important issue of social justice – equal access to urban mobility – and a significant item in the cost of living. This victory, if small in itself, creates important openings and possibilities for addressing some of the inequalities built into the public transit system, particularly in the austerity-centred politics of Toronto.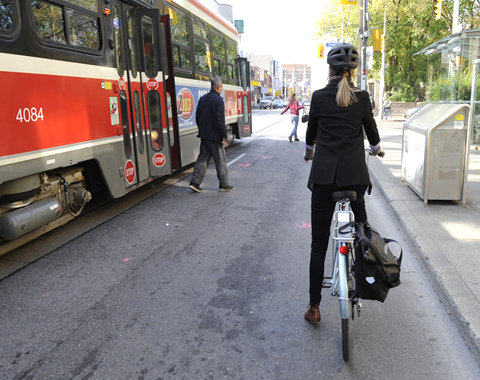 The "Fare Equity" policy is the first time that the city government of Toronto has been forced to recognize that it has an obligation to lower fares for people on low incomes. For the low-income working-class, especially women, public transit plays a key role in their lives. Any material improvement in their lives, the largest users of public transit in the city, merits support.
However, the "Fare Equity" policy is extremely limited in what it proposes for low income people and for what a project of 'just mobility' entails in capitalist societies. This will require movement building, bringing together a small but growing public transit activist
movement and centres of struggle of lower income people around a more politically ambitious and participatory platform. Such a platform needs to challenge existing public transit funding, the pace and form of transit expansion, daily operations for users and workers alike and call for full access to transit for the low income working-class. But we need to pursue all this so that any concrete steps that extend and improve public transit access also move toward, and help build a vision of a completely free, de-commodified, ecologically-responsible public transit system.
Starving Public Transit, Raising the Cost for Working People
The "Policy Framework for Toronto Transit Fare Equity" resolution commits a number of city departments and the Toronto Transit Commission (TTC) to provide a framework and present it to council by the end of 2015. It could take a lot longer to be debated and ultimately serve as the basis of new fares for low income people, seniors and students.
Fares – which are really a form of user fees – are outlandishly high in Toronto even by North American standards, and are the source of between 70-80 per cent of the revenue that pays for operating transit in Canada's largest city. That is the highest 'fare-box ratio' in North America and one of the highest in any industrialized country. In other words, rather than a 'public transit system,' the user fees on mass transit in Toronto make it an almost wholly commercial system operating along capitalist lines (and relatively unsubsidized compared to other transportation modes in the city and the province). There is no permanent, annual subsidy for the operations of the TTC from the provincial Ontario or Canadian governments, Ontario lacking anything but an ad hoc transportation strategy and Canada one of the few countries anywhere lacking a national transit strategy. Up until the hard right Conservative government of Mike Harris was elected in Ontario in 1995, 50 per cent of the public transit system's operations in Toronto were covered by the province. Harris's 'Common Sense Revolution' put an end to that. None of the successive provincial Liberal governments of Dalton McGuinty or Kathleen Wynne have addressed this glaring fiscal misalignment and, indeed, injustice. And Toronto municipal governments, whether led by the political right or the 'progressive' bloc of council, have never developed much of an alternate strategy over the last two decades (with even the much-hyped 'Transit City' project being a piece-meal compromise, accepting the limits of neoliberal funding constraints).
Since public transit systems can never really make a profit and always must rely on state revenues to pay for their operations, without adequate funding, fares and the proportion of operating costs that fares cover, go up regularly. With revenue sources stripped bare, service levels on the TTC continues on a long cycle of deterioration, as an increasingly crowded system is unable to invest in necessary signalling technologies, maintenance and new cars, not to speak of transit expansion into subways and light rapid transit (LRT).
Toronto City Council and various mayors have called on the provincial and federal governments to subsidize the TTC operations for some time. But they haven't aggressively challenged the province or Ottawa, or attempted to replace a substantial component of a necessary subsidy with revenue raised at the city level. Former mayor David Miller campaigned for a 'new deal for cities,' but, like everything else during his tenure, he soon lost attention and deferred to Bay Street's political cautions. Under the current administration of Mayor Rob Ford, the city's contribution to public transit has been frozen or limited since 2010, although the number of riders has steadily increased. As a result, the city's contribution to subsidize the costs of transit operations has declined from $0.93 per rider in 2010 to $0.78 per rider in 2013. It is the lowest subsidy in the U.S. and Canada. (Montreal and Vancouver receive $1.16 and $1.62 per rider, respectively.) The TTC was also hit by a number of strategically important cuts to bus services.
In the most recent 2014 budget, the city's TTC subsidy has increased slightly (to $0.80 per rider), but there are no serious efforts to generate tax increases in order to improve municipal services and, in the case of transit, for the subsidy levels necessary to offset the continued reliance on fare increases. Service levels cannot be maintained at a level that keeps pace with rider needs. Council has proposed a one-time freeze on fares next year, but that resulted from an unpredicted surplus in overall city revenues. The Council was also influenced more by the upcoming municipal elections in October than any political commitment to hold fares in check. Indeed, all the mayoralty candidates, and even most 'progressive' Councillors as well as the mayoralty candidate of the centre-left – Olivia Chow, are essentially running status-quo campaigns that are stifling in their conservatism and largely bereft of alternate thinking and strategy.
Those who rely on public transit the most, people on low incomes who use it to shop, take care of their children's needs and deal with social and work needs, are affected the most by Toronto's rider-pay, 'high-fare' transit policy. They have no other transit options, and have seen their already low incomes increasingly challenged by continued fare increases and service cuts. In a quite direct and deliberate way, Toronto's public transit policy magnifies social inequalities.
The July 8th Fare Equity Resolution
On July 8, the city council passed the resolution to "prepare and implement a workplan to design the Policy Framework for Toronto Transit Fare Equity" with a report back by the end of 2015. It was presented to council through a joint report from the Social Development, Finance and Administration and TTC, and was passed with an amendment by Councillor Chin Lee, to include seniors in the fare policy.
The resolution was passed by a vote of 35-3. (The Ford brothers and Giorgio Mammoliti, darlings of the right-wing on Council, were not present for the vote.) It is really a mandate to provide a series of policy recommendations, to be considered and voted on a number of years into the future. As the report states, "This model will be developed as part of a policy framework and will enable reporting out on the financial impacts of recommended transit fare discount options, starting with the 2017 budget cycle." It is also to be coordinated with the introduction of the PRESTO smartcard fare system.
The resolution was the result of a series of campaigns from below, and the work of a number of city departments, notably the Health Department. It was supported by City Councillor Joe Mihevc. Just how much this will be taken up by the 'progressive' city council incumbents is still not clear. Certainly, those running under anti-capitalist or socialist themes will feature it, along with more robust demands for fare reductions and public subsidies. It is difficult to see how Mayor Rob Ford could support any kind of fare reductions, but already, a more conservative candidate for mayor, David Soknacki, has called for free fares for seniors and low income users in early morning off-peak hours.
The Struggle for Transit Equity: Movement From Below
The passing of the "Fare Equity" resolution by Toronto City Council was the result of a series of organized struggles to push the city as well as the
TTC to even consider any change. Who were some of the people and social forces outside of City Council that fought for this resolution?
The Fair Fare Coalition (FFC), made up of people using and working in social agencies, drop-in centres and community health clinics is led by a core of radical women activists. It has been fighting for low income passes for over four years, organizing demonstrations and various creative and participatory activities. They created a 'no fair' box, that solicited critical comments about low-income peoples' challenges with the public transit system, a video and a cardboard prop of a streetcar. Some of their government contacts, including some of the social democratic city councillors had been giving them the runaround, and much of the recent successful push for the resolution, came from their hard work and activities. They have also carried out a participatory research study of the actual demands for the form of low income passes, and are planning to publish their findings as part of a campaign to shape and influence the outcome of the lengthy process that will precede any city council recommendation.
TTCriders has been building a membership-based organization of transit users. In its first major campaign, it has argued (and mobilized) for the Ontario provincial government to once again fund one-half of the TTC operations budget,
by providing $700-million guaranteed annual funding. That was roughly the percentage that used to subsidize the TTC before the
Harris regime cut the funding. TTCriders have been arguing that regular funding from the province at that level could provide for a twenty cent reduction in fares across the board, a further reduction for people on low incomes, seniors and students, and a 25 per cent increase in service. Their campaign has also included demonstrations (with sardine costumes, dramatizing the overcrowding of transit), rallies, deputations, canvassing, educational materials and sessions in communities in the downtown and outer suburbs. Their stubborn
efforts to pressure the city to increase its subsidies to the TTC, target the province and work with the TTC and the Amalgamated Transit Union (ATU), played an important role in getting the resolution passed.
The Free and Accessible Transit Campaign has argued for the elimination of all fares, calling for public transit to be considered a right, and funded from tax revenues, much like Medicare, as part of a massive investment in public transit, making it the principal form of mobility. It has called for reduction in fares for all, as well as increased cuts for people on social assistance, seniors and students. It operates from an anti-capitalist perspective, and its members work independently, and inside key mass membership organizations, such as the FFC and the TTCriders.
A number of unionized public sector workers, and lower and middle level staff, in various city departments – in particular, Public Health – have worked to
support and popularize the demands and needs of low income transit users. They published a series of studies (such as a particularly useful paper that argues that access to affordable transit is a health issue for working-class people) and worked behind the scenes to facilitate moves to reduce transit fares for people on low incomes, arguing against some of the limitations that might be imposed by some of the more technocratic and upper level staff might end up supporting.
Some of the progressive city councillors (such as Joe Mihevc and Paula Fletcher) and TTC executives have supported demands for either studies of different
ways of helping lower income transit users, or have helped some of the movements that have been calling for increased transit funding from the city and higher levels of government.
ATU 113 has long called for increased public transit funding, and has become a partner in the TTCrider campaign for lower fares and increased services, as well. They have particularly fought against forms of privatization of transit and have participated in the planning of and participated in actions initiated by TTCriders.
Supportive social agencies across southern Ontario have been involved in projects to bring together activist projects involving lower fares for people with lower incomes, with different levels of openness to the real demands of the social movement. These agencies are often dependent on government funding for much of their operations, and some of the individual activists working there have spoken out quite courageously, to challenge the province, city and business-oriented lobbies.
Limitations, Caveats and Threats
As positive as this is, it remains limited in a number of ways. Any such project remains within the framework of a system that generates and reinforces inequality: in housing, incomes, access to neighbourhood services, employment (and precarity), that can't really be addressed by low income transit passes. Real equality would require guaranteed incomes, affordable housing, collective services, affordable public childcare and radical changes to the job market (living wages, rewarding/secure jobs, etc). Whatever important reform we can win around transit subsidies, they remain embedded in a fundamentally unequal system, part of neoliberal capitalism in its latest forms.
Even on transit, inequalities and fundamental challenges remain: public transit remains expensive (fares reflect the lack of provincial and federal subsidies; it isn't recognized as a right to collective mobility choices; preference is still given to private auto; and a collective effort to build accessible public transit as the preferred mode, is yet to happen). For fares to be reduced substantially for all and for public transit to replace the role of auto vehicles, it would require massive new investment in rail (above and below ground), interlocking networks of rail across the province and city, bus and streetcar investment, a change in the shape of how housing and jobs are spatially organized, buttressed by democratic planning mechanisms and steady and adequate funding from higher levels of government. Ultimately, fares are no different than user fees to see the doctor, visit the hospital, use the library, attend the local school or
access recreational programs in the local park or city recreation centre.
People living on social assistance are subject to tests, checks and limitations that are stigma inducing and humiliating, especially with the tendency of some government programs to limit support to those working or undergoing job searches. Mike Laxer (running for city councillor on a platform that includes free and expanded public transit) demonstrated in his Rabble.ca blog of July 8, 2014, that forms of control over people on social assistance and low incomes can be debilitating. And, as John Clarke of the Ontario Coalition Against Poverty and others have argued, these forms of control and stigma work to force people in the lower rungs of the labour market to accept low wage jobs, while undermining the confidence of the rest of the working-class. As long as poverty and inequality remain embedded in the system, this will remain to some extent.
Low Income Transit Passes and the Larger Movement for Public Transit
Like any reform, the city council resolution is a win, but is a limited, partial and highly conditional victory, even if it is a 'win.' Reforms in the capitalist system are always subject to the constant efforts of the powers-that-be to limit them, transform them into meaningless gestures and ultimately demobilize the movements that won them in the first place. As socialists, we have to keep this in mind as we work in solidarity with the individuals and organizations that will be fighting, on the contrary, to deepen, consolidate and widen it – building on the collective experiences that have forced the city to consider low income passes.
As such, we have to try and contribute to building the movement in the following ways. We need to put forward the following demands, and work to have them
accepted by our allies and colleagues in the social movement for low income passes:
Fares shouldn't be tied to any conditionality, only incomes, age and student status. Ultimately, people who will be affected should be organized to express their particular demands here.
Low income passes should be nominal or free, and should allow full mobility, as do current Metropasses (but of course, deep reductions would still be a step forward);
They should be funded by progressive tax on incomes and other sources from the province, city and federal government, not by transit users.
There needs to be a general reduction in the fares charged to all TTC users, tied to subsidies of the system from higher levels of government (as the TTCriders have been arguing as part of their campaign).
While we build alliances with supporters inside the governmental and NGO structures, the key are those people most affected, and the activist strata who
have built and led the movement for low income passes, the social movement from below that has been painfully built over the past few years. We need to organize ourselves to demand these things, not only by having experts argue them through existing channels, but by building the movement to another level that is participatory, collective and covers all the tactics necessary to shape the outcome as best we can.
That would include an educational effort, to win over working people from across the city, through their unions and in communities. Then, there needs to be a series of demonstrations, rallies and mobilizations that pressure decision makers – within the city, the province and the federal government – to make the funding available necessary to win.
Of course, we have to work with our allies in the city government structures, and lobby and pressure city councillors. The seemingly never ending civic election should also be a space to argue for an expanded and widened form of low income passes. The movement will have to develop its own briefs, policy statements and material and organize forums and teach-ins, to deepen the movement while building for low income fares.
The Free and Accessible Transit Campaign argues for building a transit movement on a series of levels in Toronto. We need to keep building a city-wide transit users group, like the TTCriders; a free transit campaign that raises more fundamental set of transit demands that are for decommodification of public transit and anti-global warming in its transit vision; ongoing activist research into the problems of public transit and how to address them and integrate this work with a larger agenda of social transformation; and bringing the ecology movement off the sidelines, centred on markets and green capitalism, and into the struggle for expansive and socially just public transit.
Socialists need to contribute to that movement. The winning of low income passes with minimal limitations, if it proceeds to actual implementation in Toronto, has to be seen as part of a larger struggle against social inequality. This struggle is part of what is, perhaps, our most difficult and most important struggle today, of re-creating the political and organizational capacities of working-class people to contribute to a political movement that again poses a socialist vision. A fully free, fully public, expanded and accessible public transit system is a core component of that vision of social and ecological justice. •