"As for the once-mighty NDP, with long-in-the-tooth party members
dragging the NDP's almost-dead carcass even further left…,
the Saskatchewan NDP may be its own worst enemy right now…"
— Murray Mandryk, Regina Leader-Post, 22 July 2014, p. 6.
Murray Mandryk, the political columnist for Saskatchewan's capitalist press (Regina Leader-Post and Saskatoon Star Phoenix), once again gives the NDP free political advice regarding the dangers of toying with left-wing ideas. He represents a long tradition in Canadian political commentary – the capitalist media have repeatedly warned the CCF (Co-operative Commonwealth Federation) and the NDP about the electoral folly of being too left-leaning. This advice, when followed, has rarely served the CCF/NDP well over the years. We can go back to the efforts to warn George Williams, the Saskatchewan CCF leader, chief organizer, and policy architect from 1935 to 1941, of the folly of ranting on and on about socialism and the eradication of capitalism. He didn't listen, dismissed them as capitalist propagandists, and continued to build the party, refine its program, and, as Leader of the Opposition, prepare a government-in-waiting for the victory he knew would be the CCF's in 1944.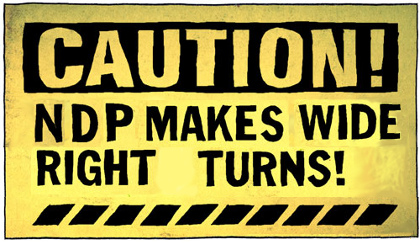 But we don't have to go back that far to reveal the dark fate that awaits the NDP in following such self-serving advice. After all, those were Depression and World War II days and all manner of radical ideas were current. Let us examine more recent evidence of the political stupidity of repeated right turns that are supposed to save the NDP from political disaster.
Shifting to the Right
Just this year Ontario NDP leader Andrea Horwath moved dramatically and very publicly right, leaving the moderate left-wing turf to Kathleen Wynne and the Liberals. Result? Wynne won a majority and the NDP stayed in the basement. Forty-eight per cent of voters stayed home.
Then there was the 2013 B.C. election which Adrian Dix and the NDP were supposed to win, with a solid record of leads in repeated polls up to the campaign. Dix turned right, said business had nothing to fear from an NDP government, and tried to sneak into power, refusing to take stands on key issues in a low key campaign. Dix lost. Forty-eight per cent of voters stayed home.
The record actually shows that when the NDP adheres to its traditional, moderate social democratic program, it does rather better than when it turns even farther right. After all, the right of the spectrum is pretty crowded. When B.C.'s NDP premier Mike Harcourt was driven from office over "Bingogate" in 1995 everyone expected the NDP to go down in the next election. But the unexpected happened. Left-leaning NDP leader Glen Clark signalled a return to moderate social democratc principles, which Harcourt had abandoned for neoliberalism, and won the 1996 election. Clark was driven from office in 2000 by a breach of trust charge trumped up by the Liberals and the media. So we will never know how he might have fared in an election on his record in 2000 or 2001. In Saskatchewan, after two terms of right wing Liberals (1964-71), the NDP under Allan Blakeney were returned handily in 1971 on a wide-ranging, social democratic platform. And after two terms of right-wing Tories (1982-91), the NDP under Roy Romanow were returned handily in 1991, a result most expected would herald a return to social democracy.
Mother of all Right Turns
In the early 1990s the NDP in every province and federally made the mother of all right turns, abandoning social democracy altogether and embracing neoliberalism. How did they fare? Did this usher in an era of triumph for the NDP, now cleansed of its socialist and social democratic sins? There followed a litany of disasters for the NDP.
Bob Rae's Ontario NDP government, which won an unexpected 1990 victory on an anti-neoliberal, modest social democratic platform, turned right after one year and commenced a campaign of cuts and union busting. Ontario NDP support fell like a stone and the government was wiped out in the next election.
In Saskatchewan, Romanow's 1991 win brought in an unexpected neoliberal regime which commenced a campaign of cuts that went further than those of the previous Tory government. Support for Romanow crashed, though he won a "least-of-evils" victory in 1995. By 1999 Romanow's career was over, as he limped into power leaning on two Liberal crutches. He retired.
His replacement, Lorne Calvert, was expected to lose the 2003 election, but he moved slightly left to a moderate social democratic platform and won an unexpected majority, marking the last time the Saskatchewan NDP ran on a social democratic program.
The Saskatchewan NDP has not won an election since, nor are they expected to win the next election under the current leader. Let's look at the voter turnout. In 1991, when Romanow won with the public expecting an end to neoliberalism and a return to moderate social democracy, the voter turnout was 83 per cent. When Romanow limped to a shaky victory in 1999, 65 per cent voted. In 2003, when Calvert ran a modestly left wing campaign and won, 71 per cent voted. The NDP vote increased from 157,046 in 1999 to 190,925 in 2003.
How has the federal NDP fared since its right turn to neoliberalism in 1993 under leader Audrey McLaughlin? The last time the federal NDP ran on an aggressive but moderate social democratic platform was in the 1988 Free Trade election. Under Ed Broadbent the NDP won 43 seats with 20 per cent, its best showing in history: 10 seats in Ontario, 2 in Manitoba, 10 in Saskatchewan, 1 in Alberta, 19 in B.C. and the Yukon/NWT seat. How did the NDP fare after the right turn to neoliberalism in the early 1990s? In the 1993 election the party was reduced to 9 seats and 7 per cent. How did the NDP fare in those provinces with NDP governments that turned right?: wiped out in Ontario (loss of 10); 2 seats in B.C. (loss of 17); 5 seats in Saskatchewan (loss of 5).
"Layton was mistakenly labelled a 'leftie' by the media, but what resonated with Canadians and the Québécois were his neoliberalism with a smile and a hug, and special status for Quebec."
It took four elections for the federal NDP to recover, culminating in the 2011 election which saw Jack Layton win 103 seats with 31 per cent. Layton was mistakenly labelled a "leftie" by the media, but what resonated with Canadians and the Québécois were his neoliberalism with a smile and a hug, and special status for Quebec.
So much for political wisdom according to Murray Mandryk. The problem is, of course, that the NDP leadership across the country continue to listen to his advice and others like him in the capitalist media across the country. I do agree with him on one point, however. The NDP here and across the country is "an almost-dead carcass," but not because it has been dragged left. Rather it is dead and useless for those who want real, progressive change because its leadership has been dragging it right for decades. They stand for nothing meaningful.
Canadian politics desperately needs a new socialist party to liven up the debate and provide a real choice when we engage in elections and cast our ballots. •