Resisting Amazon Capitalism
In mid-2021, Amazon's new Africa headquarters in Cape Town drew scores of indigenous protesters over the construction of a $291-million (US) mixed-use corporate site. Over 50,000 people – including indigenous, social justice, and environmental groups – submitted complaints about the project's economic, cultural, and environmental impact on an indigenous heritage site. As reported in Bloomberg (2021), Tauriq Jenkins of the Goringhaicona Khoena Council likened Amazon's encroachment into Africa as a modern form of settler colonialism. "Amazon has the wealth and power of the Dutch East India Company back in the Day" (Wilson and Prinsloo, 2021). Indeed, all over the world, ordinary people, workers, and communities are fighting back against Amazon.
Our recent edited volume, The Cost of Free Shipping: Amazon in the Global Economy, interrogates the significance of the rise of, and resistance against what we call 'Amazon capitalism'. Through this term, we refer both to the enormous and rising concentration of corporate power embodied by the Amazon corporation, as well as the distinctive style of capitalism that this corporation has actively promoted: a combination of one-click instant consumerism, new technologies of workplace automation, electronic surveillance of workers and consumers, and a heavy reliance on financial capital, tax avoidance, and corporate welfare. We argue that this business model, including Amazon's expedited 'free shipping', that is increasingly mimicked by other retailers, creates enormous costs for both workers and communities alike. Warehouse workers are pressured to work quickly through constant electronic monitoring and suffer high rates of injury and stress, while all of those home deliveries create an enormous carbon footprint and high levels of air pollution, especially in the communities where warehouses are concentrated (Alimahomed-Wilson, Allison and Reese, 2020).
Amazon's increasing dominance in the logistics-driven global economy is made possible by the large-scale exploitation of a vast, and often racialized, blue-collar labour force employed within warehouses and 'last mile' delivery. By 2021, Amazon's global workforce reached more than 1.3 million workers, in part due to increasing consumer demand for home-delivered goods. Amazon is now the second largest private employer (behind Walmart) in the United States. Amazon's workforce is even larger if we include Amazon's subcontracted last mile delivery workers, at least 500,000 workers and growing. The rise of Amazon exemplifies the growing class and racial divides within contemporary, neoliberal capitalism. In the United States, Amazon's underpaid warehouse workers and delivery drivers are disproportionately Black and Latinx, while they are often migrants or refugees in Europe, and lower caste workers in India (Alimahomed-Wilson and Reese, 2020). Meanwhile, Jeff Bezos, Amazon's white-male founder, remains the wealthiest person on earth with a personal fortune of more than $211-billion (US) by July 2021.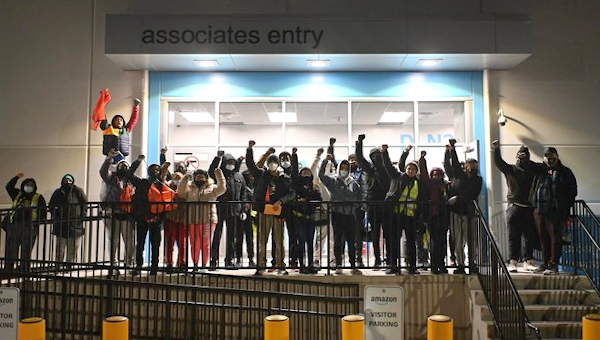 Dehumanizing Conditions and Growing Worker Resistance
Amazon's entry-level blue collar warehouse workforce, known as 'warehouse associates', earn poverty-level wages, especially in places where the cost of living is high. Warehouse work is physically grueling, especially for those workers employed full-time, who typically work for at least ten hours a day and more if working overtime. The pressure to work fast and hard contributes to very high rates of serious workplace injuries and employee turnover, higher than the industry average. The constant electronic monitoring of warehouse workers' productivity rates puts pressure on them to work quickly in order to 'make rate', something that many workers find unreasonable and stressful. Workers also express concerns about insufficient health and safety protections of workers during the pandemic (Alimahomed and Reese, 2020).
In the US, efforts to organize Amazon warehouse workers emerged in 2018. By then, Amazon warehouse workers had already been unionized for years in Europe, where they have won improvements in their wages, benefits, and workplace safety. European labour laws are generally more favorable to workers and unions than in the US, where employers tend to be hostile to unions and face only light penalties if they engage in union busting. Nevertheless, organizing Amazon workers, including both high tech and warehouse workers, is on the rise in the United States, as we and our contributors document in The Cost of Free Shipping.
Worker centers, such as the Awood Center in Minnesota, have been on the forefront of Amazon worker organizing in the United States. For example, Shakopee workers, mostly East African Muslim immigrants, organized an impromptu work stoppage in March 2019, involving about half of 60 stowers, in response to a work speed-up. They voted on a list of demands, including more reasonable work rates, to 'stop counting prayer and bathroom breaks against rate', ending the use of temporary workers, and better maintainance of their equipment in order to prevent injuries. At that time, stowers were expected to carry out up to 250 tasks per hour and to only have one error per 2200 items (compared to one error per 1000 items in 2017). Three women affiliated with Awood also filed federal complaints against Amazon for discriminating against Black and Muslim workers. In Southern California, warehouse workers, predominately Latinx, affiliated with the Warehouse Worker Resource Center (WWRC), filed legal complaints against Amazon's failure to protect their health and safety during the pandemic. State regulators ruled in favour of the workers, citing Amazon for failing to provide sufficient health and safety training related to Covid-19.
Some of the most effective organizing of Amazon warehouse workers has been carried out by militant, grassroots rank-and-file warehouse workers themselves, through Amazonians United. Amazonians United is a worker-led movement of Amazon workers who are collectively building an organization of workers willing to step up, work together, and take collective action to transform their workplaces. For example, Amazonians United Chicagoland won various improvements in their working conditions, including better access to masks and cleaning supplies and paid time off for part-time warehouse workers during the pandemic (Alimahomed-Wilson and Reese, 2020). Some of the leaders were written up for 'violating social distancing' among other charges by management. This prompted workers to file a complaint with the National Labor Relations Board (NLRB), accusing management of violating protected activities. In March 2021, the NLRB ruled in favour of the workers.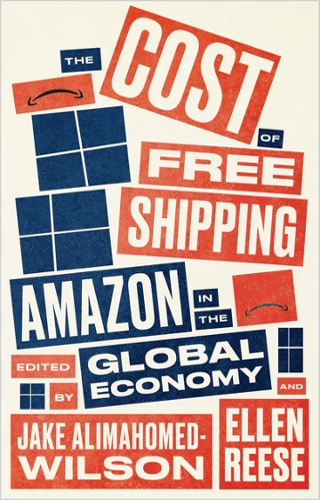 The Retail, Wholesale and Department Store Union (RWDSU) has been on the forefront of efforts to unionise Amazon workers. In 2019, for example, they organized Amazon workers in Staten Island, New York. In 2021, RWDSU carried out a well-publicized albeit unsuccessful campaign to unionize Amazon's warehouse workers in Bessemer, Alabama, where the vast majority of workers are Black. This campaign captured the public and media attention through a series of collective actions by warehouse workers and their allies from coast to coast. In response, Amazon barraged workers with anti-union literature and social media communications, implored workers to vote against the union, and even threatened to close the facility and lay off workers if the unionization campaign succeeded. Under such pressure, the union suffered a massive defeat in the union election with only 738 out of 5800 workers voting in support of granting RWDSU collective bargaining rights. Seeking to hold Amazon accountable for violating workers' collective bargaining rights during this unionization campaign, the RWDSU filed a total of 23 objections with the NLRB (Lyons, 2021).
Despite defeat in Bessemer, support for the unionization of Amazon workers appears to be growing among both Amazon warehouse workers and unions. Along with RWDSU, the Service Employees International Union, Unite the Union (UK), Amazon Workers International (AWI), the United Food and Commercial Workers Union, and, most recently, the International Brotherhood of Teamsters, have joined the effort to organise Amazon workers and their allies in the United States (Alimahomed-Wilson and Reese, 2020; Kim, 2021).
The Struggle Against Amazon Capitalism is Just Beginning
In the United States, Black and Latinx workers and their communities have been on the forefront of resisting Amazon, organizing strikes, pickets, and protests as well as filing legal complaints against racial discrimination and health and safety violations. They have also formed new worker organizations. Many worker activists have faced employer retaliation, including unfair firings that were facilitated by the high level of electronic surveillance of Amazon's workforce. Nevertheless, Amazon workers in the US, like their counterparts in other nations, have bravely organized and won vital improvements in working conditions, including increased health and safety during the pandemic. In these ways, warehouse workers are building worker power and joining the transnational fight against Amazon capitalism. As Amazon grows increasingly powerful, it remains a strategic site for building transnational labour alliances and for uniting movements – locally, nationally, and globally – that are fighting for greater democracy, public health, immigrant rights, and for environmental, economic, and racial justice. •
References
This article first published on the Global Labour Column website.