Striketober and the Gig Economy
What does 'Striketober' mean for the gig economy?
Is something stirring among the workers? There are signs of a noticeable uptick in strikes internationally. In the US, where trade unions have been shattered by decades of neoliberalism, an October strike wave, dubbed 'Striketober', includes John Deere manufacturers, Hollywood film workers, nurses, building engineers, auto parts workers and Instacart gig workers.
The Instacart strike, organized by the grassroots Gig Workers Collective, took place yesterday [16 October], and followed a campaign for consumers to #DeleteInstacart over collapsing pay, unsafe conditions and the unfair ratings system at the Amazon company.
It's not only in the US. In the UK, the combination of a labour shortage, rising prices and a supply chain crisis is pushing workers to use their leverage to push for higher wages and better conditions. The climate summit in Glasgow, COP26, will be marked by train strikes, while bus workers are also striking for three weeks demanding higher pay. Lorry drivers in Unite the union are seizing on the shortage of drivers by threatening crippling strike action over the Christmas period unless pay and conditions are improved drastically.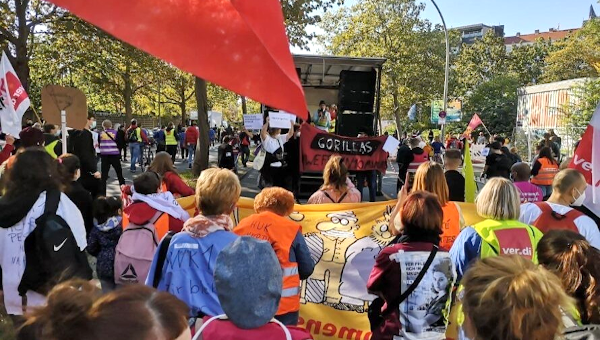 Bigger Slice of the Pie
What about in the EU? There are signs in Germany, with inflation reaching a 29-year high of 4.1% in September, that workers want a bigger slice of the pie. The Financial Times reports that unions are entering negotiations demanding above-inflation wage increases, with lower unemployment an additional factor in giving workers' more confidence. The number of construction companies stating a lack of workers were limiting their activities hit a new high of 27%.
What does all of this mean for the gig economy? One possible outcome is that platforms will have to offer higher pay and potentially greater employment security to attract and hold on to workers. If they do not, gig workers with little attachment to the platform could look elsewhere, or they could decide that taking strike action is now worth the risk.
Gig workers have been treated by platforms as easily replaceable and thus easily disposable, but what if that were to change? The growth in industrial action we have seen this year in Europe's gig economy may just be the start of something. •