Green Jobs Oshawa and a Just Transition
One year ago, GM announced the closure of the Oshawa Assembly Plant. Workers in the community faced the crushing reality that their livelihood was being stolen. At a time of record profits, in the billions of dollars, GM showed a complete disregard for thousands of workers and their communities.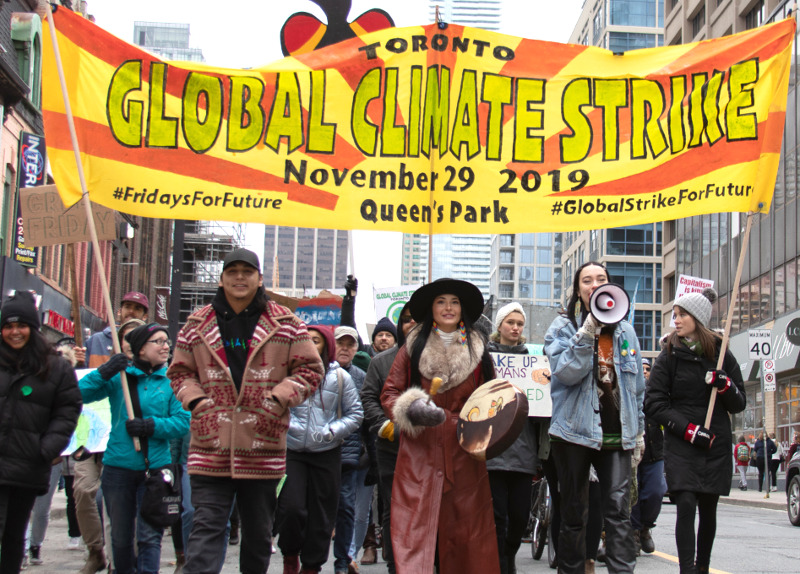 Out of this devastation Green Jobs Oshawa was born. Green Jobs Oshawa is a coalition of workers, environmentalists, academics, and community members. We recognized, in the midst of a climate crisis requiring immediate action and a community facing massive job loss and disruption, the need for a bold idea: bring the plant under democratic control through government ownership and build battery electric vehicles or other products that meet community need instead of corporate greed.
Green Jobs Oshawa recognizes we must take on both climate justice and social justice. The environmental movement and the labour movement must come together and demand with a united voice a Workers Green New Deal that fights the climate crisis and fights for workers and communities.
Healthy, Resilient Communities
Not only do we need to move away from fossil fuels and wasteful consumption – from harm and devastation – but we must build healthy, resilient communities while creating a strong sustainable economy.
We must demand massive government investment in green energy, green technology, and electrification. The government must take action, such as the immediate electrification of government fleet vehicles and public transportation. This must include public ownership of key manufacturing and resource sectors.
The environmental movement and the labour movement must demand this transformation include just transitions for workers and communities.
What Is a Just Transition?
A just transition means environmental justice, social justice, and economic justice. It means leaving no community or worker behind while creating a sustainable future.
A Just transition is intentional. It is done with commitment and planning. It means properly funding strategies for success.
A just transition is about respect. Respect for our planet, for the environment and respect for each other and the future.
We need to invest in people not profits, protect communities not corporations, and we need to think bigger than we ever have before. Public need must come before corporate greed. Corporations continue to show complete disregard for environmental and social devastation caused in the pursuit of profits and they won't stop if we don't demand change.
We need to change the system. This is the way to protect communities, provide decent jobs, and create a sustainable future for the planet.
And Green Jobs Oshawa proposes a concrete example of something that could be done immediately if the political will is there. Make use of the Oshawa facility, electrify government fleet vehicles, and provide thousands of workers in the community with good jobs.
We can't make this happen without you! Please go to www.greenjobsoshawa.ca and send a message to government. We need change. We need action. And we need to make sure no one is left behind. •
This article is a revised version of a speech at the Fridays for Future Climate Strike in Toronto, 29 November 2019.