Iranian Workers Condemn the Killing and Violent Suppression of Protesters
On November 15, 2019, following a sudden 300% gasoline price hike, protests erupted across Iran, mostly by working-class and underprivileged people. Dissatisfaction among Iranians is at such high levels that in just 48 hours mass protests spread out to more than 100 cities.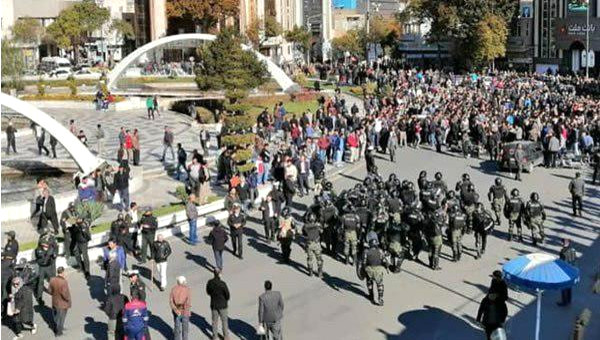 However, these righteous protests by the oppressed people were crushed and bloodied in the most cruel and ruthless way. Reports indicate that hundreds, as young as 13 and 14 years-old children, were shot dead. At least another 1,000 were injured and more than 8,000 detained. State officials, in an internationally unprecedented move, blocked the Internet in the whole country and even disrupted cell-phone services in many areas. Military and security forces along with plain-clothes officers were unleashed to silence the protesters by lethal force and shooting directly at protesters.
The Syndicate of Workers of Tehran and Suburbs Bus Company (SWTSBC) strongly condemns the bloody suppression of protesters, the majority of whom were working-class and underprivileged people. There is no acceptable justification for these illegitimate acts of repression. The ruling government's security apparatus has for years suppressed peoples' peaceful protests, including by workers, teachers, and students. It has punished protesters by subjecting them to physical violence and by condemning them to lengthy prison terms and heavy lashing sentences. While authorities deceptively claim that the right to peaceful protest is respected, the President openly declares that turning off vehicles on the road is not an act of peaceful protest! This begs the question of what kind of protest is considered peaceful in their mind? Why the workers of Khatoon Abad Copper Mines, who were merely demanding their right to work, were attacked and killed by air and ground gunfire? Was it not the peaceful gathering of workers and their supporters on the International Workers' Day that was crushed recently? Or is it not that dozens of labour activists, including members of our union, are facing lengthy prison sentences only because they have participated in a plain and simple labour protest?
Three Decades of Attacks Against the Working-Class
The fact of the matter is that November 2019 nationwide protests are the continuation of mass protests that started in December 2017 (Day 1396 Protests) resulting from more than three decades of continuous and sustained attacks against the working-class and oppressed people by the capitalist system in Iran and its governments. The existing profound class division in Iran is the result of the government's neoliberal austerity policies, pro-capitalist labour law reforms, depriving millions of workers of fundamental labour rights, acceding to IMF and World Bank models, including economic liberalization such as "Structural Adjustment Programs" and "price liberalization," extensive privatization, commodification of the education system, free trade zones, wage suppression, massive layoffs, cutting off subsidies and raising prices, embezzlement, corruption, looting of public resources and the social security organization, allocating astronomical salaries and benefits to government officials and authorities, and transferring billions of dollars abroad with no accountability.
Despite economic sanctions in recent years, there is a growing class of corrupt capitalists and government connected super wealthy who are living extremely luxurious and aristocratic lives. There is an undeniable new phenomenon called "the Rich Kids of Iran." In contrast, there are more than 50 million working families with nothing to eat and millions of child labourers. Sleeping in cardboard boxes, living in shanty towns, homelessness, "Kolbars" or porters who carry goods on the back across the border, street peddling, prostitution, sifting through garbage for food, widespread addiction, and millions of unemployed youth without any government support are among other rampant phenomenon in Iran.
In this context, even the most basic social and civil rights, including the right to freedom of speech and expression, have been viciously denied to ordinary people, students, women, national and religious minorities, and social, political, environmental and cultural activists. There has been a systematic effort to prevent any form of collective protest by suppressing and banning the formation of independent unions or any other working-class organization and federations, national workers' parties, or social and political organizations in other sectors of society.
Protests are Spreading Globally
It is important to emphasize that on the international level, neoliberal policies and the economic austerity of the capitalist governments have led to unprecedented protests by the working-class and the poor, and we are now witnessing a huge wave of mass protests from the Middle East, Africa and South America, and even in the heart of Europe. The working-class and the poor of the world have become increasingly defiant of the inhumane invasions of capitalists and their governments. In countries such as Iraq, we have witnessed the brutal killing of hundreds of protesters, in Chile we have witnessed the growing suppression of protesters, and in Bolivia we have witnessed a military coup and the suppression of the working-class and its indigenous people. However, the resistance and struggle of the world's most disadvantaged and oppressed against these injustices cannot be stopped. The capitalists and their government in Iran will also find it futile to suppress and slaughter the protesters. This is a major global movement for economic and social justice, and the struggles of the workers and the deprived people of Iran is a part of that.
The Syndicate of Workers of Tehran and Suburbs Bus Company regards the right to protest and freedom of association as indisputable rights of all people, including workers, teachers, students and wage earners. We express our condolences and sympathy to the families of the deceased protesters and demand that all those responsible for ordering and the killings of protesters must be brought to justice. We also demand the immediate and unconditional release of all those who have been detained in connection with the protests. We call on all independent workers' and civil rights organizations and activists in Iran and all workers' and labour organizations around the world to strongly condemn the killing and violent suppression of protesters and to support the struggles of workers and impoverished people in Iran. •
Please send your protest letters to:
Leader of the Islamic Republic
Ayatollah Sayed 'Ali Khamenei
Email: info_leader@leader.ir or contact@leader.ir
President of the Islamic Republic of Iran
Hassan Rouhani
Email: media@rouhani.ir
The Judiciary of the Islamic Republic of Iran – High Council of Human Rights
Email: info@humanrights-iran.ir
Permanent Mission of the Islamic Republic of Iran to the United Nations
Email: iran@un.int
Cc: vsyndica@gmail.com