Kashmir, Solidarity and the Canadian State
In his essay, "India's Kashmir Crackdown Poses Risk of War," John Riddell argues that India unilaterally revoked the autonomy of the state of Jammu and Kashmir, flooding the region with troops, imposing a curfew, and shutting down all communications, and imposing direct rule by New Delhi, India's Hindu nationalist government, under the leadership of Narendra Modi of the Bharatiya Janata Party (BJP), radically increased the dangers of regional war. The Indian left immediately denounced the measures and called Jammu and Kashmir occupied territories (further drawing parallels to Occupied Palestine). In turn, this raised questions of international solidarity for the anti-war movement, and in Canada the demands to be placed on the Canadian state. Here Richard Fidler and John continue to discuss the Indian intervention into Kashmir and solidarity responses in Canada.
I agree entirely that Kashmir deserves our solidarity in the face of the Indian government's repression and denial of its constitutional rights. However, I think we should be specific about what is meant by defense of Kashmir's self-determination. In this regard, I question some of what John says about Canada's diplomatic role in the past concerning Kashmir.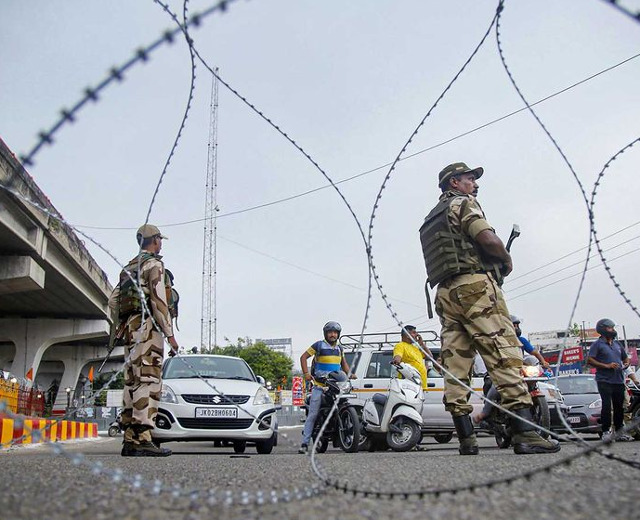 The Kashmiri question is a product of the partition of the Indian subcontinent by Britain when it was finally forced to end its direct colonial control following World War II, in the face of a powerful independence movement. In a classic application of imperialist "divide and rule" politics, Britain established Pakistan in the predominantly Muslim territory, India in Hindu dominated territory. More than 550 princely states within colonial India that were not directly governed by Britain were to decide whether to join either of the new states or to remain independent.
The state of Jammu and Kashmir, which had a majority Muslim population, was governed by Maharaja Hari Singh, a Hindu. Singh wanted independence for Kashmir. However, Pakistan pressured Kashmir to join it. Pro-Pakistani rebels, funded by Pakistan, took over much of western Kashmir. In September 1947, when Pashtun tribesmen from Pakistan invaded Kashmir, Singh sought military assistance from India. Upon the insistence of the British governor general Lord Mountbatten, India required the Maharaja to accede sovereignty to India before it could send troops. Although India granted partial autonomy to Kashmir – now nullified arbitrarily by the Modi government – it promised that the constitutional Instrument of Accession would later be submitted to a "reference to the people," who could "decide where Kashmiris want to live."
Decisions Delayed
No such plebiscite or referendum was held. Instead, the newly formed United Nations Organization, in successive resolutions during 1948, called for both Pakistan and India to withdraw most of their troops from Kashmir, followed by "a free and impartial plebiscite to decide whether the State of Jammu and Kashmir is to accede to India or Pakistan" under UN supervision. There was no provision for any other option, such as Kashmir's independence.
As John states, "Canada's government played an active role in shaping the terms of armistice, and for a time a Canadian general, Andrew McNaughton, headed the armistice commission." McNaughton was now serving as President of the UN Security Council, his career as Canada's Minister of Defense having been cut short when he was defeated in two successive by-elections in 1945. In his report to the UN in December 1949, he reiterated that the plebiscite, "to take place as early as possible," would "settle this issue between the Governments of India and Pakistan."
Mediating the Conflict
Canada had only recently obtained control over its foreign policy, through the Statute of Westminster in 1931. McNaughton's role was consistent with the intention of the newly formed Department of External Affairs to carve out a role for this country as a junior imperialist power capable of performing as an intermediary in international conflicts that the larger powers like Britain and the United States, its closest allies, were unable to do. Within this context, Canada played a major role in the formation of the State of Israel. Mediating between India and Pakistan, the two huge former colonies of Britain, was one of Ottawa's initial attempts to make a name for itself as a "peacemaker" or "peacekeeper" in disputes that in one way or another threatened to destabilize geopolitical imperialist interests.
In 1956, Prime Minister Lester Pearson made this explicit when he got the UN to establish a "peacekeeping force" to resolve the crisis resulting from the British-French-Israeli invasion of Egypt after it nationalized the Suez Canal.
At the same time, of course, Canada was equally willing to commit its own military forces in defense of imperialist interests, as its participation in the founding of NATO and its role in the Korean War, clearly indicated.
Referring to Canada's early role in the Kashmir conflict, John says that "in recent years, Canada has abstained from such initiatives, and its government is now an obedient ally of both the US and Israel…" But is there really such a qualitative difference between its conduct then and its foreign policy stances today?
John writes: "Given that Kashmir's disputed status was originally established recognized [sic] by the United Nations by calling for a referendum, the UN would seem to have some responsibility to assist in overcoming" the crisis in Kashmir. He cites a June 14, 2018 report by the UN High Commission on Human Rights calling for an investigation of human rights violations. That report urges both India and Pakistan to "[f]ully respect the right of self-determination of the people of Kashmir as protected under international law" but without more – not even a reference to a plebiscite limiting voters to a choice between joining India or Pakistan, let alone the choice of an independent state.
Kashmiri People's Aspirations?
What do the Kashmiri people want? It is hard to tell at this point, especially from afar. A 2010 survey by the conservative London-based Royal Institute of International Affairs (a.k.a. Chatham House) found that 50% of people in Pakistan-occupied Kashmir favoured accession of the entire state to Pakistan, but 44% favoured independence; on the Indian side, 28% preferred accession of the entire state to India, 43% favoured independence and 19% favoured the status quo. In the predominantly Muslim majority Kashmir Valley, the main area of unrest, support for an independent Kashmir varies between 74% and 95%, according to this survey.
Perhaps a sovereign and elected Constituent Assembly in Kashmir should be the recommended means of deciding these issues, as at least one of the international far-left tendencies argues. However, it is hard to find any evidence that either India or Pakistan would accept that course, and there appears to be no support for it in or through the United Nations, John's hopes notwithstanding.
In a 2018 article on the issue, John reported favourably on a conference in Mississauga convened by the Kashmir Welfare Society (KWS). Its 200 participants, he said, called on the government of India (and not of Pakistan?) to withdraw troops from Kashmir in order to permit an "enabling environment" for implementation of the UN's resolutions calling for a plebiscite to determine the territory's future. However, as I indicated, those resolutions, while purporting to favour self-determination for the Kashmiris, have always allowed them only one choice: to join Pakistan or India, not independence.
I could find no further particulars on the Kashmir Welfare Society's Facebook site. However, a guest speaker at the KWS event, John reported, was President Sardar Masood Khan of Azad Kashmir, the Pakistan-administered portion of Kashmir. He "described … a broad unarmed protest movement in Indian-administered Kashmir that seeks self-determination for this territory [my emphasis]." Question: Does the KWS conflate its concept of "self-determination" for Kashmir with Pakistan's control of the entire territory? •
Kashmiri Self-Determination and Canadian Solidarity
John Riddell
Thanks to Richard Fidler for his insightful comments on the Kashmir conflict's origin and character. Before responding, a quick update on Kashmir solidarity in Toronto.
The action advertised in my article, ('Stand with Kashmir: Decolonize, Resist, Dignify') took place as planned on August 10, with about 300 participants. Despite the short notice, the event was well planned, with effective speakers, posters, and chants. Supporters of the Modi government did not put in an appearance. Speakers pointed to the parallel with Palestine in warning that Modi appears to be planning a settler-colonial venture in Kashmir.
A more ambitious action is planned for August 18: Stand with Kashmir End India's colonization of Kashmir, Rally at 10 am, Nathan Phillips Square at Toronto City Hall.
Now, as to Richard's commentary, thanks to Richard for filling in the historical background and also highlighting the question of whether Kashmiri self-determination encompasses the option of an independent Kashmiri state as well as of annexation of Kashmir (to India or Pakistan).
In such situations, where self-determination may be achieved in different ways, socialists are guided by the opinion of the oppressed people themselves and the demands raised in their liberation struggle. As Richard notes on this point, "What do the Kashmiri people want? It is hard to tell at this point, especially from afar."
A New York Times photo of a peaceful demonstration in Srinagar, Kashmir, which was later fired on by India's security forces, showed several Pakistani flags. (The photo is no longer on line.) But at the August 10 demonstration in Toronto, Pakistan was simply not mentioned, and I saw no Pakistani flags or insignia.
The Kashmir event in Missassauga last year, to which Richard refers, was organized to honour the president of Azad Kashmir, the Pakistan-administered portion of Kashmir. Speakers compared Pakistan's conduct toward Kashmir favourably with that of India. I do not recall hearing any call for annexation. The UN human rights (UNHCHR) investigation was hailed as a victory, and participants were asked to make it widely known. In terms of self-determination, speakers called for implementation of the original UN referendum decision 70 years ago.
There's a parallel here with demands for implementation of UN decisions on the Palestine issue, which reflect an effort, including by Palestinian forces, to pose goals within a framework of international law, despite the inequity of the UN's overall role.
Independence Option?
It's useful that Richard has posed the question of an independence option. What have Kashmiri self-determination activists been saying about this in Kashmir (to the extent that they can voice their opinions) and internationally? It would be good to know more.
I was asked to speak at the August 10 rally, so I had to consider what slogans were appropriate. I thought the key demands were (1) an end to Modi's war on Kashmir – "troops out" – and (2) for Canada to call for self-determination. I did not intend to raise the question of the form of self-determination, without specifying the form that self-determination should take. I wanted to broaden the solidarity efforts without posing as an outsider an issue that could prove divisive.
In the end, I had to leave the event before speaking, but my article was written in that spirit.
One leaflet distributed at the event by a Toronto-based socialist group did call for independence for Kashmir – indeed, socialist independence. That struck me as not the best approach, but the question is certainly worth discussing.
Richard is right to stress the consistently imperialist character of Canada's foreign policy going back to 1945 and before. Within that framework, each of Canada's actions on the global stage obviously needs to be judged on its own merits.
In the case of Canada's policy toward Kashmir, it is the Kashmiri activists themselves that stress the contrast between what they regard as Canada's constructive role in the 1940s and its harmful silence today. As my article said, "Even today, that fact [Canada's role in the late 1940s] is remembered with gratitude by Kashmiri self-determination activists." •