Scapegoating Dr. Hassan Diab in France and Canada:
The Varieties of Moral Experience
The fate of Dr. Hassan Diab is being determined by an absence of morality as in scapegoating, and by an absolutist moral stance that law is engraved in stone and that the State's duty is limited to examining compliance with the law.1 In Dr. Diab's extradition case, appeals were rejected and ultimately blamed for preventing efficient processing of extradition. The Canadian government refused to rule on the truthfulness of evidence and on the possibility of a fair trial in France. This article focuses particularly on Canada. The background is the end of the Cold War when the scourge that permitted scapegoating shifted from communism and fascism to Islam.
This April 2023, France convicted Dr. Diab in absentia of bombing the Rue Copernic synagogue in 1981. The trial was a cause célèbre in both countries and extensively covered by the media.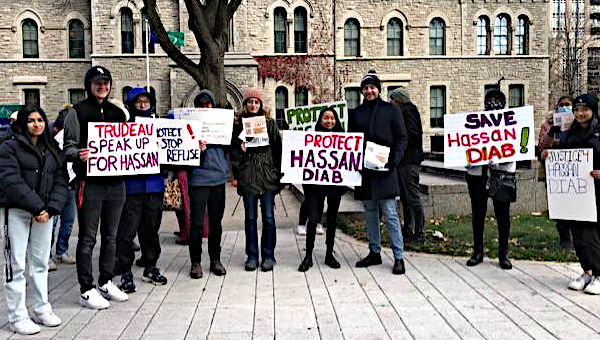 Overview of the Case
Dr. Diab is a Canadian citizen born in Lebanon. He is 69 and the father of two young children. He was a professor of sociology at Carleton University and at the University of Ottawa in 2007. He was not yet informed that he was accused of bombing the Rue Copernic Synagogue and of belonging to a Palestinian terrorist group. It emerged that the case hinged on suspect evidence, particularly fraudulent handwriting analysis (later dropped by court's decision), hand and palm prints that didn't match Dr. Diab's, a faded passport that had been lost. A century earlier, Jewish Alfred Dreyfus was charged with treason similarly based on fraudulent handwriting evidence and is memorialized in Emile Zola's J'Accuse about French racism and tyranny.
The French investigation into the bombing was reopened in 1999. Dr. Diab was secretly spied on by the Royal Canadian Mounted Police (RCMP). On November 8, 2008, without any knowledge of the investigation, Dr. Diab opened his door to "a forest of screaming masked men with pistols and submachine guns." Minutes later he was in an RCMP prisoner wagon, hands shackled, then formally detained, and learned for the first time that he was charged with the synagogue bombing. He was confined in a brutal prison for 140 days where he was threatened by other prisoners.
"I couldn't believe that a place like this existed in Canada. You always see blood once, twice or more times a day. The way they treat people is torture by proxy. I was initially denied bail and spent the first month in isolation, spending 23.5 hours each day in my small cell and only allowed to go alone to a room-size yard for half an hour. Solitary confinement is very harsh, and one can truly start to lose one's mind. After I was allowed to join the general jail population, I often had two cellmates in my small cell because of overcrowding at the detention centre. The space was so tight that one of us would have to sleep next to the toilet. The food was rationed and terrible. The air quality was horrible."
At that time, Canadian Attorney General Rob Nicholson opposed his release from detention, but on April 1, 2009, Ontario Superior Court Judge Maranger ordered his release on bail and under strict house arrest. He was forced to wear and pay (close to $2000 per month) for a tracking device permanently affixed to his leg. Acting on the presumption of guilt, Dr. Diab was immediately and peremptorily dismissed from his university position despite the judge saying it was okay for him to teach.
Based on the presumption of guilt and actively seeking extradition were the International Assistance Group housed in the Department of Justice, B'nai Brith, the Simon Wiesenthal Center (Canada and France), the Centre for Israel and Jewish Affairs (formerly the Canadian Jewish Congress).
Based on the presumption of innocence, his cause was taken up by Amnesty International, the Canadian Association of University Teachers (CAUT), the Canadian Civil Liberties Association and the B.C. Civil Liberties Association, the International Civil Liberties Monitoring Group (ICLMG), the European Group for the Study of Deviance and Social Control, Independent Jewish Voices Canada, the Jewish Faculty Network, the Canadian Labour Congress and labour unions, and in France l'Union Juive Francaise pour la Paix.
A Weak Case
A series of appeals to close the case due to fraudulent evidence was rejected and the first stage of the Authority to Proceed was approved on January 15, 2009. Judge Maranger wrote: "The case presented by the Republic of France against Mr. Diab is a weak case; the prospects of conviction in the context of a fair trial seem unlikely. However, it matters not that I hold this view. The law is clear that in such circumstances a committal order is mandated." The Minister of Justice, Rob Nicholson, argued that the burden of "proof to extradite had been met." On November 13, 2014, the Supreme Court under Rosalie Abella announced it would not review any of the exculpatory evidence and approved extradition to face terrorism charges in France, and by the morning of November 15 Dr. Diab was incarcerated in France.
Dr. Diab, in an interview in 2018, recalled that he had been promised the opportunity to say goodbye to his family. On the eve of his daughter's birthday, he was escorted in handcuffs onto an Air France flight to Paris, then in the early morning hours he was rushed to a fortress-like prison on the outskirts of Paris. He wanted to tell Rania (his wife) that he loved her. To wish his daughter a happy birthday. To assure them that he would see them both soon. None of that happened.
" … the hardest part was being thousands of miles away from my family and not knowing how they were managing… The most disturbing element of my detention was hearing the constant banging on doors and piercing screams of other inmates – even of those who are supposedly presumed innocent – is intended to punish people and strip inmates of their humanity and hope."
Dr. Diab spent over three years in a French prison, some in solitary confinement. During that time Jean-Marc Herbaut and Richard Foltzer, Juges d'instruction anti-terroristes, determined that Dr. Diab was in Beirut at the time of the bombing. They ordered Dr. Diab's release which was turned down. In May 2016 a fourth French judge ordered his release. In November 2017, a major Canadian newspaper reported the eighth order for release was turned down. On January 12, 2018, French Investigative Judges finally dismissed the charges and Dr. Hassan Diab was released. Upon his return to Canada, Prime Minister Justin Trudeau famously said: "what happened to him never should have happened … and make sure it never happens again."
Dr. Diab and his lawyers pressed for a review of Canada's extradition law, and the Government appointed Murray Segal to conduct an external independent review. The review found no fault with the government or with the law. Donald Bayne, Hassan Diab's lawyer, reacted to the Segal report: "This is basically a report that says nothing wrong was done by anybody." The Record of the Case was "full of misrepresentations, exaggerations, inaccuracies, omissions and editorial comments…, use of unacceptable, unsourced intelligence [torture]…"
Despite Trudeau's words, in April 2023, it did happen again. Diab was convicted in absentia of bombing the synagogue. No Canadian government representative observed the trial.2
The Canadian government officials claim that the 'law is law' not subject to examination is disingenuous. To the layman it would seem that the re-writing of fundamental laws was normalized in the post Cold War world order. Changes included legalizing the use of torture and adoption of the Right to Protect (R2P), both authored by Canadian Michael Ignatieff.3 Ignatieff was leader of the opposition Liberal Party during Diab's detention and house arrest.4
What is the evidence in Canada of bigotry and the scapegoating of Dr. Diab? A Freedom of Information (FOIA) request was filed by the Canadian Association of University Teachers when Dr. Diab was abruptly dismissed from his teaching position at Carleton University before he was even formally charged and after the university president and chair of the Board of Governors had just received this communication about a news release from B'nai Brith's vice-president Frank Dimant: "The conditions of Diab's bail do not allow him to leave his home alone or to own a cell phone, but Carleton officials believe that it is fine for them to make him a member of their faculty. The last place in the world where this man belongs is a university classroom, in front of impressionable students." Dimant described Dr. Diab as "an alleged terrorist accused of murdering four people in cold blood just because they were Jewish and decided to worship in a synagogue." The Provost then abruptly terminated Diab's teaching contract, without an explanation and without consulting with the Dean or with the Chair of the sociology department. The Canadian Association of University Teachers (CAUT) and thirty members of the Department of Sociology and Anthropology at Carleton University deplored the firing of Dr. Hassan Diab.
In 2010, Benlolo, and Samuels, and high-ranking government official Irwin Cotler reputed as a defender of human rights5 spoke together at a symposium focused on the Diab case, to "fight against hatred, anti-Semitism, terrorism, impunity, indifference," to bring to justice the victims of the Copernicus attack and to intervene with Canadian authorities "so that the extradition procedure for Hassan Diab launched by the French Judicial Authorities can come to an end." They also met with French Prime Minister Hollande to discuss Islamic terrorists and protecting the Jews of France and Syria. Among the leaders of the delegation were Shimon Samuels, Avi Benlolo, Baron Eric de Rothschild, and former Canadian Justice Minister Irwin Cotler.
In November 2014, the order was signed to extradite Dr. Diab to France. Earlier in 2014 Prime Minister Harper invited the fascistic Jewish Defense League (JDL)6 member Julius Suraski, Wiesenthal official Avi Benlolo, and the Centre for Israel Jewish Affairs (CIJA) CEO Shimon Fogel to accompany him on his plane to Israel. CIJA applauded the decision to uphold the extradition order: "The fact that the main suspect in this hateful terrorist attack will indeed face the justice system gives hope to the survivors…" The Simon Wiesenthal Center had shifted from hunting Nazis to hunting Islamic terrorists.
Benlolo's (SWC) website at the time boasted of his global network including G.W. Bush, Bill Clinton, Shimon Peres, Tony Blair, Rudy Guiliani. The Hill Times recognized Fogel as one of the 100 most influential actors within the political sector. Shimon Samuel's (French SWC) reports that he was present in an Ottawa court and published articles in the National Post and Ha'aretz. "After 41 years, the families of the four dead – including Aliza – and forty-six wounded, would finally receive closure," concluded Samuels. He was in Ottawa to participate in an inter-parliamentary conference on anti-Semitism at the Canadian legislature: "I walked the six blocks to room 34 of the Ottawa Federal Tribunal, to hear part of his extradition proceedings. Amid girls in hijab veils and pro-Palestinian militants, I went through the rigorous security…"
James Kirchick in The End of Europe (2017), published by Yale University press, uncritically reports Samuels' claim that he witnessed a crowd of several hundred people chanting 'death to the Jews' and wielding bars and axes, tried to break into the Don Isaac Abravanel synagogue in Pairs. "Shimon Samuels, of the Simon Wiesenthal Center, reported seeing Socialist Party politicians in the crowd" and that one eyewitness reported that, had it not been for members of the Jewish Defense League, "the synagogue would have been destroyed with all the people trapped inside." Kirchick does not report that other witnesses reported that at most there were 100 peaceful protesters.
Barred from speaking in the UK, Canada allowed Israeli M.K. Moshe Feiglin entry though he supported proposals to ethnically cleanse all non-Jews from Israel and expressed admiration for Hitler. Canada allowed in Shaul Mofaz, mastermind of the Jenin refugee camp massacre, but not Israel critic George Galloway, a British MP.
Canadian Bias
Canada was the only nation sitting on the UN Human Rights Council to vote against calling for a ceasefire in the 2008-09 Israeli assault on Gaza. Prime Minister Harper said that Israel's bombing of a 3-storey apartment in Lebanon was "measured," and leader of the opposition Liberal Party Michael Ignatieff said that he was "not losing sleep" over it. Canada refused to investigate Israel's killing UN observers in south Lebanon, including Canadian Major Paeta Hess-Von Kreudener. It took years for the government to intervene in the rendition of Maher Arar to Syria and the incarceration of child prisoner Omar Khadr in Guantanamo. In Canada there is a Parliamentary Coalition to Combat Antisemitism but not one to combat Islamophobia although in 2018, according to Statistics Canada, the number of police-reported hate crimes targeting Muslim religions in 2021 increased 71% from the previous year. From 2016 to 2021, Canada witnessed the highest number of Muslims killed in targeted, hate-motivated attacks of all the G7 countries.
Security Certificates, used against presumptive Islamic terrorists, signed off by Minister of Justice Rob Nicholson, allowed the government to use secret evidence even obtained under torture. Rob Nicholson and Supreme Court Justice Rosalie Abella okayed withholding documents to Parliament about Canadian military involvement in the torture of Afghan detainees. The International Assistance Group under Janet Henchey, Murray Segal in his official report about extradition law, Rob Nicholson, and Rosalie Abella, all turned down Dr. Diab's appeals seeking examination of evidence and of the possibility of a fair trial. They all stated that the "law is law" and approved extradition. None addressed incompatibility with French extradition procedures. At present, France refuses to extradite ten convicted terrorists to Italy or Canadian priest Johannes Rivoire charged with sexually assaulting Inuit children because France does not extradite its own citizens!
I was asked to be an expert witness in a security certificate case and to interview the children of one of the accused. This teenage boy imagined sternly confronting the surveillance official intruding on every aspect of the family's life and saying to him: "Who are you?" Something many of us are trying to figure out. You can hear from Dr. Diab in this recent CBC interview and in his poem, "The Trial":
Kafka visited me
He asked how I was doing
I told him about my trial
And he told me about his
We compared notes
It pained us very much
That history keeps on repeating itself.

In the archaic law of extradition
I can't introduce evidence
That shows my innocence
But they can file handwriting reports
One after another
Even though it is not mine
They said I can change my writing
Strangely that was what they said
Of Dreyfus one hundred years ago. •
Endnotes