Trade Union Activists Arrested in Iran:
Teachers and Bus Workers Singled Out
Since May Day 2022, a number of trade union activists, especially related to the teachers' unions and the bus workers' union, have been arrested in Iran, and are being interrogated and charged with serious but completely false and baseless national security charges.
We are asking all labour, human rights' and workers' rights' defenders around the world to strongly condemn the Iranian government's escalating violation of workers' rights, right to organize and the freedom of association.
In a statement issued on May 19, 2022, the Coordinating Council of Iranian Teachers' Trade Associations stated, "Recently, the Ministry of Intelligence, after arresting some of the most well-known and experienced union activists, in a ridiculous statement linked the arrestees and the Coordinating Council to the two arrested French nationals (reportedly Ms. Cecile Kohler, a teacher and a member of the French teachers' trade unions, and her partner, Jacques Paris, (a veteran trade union activist) and claimed that they sought to cause riot and unrest in Iran through trade union activists…"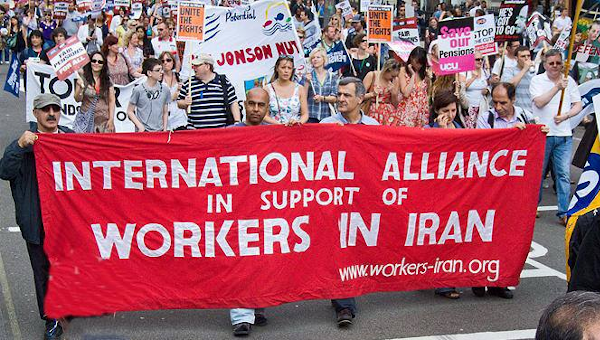 Trade Union Activists from France Also Arrested
Based on the available information on the Education International website, "Cécile Kohler joined the Syndicat national Force ouvrière des lycées et collèges (SNFOLC) in her first year of teaching in 2009. Since 2011 she has been a shop steward in her organization. She has undertaken national duties since 2016 in her role as International Relations Officer for the Fédération nationale de l'enseignement, de la culture et de la formation professionnelle FO (FNEC FP-FO)." Our search and contacts in France have also confirmed that Jacques Paris is a teacher and the former SNFOLC General Secretary, from 2009 to 2016. Both are well-known individuals, teachers and trade union activists and completely far from allegedly being "French spies" according to the disgraceful state-run television (IRIB) and the repressive intelligence forces.
Cécile Kohler and her partner, Jacques Paris, travelled to Iran on visitor's visas on April 28, 2022, but they got arrested on the night of May 7, 2022, in a taxi that was taking them to the airport to leave the country. The Intelligence forces and their national TV are alleging that Cécile Kohler and her husband were "French Spies" that came to Iran under the pretext of vacationing but with the intention of fomenting and causing unrest in the country. All of this outrageous and false allegations seem to be based on the fact that during their visits to Iran, they reportedly met with four well-known public figures of teachers' trade unions in Iran, Rasoul Bodaghi, Eskandar Lotfi, Masoud Nikhkhah and Shaban Mohammadi), for dinner and also with three well-known and leading members of Tehran bus workers' syndicate (Reza Shahabi, Davood Razavi and Hassan Saeidi) for informal and friendly gathering and dinner in a restaurant. They also took pictures and selfies during these "clandestine" meetings. The Intelligence authorities arrested Rasoul Bodaghi, Eskandar Lotfi, Maoud Nikhkhah and Shaaban Mohammadi immediately after this visit. Reza Shahabi, Hassan Saeidi, and Anisha Assodllahi, who interpreted for the bus workers' syndicate during their dinner in a restaurant, have since been arrested and their homes were raided by security forces. Davood Razavi's residence has been raided by the security forces since then as well, and his daughter was traumatized as intelligence forces broke into the house while nobody else was at home.
Transportation Workers
The Syndicate of Workers of Tehran and Suburbs Bus Company (Vahed Syndicate) issued a statement on May 16, 2022, in which they emphasized, "The intelligence, judicial and executive authorities of the government, incapable of giving any humane and responsible response to the just demands of the working class and the deprived and oppressed people of Iran, are increasingly pursuing their usual solutions, namely repression, prosecution, arresting, trumped-up national security charges, frame- up and spreading lies… The Syndicate of Workers of Tehran and Suburbs Bus Company (Vahed Syndicate), as part of the independent labour movement in Iran, has a full right and duty to be in solidarity with all sections of the working class in Iran and around the world. In the spirit of international solidarity, we defend our relations with labour organizations and workers in other parts of the world and considers it as our absolute right."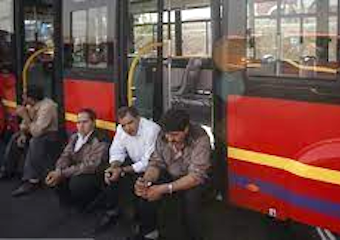 The Coordinating Council of Iranian Teachers' trade Associations in a statement dated, May 19, 2022, said, "For the past twenty years, these well-known union activists (Bodaqi, Lotfi, Nikkhah, Mohammadi) have been pursuing demands of the teachers including demands related to the Article 30 of the Constitution. The IRIB has reported in a way to project that these teachers' activists have just joined the ranks of teachers and intended to create a riot in collaboration with the foreigners. The arrested teachers, in reality, have a twenty-year history of campaigning for union demands, and their activities have been carried out in accordance with Article 27 of the Constitution…. The Coordinating Council of Iranian Teachers' Trade Associations, while strongly supporting all the arrested teachers and rejecting all baseless charges against them, expects that all of them be released as soon as possible and unconditionally."
In a news release issued by the CCITTA, on May 23, 2022, Rasoul Bodaghi and Shaban Mohammadi have finally been in contact with their families. Both imprisoned teachers expressed high spirits and have given warm greetings to all union activists and teachers in Iran.
Rasoul Bodaghi said that he is in the same cell with Jacques Paris, who is an elementary school teacher in Paris. Bodaghi said that he has seen the slanderous TV show of the IRIB from prison and that he would take legal action against this government-sponsored radio and television network for defamation and baseless accusations as soon as he was released. Rasoul Bodaghi said that their get-together with two French teachers was a very customary and conventional occurrence and nothing special was done in that gathering except usual conversation about the educational issues. He has also emphasized that basically the teachers do not have access to anything that might be considered as being secret. That is why Bodaqi emphasized that he has defied the interrogations.
Reza Shahabi, a member of the board of directors of the Syndicate of Workers of Tehran and Suburbs Bus Company, has also been able to speak with his family on the phone. He has gone through a number of interrogations since his arrest on May 12 2022. Reza Shahabi, while not in good physical conditions, was in high spirits and stated that his dinner in a restaurant in Tehran along with other colleagues with the French trade union activists was a completely normal and hospitable one, and that they had done nothing unusual or secret in this public informal gathering. Reza Shahabi, in response to the publication of his pictures and the picture and name of the arrested teachers and trade unionists on the national radio and television, stated that these actions only make the radio and television look more ridiculous.
Hassan Saeidi, a well-known member of the Tehran bus workers' union, who was arrested on Wednesday night, May 17th, after 9 intelligence agents raided his residence, in protests against several days of successive interrogations in Ward 209 of Evin Prison, has gone on a "wet" hunger strike.
Strong Condemnations
The recent arrests of teachers and labour activists in Iran, and the baseless allegations against them, especially through national broadcasting, has received strong condemnations and absolute disgust across Iran, in social media and by many organizations nationally and internationally. The Education International, "the global federation of educators, has condemned the arrest of Iranian teacher trade unionists and demands their immediate and unconditional release. The targeted repression against teachers advocating for their students, their communities and their rights as unionists must end. We denounce the unjustifiable arrests in various cities of dozens of teachers on May Day, a date meant to celebrate workers around the world. We also demand an end to the detention and harassment of those who are peacefully advocating for the release of their colleagues."
The Canadian Union of Public Employees (CUPE), in a statement dated, May 19, 2022 stated, "CUPE partner the Tehran bus workers' syndicate and other labour organizations report that … more than 10 bus workers striking for wage increases have been arrested in recent days. The bus workers' union is an affiliate of the International Transport Workers' Federation… These arrests and detentions are violations of freedom of association, the right to organize, and freedom of speech. CUPE also demands an end to the ongoing detention and harassment of people who are peacefully advocating for the release of their colleagues."
The Norwegian Confederation of Trade Unions, in a letter to the Supreme Lead of the Islamic Republic of Iran stated that they are "extremely concerned about news detailing that several members of the independent labour movement, and workers activists in Iran are harassed and/or detained for engaging in legitimate trade union work… In recent days, we have once again witnessed a wave of arrests of labour activists, teachers, civil rights defenders, and artists. We are extremely concerned by the continuous deterioration in the situation of trade union and fundamental human rights in the Islamic Republic of Iran."
Many labour and teacher organizations in Iran have been issuing public statements denouncing the recent arrests, and the intelligence forces' conspiracies and national security charges against trade union activists in Iran and demanding their immediate and unconditional freedom.
The Gilan Teachers' Trade Association, while condemning this "cowardly and illegal act," has called on the public prosecutor "to end these immoral and illegal practices" in the (IRI) media in the first place "by suing IRIB for making false accusations against these teachers before the trial, choosing a lawyer and denying them the opportunity to defend themselves and disturbing the minds of millions of viewers."
The Kurdistan Teachers' Trade Association has emphasized that the teachers' movement is seeking the fulfillment of its legal demands in civilian ways and strongly protests against the anti-democratic approach and irresponsibility of the system and violent treatment of legal gatherings.
The Teachers' Trade Association of Islamshahr has strongly condemned this obscene and unfair move, calling for the trial and apology of the intelligent agents who made the video, and declaring that they will leave nothing but notoriety with these delusional moves. "Stop using these unconventional, shabby and unfounded methods and proceed with the freedom of these loved ones as quickly as possible. We emphasize and remind that the teachers' movement is alive and continues to work strongly."
The teachers' Trade Association of Khuzestan has strongly condemned any accusation against these well-known cultural activists and their detention.
In an open statement from the Families of Detained Teachers, Eskandar Lotfi, Shaban Mohammadi, Massoud Nikkhah and Rasoul Badaghi, they stated, "We, the families of the arrested teachers, are not at all surprised that even today, individuals engaged in embezzlement, economic corruption, and bank fraud are still published anonymously in the state-run media, without any condemnation. And yet, the same state-run media have our loved ones publicly insulted and falsely named as spies, only because they are teachers and protesting for their rights. We, the family of the detained teachers, reserve the right to restore our dignity and take legal action about all the defamation by state run media and their unjust arrests, until justice prevails."
The Writers' Association of Iran have in a statement issued on May 22, 2022, wrote:
"Nearly two weeks have passed since the security forces raided the residence of Keyvan Mohtadi, a writer, translator and member of the Writers' Association of Iran, and Anisha Asadollahi, a translator. On May 7, these two working class supporters were arrested after a search of their home and confiscation of their personal belongings, and were transferred to Security Ward 209 of Evin Prison.

"After several days of unawareness about their situation, it became clear that the recent arrests were made following a case by the Ministry of Intelligence. The security forces manufactured and published their deliberate fabrications and rumours about the recent detainees, Keyvan Mohtadi, Reza Shahabi, Anisha Asadollahi, Reyhaneh Ansari Nejad, Hassan Saeidi, … as well as the detained teachers, Rasoul Bodaghi, Eskandar Lotfi, Massoud Nikkhah, Shaban Mohammadi, and others.

"It is no secret that these kinds of fabrications have so far been used only to deceive public opinion, to provide a platform for forced confessions and to produce fake cases, to issue long-term prison sentences, against the arrestees and to intimidate and repress other activists. The repetition of these fabrications and the criminalization of issues such as relations with allied organizations and the attribution of justice loving people to "foreign sources" signal a new wave of repression of trade unions and political activists and a narrowing of their field of activity. On the other hand, these cases reveal the government's fear of strengthening Iran's trade unions by connecting with similar organizations in the world. It is the natural and civil right of trade unions to interact and cooperate with their counterparts around the world. Alleging that such relations are tantamount to espionage is a clear violation of human rights and international conventions to which the Islamic Republic is a signatory."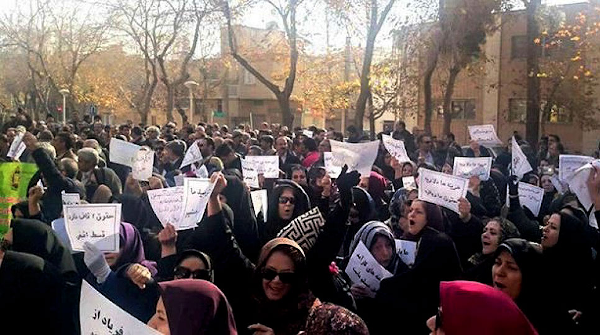 More International Solidarity is Needed
IASWI is urging our fellow workers and trade unions around the world to take all necessary measures for the immediate and unconditional release of all teachers and other trade union activists from prison, and to call for an end to repressions of workers and trade unionists in Iran and respect freedom of association and trade union rights under ILO Convention 87 and 98 and The ILO Declaration on Fundamental Principles and Rights at Work.
The government of Iran must immediately and unconditionally release all jailed teachers and trade union activists who have been arrested since May Day 2022, including Rasoul Bodaghi, Eskandar Lofi, Reza Shahabi, Jafar Ebrahimi, Hassan Saeidi, Anisha Asadollahi, Reyhaneh Ansarinejad, Mohammad Habibi, Keyvan Mohtadi, Shaban Mohammadi, Masoud Nikkhah, and Hadi Sadeghzadeh, and many others including 11 Tehran bus workers who have been arrested during the recent strikes for wage increases. The updated list of all recent arrestees will be published separately.
We also demand an end to the ongoing detention and harassment of other trade unionists who are serving jail sentences.
We are asking for your urgent support to ask the Iranian government to:
Unconditionally drop of all charges against imprisoned trade unionists and their immediate release.
Respect and uphold the rights of all workers including teachers to organize and to freedom of association and freedom of speech including the right to peaceful assembly, without fear of state intervention. •
For more information, and statements of solidarity, see etehad-k website.