Deconstructing Boats on the Eve of Glasgow COP26
The images that first come to mind about "boat people" are of families in rickety little vessels fleeing from Vietnam in the last days of that war, and now the climate and war refugees capsized from similar boats and drowning in the Mediterranean, Caribbean, and other waters. And emergency comes to mind when reading about the climate and its increasingly deadly human impacts. In contrast, for several weeks shortly before the Glasgow COP26 meeting (October 31-November 12), a pricey multi-page advertising supplement in the weekend edition of a major Canadian newspaper wants to lure us to join an Antarctic cruise serving another kind of boat people.
Is the cruise industry cognizant of greenhouse gas emissions they produce, or of the other boat people and their immiseration and incarceration at Guantanamo and Manus and Lampedusa, or the current climate impacts on Antarctica and what the melting of Antarctic Sea ice and ice shelves portends for sea level rise, ocean dynamics, and for humanity? How is all this related to "offshore"? It's offshore tax havens that harbor trillions of dollars to pay for luxury cruises, where passengers can walk offshore "on the sea ice to watch penguin chicks hatch, see the arrival of seal pups and humpback whales."
The "Antarctica in Depth" Scenic Eclipse cruise fare starts from an early-bird price of $19,701, and the Antarctica, South Georgia, and Falkland Island cruise's early-bird price is $28,855. The "truly all-inclusive" provides each guest with private butler service, "immersive dining," "private dégustation," "a separate sleep zone," an indulgent 5,920 sq ft (550 sq m) Senses Spa, Scandinavian-inspired outdoor vitality pools, and more. This is what the tax havens will buy you, but at the cost of the environment you will sail through in luxury.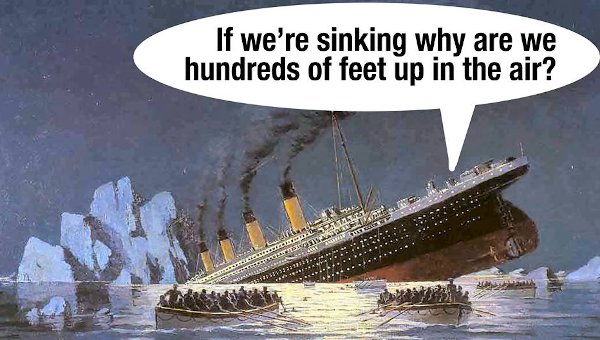 Carbon Dioxide Levels Surging
On October 25, 2021, Al Jazeera reported that "[g]reenhouse gas concentrations in the atmosphere hit a new record high in 2020… The World Meteorological Organization (WMO) showed that carbon dioxide levels surged to 413.2 parts per million in 2020, increasing at a faster rate than the annual average over the last decade despite a temporary dip in emissions during COVID-19 pandemic lockdowns."
Does the WMO or the COP or the IPCC keep accurate records of climate-related human deaths? Or track and report funding of loss-and-damage commitments? Kofi Annan's organization The Global Humanitarian Forum reported 300,000 climate-caused deaths per year in 2009, but the Forum lost its funding several years later. Are climate-related deaths also increasing at a faster rate? For example, a startling finding of the much improved data analysis of excess deaths was that the 2015 heatwave that struck Egypt caused 20,000 human deaths, not 61 as previously reported. So much discourse about climate is about human rights, flourishing, happier lives, protecting animals and the environment, but not about human life and death. Even noted social activist Noam Chomsky repeatedly speaks about the threat to "civilization as we know it," whatever that means, and only lately does he speak with some urgency.
Describing conditions on a home-made boat carrying Haitian refugees on a nearly 700-mile trip, detained as it neared its end on the Atlantic Ocean, Léonie M. Hermantin, Director of Communications at Sant La Haitian Neighborhood Center in North Miami, explains what thousands of people are forced to endure: "Who goes to the bathroom? How do they drink? How do they eat? It's just horrible. 104 passengers were spread from the bow to the stern, many sitting shoulder-to-shoulder, some grasping onto the sails and standing where there wasn't enough room to sit."
The aforementioned Antarctic cruise ship carries 200 passengers. By comparison, on August 31, 2021, an overcrowded fishing boat carrying more than 500 refugees capsized off the island of Lampedusa. In April 2021, at least 130 refugees drowned when a rubber boat capsized off the coast of Libya. And at least 1,146 people died attempting to cross the ocean to Europe between January and June of 2021. The International Organization for Migration reported that the actual number of migrant deaths is likely much higher than the number of deaths they were able to verify.
Climate Refugees
How are these refugee boats and cruise ships linked with climate change and with Glasgow COP26? For one, the rickety, overcrowded boats carry the increasing number of climate refugees who are still not classified and legally protected as refugees by the UN High Commissioner on Refugees. They do fall under an expanded category of refugee, leaving flexibility to interpret obligations and entitlements. In 2020, UNHCR issued the document "Legal considerations regarding claims for international protection made in the context of the adverse effects of climate change and disasters." Regardless, the term "climate refugee" is not endorsed by UNHCR, and they are referred to as "persons displaced in the context of disasters and climate change."
Another link to COP26 is the exemption of international shipping under the Kyoto Protocol so that those cruise ships and others do not need to meet binding targets for reducing emissions. The Paris COP 2015 meeting attempted to regulate shipping, but it has been ignored by the global body that regulates shipping.
Per capita greenhouse gas emissions reflect another massive disparity. For example, the per capita greenhouse gas emissions (ecological footprint) of the African countries with high migration due to climate change are Malawi 0.08 metric tons, Mozambique 0.12 mt, Zimbabwe 0.75 mt. For perspective on the incredible disparity (and impunity), consider that Elon Musk's carbon footprint is estimated to be 7,493 metric tons, about 100,000 Malawis, mainly from flying.
The fuel massive ships use is a major contributor to the problem. They run on bunker fuel, one of the highest CO2 and sulphur-emitting, heat-trapping forms of fossil fuel. "The noxious blend is dirt-cheap, making it possible to charge next to nothing to ship goods internationally." Accounting tricks that "offshore" greenhouse gas emissions contribute to this: in his research about the military and the environment, Barry Sanders writes that the U.S. "places the fuel it designates for consumption in international waters – that which the Navy primarily uses in its ships on the open seas – in a separate category called International Bunker Fuel." Additionally, ships create "Ship Tracks," which have the potential for changing the microstructure of marine stratiform clouds that, in turn, intensify heat trapping in the atmosphere.1
Shipping companies use "flags of convenience" to license wherever there are minimal or nonexistent environmental and labour regulations. Many news items report stories about workers trapped on ships for years, sometimes because of Covid lockdown. On October 8, 2021, the Wall Street Journal reported that crews are abandoned on ships in record numbers without food, pay, or a way home, that "failing companies ditch vessels too expensive to repair or too difficult to sell, leaving behind cargo-ship castaways trapped in ports or offshore." Similarly, Al Jazeera reports that owners do not pay the trapped workers or provide them with basic necessities, or the freedom to leave the ships and return to their homes. As of June 2021, the International Transport Workers' Federation and the International Labor Organization reported that up to 200,000 seafarers are still stranded at sea.
Every day stories appear about the life and death of refugees and displaced people, daily reports about climate impacts and preventable disasters, and the grossly unjust political/economic/regulatory bodies that carry on with impunity. An October 15 report in The Guardian is about the FSO Safer, a rusting tanker carrying 1.1m barrels of crude oil that was abandoned in the Red Sea in 2017, which is, alarmingly, projected to spill and contaminate Yemen's fishing stock. The spill would cause 8 million people to lose access to clean running water, and it would also lead to environmental havoc for Saudi Arabia, Eritrea, and Djibouti.
What about how climate change is impacting Antarctica? Here is a selection of current science reports:
Edge of Pine Island Glacier's ice shelf is ripping apart, causing key Antarctic glacier to gain speed, June 11, 2021, University of Washington. For decades, the ice shelf helping to hold back one of the fastest-moving glaciers in Antarctica has gradually thinned. Analysis of satellite images reveals a more dramatic process in recent years: From 2017 to 2020, large icebergs at the ice shelf's edge broke off, and the glacier sped up. Pine Island Glacier contains approximately 180 trillion tons of ice – equivalent to 0.5 meters, or 1.6 feet, of global sea level rise

Tipping Elements Can Destabilize Each Other, Leading to Climate Domino Effects, June 3, 2021, Potsdam Institute for Climate Impact Research (PIK). Under global warming, tipping elements in the Earth system can destabilize each other and eventually lead to climate domino effects. The ice sheets on Greenland and West Antarctica are potential starting points for tipping cascades, a novel network analysis reveals. The Atlantic overturning circulation would then act as a transmitter, and eventually elements like the Amazon rainforest would be impacted. The consequences for people would reach from sea-level rise to biosphere degradation.

Evidence of Antarctic glacier's tipping point confirmed, April 1, 2021. Northumbria University Researchers have confirmed for the first time that Pine Island Glacier in West Antarctica could cross tipping points, leading to a rapid and irreversible retreat which would have significant consequences for global sea level.

Intensifying Winds Could Increase East Antarctica's Contribution to Sea Level Rise, November 1, 2017, University of Texas. Totten Glacier, the largest glacier in East Antarctica, is being melted from below by warm water that reaches the ice when winds over the ocean are strong, according to research.
How do rising sea levels affect people? We can see it now with the collapse of a Miami apartment because salt water inundated and eroded the building's foundation. As well, as was reported over a decade ago, salt water has been infiltrating major food-producing areas like the Mekong and Nile deltas Finally rising seas will eventually force the evacuation of small islands and the world's coastal cities.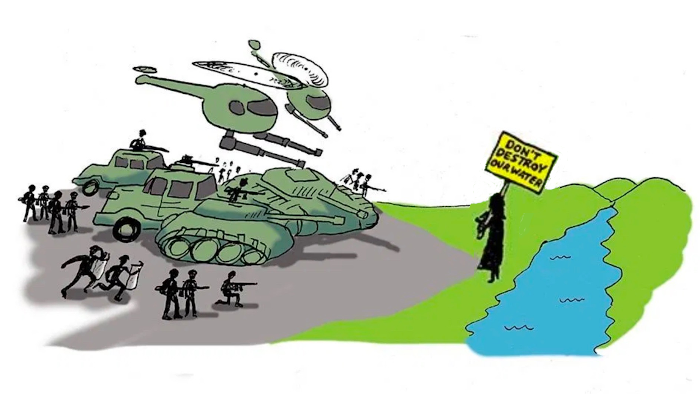 What can be done immediately, short-term, to prevent human death and misery caused by the confluence of climate change and shameless "delay, deception, and distraction" (Merchants of Doubt)?
Provide displaced people and climate refugees with full legal protection and with the basic goods and services they need, and open national borders to free flow of migrants.
Cancel the debts imposed on nations by the international financial institutions, but enforce debt payments for loss and damage owed to these same nations, communities, and peoples who are now most impacted by climate disasters.
Urgently protect ship workers from horrific labour practices, and urgently deal with imminent disasters such as the decaying Red Sea rusting tanker.
Eliminate Kyoto exemption for international aviation and shipping, and implement a moratorium on all non-essential production and transportation.
Eliminate the Kyoto exemption of the military, and immediately draw down military spending, deployments, and weapons manufacturing, and dismantle bases. Alternatives can be put in place: shift military personnel to a civilian conservation corps, restore ecosystems, and shift to local agroecological non-mechanized farming.
I am reminded of the words of Marilynne Robinson, novelist-turned historian and analyst of nuclear madness and the smug blindness that underlies it: "I am angry to the depths of my soul… The grief borne home to others while I and my kind have been thus occupied lies on my conscience like a crime."2 There is much to deal with when powerful people pretend not to see, when powerful people's eyes appear to be wide shut to climate change and to people. •
Endnotes
Barry Sanders, The Green Zone: the environmental costs of militarism, AK Press, Oakland, 2009. p. 54, 71-2.
Marilynne Robinson, Mother Country: Britain, the welfare state and nuclear pollution, Farrar, Straus & Giroux, New York, 1989. p. 32.