Transit Justice Struggles in Toronto:
Statement on the TTC Fare Review
The Toronto Transit Commission (TTC) is developing a 5-year fare policy review and plan, along with a 10-year "collection" outlook, both to be included in a policy framework by the end of 2021. A relevant TTC document claims that:
"The 5-Year Fare Policy will explore all fare options ranging from zero-fare to full-cost recovery. The work will identify and establish the relative priorities of policy goals, such as equity, affordability, revenue, and ridership. It will also identify constraints and opportunities in the current fare structure that influence fare policy decision making. All TTC fare policies, some of which date back decades will be reconsidered."
We certainly welcome a thorough review and long-term plan for fares. We want to weigh in, from our perspective, which envisions a future without fares. Other, unstated but highly important elements such as fare integration, fare-by-distance, and possibly fares differentiated by transit modes also deserve comment.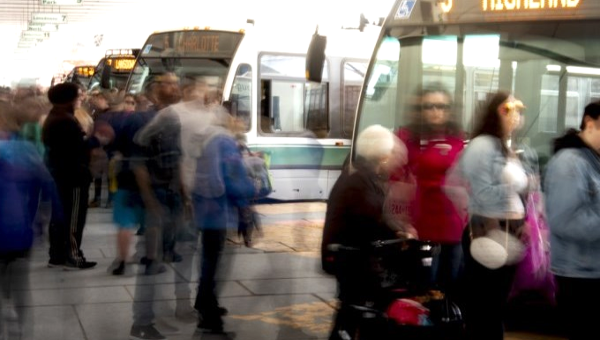 Public Transit is a Social Right
Our key principle is that public transit is a social right, should be free of fares and funded by all levels of government, primarily through progressive taxation and other ways of raising necessary revenues. There are numerous ways to do this, from wealth taxes to higher progressive income taxes, raising the GST/HST, and reallocating funding from highways and auto transport.
Recognizing public transit as a social right – like public education and medicare – would also significantly address the climate emergency and help transition to a post-carbon economy.
We reject transit 'principles' that argue for user-pay, fare-by-distance, different fares for different modes of transportation and ways of defining 'equity' that reflect the logic of the private marketplace, making users pay for provisioning, maintaining and operating the system.
Instead, we call for gradually lowering fares, corresponding with rising government funding, to result in the elimination of fares in the TTC, throughout the greater Toronto area (GTA), and ultimately across the province and country. The initial target at the end of the five-year period might be cutting fares in half, and within 10 years zero or nominal fares.
Fares could be reduced through incrementally increasing existing and new concession fares and universalizing them throughout the GTA. These measures might include expanding the TTC's current two-hour transfer to three or to half-days; fare-free transit for seniors and students; expanding children's free transit to include teenagers; free fares for those on social assistance and $50 monthly fares for low-income users; and reducing or eliminating fares during low-use periods and eliminating fare during extreme weather alerts.
We also call for the elimination of fare inspectors, converting them into helpful transit stewards and decriminalizing so-called 'fare evasion'.
National and Regional Issues
Municipal and regional boundaries translate into illogical and unfair costs to transit users who cross those boundaries. Regional integration should not be a problem if the underlying principle remains reducing and eliminating all fares for public transit. Municipal and regional borders are artificial holdovers from earlier eras. Transit users need access to public transit in ways that go beyond local border barriers.
On the other hand, transit regulation, organization, much planning and funding operate at a municipal level. Key operating principles, such as the TTC's current flat fares, are a good starting point to gradually increase regional and inter-regional integration, and freeze, reduce and eliminate all fares between today's regions.
The Pandemic, Reduced Transit Use, and the Need for Funding
The Covid-19 pandemic has cost Toronto and Canadian public transit dearly. An 80% drop in Toronto transit use at the height of the first wave led to a dramatic loss in revenue, given that the TTC is 70% funded by fares. The Amalgamated Transit Union has organized a country-wide coalition of transit unions and transit advocacy organizations to demand federal and provincial emergency funding to make up the dramatic shortfalls, and dedicated ongoing funding to build and operate public transit.
Canada's minority Liberal government has pledged $16-billion over 10 years for transit. It is apparently, limited to capital projects – valuable contributions, but minimal when averaged over a decade. If public transit is seen as a social right and necessity, this in no way meets the need for ongoing support for public transit. And it leaves the provinces and cities responsible for operational funding, which, at least in Toronto is hit and miss, linked to the gas tax and whims of the Ontario government.
The demand for steady and adequate funding for both capital projects and operations is a major political concern. Without a massive investment, coupled with a national strategy for transit planning and funding, especially in key urban centres, public transit will be subordinated to the needs of private developers, engineering firms, and a new generation of public-private partnerships running and directing transit.
Initiatives from Ontario bodies such as Metrolinx point to market-based transit that could lead to higher charges to use subways, surface trains and LRTs, relegating lower-income users to a limited network of buses; fare-by-distance schemes that punish riders who cross regional and municipal boundaries; and further dependence on fares to fund transit operations. Coupled with increasing reliance on electric personal vehicles and autonomous vehicles run by private corporations, this could doom prospects for a national public transit network.
The Ontario government's planned investment in new superhighways favours private car and truck usage (with obvious environmental damage), plus siphons off potential investment from public transit, where it belongs.
An initial step in bringing people back to public transit, and making transit investment a priority demand of the working class and general public, is to begin freezing, lowering and eliminating fares. Moreover, intra-regional and inter-regional public transit fares should also be reduced.
New investment in inter-regional transit is key to replace lost access to publicly regulated private carriers (such as Greyhound/Voyageur), as well as the woeful condition of passenger travel in key train corridors.
Proposal from Free Transit Toronto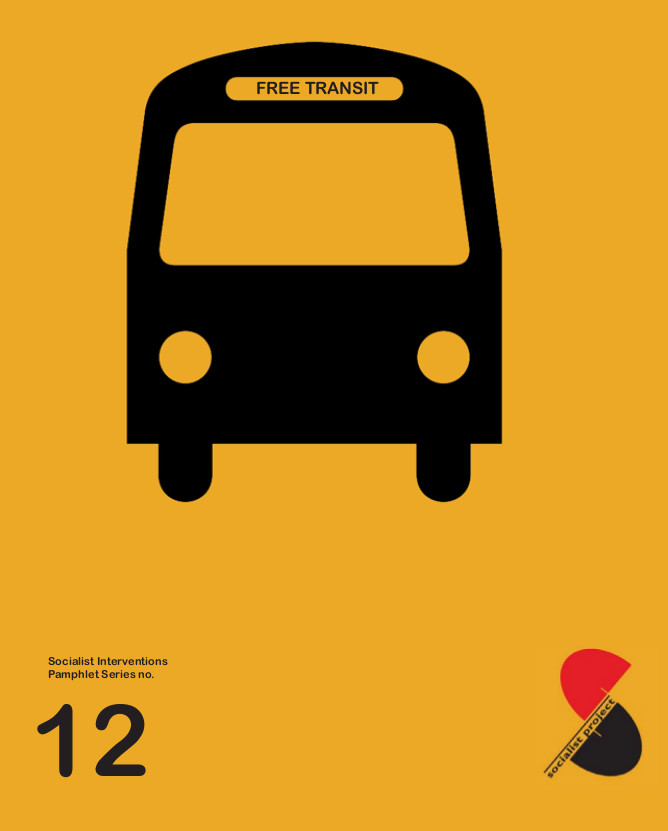 Consider public transit a social right, and a necessary tool to address the climate emergency.
Make fare elimination a target in Toronto as well as on regional public transit. Plan elimination steps through expansion and universalization of existing and new fare concessions.
Cut fares in half within five years, and eliminate them within 10 years.
Fund expansion, operations and maintenance of public transit through progressive taxation, eliminating subsidies to road construction for private car use, wealth and corporate taxes, dedicated use of GST/HST, etc.
Expand funding to make transit fare-free across the Greater Golden Horseshoe, the rest of Ontario, and eventually across Canada.
Call for a National Public Transit Plan, led by the federal government. •
For more information, see Free Transit.