Community Helps to Sustain Portland's Ongoing BLM Protests
At any given Black Lives Matter (BLM) event in Portland, you might encounter what looks like a farmers market stand, with woven baskets full of fresh veggies, fruits and flower cuttings. Look a little closer and you might come across an "Abolish the Police Lettuce Mix" or a fruit basket with a hand-painted sign that reads "billionaires are not essential." This is the PlantBloc booth, where everything is freely donated and given away by Portland's gardeners and plant lovers to support the movement against racism, and justice for Black, Indigenous, and People of Color (BIPOC).
PlantBloc operates only through volunteers and donations and does not accept any money. The mutual aid collective gathers donations through word-of-mouth and social media outreach on the PlantBloc Instagram page.
Rae, a PlantBloc volunteer, says people have tried to donate money at events but removing it from the equation has created a special kind of exchange. "One of the reasons that just feels good is that it's an energy exchange, it's not about money," she says. "It's about sharing resources and knowing that we have plenty of resources to share."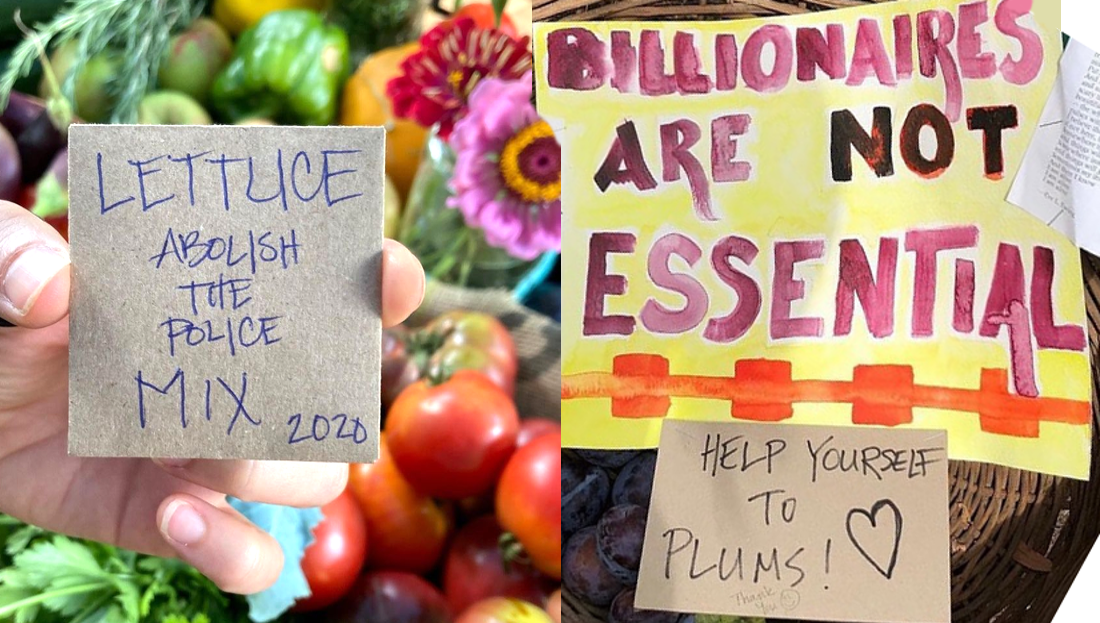 Community Support
As soon as PlantBloc was up and running in August, Portlanders were ready with donations. Damanay Iqwé, a volunteer with the group's communications team, says PlantBloc was set up in just a couple of days, and as soon as they put out a call for donations, boxes after boxes of plants began to arrive. At their first event, they estimated that they redistributed at least 300 pounds of food, houseplants and flowers.
PlantBloc allocates its community donated garden herbs, veggies, fruit, tea, flowers and houseplants to support BIPOC neighbors and the BLM movement. Members of the group, with green thumbs, herbalism skills or experience with food justice, offer gardening tips, plant preparation advice and education – and the group also shares information about upcoming protest actions.
"It's become a beautiful association of people that are all working to educate the public on creating their own systems of food, rather than relying on the systems that aren't serving us," says Iqwé. "Gardening is a revolutionary thing. If you create your own food, you aren't dependent to get your food in the systems that aren't feeding us. [The existing systems] are giving us genetically modified food, they're giving us all kinds of stuff that we don't have control over. When you are a gardener and when you create your own food and your own medicines, you're able to have more control over [the whole process]."
Iqwé, a founding member of PlantBloc, says as a Black man in America getting involved with the BLM effort wasn't a choice so much as the necessary defense of his own life.
"I'm just here because my life matters," Iqwé says, noting that there is no official entity or charter for the BLM movement in Oregon. He says his first protest experience was in 2014 with Teresa Raiford, who is the founder of Don't Shoot Portland, following the police killing of Michael Brown in Ferguson, Missouri – which sparked some of the first worldwide BLM protests.
"I've been involved in trying to amplify my voice since then," he says. "Being involved is, to me, a necessity. What am I going to do? Sit on the sidelines? Any soft skill, any hard skill, any skill I can provide to this movement, to push it forward so that it can be proven, finally, that my life matters, I will lend – which is why I'm one of the people speaking to you now, in the communications group [for PlantBloc]."
Iqwé says, for him, the BLM movement was a long time coming. His relatives were some of the first Black people ever allowed to move into Oregon, as Oregon's racist Black exclusion laws long-prevented Black people from living in the state. Iqwé's great-grandparents were able to move to Oregon "because Henry Kaiser wanted to have poor labourers in a small town called Vanport." Vanport was "not well taken care of," and after a historic flood wiped out the entire city of Vanport in a single day in 1948, Iqwé says his ancestors escaped.
"That was the very first gentrification of Black people in Oregon," Iqwé says. "We're all using our skills to hopefully create a situation where my son doesn't have to fight through this [systemic racism]. My father fought through it, my grandfather fought through it, my great-grandfather fought through it. Now I'm fighting through it so that he [my son] doesn't have to."
PlantBloc has lent its mutual aid to causes outside of BLM protests – like distributing lung-supportive herbs and teas during the weeks when hazardous fire smoke choked Portland this summer – but their focus is on the ongoing movement against racism.
Rae, an avid gardener who grew up on a small farm of about three acres outside of Eugene, Oregon, complete with goats, chickens and some ducks, started to volunteer with PlantBloc because, she says, she wanted to put her privilege to use to support the BLM movement and make gardening more accessible – especially for BIPOC people in Portland.
"It took me a long time to realize the privilege I had in understanding where my food came from and being so connected to it," she says. Over time, she also came to realize how inaccessible many of the existing community garden spaces in Portland can be.
"Even for someone like myself, who's white and has some garden knowledge, those spaces require a lot of time, commitment, and resources, and they can be pretty uninviting," she says. "It's really magical to see how well people respond to the PlantBloc events."
She says she's involved with the movement because she believes that Black lives and Indigenous lives matter, and it's important to her to donate whatever skills she has to help make a change.
"As a woman, the rights I have, the privileges I have, are thanks to Black women," she says. "Black women have done so much for me, and [for me] to not be part of the BLM movement would be disrespectful. I'm just bringing what skills I have. I have a master's degree, I have an education. I'll bring a skilled analysis and wield what privileges I have – or I will go out and dig in the dirt for five hours in the rain. That's fine. I just want the world to change."
PlantBloc is among a series of "blocs" that developed out of the BLM movement in Portland to support people out in the streets protesting for long hours and to mobilize community engagement. Since George Floyd was killed by police officers in Minneapolis in May, Portlanders have been protesting, rain or shine, for justice for Black lives. Community members seeking to bolster the cause have donated their skills and supplies, and formed a series of supportive mutual aid groups or "blocs," which bring a range of offerings to the BLM protest events, and sometimes to vulnerable neighbors in need of help.
Among the more active blocs in Portland is Snack Bloc, which has been avidly spreading awareness and seeking involvement in the BLM movement in Portland and the surrounding region since 2017. They bring donated food and COVID-safe snacks to in-person protest events, and their social media channels help to spread the word about vigils held for victims of police violence, BLM protest events and rallies. Throughout the pandemic – and in response to the economic difficulties it has brought – Snack Bloc has also worked to connect people to supportive resources and social programs.
According to their website, their mission is "to support the resistance, one snack at a time… by providing food, supplies and camaraderie for BLM activists confronting neo-fascist actions in Portland."
Expanding Support
In 2020, as their website explains, the group expanded its efforts to offer hands-on community care "to address the gaps created by our ineffective social service system… Our goal is to meet people where they are at and offer low-barrier, non-judgmental care, prioritizing BIPOC and unhoused folks from a place of abundance and relationship-building." Unlike PlantBloc, Snack Bloc accepts monetary donations.
After the lethal October police shooting of Kevin Peterson in Vancouver, Washington, which is just 15 miles from Portland across the Columbia River, Snack Bloc shared information about a vigil for Peterson, stating in an Instagram post:
"Rest in power Kevin, we'll be screaming your name. He was only 21. He had a daughter. He was a son. He had a family. He had friends. He is a man who is no longer with us."
In addition to directly supporting BLM actions, Snack Bloc has rallied against military drone testing in Portland and worked with various efforts to feed and provide emotional support to people in need, in collaboration with regional collectives and organizations like the Peacekeeper Society, located on the Yakama Nation Indian Reservation in Washington State, Don't Shoot Portland, Symbiosis Portland and others.
The list of blocs that Portlanders have formed to use their skills in support of mutual aid and BLM is long. There is a Beauty Bloc by hairstylists donating haircuts; there is a Care Bloc focused on aftercare and on the ground trauma recovery for protesters; there is a Grocery Bloc that brings groceries to vulnerable people during the pandemic and beyond; there is a Bread Bloc offering baked goods to people on the streets; a Blunt Bloc "keeping spirits high"; a Barista Bloc that has brought hand sanitizer and hot drinks to houseless communities; a Pet Bloc that connects mutual aid donations to help people struggling with pet care costs; Black Bloc Tattoo offering free tattoo designs to BIPOC community. The list goes on. These blocs are a show of solidarity and strength by Portlanders who have continued their concerted efforts to rally behind the BLM movement. •
This article was produced by Local Peace Economy, a project of the Independent Media Institute.