Carillion and the Latest Privatisation Scandal
This week 20,000 Carillion workers and many more in the supply chain have had their livelihoods put at risk. The responsibility lies with this shambolic Tory government and mismanagement by Carillion's fat-cat bosses.
The collapse of Carillion, embarrassing for a government that had championed the company and awarded it contract after contract, represents another significant blow to the "private knows best" economic dogma.
Nothing has come to symbolise the worship of free-market solutions – often against all the evidence – more than the persistent belief that key public services would be better provided by profit-seeking companies. As the journalist Robert Peston put it, the collapse of Carillion represents the definitive end of a 25-year love affair with the private provision of public services.
Revealing Details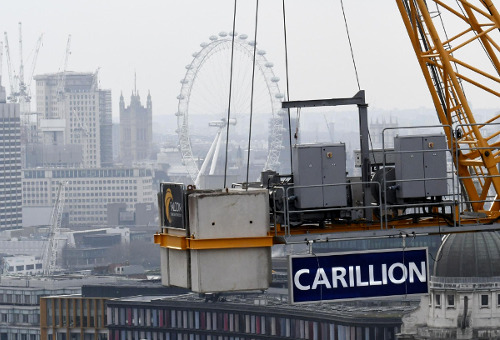 The end of the affair has revealed some unedifying details about some of the participants in it: the apparent reliance by Carillion's management on "low-balling" bids to win them, then sweating suppliers and workers to squeeze a profit; Chris Grayling's insistence on awarding Carillion the High Speed 2 (HS2) contract even after its first profit warning; David Cameron's decision to appoint Carillion's chairman, Philip Green, as an adviser on corporate responsibility.
The former chancellor George Osborne declared as recently as 2014 ​that the deal he signed to help Carillion win business in Dubai was a key part of the coalition's "long-term economic plan." Since Osborne left parliament, the firm he now advises reportedly took out bets on Carillion's downfall. And yet in his Evening Standard editorial Osborne preferred to pass responsibility to civil servants, rather than the elected politicians who signed off deals with Carillion.
It's hard to imagine a more perfect example of the grubby nature of the Tory establishment than a career that goes from signing off deals with Carillion, to advising a company that has sold their shares, to using your media platform to blame the people who worked under you.
Of course, Osborne is not alone at the Treasury in his commitment to Carillion. At Treasury questions, Liz Truss confirmed that the Treasury signed off on spending decisions. The chancellor, Philip Hammond, is among those who need to account for why Carillion continued to be given contracts even after it was clear the company was in trouble. That is why I called for a full public inquiry so that we can get to the bottom of this matter.
Labour Against Privatisation
Jeremy Corbyn and I have long opposed and campaigned against the privatisation of core government services. It's many years too late, but hopefully the government will finally admit the utter failure of its economic model and its consequences for public services.
Since Corbyn became leader of the Labour Party, he has put decisive opposition to the private finance initiative (PFI) and outsourcing at the centre of our plans for an efficient and accountable public sector.
It's why Andrew Gwynne, the shadow communities secretary, announced that the next Labour government would make delivering local services in-house the default option.
It's why Corbyn said from the start that we would sign no new PFI deals when in government.
And it's why I announced last September that we would move to bring existing deals in-house by taking ownership of the special purpose vehicles to deliver savings for the taxpayer.
The government could move now to bring an end to the scandalous rip-off of outsourcing. It could refuse to allow PFI projects to pay dividends to offshore fund shareholders, for example – with nearly half of all PFI contracts owned by nine offshore funds, that would be a significant start. Or it could recoup dividends paid out by construction firms that have admitted participating in blacklisting trade unionists, which includes Carillion.
It was never true that private was always better. But the obsession with outdated dogma, and a cosy relationship between a handful of powerful people, means this sordid love affair between big business and the public purse has gone on far longer than it ever should have.
As Corbyn said on Monday: "this scandal represents a watershed moment. We need to put an end to the rip-offs and failures of the outsourcing model."
And we need a Labour government committed to delivering much-needed investment in public services through an accountable and transparent funding structure. If the Tories won't wake up to the reality of the changing economic landscape, it's time they stood aside and let us take over. •
John McDonnell is shadow chancellor. This article first published by The Guardian.
After Carillion Collapse, Services Should Be Made Public
We Own It
After the collapse of the worldwide privatisation giant Carillion, political and public service leaders from Ontario and around the world are calling for its services to be brought back under public management and control.
"Carillion was a mess, and its sudden demise puts services, workers, and the public at needless risk," said OPSEU President Warren (Smokey) Thomas in a news release. "We have to protect ourselves from privatisation disasters like this by bringing these services back in-house."
In the release, Thomas points out Carillion's long track-record of problems in Ontario:
In 2004, Carillion led the privatised design and construction of the William Osler Health Centre, which the Ontario Auditor General later said cost us a half-billion too much.
In 2014, the company was fined $900,000 for failing to fulfil its contractual duties in highway maintenance.
In 2016, the company pleaded guilty to illegally dumping oil and toxic paint coating.
In 2017, the corporation abandoned its snowplowing contract in the Huntsville area after a string of complaints from the public.
"I'm demanding that our government face these facts and begin bringing privatised services back under public management, where they belong," Thomas said.
In the UK, where Carillion is based, Labour Party leader Jeremy Corbyn called the collapse a "watershed moment."
"It's time to put an end to 'rip-off' privatisation policies," Corbyn said in a video statement. "It's time we took back control. We not only need to guarantee the public sector takes over the work Carillion was contracted to do – but go much further and end contracts where costs spiral, profits soar and services are hollowed out."
Here in Ontario, Postmedia reports in the article Fears Over Ontario Highway Safety after Carillion placed in liquidation, that the provincial government paid Carillion more than $125-million for highway snowplowing services last year.
Ontario transportation minister Steven Del Duca told Postmedia that for the future of snowplowing, all options are being considered. •
This article first published by We Own It.