Job Action at Toronto Pearson Airport Shows Why Little Strikes Matter
As Labour Day approaches, we are often reminded of the large strikes that defined Canada's labour movement. The 30,000 workers in the 1919 Winnipeg General Strike or 11,000 autoworkers in the Windsor Ford strike of 1945 that established formal industrial relations in Canada. But little strikes also matter.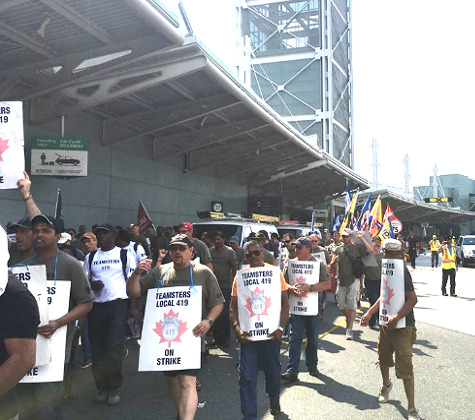 Teamsters Local 419 represents 700 workers employed by Swissport, a multinational company subcontracted to handle baggage for several airlines at Toronto's Pearson International Airport (YYZ). The workers have been on strike since July 27. The demands are modest – wage increases that will be only slightly above the proposed increases to the Ontario minimum wage and the maintenance of benefits for part-time workers.
The workers have overwhelmingly voted down two proposed contracts as the employer insists upon concessions. The protracted strike will soon create greater problems for the Greater Toronto Airport Authority (GTAA) as the strike has larger ramifications for airport industrial relations and its 50,000 workers.
Three Developments Need to be put in Perspective
First, the Swissport dispute is the first battle in an escalating war to maintain or increase profits by operating airports as low-wage employers. The trajectory began in the 1970s as air travel was de-regulated globally. The so-called 'democratization' of air travel with low-cost models generates profits based on low margins and high volume. Keeping the wages low for airport services such as baggage handling is central to this strategy.
Second, airports are increasingly financialized entities. In the case of Pearson, the ownership has been shifted to a non-share corporation (the GTAA) which has the ground lease to operate the airport. The GTAA must deliver 13% of its revenues to the government and generate a significant surplus for airport expansion and development. The financial potential of the GTAA creates the conditions for privatization as investors seek the monopoly rents generated by airport authorities. The GTAA is under financial pressure to maintain a low-wage, high surplus model in order to attract capital as it explores financialized models of ownership and expansion.
Third, there are moral, safety, security, and economic contradictions in the low wage strategy that the GTAA and its tenants have been unable to resolve. In a large global city such as Toronto, the current minimum wage is a poverty wage. Airport companies paying low wages find it difficult to retain workers who circulate through the low-wage sectors of the economy. There are extra costs to high turnover at airports as workers require security clearance and a minimum amount of health and safety training.
Wages and Benefits
At the same time, there are social movements pressuring governments for living wages. The Fight for $15 movement has had recent success in Ontario. In some cases, the proposed increase of the minimum wage to $15 per hour will outpace those in existing collective agreements. Contractors working in competitive sectors with low-margins are challenged to absorb the increases related to higher minimum wages as is the case with several airport service companies. The GTAA and the airlines are unlikely to revisit its contract terms with companies such as Swissport. In order to cover mandated and negotiated wage increases, Swissport is demanding cuts to benefits for part-time workers, those working less than 30 hours per week and the majority of its employees.
These developments are unfolding at Pearson with the current strike. Unfortunately, the GTAA is enabling a protracted and harmful strike by licensing other contractors to perform the work of the striking baggage handlers with replacement workers. The GTAA appears to be doubling down on a low wage strategy and it has chosen this strike to set the tone for future negotiations throughout Pearson. Calls to create a $15 per hour minimum wage for the airport dating back to 2012 were dismissed.
Toronto Airport Workers Council
The airport is a key economic driver of the regional economy. It can't afford ongoing labour disruptions and it definitely can't afford to be shut down. Community solidarity with Local 419 is crucial as labour sends the GTAA and private capital a message that low-wage models are unsustainable and have a high cost. In Toronto, community solidarity with suburban workers is difficult. The local labour movement's ability to build solidarity with a small group of suburban airport workers will be tested.
Fortunately, labour unions through the Toronto Airport Workers' Council have decided to take this strike seriously. Rallies are much easier to organize for city hall or Queen's Park (downtown Toronto) than at Pearson (in the suburbs), but there is a solidarity rally called for Sunday, September 3rd, at 1pm at the departures level of Terminal 3. While Swissport's entire operation has not been shut down through solidarity actions, it may now come to that. Failure to exert pressure will embolden the GTAA and its contractors to attack larger unions and groups of workers leading to greater conflict at Pearson in the near future.
These little strikes matter. •