Locked out for thirteen months, over three hundred IKEA workers in Richmond, BC are still holding out. While setting record profits in 2013, IKEA is trying to impose a two-tier wage system and seriously weaken benefits. The stakes are high as IKEA Richmond sets workplace standards for non-union IKEA stores. Of the twelve IKEA stores in Canada and Quebec, it is the only one unionized outside of Montreal where workers are represented by the Confédération des syndicats nationaux (CSN). Teamsters Local 213 represents the workers in Richmond.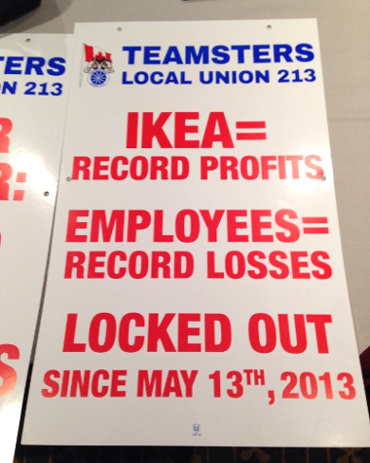 One of the shop stewards at IKEA Richmond, Dorothy "Dot" Tompkins explains: "We're the flagship store in North America. They've kept the union out of other stores by giving them what we get. Whatever we lose, they'll lose."
The fight is a difficult one. Of the 350 unionized workers, 36 crossed the picket line at the outset. Two more have since crossed the line. IKEA Richmond workers are also conducting daily information pickets outside the IKEA Coquitlam, although the pickets cannot legally disrupt the business.
Working at IKEA Richmond
Depending on job descriptions, IKEA Richmond workers will start at the minimum wage of $10.25 per hour and top out at between $19 and $21 per hour. The wage rates for supervisory work is between $20 and $24 per hour. IKEA workers also have decent benefits.
However, the lack of hours for part-timers is a serious problem. Of the 350 workers, only 110 are guaranteed hours. Seventy are guaranteed 38 hours/week and another forty are guaranteed 30 hours/week. The rest have no guaranteed hours. Most part-time workers are students and youth, mothers, and workers who have more than one job. Dot Tompkins, who works as a cashier, says 13 of the 32 cashiers had no shifts in the two weeks leading up to the lockout.
Management's Culture of Bullying
IKEA Richmond workers have also faced a culture of bullying from management since 2006. In 2006, the workers struck for a month to repeal a two-tier wage system. The two-tier system was a concession made by workers in 2003 when IKEA said the store was going to be closed.
After the 2006 strike, the workplace culture at IKEA Richmond became far worse. Dot Tompkins explains:
"We saw it start in 2006. Little things started happening. They suddenly had real issues with their payroll, like accidentally paying people out their vacation. Really stupid things that really messes with people's minds because it's upsetting. Then they'd take the money back by taking so much off each paycheque. Just stupid things like that, like not paying their sick days, screwing upon how many vacation days they had."
The bullying is linked to IKEA's aggressive agenda of rollbacks in bargaining. Today, as in 2006, IKEA says it is not in the "benefits business." They want to rollback family benefits by changing eligibility. Tompkins explains:
"We have it setup so that in order to get full benefits for your family, you work an average of 20 hours a week. They have constantly wanted to change it to 24. When we looked at our workforce and how much they worked, 24 hours is a hell of a lot harder to achieve than twenty."
As part-time retail workers know, an extra four hours usually means an extra shift which is difficult to get, especially at Ikea Richmond.
Management has also pushed for contracting out, cutting life insurance in half, and not paying out vacation pay in a lump sum as the workers would prefer.
IKEA's War Against Shopfloor Representation
Union-management relations also deteriorated dramatically.
"It used to be really good," explains Dot. "You'd almost never see a grievance. Suddenly there were grievances left, right and centre. We weren't allowed to spend much time with new co-workers. We used to be able to sit down with them and explain to them what the union was all about. Initially we were given five minutes, then all of a sudden it was nothing."
Despite a union security clause in the contract, union reps were having a hard time scheduling times to get into the store to talk to workers. And they were no longer free to walk the floor without management supervision.
However, management increased the number of one-on-one "talks" and larger meetings with workers. Union stewards, such as Tompkins, were not asked into these meetings. IKEA used this approach in an attempt to intimidate workers from the Filipino community.
According to Tompkins:
"IKEA was really banking that the Filipino workers would be so scared they would vote against striking and vote for whatever offer was there. They had two Filipino managers basically barraging them one-on-one and in captive audience meetings. Management didn't realize that the workers are a lot smarter than they give them credit for."
Time for a Real Boycott
The locked out workers at IKEA Richmond are already calling for a boycott. With only twelve stores across Canada, IKEA is extremely vulnerable to a sustained labour campaign with regular boots-on-the-ground actions and a clear media strategy. Each store is in a big city where decent numbers can be mobilized.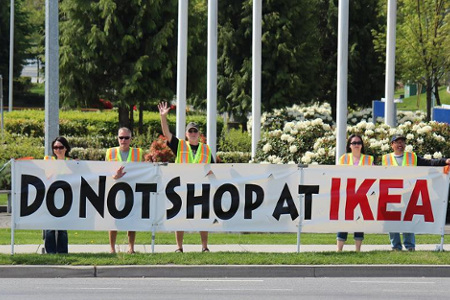 IKEA is a very high profile brand, which makes their reputation vulnerable to a clear, well-developed and well-executed media strategy in conjunction with well-organized picketing, flyering and rallies at the stores.
Coordinating this shouldn't be difficult. We already have the forces at our disposal. Trade unionists in the large city labour councils where IKEAs are located can introduce motions and action plans to carry out actions at the stores and contacting the local media (CBC, CTV, Global, newspapers, etc) to cover the actions.
Canadian Labour Congress President Hassan Yussuff, who visited the picket lines on June 2, has a real opportunity to put his promising words at last May's CLC convention into action. Here is the "ground war" Yussuff says he wants to unleash. The CLC can easily start to organize a national pressure campaign against IKEA. It could provide local labour councils with the materials and direction to start coordinated info pickets at every single IKEA store, which could culminate in a call for a national boycott. Yussuff and the CLC can also work with the Teamsters and CSN to activate their membership around their workplaces, including the unionized IKEA Montreal.
Last but not least, Hassan Husseini's "Take the Back CLC" campaign can also inform and activate its network of supporters to democratically engage their labour councils with action plans and pressure Yussuff and the CLC into action. Husseini has credibility on the IKEA Richmond picket lines. He was the only presidential CLC candidate to visit the lines before the convention in early May and according to Dot Tompkins, the workers "were really quite impressed with him."
The fight against IKEA is winnable, and holds out the opportunity to re-energize and rebuild networks of labour activists. This will only help the fight against Canada Post and future struggles. Time for a real boycott. Time for the ground war. •
This article first appeared on Rank and File.