When you are slowly suffocating due to oxygen deprivation, it's a bit of a priority to breathe fresh air again. It helps if someone finally opens a window so air circulation can start. In the case of the Canadian Labour Congress (CLC) of 2014, this invaluable service fell to Hassan Husseini, a union organizer and negotiator with deep roots in the Ontario social justice, international solidarity, left and labour community. He works as a staffer for the Public Service Alliance of Canada (PSAC) and is a member of Unifor and CUPE.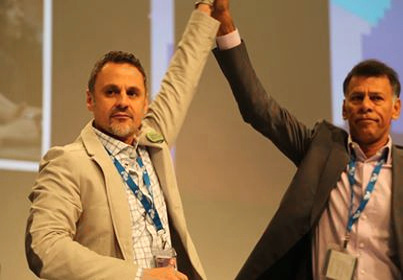 In March, Husseini declared his candidacy for CLC President, not with the primary purpose of winning the election but to begin a "Take Back the CLC" campaign. It focused on the requirement for a different kind of leadership from that practiced by Ken Georgetti – one that recognized "glitzy branding exercises" (Husseini's term) and even the smartest lobbying won't on their own lead to any advance, but instead emphasized mobilizing and pursuing campaigns based on the empowerment of workers themselves to carry out the struggles looming ahead with increasing intensity.
Husseini immediately began delivering his message concerning the particularly virulent form of capitalism that now, in the austerity-based, neoliberal drive for corporate profits, has made a target of all workers, organized and unorganized – and all marginalized communities – to meetings of union and community activists across the country. But he also emphasized the huge potential for mounting a fightback in the labour movement as well as in allied movements. His message of hope found fertile ground and remarkably enthusiastic support.
Waking Up the Comatose
Until Husseini stepped forward, a disheartening passivity seemed to grip many of even the most progressive union organizations and activists over the prospect of three more years of a Georgetti presidency and the predictable slide of the CLC into 'footnote to history' territory. Husseini's initiative prodded significant numbers of unionists and potential allies to shake off the comatose state. To paraphrase a well-known Canadian poet/songwriter, he demonstrated that there's a crack in everything, and that's how the light and the air get in.
It seems one of those so prodded was the other Hassan; i.e. Hassan Yussuff, an immigrant from Guyana, auto worker, CAW Human Rights Director, CLC Executive Vice-President, and subsequently elected by left-leaning delegates in 2002 as CLC Secretary-Treasurer in a particularly unpleasant fight against Georgetti's choice, NUPGE President James Clancy. Also elected were two Executive Vice-Presidents, Barb Byers (President of the Saskatchewan Federation of Labour) and Marie Clarke Walker (a union representative from CUPE), who shared Yussuff's discomfort with Georgetti's leadership. But the three had been less than successful in publicly advancing an alternative plan to challenge the direction the CLC has been headed in.
There no doubt were many credible reasons for caution on their part, not the least the unwillingness of major affiliates to grant the CLC executive the authority to assume anything approaching a real leadership role. But, in the changed dynamic created by Husseini's candidacy, it was clear that a failure by Yussuff to step forward would have meant a fatal loss of credibility for him as the wearer of the mantle of an alternative to Georgetti and the union leaderships supporting him.
Whether or not it was the surprising traction exhibited by the Husseini campaign on the left that motivated Yussuff and those closest to him to recognize the possibility of winning the presidency, it was undeniable that any successful strategy on his part would have to involve adopting a lot of the Husseini programmatic thrust – that the massive rightwing attack on labour and on our allies in marginalized communities means we are in a battle for our very survival as a force for social change. Ensuring labour looks to the gains made by grass-roots movements such as Idle No More, Occupy, the Quebec Students, the Chicago Teachers and others – and works in close alliance with them – was of particular importance.
Many Husseini delegates, inspired as they were by his sober analysis about what three more years of Ken Georgetti and his leadership would mean, nonetheless knew that Husseini was the longest of long shots for an actual win. Yussuff might carry it off, however – and could be supported if he took Husseini's platform seriously. In addition, major union leaders such as Jerry Dias (Unifor), Robyn Benson (PSAC), Denis Lemelin (CUPW), leaders of a number of teachers' unions and some smaller affiliates were factors in building support for Yussuff.
The union leaderships backing Ken Georgetti's bid for re-election included the more conservative usual suspects: Steelworkers (Georgetti's union), United Food and Commercial Workers (UFCW), Teamsters and NUPGE. But some spice was added by the surprising endorsement by Paul Moist, President of CUPE, the largest union in the country. In October of 2013, Moist had suffered a major rebuke at the hands of the upstart Rebuilding Militant Labour (RML) formed at the National CUPE Convention itself whose candidate, Lydia Dobson, a complete unknown from the Young Workers Caucus, was nominated from the floor and garnered a remarkable 21 per cent of the vote. The intensity of that revolt, as well as RML's continued organizing around its campaign to transform CUPE's approach to one that includes defining capitalism as the problem that must be confronted, led many observers to question the CUPE leadership's ability to keep its caucus fully in line.
Husseini Steps Aside
To their credit, Yussuff and his supporters engaged the Husseini campaign in productive and respectful exchanges. Of course, the ultimate decision by Husseini to step down and throw his support to Yussuff was choreographed to achieve the best possible result, but the 'intense discussions' engendered between the two camps allowed Husseini to declare on the Wednesday of the Convention that:
"My team and I have engaged with Hassan Yussuff… about how to move forward, and I have been pleased with what Yussuff has brought forward in recent days. Right now, I believe it is essential for the working-class to be united and to work together for change – and that is why I decided to step down to endorse Hassan Yussuff. I am not abandoning my campaign or abandoning the principles we have put forward."
His conviction and assurance the campaign that had built momentum for the past two months had to be continued with greater vigor was embraced by those working with him. So the decision, while a disappointment to some, was not met with major resentment by Husseini's supporters. Perhaps Yussuff, with the baggage of 12 years on the CLC Executive Council, didn't appear to be the most convincing beacon of hope for some on the left, but the commitments he enunciated and his endorsement by Husseini were enough to bring about unity among those delegates whose "desire and demand," in Yussuff's words, were "to return to the offensive for rights and progress after decades of retreat and decline."
Emphasizing the intervention of the Harper government in the previous 18 months to prevent or break the strikes of rail, airline and postal workers, he underscored its clear goal – that "free collective bargaining will not be allowed to determine economic and social outcomes in Canada." The labour movement's collective strength can only be realized by a "'ground war' based on organization, education and mobilization of union members and our community partners," not just a public relations 'air war.'
Yussuff's campaign was especially convincing in one important area – his insistence on the need for more inclusive and respectful leadership. This was based on his record of support for the battles of marginalized workers and for human rights issues, and reflected in his assertion that "a key duty of CLC leadership is to build a common and unifying vision" that addresses "the voices that have spoken out asking for more recognition, support and respect for Federations of Labour and Labour Councils; for women, workers of colour, aboriginal workers, youth, LGBTQ and disabled workers."
Given the rapidly changing nature of the labour movement and the workforce across the country – women are now the majority in the trade unions, the rapid growth in the number of workers of colour, the gendered and racialized character of precarious work, to mention only a few of these factors – applying this lens to the campaign resonated in a way it had not at previous conventions.
Ken Georgetti's campaign, by contrast, was both flat and mildly astonishing at the same time. On the one hand, as rabble.ca's H.G. Watson reported on April 29, Georgetti cited unfinished business as his motivation for running again, explaining that he "wants to keep pressing forward with the CLC's Fairness Works campaign and get the congress ready for the federal and provincial elections that are on the horizon." His 'stand pat' stance focussed on a recital of successes such as fighting Bill 377, adding 375,000 new members to the CLC during his tenure, promoting election of 'labour friendly candidates' in many municipalities, and restating his conviction that the CLC's role is primarily providing programs and training support so that affiliates themselves 'buy in' and can carry out initiatives among their own members, rather than serving as a mobilizing vehicle itself.
On the other hand, he curiously insisted that he would run with a full slate of his own. Since Barb Byers, Marie Clark Walker and Donald Lafleur had chosen to run as independent candidates in the early stages, Georgetti's decision to run with three not so well-known candidates for the other Executive positions, sent a rather stark message – candidates would either swear fealty to Georgetti or they would be opposed by the Georgetti machine. Reflecting this, the leaderships of CUPE and NUPGE turned their backs on Marie Clark Walker and Barb Byers and declared their support for other candidates from their ranks. What may have seemed to him and the NUPGE/CUPE leaders initially as a clever move to force these candidates to reveal their intentions and as a demonstration of resolve, came to be viewed as mean-spirited and reflective of an all-too-familiar strong-arm method of control by many – not the least by some delegates in CUPE and NUPGE.
Buses and Banners
This ploy, as well as the decision of some leaders in both camps to refuse candidates the right to address their caucus meetings, suffered the indignity of push-back by the assembled delegates who made certain that two hitherto unheard of measures at a CLC convention were carried out: first, an all-candidates convention debate, and second, a secret ballot. The latter was hugely important, severely limiting caucus leaders' ability to follow through effectively with the pressure on their delegates to vote for the preferred candidate.
Thus it was that on the Thursday morning prior to the vote, the total delegation swollen to almost 5000, the bright yellow and orange Ken Georgetti flags easily dominated marches up and down the cavernous convention floor, with the more subdued blue Yussuff flags appearing to be significantly in the minority. Both camps had 'bused in' huge numbers of delegates only as voting fodder (an unquestionably legal, if a somewhat distasteful tactic in the minds of many delegates. But it was clear on election morn that the busing skills of the Georgetti camp had trumped those of the Yussuff camp.
Out-bused and out-bannered, not a few anxious Yussuff supporters began to experience those old lack-of-oxygen distress symptoms as they viewed the convention hall parades, reminiscent more of a political party convention in a country directly south of us than the stodgy election (or, more often, non-election) procedures at CLC conventions. Yussuff organizers, however, remained confident that the election was very much still in play. Jim Crowell, the campaign director for CUPW's Donald Lafleur, insisted to those expressing gloomy predictions that given the secret ballot and readings of how the campaign had progressed with the non-bused core delegates, Yussuff remained in contention as long as the total delegation number remained under 5000. He was right.
In the end, Hassan Yussuff emerged as the first worker of colour to become CLC President and the first opposition candidate to defeat a sitting President in the CLC's history – by forty votes, 2318 to 2278, with 29 spoiled ballots for a total of 4625 cast. And once this contest was determined, almost 2000 delegates promptly abandoned the "workers' parliamentary session" of May 8, 2014. Those buses were set to leave at the appointed hour, you see, and perhaps, in some cases, refreshment in nearby establishments had become an overwhelming necessity. The election for Secretary-Treasurer saw Barb Byers sweep in with 1781 votes to 1036, a margin of 744 votes out of a total or 2817 votes cast.
There are many theories about where the exact sources of the leakage from the unions endorsing Georgetti originated. It is abundantly clear, however, that the CUPE and NUPGE leadership were unable to convince many of their delegates to hold their noses and vote for Georgetti, even if these delegates, for obvious reasons, didn't wear the buttons or wave the flags of non-Georgetti team candidates.
Election Consequences
On the face of it, it appears that the union leadership most roughed-up in this contest was that of CUPE. It may not have been officially confirmed by the principals involved, but the account of a succession deal agreed to between Georgetti and CUPE President Paul Moist should the election return the incumbent, was widely reported and believed. It was seen as precisely the sort of back-room undemocratic decision that led to the troubles at CUPE's earlier convention It appears this failed the 'unconscionable smell test' for many CUPE delegates, above and beyond the many who under no circumstances would vote for Ken Georgetti in the first place. If this was a strategy CUPE leaders felt was in their best interest to increase their own influence in the labour movement, it suffered an undignified fate.
In the case of NUPGE, even if the results were not quite the manifest train-wreck they were for CUPE, the decision to heave Barb Byers, long-time leader of SGEU and the Saskatchewan Federation of Labour prior to her election as CLC Executive Vice-President, into the heavy traffic lane was received with resentment within a number of its provincial affiliates. What promises were made to NUPGE leaders by the Georgetti camp haven't yet become subjects of wide public speculation, but – five will get you ten – more than friendly winks and nudges were exchanged.
In both cases, little was left to show for these leaders' strategies other than the embarrassment of having their failure to bring many of their own members with them publicly exposed. The consequences inside their respective organizations may come to light in coming days.
Unions stressing the importance of mobilization, reaching out to potential allies in well-organized campaigns, and embracing the proposition that the movement must include those not organized and those communities that have been primarily ignored or less respected, emerged with reinvigorated hope at this convention. CUPW delegates, for example, came to the Convention with the intent of launching a movement-wide mobilization to defeat the Tory/Canada Post five point program of postal service decimation and to gain on the ground support for a campaign to expand postal services into new areas meeting the requirements of the most vulnerable. They did not leave disappointed. The unanimous passage of a resolution to this effect was in itself a gratifying expression of unity, but the election of an Executive Council (including CUPW Vice-President Donald Lafleur) declaring its commitment to mobilization on the ground rather than retrenchment, provides a real chance that this resolution will have life breathed into it.
This by no means is limited to the attack on social solidarity manifested in the brutal dismemberment of the postal service, but it stands as an excellent example of the possibilities this election provides. Some have recognized, like Doug Nesbitt and David Bush in "We Can Win this Fight and Defeat the Right," that postal workers by themselves won't wrestle the Tory demon of public postal service elimination to the ground. But there exist good reasons why this fight presents a special "opportunity to deepen labour and community ties, grow explicitly leftwing movements, train and deepen the political and strategic skills of activists, connect leftwing activists across the country, campaign on an issue that affect millions of Canadians, and deal the right a defeat." The struggle for strategic reform in Canada Post may have emerged as the most immediate test, but if developments at the 2014 CLC Convention turn out to provide a helpful jump start in this direction, other mobilizations may well find this one provides important lessons to heed.
But in a very real way, the big winner at this Convention was not so much a union or group of unions, but a perspective – that organizing, building our members fight-back capacities and pursuing solidarity with potential allies will take place in an atmosphere of a new willingness to embrace as an equal part of the collective whole the experiences of women, workers of colour, youth, refugees and immigrants, LGBTQ workers and workers with disabilities.
It is not too much to expect that the new CLC Executive committee will quickly embark on developing a plan for this new direction that will see not only unprecedented outreach to the base of the organized labour movement but also to all of these respective components that to date have not been the recipients of the labour movement's full solidarity. It also should be expected that important new emphasis will be placed on innovative and creative approaches to focus on the huge problem engendered by labour's pummeling as the neoliberal assertion of power continues to expand.
Uncertainties Remain
But even if air is now circulating in the labour movement, it would be unwise to ignore one problematic feature of prolonged oxygen deprivation, or 'anoxia' – the tendency to hallucinate. Feelings of euphoria, heightened colour awareness and other distortions of the senses have long been documented as symptoms thereof. Some professionals, unmoved by hushed accounts of other-worldly experiences, have gone so far as to declare that Near Death Experiences (NDEs) are nothing more than a product of anoxia.
So it is that some care needs to be exercised in expounding on what this Convention has wrought. It is true that an impediment to organizing has been removed. It is true that a revamped Executive Council provides renewed prospects for on the ground mobilizing and more vigorous campaigns. It is true that a greater degree of reaching out in solidarity with vulnerable communities can be expected.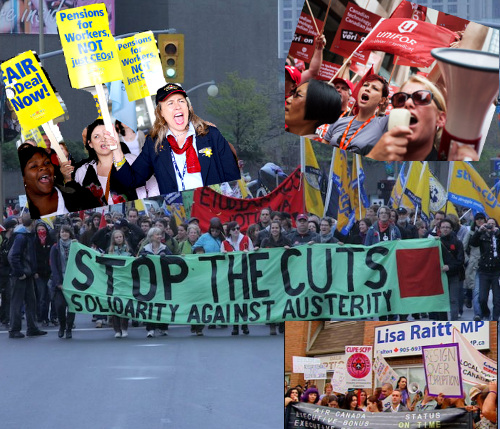 But let's not forget that the structural weaknesses of the CLC as labour's 'umbrella organization' remain in place. Major affiliates will still determine whether or not the CLC Executive Council will be able to lead in collective bargaining struggles and in the fight to significantly reverse the retreat and decline of unions, much less enjoy success in larger attempts to have influence on social and economic policies.
It probably would also be wise to keep in mind that the delegates voting to retain the pre-existing CLC conservative approach came pretty close to carrying the day. Expect that at least some of those unions won't go gently into that goodnight and will resist pressure to change direction.
Moreover, we're soon likely to be reminded to our chagrin that the legislated labour relations system in Canada and Quebec is not geared to improving labour's power, and is instead a major factor in maintaining the climate promoting disunity and raiding. And will it be possible in the face of the ravages of free trade and neoliberalism, to build significant momentum toward reversals of concession bargaining and growing inequality?
In short, it would be a grave error to say that the 2014 CLC Convention shows the labour movement has yet risen to the challenges it faces. The tasks of going beyond the defensive, beyond even justifying the lowering of expectations, especially for future generations (expressed forcefully by the convention young workers caucus initiative to ramp up the struggle against two tier bargaining) and other current manifestations of the decades-long diminution of our collective ability to build resistance, remain unrealized. And given the limited capacity unions possess by their very nature in playing a political role, the weakness of the left constitutes a further impediment.
But at least we're breathing again. •