The Philippines is a country long wracked by political corruption, colonialism, military occupation and dependence and millions living in poverty. When natural disasters hit, such as Typhoon Haiyan, a category 5 storm battering the Philippines on November 8, these social faultlines are exposed. The majority of the population are little prepared for the storm, and even less able to cope with the humanitarian disaster in the aftermath. The regime of President Benigno Aquino has not departed from this historical legacy. The full neoliberal policy menu has been pursued, with deregulation, austerity in social benefits, privatization and the gutting of state capacities. The gross social inequalities remain, and a renewed pattern of military collaboration and dependence on the U.S. has consolidated (including the massive bolstering of the Philippines own military expenditures to the tune of $1.7-billion as part of its contribution to the Pacific Rim pivot of U.S. foreign policy and deployments).
This is but a small part of the political context for this typhoon, which have been increasing in frequency and intensity according to numerous Philippine climate scientists. The Philippines chief climate negotiator is Naderev Saño, and he told delegates at the concurrent meetings 19th United Nations Framework Convention on Climate Change (COP19) that Typhoon Haiyan is linked to climate change and as a country of islands the Philippines is in particular affected:
"…What my country is going through as a result of this extreme climate event is madness. The climate crisis is madness. We can stop this madness…We can take drastic action now to ensure that we prevent a future where super typhoons become a way of life. Because we refuse, as a nation, to accept a future where super typhoons like Haiyan become a fact of life. We refuse to accept that running away from storms, evacuating our families, suffering the devastation and misery, having to count our dead, become a way of life. We simply refuse to. … Typhoons such as Haiyan and its impacts represent a sobering reminder to the international community that we cannot afford to delay climate action."
The complete transcript can be found at www.commondreams.org.
We reproduce here a few of the political statements that emerged from the Philippines on the typhoon disaster and its fallout.
Yolanda: the Messenger
Walden Bello
It seems these days that whenever Mother Nature wants to send an urgent message to humankind, it sends it via the Philippines. This year the messenger was Yolanda, a.k.a. Haiyan.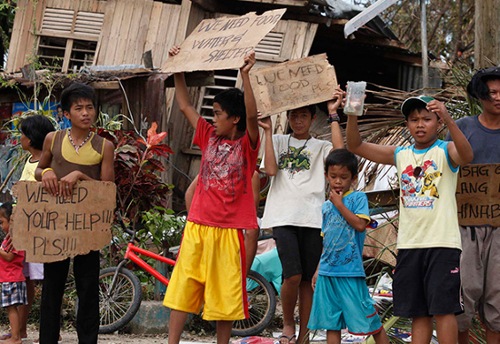 For the second year in a row, the world's strongest typhoon, Yolanda, barreled through the Philippines, following on the footsteps of Pablo, a.k.a Bopha, in 2012. And for the third year in a row, a destructive storm deviated from the usual path taken by typhoons, striking communities that had not learned to live with these fearsome weather events because they were seldom hit by them in the past. Sendong in December 2011 and Bopha last year sliced Mindanao horizontally, while Yolanda drove through the Visayas, also in a horizontal direction.
That it was climate change that was creating super typhoons that were taking weird directions was a message that Nature was sending not just to Filipinos but to the whole world, whose attention was transfixed on the televised digital images of a massive angry cyclone bearing down, then sweeping across the central Philippines on its way to the Asian mainland. The message that Nature was sending via Yolanda – which packed winds stronger than super storm Sandy, which hit New Jersey and New York last October, and Hurricane Katrina, which devastated New Orleans in 2005 – was especially meant for the governments of the world that are assembling in Warsaw for the annual global climate change negotiations (COP 19) scheduled to begin Monday, November 11. Is it coincidence, ask some people who are not exactly religious, that both Pablo and Yolanda arrived at around the same time as the global climate negotiations? Pablo smashed into Mindanao during the last stages of the Conference of Parties 18 (COP 18) in Doha last year.
COP 19: Another Deadlock?
It is doubtful, however, that the governments assembling in Warsaw will rise to the occasion. For a time earlier this year, it appeared that Hurricane Sandy would bring climate change to the forefront of U.S. President Barrack Obama's agenda. It did not, and, while trumpeting that he was directing federal agencies to take steps to force power plants to cut carbon emissions and encourage movement toward clean energy sources, Obama will not send a delegation that will change the U.S. policy of non-adherence to the Kyoto Protocol, which Washington signed but never ratified. Though 70 per cent of Americans now believe in climate change, Obama does not have the courage to challenge the fanatical "climate skeptics" that fill the ranks of the Tea Party and the U.S. business establishment on this front.
It is also unlikely that China, now the world's biggest carbon emitter, will agree to mandatory limits on its greenhouse gas emissions, armed with the rationale that it is those that have contributed most to the cumulative volume of greenhouse gases like the U.S. that must be subjected to mandatory emissions cuts. And as China goes, so will Brazil, India, and a host of the other more industrially advanced developing countries that are the most influential voices in the "Group of 77 and China" coalition. What the governments of these countries seem to be saying is that the carbon-intensive industrial development plans they are pursuing are not up for negotiation.
Dangerous Gap
According to the Durban Platform agreed upon in 2011, governments are supposed to submit carbon emissions reduction plans by 2015, which will then be implemented beginning in 2020. To climate scientists, this leaves a dangerous gap of seven years where no mandatory moves of emissions reduction can be expected from the U.S. and many other carbon-intensive countries. It is increasingly clear that every year now counts if the world is to avoid a rise in global mean temperature beyond 2 degrees Celsius, the accepted benchmark beyond which the global climate is expected to go really haywire.
Countries like the Philippines and many other island-states are in the frontlines of climate change. Every year of massive and frequent disastrous climate events like Yolanda and Pablo reminds them of the injustice of the situation. They are among those that have contributed least to climate change, yet they are its main victims. Their interest lies not only in accessing funds for "adaptation." (A Green Climate Fund that would funnel, beginning in 2020, $100-billion a year from rich countries to poor countries to help them adjust to climate change has been set up, but contributions so far have been small and slow in coming.) With typhoons and hurricanes now being on the cutting edge of extreme weather events, these frontline countries must push all major greenhouse gas emitters to agree to subject themselves to radical emissions cuts immediately, and not wait till 2020 to undertake this.
Unorthodox Tactics
During the Doha negotiations last year, one of the leaders of the Philippine delegation cried when he pointed to the ravages inflicted on Mindanao by Pablo. It was a moment of truth for the climate talks. This year, our delegation must convert tears into anger and denounce the big climate polluters for their continued intransigence against taking the steps needed to save the world from the destruction that their carbon-intensive economies have unleashed on us all. Perhaps, the best role our delegation can play is by adopting unorthodox tactics, like disrupting the negotiations procedurally to prevent the conference from falling into the familiar alignment of the rich North versus the Group of 77 and China, a configuration that guarantees a political deadlock even as the world hurtles toward the four degree plus world that the World Bank has warned will be a certainty without a massive global effort to prevent it. •
Walden Bello represents Akbayan (Citizens' Action Party) in the House of Representatives. This article originally published on the Inquirer Opinion website.
Some Filipinos Blame Politics
and Industry for Monster Typhoon
Krystle Alarcon
As the world turns its eyes on the Philippines after the worst recorded typhoon in history ravaged through the country, Filipinos are pointing fingers at the Harper government for creating the monster.
"Canada enters into climate change negotiations and simultaneously they're fracking, continuing tar sands projects and digging into land all over the world. Canadian mining in the Philippines is devastating," said Katie Zalazar, a community organizer with No One Is Illegal. She spoke about how her fisher-folk family was displaced by mining projects in Batangas at a recent environmental discussion put together by a climate justice youth group, Power Shift.
Dr. Nora Angeles, an associate professor at UBC's School of Community and Regional Planning, acknowledged that most Canadian mining companies such as Toronto Venture Inc., are in the Philippines' southern province of Mindanao and the pathway of super typhoon Haiyan hit the central region of Samar Island and Leyte the hardest.
But super typhoons Bopha (known as Pablo in the Philippines) and Washi (Sendong) killed more than a thousand people each in Mindanao in December 2012 and 2013. The two typhoons, including Haiyan, are also unusually late in the season. The Philippines halted logging since February 2011 to avert such environmental disasters.
Deforestation, the process by which trees are rampantly ripped off land to make room for the large-scale mines, has contributed to the worsening typhoons, Angeles pointed out. "With the wind speed of Yolanda, trees would have helped reduce its impact on the ground," as they could have prevented erosion and landslides, she said.
Illegal logging and mining projects have degraded the soil and water, Angeles insisted. "Combine that with more tropical storms that are getting stronger – then it is going to be a recipe for more environmental degradation," she said. In other words, the "natural" catastrophe is human-made, as much as the Philippines is situated in a typhoon belt, Angeles argued.
By far, Haiyan has taken more lives than Bopha and Washi. The death toll climbed to 10,000 in Tacloban City alone, where it landed. An estimated 615,000 people have been displaced.
But first, people have to accept the idea of climate change.
"The climate change nay-sayers, especially those promoting fossil fuels, non-renewable sources – they should wake up," Angeles argued.
That sense of urgency was brought up twice by Philippine climate representative Nadarev "Yeb" Sano. Last year, he made a tearful plea to the United Nations Framework Convention on Climate Change – documented in this video.
This year, he called climate change "madness," pledging to start a hunger strike until the UN starts moving forward with concrete measures, such as the Green Climate Fund. It's a targeted pool of $100 billion per year by 2020 from developed countries to help developing countries wrought with climate change crises. The UN is still working out when and how to deliver the fund.
Sean Yap Devlin, an environmentalist who co-created viral Sh*t Harper Did videos, also said he is tired of waiting for change – and put the blame squarely on the Canadian government. Devlin's mother hails from the province of Leyte and is still waiting to hear from some cousins if they survived.
He said Canada is "the worst" at obstructing the UN process of climate change negotiations – pointing to the Harper government winning the infamous "Colossal Fossil" Award six years in a row, for undermining international regulations to prevent climate change. The award is handed out by the Climate Action Network, composed of 850 NGOs worldwide that fight "human induced climate change," according to its website. The Harper government quietly pulled out of the Kyoto Protocol in 2011, which requires developed countries to reduce green house emissions.
But other Filipino Canadians blame the Philippines for the tragic outcomes of the typhoons. Albert Lopez, a member of Migrante, which helps Filipino migrant workers in B.C. along with chapters around the world, said that even his friends are reluctant to even send donations home. They are wary because of a recently exposed scandal of senators misusing government 1-billion Pesos worth of government funds, better known as the pork barrel scam.
Beth Dollaga, another member of Migrante B.C., urges people to send funds through their organization, as they have been working for years on the ground with peasants, working poor and indigenous groups in the Philippines against climate change and political corruption.
"Land is being extracted of the indigenous Filipinos' ancestral domain. Now the typhoon comes, we are echoing what these indigenous communities are asking of Canadian corporate mining (projects): to leave. They have to leave them and respect their request," she said.
Dollaga is also encouraging the government to increase the $5-million it has pledged to the Philippines for the typhoon, but with full disclosure to both Canadians and Filipinos of the breakdown of funds.
Devlin also raised red flags about how the Canadian government muzzled scientists from sharing their research by controlling Environment Canada from doing media interviews since 2007, slowing down the process for climate change reforms. As a result, media coverage of climate change was reduced 80 per cent, he added.
Considering a recent comment made by Employment Minister Jason Kenney at the World Petroleum Council Youth Forum in Calgary, Devlin said the fight for environmental protection is far from over.
"Until we invent the famous dilithium crystals from Star Trek, which I understand are produced by crushing unicorn horns … oil and gas will continue to be the mainstay of the global energy market," Kenney said at the forum.
Devlin said Kenney should be even more sensitive as a former immigration minister. "I'm assuming he knows something about what countries like the Philippines go through. He's pretending like we don't even have other options seriously. It's ridiculous. It's absurd and kind of funny. And terribly offensive." •
Krystle Alarcon is a multimedia journalist based in Vancouver, BC, who reports on social justice issues related to women, immigrants, First Nations, the LGBTQ community and marginalized people. This article first published on the Vancouver Observer website.
Disaster Follows Disaster in the Philippines
Alessandro Tinonga and Nicole Colson
"Worse than hell." That's how Magina Fernandez, a survivor of Typhoon Haiyan in the now-decimated Philippines city of Tacloban, described the aftermath of the storm to CNN.
With 10,000 or more estimated dead, entire cities leveled and hundreds of thousands of weary survivors desperately seeking supplies and relief, Haiyan has caused – on top of the massive storm destruction across the country – a humanitarian crisis of immense proportions.
And behind the immediate crisis caused by the storm are a series of questions that demand answers: What made Haiyan so powerful – perhaps the strongest storm in recorded history? Could the island nation of the Philippines have been better prepared? And above all else: What will it take to help the survivors now – and make sure a repeat of this devastation never occurs?
Category 5 Storm
Typhoon Haiyan was a Category 5 storm and one of the largest ever to have made landfall. It battered the Philippines – a nation of more than 7,000 islands, located in the Pacific Ocean, southeast of the Asian continent – starting on Friday, November 8, with wind gusts of up to 235 miles an hour. By Sunday, reports of catastrophic devastation and massive casualties had begun to emerge.
The city of Tacloban – the capital of the Leyte province on the eastern edge of the Philippines – was hit particularly hard. No building seems to have escaped damage, and the death toll has been getting worse by the day. The sea level rose by as much as 13 feet, and water from the storm surge flowed more than half a mile inland. As the New York Times described the city:
"Shattered buildings line every road of this once-thriving city of 220,000, and many of the streets are still so clogged with debris from nearby buildings that they are barely discernible. The civilian airport terminal here has shattered walls and gaping holes in the roof where steel beams protrude, twisted and torn by winds far more powerful than those of Hurricane Katrina when it made landfall near New Orleans in 2005.
"Decomposing bodies still lie along the roads, like the corpse in a pink, short-sleeved shirt and blue shorts facedown in a puddle 100 yards from the airport. Just down the road lies a church that was supposed to be an evacuation center, but is littered with the bodies of those who drowned inside."
Complicating an accurate count of the dead is the fact that the storm surge was of tsunami-like proportions – in some areas, an unknown number of people were swept out to sea. Survivors in hard-hit areas are reportedly burying the dead in mass graves.
There are other cities and villages like Tacloban. Baco, a city of 35,000 in Mindoro province, was 80 per cent under water, according to United Nations reports. In Daanbantayan, the northernmost tip of Cebumainland, an estimated 98 per cent of homes and structures had been damaged. According to Oxfam, a town hall and cultural center that had served as evacuation centers had to be evacuated themselves because of storm damage.
As this article was being written, rescuers still had not been able to reach several cities – and the situation was dire in those localities that they could. In Eastern Samar province's Guiuan township, Oxfam officials reported seeing children begging, holding up signs reading, "Help. We need water, food and medicines."
In footage taken by a Philippines news channel, an unidentified woman tells the camera, "I have no house, I have no clothes. I don't know how I will restart my life, I am so confused. I don't know what happened to us. We are appealing for help. Whoever has a good heart, I appeal to you – please help Guiuan."
Responding to the disaster, President Benigno Aquino III declared a state of national emergency and mobilized the army to bring relief to storm survivors and organize rescue efforts. U.S. officials have also pledged to send help. But as the days pass, the scope of the humanitarian crisis is far outpacing the assistance from the likes of the U.S. government – whose first wave of rescue workers consisted of 90 Marines and sailors.
In Tacloban, there were reports of "looting" in the aftermath of the storm. In response, Aquino declared martial law and ordered 300 troops and police to be deployed to the city in personnel carriers. But such "looting" is the only option for desperate survivors trying to find food, clean water and shelter – a clear indication of how critical the situation is, and how ineffective the government has been in providing help.
"The scene is one of utter devastation," Tata Abella-Bolo, a member of Oxfam International's emergency team on the central island of Cebu, described in a statement. "There is no electricity in the entire area and no water. Local emergency food stocks have been distributed, but stocks are dwindling. The immediate need is for water, both for drinking and cleaning."
As survivor Magina Fernandez begged CNN, "Get international help to come here now – not tomorrow, now."
Super Typhoon
Typhoons are a regular occurrence in the Philippines, but as the rate of global warming-induced climate change has increased, so have the number and strength of the storms. Haiyan is the third Category 5 "super typhoon" to hit the Philippines since 2010.
Haiyan was made more devastating by the fact that it hit landfall at peak intensity, and swept into the Philippines in a broad bay – making storm surges worse.
While no single storm can be taken as evidence of climate change, the growing number of "superstorms" is viewed by scientists as a direct result of the warming of the oceans and the climate. According to Romulo Virola, head of the Philippines government's national statistics board:
"Menacingly, the Filipino typhoons are getting stronger and stronger, especially since the '90s. From 1947 to 1960, the strongest typhoon to hit us was Amy in December 1951 with a highest wind speed recorded at 240 kilometers per hour in Cebu. From 1961 to 1980, Sening was the record-holder with a highest wind speed of 275 kilometers per hour in October 1970. During the next 20 years, the highest wind speed was recorded by Anding and Rosing at 260 kilometers per hour. In the current millennium, the highest wind speed has soared to 320 kilometers per hour, recorded by Reming in November-December 2006. If this is due to climate change, we better be prepared for even stronger ones in the future."
As this article was being written, Philippines climate negotiator Naderev "Yeb" Saño told delegates at the start of the 19th United Nations Framework Convention on Climate Change (COP19) that Typhoon Haiyan had prompted him to begin a hunger strike until "clear progress" was made on climate change:
"What my country is going through as a result of this extreme climate event is madness. The climate crisis is madness. We can stop this madness…We can take drastic action now to ensure that we prevent a future where super typhoons are a way of life. Because we refuse, as a nation, to accept a future where super typhoons like Haiyan become a fact of life. We refuse to accept that running away from storms, evacuating our families, suffering the devastation and misery, having to count our dead, become a way of life. We simply refuse to. … Typhoons such as Haiyan and its impacts represent a sobering reminder to the international community that we cannot afford to delay climate action."
Yet many countries, led by the most powerful among them, like the U.S., have continued to delay significant action to curb greenhouse gas pollution. On the contrary, the U.S. government continues to implement policies that protect the interests of big business – and in particular, the fossil fuel industry – despite overwhelming scientific consensus on the impact and cause of climate change.
While it is impossible to stop weather events like storms from taking place, the increasing frequency of superstorms seems almost certainly a consequence of man-made climate change, whose chief instigators are fossil fuel companies and the governments that support them. Yet international measures to confront climate change have been frustrated by major governments, including the U.S., where the Obama administration has put profits before the environment. The U.S. bears a large part of the responsibility for blocking action at an international level.
And who is paying the price? As is so often the case when it comes to the environment, the chief victims of policies engineered in the most powerful countries are the poor in countries like the Philippines, with a less developed infrastructure and fewer resources in times of crisis.
Yeb Saño issued a challenge to those who would deny climate change or try to slow down measures to curb global warming:
"I dare them, I dare them to get off their ivory towers and away from the comfort of their armchairs.
"I dare them to go to the islands of the Pacific, the Caribbean, the Indian Ocean, and see the impacts of rising sea levels; to the mountainous regions of the Himalayas and the Andes to see communities confronting glacial floods; to the Arctic where communities grapple with the fast dwindling sea ice caps; to the large deltas of the Mekong, the Ganges, the Amazon, the Nile, where lives and livelihoods are drowned; to the hills of Central America that confront similar monstrous hurricanes; to the vast savannas of Africa where climate change has likewise become a matter of life and death, as food and water become scarce.
"Not to forget the monster hurricanes in the Gulf of Mexico and the eastern seaboard of North America as well as the fires that razed 'Down Under.' And if that is not enough, you may want to pay a visit to the Philippines right now…
"We have entered a new era that demands global solidarity in order to fight climate change and ensure that the pursuit of sustainable human development remains at the fore of the global community's efforts. We cannot sit and stay helpless staring at this international climate stalemate. It is now time to raise ambition and take action."
Compounding the devastation caused by Typhoon Haiyan are the social inequities of the Philippines. Well before the storm and the economic crisis, most Filipinos struggled to survive in a system fraught with poverty, corruption and super-exploitation.
Despite much fanfare about its annual economic growth of more than 7 per cent, 28.6 per cent of Filipinos still live under the official (and understated) poverty level. One in four Filipinos live on a dollar a day, 20 per cent lack access to electricity, and nearly one-third of the population are unable to provide for basic food and shelter.
All the while, the superrich continue reap the benefits of the exploitation of the Philippines people. As Pepe Escobar wrote in Asia Times Online: "One family, the Ayalas, controls 18 per cent of total stock market-listed corporate assets. Moreover, the country's top 10 most powerful families control 56.2 per cent of such assets. Just over 50 per cent of total GDP is controlled by the top 15 families."
In a country with millions living in poverty, natural disasters will continue to cause massive casualties. With the wealth of society being drained away from the mass of the population for the benefit of a small clique, many are left without the means to properly prepare for a storm or its aftermath. A massive undertaking is needed to make sure that the Philippines masses are provided the means to endure a storm and survive with a decent standard of living.
But the government of President Benigno Aquino has continued the agenda of austerity and neoliberalism by pushing for more deregulation, cutting social benefits to the poor and those in need, and pushing privatization. Aquino has proved to be unwilling and unable to change the country's gross inequality. To strengthen the hand of the state, he is inviting more assistance and collaboration with the U.S. military, as well as spending $1.7-billion to buy more weapons and warships.
Right now, the people of the Philippines need our support and solidarity with the relief efforts. Concurrently, struggles to change the desperate social inequities in their country must be supported.
Internationally, we all need to work together to stop the humanitarian disasters that will come with the superstorms borne by climate change. •
Alessandro Tinonga and Nicole Colson write for Socialist Worker where this article first appeared.