What constitutes a dictatorship? Haiti had an election in 2006, which the popular candidate won. It had an election in 2011, which had one of the lowest turnouts in recent history and which was subject to all kinds of external manipulation. Given these elections, is it unfair to call Haiti, a country that suffered 30 years of classic dictatorship under the Duvaliers from the 1950s to the 1980s, a dictatorship today?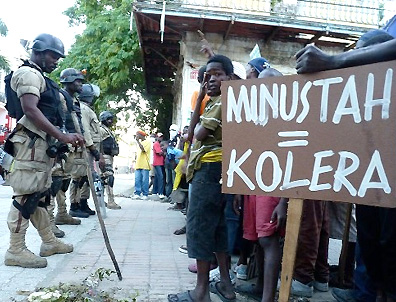 When the institutions that govern Haiti today are examined, it is clear that the label 'dictatorship' applies. Haitians have no effective say over their own economic and political affairs. Their right to assemble and organize politically is sharply limited. Human rights violations are routine and go unpunished. Popular political parties are effectively banned from running.
How is Haiti Governed?
Since 2004, the armed force in Haiti has been controlled by the United Nations Stabilization Mission in Haiti, MINUSTAH. Haiti's police are trained, and effectively supervised, by a subset of MINUSTAH, a mission called CIVPOL (usually commanded by Canadians). The current president of Haiti, Michel Martelly, wants to bring back the Haitian Army, but when that army existed, it was also an instrument of another country (the U.S.) and its foreign policy – bringing back the Haitian Army would be no boost to sovereignty or democracy in Haiti.
Force is controlled from outside. What about finance? MINUSTAH has a budget of about $676-million. Since the 2010 earthquake, the big charities have spent about the same (around $600-million) in 2010 and 2011. Haiti's own government budget this year is based on $1.1-billion in aid and $1.25-billion in taxes. Perhaps most importantly, Haiti's economy is also supported by about $1.5-billion in remittances from the Haitian diaspora, year after year, one of the largest contributions to Haiti's $7.3-billion GDP.
These figures contain a few surprises. In terms of taxes and GDP, most of the contribution to Haiti's economy is by Haitians. Presented as an international basket-case, Haiti is actually more self-sufficient than its donors believe. And the aid – whether in the form of budget support, relief and reconstruction aid, or NGO expenditure – buys control. By contributing a fraction of what Haitians contribute, foreign donors purchase control over the direction of Haiti's economy, including the determination of an export- and foreign-investment driven model that keeps wages low and denies any protection to the country's agriculture, let alone any local infant industries. Haiti's private sector is a subcontracting sector, featuring low-wage assembly plants and import-export monopolies, but little prospect of increasing productivity or long-term development.
Haiti's social services sector is controlled by non-governmental organizations. These NGOs are better described, using Peter Hallward's phrase, as "other-governmental," since they are financed by, and beholden to, foreign donor countries. With daily welfare in the hands of a totally decentralized NGO economy, there is no prospect of any sort of national or regional coordination. This has real, and deadly consequences. Hurricane Sandy in 2012 provides an example. Cuba's early warning system and national government enabled that country to evacuate a huge hurricane-affected area before the storm hit, with hundreds of thousands of people being efficiently moved out of danger and back to their homes after the storm passed. With every NGO in the world, and half of the world's countries participating in MINUSTAH, the international community could not manage such an orderly evacuation in Haiti. This is one of the reasons Haiti, under international tutelage, loses more lives than sovereign countries do every hurricane season and why it lost more lives during the 2010 earthquake than countries like Chile or China (that were hit with severe earthquakes around the same time).
A final feature of dictatorships is impunity, a situation in which crimes committed by the regime go unpunished. There is now irrefutable scientific evidence that the United Nations brought cholera to Haiti, and that cholera has killed over 7500 people since it was introduced. MINUSTAH's initial position was to claim that there was no proof. Now that there is proof, MINUSTAH insists that it is not to blame because it was not done on purpose, even though no one ever claimed it was. But if the effective government of a country causes thousands of deaths and insists that no one is to blame, shouldn't it raise questions about how the country is governed?
The Coup and Canadian Intervention
The story of how Haiti's new dictatorship was imposed is also appalling. The MINUSTAH-international donor regime was imposed after the elected government was overthrown in 2004. That government, of Lavalas, saw its president, Jean Bertrand Aristide, kidnapped and flown to the Central African Republic, where he was held until he was basically rescued by an American delegation. The coup against the Lavalas government was accompanied by many claims that Aristide was a great human rights violator and participant in corruption. The factual basis for almost all of these claims has since collapsed, but the government that replaced Aristide engaged in real political cleansing, killing hundreds, perhaps thousands, of people since 2004, and the aid economy wastes more money than most classic-mould dictators could dream of stealing.
The 2004 coup in Haiti followed a script, parts of which were used in 2002 in Venezuela (unsuccessfully), in 2009 in Honduras (successfully), and in 2012 in Paraguay (successfully). Studying the record of how the 'international community' has governed Haiti in the eight years since the coup should be important for those who are wondering where the next coups will be.
In 2005, a Canadian official told me that Haiti is a practice ground for how the 'international community' might handle the 'Cuban transition.' After securing key sites in Port au Prince to help the coupsters in 2004, Canadian missions have trained and supervised Haiti's police throughout the worst periods of human rights violations since the coup. So when Canada's minister of international cooperation Julian Fantino, a former police chief himself, went to Haiti at the end of November, it is perhaps unsurprising that he spoke about what Canada expects from Haiti: "The Government of Canada and Canadians expect transparency and accountability from the Government of Haiti given Canadians significant level of generosity. I will be expressing this expectation in my meetings with senior officials." If only Haiti could expect the same level of transparency and accountability for what Canada has done in their country. Imagine how different the world would have to be for a Haitian to be able to say such words publicly.
When Fantino was in Haiti, I was on a book tour sponsored by the Canada Haiti Action Network (CHAN), a network that has tried to raise the issue of what Canada has been doing in Haiti since 2004 – tries to demand, in other words, some "transparency and accountability" from the government of Canada for its support of the coup and its role in post-coup governance. Mostly, crowds were small, but there were interesting people who found their way to events: the physio-therapist in Halifax who went on a two week medical mission only to discover that such missions aren't all that big a help and that the mission organizers made the medical volunteers afraid to leave their walled compound in Port au Prince; the young Haitians in Montreal who said it was refreshing to hear their own history told in a respectful way, as opposed to a contemptuous one; the black Canadian Forces soldier who answered an audience question about racism among international forces by telling a story of how French soldiers joked that Haiti needed to be recolonized by France.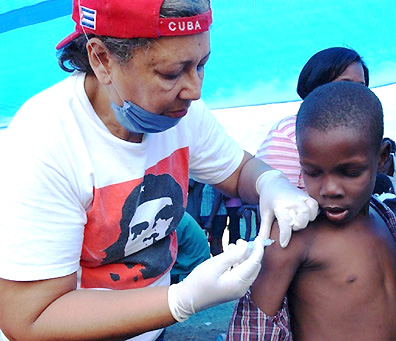 In the 2004 coup, these kinds of people, people interested in helping Haiti, were the targets of propaganda. They were told that Haiti was faced with the stark choice between local corruption and international control. But the record shows that the government that was overthrown wasn't all that corrupt and that international control was a catastrophe. This is something people who want to help Haiti badly need to know.
There are other ways, real ways, to help. The Cuban medical missions managed to train Haitian doctors and keep providing health care through every disruption; Venezuela provided oil at lower than the global market rate. NGOs like MSF and Partners in Health do great work in the health sector, and CHAN tries hard to stay in touch with grassroots Haitian organizations in the democratic movement. International solidarity, as opposed to aid, will require working around the structures of the dictatorship, something that can only be done if we see them for what they are. •