This week, Ontario's teachers, education workers and students will be turning up the heat on the Liberal minority government and Bill 115, which imposes a concessionary bargaining agenda on teachers' unions and the school boards, and allows the cabinet to change tentative agreements and stop strikes without even legislative oversight.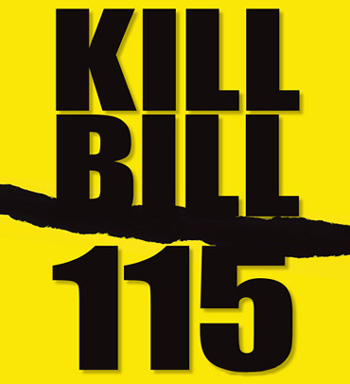 The Elementary Teachers' Federation of Ontario (ETFO) has given notice that it will begin a series of one-day district-wide strikes in every public school board district before Christmas, beginning Monday December 10 in the Avon-Maitland and North East Districts. This will affect small Ontario towns and regions surrounding Stratford, Timmins, Kirkland Lake, and Kapuskasing.
On the same day, the Ontario Secondary School Teachers' Federation (OSSTF) will be implementing what is by far its most coordinated work-to-rule campaign. All volunteer activities and extracurriculars will end, and teachers will show up 15 minutes before classes start and leave 15 minutes after classes end. This latter work-to-rule action is based on the 1990 Education Act, Regulation 298, Section 3.7 and Section 20(d).
And, for the first time since late September, a series of high school walkouts are being planned for Monday in York Region, London, and elsewhere. This will be the second wave of walkouts since late September when over thirty high schools and even elementary schools witnessed student actions against Bill 115.
The Journey to December 10
The road to ETFO's strike action and OSSTF's province-wide work-to-rule has been a long, complicated one. Passed in September, Bill 115 has predictably prolonged, complicated and escalated the labour conflict in Ontario, whereas free collective bargaining may have mitigated the effects and probability of labour conflict altogether. However, the unpopular Liberal minority government is committed to saving $2-billion in labour costs to reduce a $15-billion deficit (after reducing corporate taxes from 14 to 11.5 per cent since 2009). The Liberals are now embroiled in a leadership contest after Dalton McGuinty decided to abandon what looks like a sinking ship and prorogue the legislature at the same time.
The weakness of the government is only matched by the disunity and confusion of the teachers' unions. Back in July, OECTA's (Ontario English Catholic Teachers' Association) leadership signed a concession-laden Memorandum of Understanding (MOU) with the Ontario government without consultation or ratification from the membership. OSSTF, ETFO and CUPE rightfully denounced the OECTA leadership and the MOU. The government then used the MOU as a framework for the concessions imposed on all other teachers and education workers through Bill 115, even though the school boards, not the government, bargain with the unions. Even the associations representing all of Ontario's school boards protested Bill 115's interference in collective bargaining.
Since OSSTF and ETFO members delivered extremely high strike votes in late September and early October, there has been a significant divergence in their approaches to resisting Bill 115.
Gearing up for rotating one-day district-wide strikes, ETFO held an online vote in late November to authorize a province-wide one-day strike if Bill 115 is used to shut down strikes or impose a collective agreement. Members delivered that mandate with 92 percent support. The day after ETFO announced it would begin rotating strikes, Minister of Education Lauren Broten announced she would not stop them with Bill 115.
The OSSTF's strategy has been confusing, to say the least. In late September, members withdrew from extracurricular and other voluntary activities at their own discretion through a unorganized work-to-rule campaign. It was not coordinated or condoned by the union leadership because of legitimate fears of financial and legal reprisals from the government. Lacking coordination, this work-to-rule action was highly uneven in its application across the province, and thus highly ineffective.
Yet, OSSTF sanctioned a similarly uneven piecemeal work-to-rule campaign in early November which applied only to particular districts. To add to the confusion, both the media and the unions have been unclear in calling these actions what they are: "work-to-rule." The union-sanctioned actions in early November were called "strike actions" in OSSTF statements on their website and to the media. Strike is a word reserved for the full withdrawal of labour, whereas work-to-rule describes doing the bare minimum required by the collective agreement, to put pressure on employers who routinely rely on large amounts of unpaid work and overwork. The amount of hours put in by teachers and other education workers outside of class hours is commonly quite high.
The inability of the unions to provide substantial clarity to the public and membership regarding its province-wide strategy and goals is glaring. This was reflected in a public opinion poll taken on November 27 and 28. It found that while 44 per cent of Ontarians supported the teachers, compared to 39 against, 47 per cent believed the teachers' actions were ineffective versus 39 who believed they were effective.
With OSSTF now implementing strict province-wide work-to-rule, ETFO initiating one-day district-wide strikes, and students preparing to walk out again, the struggle against Bill 115 has no doubt reached a new level. United actions will provide the unions and their members a new opportunity to restate their aims and provide a clear explanation of how they see their campaign unfolding.
Inside the Unions
The prolonged campaign against Bill 115 has allowed differences of opinion to mature and manifest themselves within the unions while also highlighting the differences between sections of the membership and their elected union leaders. This is most evident in OSSTF where members in York Region and Niagara voted down tentative agreements on November 26, followed by a No vote in Hamilton-Wentworth on November 30.
Prior to the November 26 York Region vote, a letter was circulated by email, Twitter and Facebook by an OSSTF member calling for a no vote against tentative agreements that accepted the framework imposed by Bill 115. It articulated the mood of a section of the membership upset with the tentative agreements:
"As members of the Ontario Secondary School Teachers' Federation (OSSTF) in the York Region and Upper Grand school boards prepare to vote on tentative agreements this week, many of their colleagues in other boards are urging them to vote 'no.'

"'90% voted to strike a while back,' reads an anonymous flyer being circulated among teachers in York Region. '90% of us need to vote no to ratification.'

"While details of the tentative agreements have not been officially released, individual teachers, furious over the agreements, have been circulating over the internet details that reveal massive concessions, if not complete surrender to government demands."
Speaking of the earlier OECTA deal with the government, the letter goes on to say
"At the time, the OECTA leadership was vilified by teachers across the province – including by teachers within OECTA – for selling out members. Now, however, OSSTF seems to have accepted the same logic of surrender, and OECTA leadership is gloating."
Within a day of the York Region and Niagara votes, OSSTF suspended all bargaining and ratification votes and called a December 3 meeting of all lead bargaining officials. It is out of this December 3 meeting that the province-wide work-to-rule campaign has emerged. It's clear that the No votes in York, Niagara and Hamilton-Wentworth compelled the OSSTF leadership to regroup and finally decide to implement a province-wide work-to-rule strategy.
However, the November 27 OSSTF Bargaining Bulletin, signed by President Ken Coran, reveals a worrying mindset amongst the OSSTF leadership. The letter strongly implies that the union's court challenge to Bill 115 will be prioritized over "No" votes, strike action and other forms of civil disobedience. Coran explicitly states that:
"While events post Bill 115 such as holding strike votes, engaging in strikes against the employer and reaching tentative settlements may be referred to as the court proceedings progress, holding ratification votes in and of themselves will not be a deciding factor."
He goes on to say,
"The law remains unchanged and the sweeping and unprecedented powers it accorded the Minister remain the primary basis for our challenge. It is also important to acknowledge that our attack against Bill 115 is complex and will likely be a lengthy process."
While Coran concludes his letter claiming that the union will "explore all avenues" to repeal Bill 115, this letter gives the distinct impression that the union leadership is committed to pursuing a court challenge while discouraging "no" votes in tentative settlements.
The court challenge is of course necessary, but its complexity and length cannot be understated. When the British Columbia Teachers' Federation (BCTF) was hit with authoritarian bills in 2002, the union quickly launched a court challenge. It wasn't until 2011 that the bills were deemed partially unconstitutional. BCTF is now taking the BC Liberal government to court again over another bill passed in March to impose a contract and stop a strike.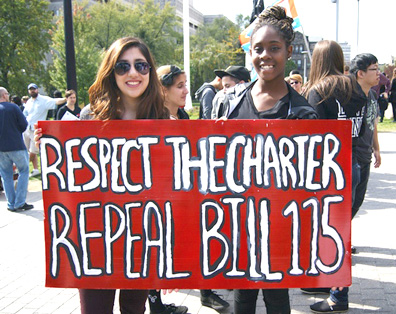 If Ontario teachers are facing such a lengthy process, and "No" votes are unworthy of endorsement, then what exactly is the OSSTF leadership suggesting the membership do in the present to combat Bill 115? As the dissident OSSTF member said above, "OSSTF seems to have accepted the same logic of surrender."
Thankfully, it appears that the "No" votes have derailed this approach for the time being, allowing the OSSTF membership to exercise a degree of control over the union's direction toward a more convincing form of opposition. ETFO's decision to launch strike actions is also likely placing the OSSTF leadership in a position where they can't back down because of membership pressure and the example set by ETFO. In addition, the student walkouts will encourage and inspire education workers to keep up the fight.
Strategic Decisions
The situation brings into focus some major strategic decisions facing the movement against Bill 115. Minister of Education Lauren Broten has already announced she will not seek to stop the one-day ETFO strikes. She has also rejected some of the OSSTF tentative agreements on the grounds that they don't conform to Bill 115's framework. Broten is essentially upping the ante, daring the unions to go all-out to defeat Bill 115 through sustained strike action, legal or not. The question is, are union members and their leaders ready to defy any invocation of Bill 115 to stop a strike?
The political front also remains unclear because the situation appears unfavourable for the labour movement. The 1999 marriage between the teachers' unions and the Liberals has collapsed, and a frightening anti-union slash-and-burn Tory government appears in the waiting as they hover around 35 per cent in the polls.
Meanwhile, the Ontario NDP continues to float around 30 per cent support, its highest level since the early days of 1990-95 NDP government of Bob Rae. Ontario voters and teachers' unions have started to shed their aversion to the NDP, as demonstrated by the NDP's spectacular Waterloo by-election victory on September 5 (denying McGuinty his majority). The NDP has also stated its opposition to Bill 115, but it has not prioritized or publicized the issue.
A reasonable and clear approach to the political front would be for the teachers' unions to support the NDP on the condition that when they form government they must immediately repeal Bill 115. This would avoid the unnecessarily messy matter of trying to win the teachers' unions to endorse the NDP wholesale or join it like other unions.
That said, waiting for an election, which could be called any time, has the same demobilizing and diversionary effect as a court challenge. It can't be a substitute for workplace action which is where the membership gains experience, forges a culture of solidarity, and can put immediate pressure on the government. And, if coordinated effectively like the recent Chicago teachers' strike, actions involving the membership could mobilize public support – namely parents and young people – against Bill 115 and austerity in general. Workplace action ought to be seen as complimentary and reinforcing of any electoral and legal challenge to Bill 115. Teachers would be in a far more stronger position vis-à-vis the NDP and placing Bill 115 at the centre of an election if they are in the midst of some form of sustained province-wide job action. In other words, if Bill 115 is going to be defeated at the polls, it means ensuring that the election campaign would be about workers' rights, democratic rights and defence of public services. In this context, the Liberals will be very weak and the Tories on the defensive. •
This article first appeared on Rankandfile.ca.
Special thanks to the ETFO and OSSTF members who indulged me on endless questions and helped out with this article.