The Right to Dissent: Day of Action For Civil Liberties
During the G20 Summit in Toronto on June 26 and 27, 2010, more than $1.2-billion was spent on a reported 20,000 police and security officers, a 5-metre fence, and new weapons designed to stifle dissent and silence public opposition.
Despite threats of new crowd dispersal weapons and dubious claims that police were granted extraordinary powers of search and arrest, over 25,000 people peacefully marched to question the legitimacy of the G20 and call on Canada to take action on the economy, jobs, public services, global poverty, climate change, Indigenous rights, migrant and undocumented workers' rights, women's rights, human rights, peace, inequality and social justice.
Under the pretext of stopping vandalism, the police descended upon peaceful protesters and confused passers-by with force that was disproportionate, arbitrary and excessive, and that included raids, rubber bullets, tear gas and pre-emptive detentions. In total, more than 1,000 people were detained based on dubious charges, in the largest mass arrest in Canadian history.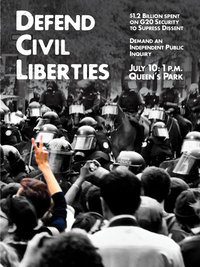 Demonstrate your opposition to the excessive use of police force and the unprecedented curtailment of civil liberties. Demand an independent public inquiry. Join the Day of Action for Civil Liberties in towns and cities across Canada and Québec on July 10, 2010.
In Toronto:
MASS RALLY & MARCH
Saturday, July 10 at 1:00 p.m.
Queen's Park, Toronto
To endorse, please see the official call-out below.
Call-Out for July 10
Day of Action for Civil Liberties
A broad cross-section of civil society organizations has called a Pan-Canadian Day of Action for Civil Liberties for July 10 to voice opposition to the excessive use of police force and an unprecedented curtailment of civil liberties during the G20 Summit in Toronto.
Over $1.2-billion was spent on security that was used to limit the freedoms of people to protest peacefully and speak out for social justice during the Summit. More than 1,000 people were detained based on dubious legislation that purportedly granted sweeping new powers to the police.
Over 25,000 people marched on Saturday, June 26 to raise legitimate criticisms about the G20 and its agenda. The police use of force was disproportionate, arbitrary and excessive, and included mass arrests and pre-emptive detentions. It served to stifle dissent and distract the public's attention from bigger questions, including: the economy, jobs, public services, global poverty, climate change, Indigenous rights, migrant and undocumented workers' rights, women's rights, human rights, peace, inequality and social justice.
On July 10, a Day of Action for Civil Liberties will take place in towns and cities across Canada and Québec to demand an independent public inquiry into the excessive use of police force, the deployment of tens of thousands of security agents and the denial of basic rights such as the freedoms of assembly and expression.
Community members and organizations in other regions are encouraged to organise their own local events on the same day, to pressure all levels of government to support civil liberties.
For information or to endorse, email CivilLibertiesNOW@gmail.com.
Organizations Endorsing the Day of Action:
Canadians Advocating Political Participation (CAPP)
Canadian Arab Federation (CAF)
Canadian Civil Liberties Association (CCLA)
Canadian Federation of Students (CFS)
Canadian Labour Congress (CLC)
Canadian Peace Alliance (CPA)
Canadian Union of Public Employees Ontario (CUPE Ontario)
Centre for Social Justice
Council of Canadians
Educators for Peace and Justice
Greenpeace Canada
Ontario Federation of Labour (OFL)
Public Service Alliance of Canada (PSAC)
Socialist Project
Steelworkers Toronto Area Council
Toronto and York Region Labour Council
And many others.
---
Solidarity With the Defendants Now
G20 Struggle Must Continue and Grow
Statement from the Ontario Coalition Against Poverty (OCAP)
On June 26 and 27, the political representatives of the world's greatest thieves and murderers gathered in Toronto. They held their 'G20 Summit' in a billion dollar armed camp financed with public money stolen from vital social programs. They threw out some meaningless platitudes and drew up a plan around their real agenda – solving the crisis of their bankrupt system by imposing austerity and poverty on people throughout the world. With the Harper Government hosting the event and standing on the right wing edge of the discussions, plans were drawn up to halve public deficits by 2013. They will not, however, take the money back from the banks and corporations they bailed out. Instead they will gut public services, destroy social infrastructure and launch a war on poor and working people.
Across the world, people under attack and in struggle saw that the Toronto Summit was challenged and that the massive array of police security protecting it failed to silence that challenge. On the 24th, Indigenous people and their allies took to the streets. On the 25th, OCAP along with many community organizations and joined by thousands, came out to fight for justice for communities. We faced police intimidation and attack without backing down and, after marching through the streets, put up a tent city in Allan Gardens that was held throughout the night in solidarity with the homeless and all those being displaced and forced from their homelands here and abroad.
On the 26th, tens of thousands took to the streets and thousands of them would not accept a route well away from the security fence that the trade union/NGO leaders had negotiated with the cops ahead of time.
At Queen and Spadina, a confrontation began that continued all through that and the next day. It was marked by firmness and courage on the part of those taking to the streets and by brutal police attack. The largest mass arrest in the history of Canada unfolded. Basic civil liberties were effectively eliminated. The over one thousand who were arrested faced inhuman conditions and despicable treatment in the now-infamous Eastern Ave Detention Centre. People were taken by the cops without the slightest legal justification. But still people filled the streets and defied the G20 enforcers.
By Monday, the sheer scale of the abuses was beginning to cause disquiet in high places. More seriously, it was clear that the violent intimidation was failing miserably. Thousands came to police headquarters that evening to challenge the police state conditions being created in this city. They faced a subdued array of cops. Harper's plan for an austerity meeting complemented by a show of force that would deter opposition had utterly failed.
The cops did not even wait for the events of the 26th to begin their crackdown. A series of raids on homes and buildings offering accommodation to protesters began the night before. People's doors were broken down, some were carried away in the middle of the night or early morning in unmarked vans, some even at gun-point, with little knowledge of what was happening to them. Our comrades from Quebec were particularly targeted with extreme anti-Quebecois violence. Many vocal and respected community organizers, our friends and allies, were targeted and are still detained.
We are now building legal support and political solidarity with those facing serious charges and attempts to detain them for trial.
Antiquated and reactionary 'conspiracy' charges are being used by the Crown. It should go without saying that our movement will spare no effort to ensure those facing legal persecution are given all possible support, that they are set free and the politically motivated charges laid against them be dropped. OCAP wishes to show our solidarity with all G20 defendants and we demand their immediate release. This is an attempt to criminalize, silence and intimidate our movements, and we will fight against it.
At the same time as we fight and win this legal battle, we must set our sites for the resistance that emerged around the G20 to grow. We can and must build strong social movements in the fight against the austerity agenda that the G20 devised. This agenda is the real conspiracy that must be defeated.
As they work to cut vital social programs, attack public sector workers, expand security apparatus at home and abroad, attempt to criminalize and brutalize poor communities, migrants, people of colour and First Nations communities, we will mobilize to fight back.
The International Monetary Fund has called for twenty years of austerity. The elements of that agenda will be decreed by governments and backed up by lines of cops. We have shown in this city, as people around the world have already demonstrated, that our resistance can be stronger than their austerity. We will defeat their agenda and create a society where the exploiters and their thugs go on trial while we build a world based on solidarity and equality.
Ontario Coalition Against Poverty.
---
Movement Defence Committee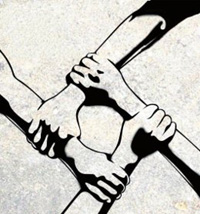 The Law Union of Ontario Movement Defence Committee [MDC] is an autonomous working group made up of legal workers, law students, activists and lawyers which provides legal support to progressive organizations and activists in Toronto. We recognize that members of oppressed groups are at higher risk when they encounter the law and we work to provide information and support that is specific to these groups. Some of us were previously involved in the Common Front Legal Collective (2001-2008).
---
Toronto Community Mobilization Network:
Support for Detainees
From June 25-27, elites from the world's most powerful economies met in Huntsville and Toronto to draft policies to further exploit the environment and people, bolstering the systems that sustain colonialism, wars and displacement.
With global attention on Toronto, tens of thousands of people mobilized in a historic weeklong convergence in opposition to these policies. Daily demonstrations highlighted struggles for Indigenous sovereignty; environmental justice; migrant justice; an end to war and occupation; community control over resources; gender justice; and queer and disAbility rights.
Also unprecedented was the over $1.2-billion spent on security, the most in G20 summit history, which paid for a dizzying array of weaponry and nearly 20,000 police plus a security fence that turned Toronto into a fortress to host a select few and a police state to terrorize the rest of us.
More than 1,000 people, protesters and bystanders alike, were detained in the largest mass arrests in Canadian history. They were held for long periods in makeshift cages in deplorable conditions, most without timely access to legal counsel. Many had been simply caught up in massive police sweeps of public areas. There are also documented cases of harassment and abuse of journalists as well as widespread racial profiling.
Some are still in custody. Twenty face serious charges. These prisoners are long-time community organizers. They were targeted for their unapologetically vocal and defiant roles in resisting all forms of oppression and exploitation.
As the police and media try to divide us, the Toronto Community Mobilization Network makes no distinction between good protesters and bad protesters. All deserve our solidarity.
Now we must continue to mobilize and build greater solidarity among our communities. An important part of this will be supporting our courageous allies still in detention. We refuse to be intimidated by police repression and, with your help, will continue to organize in our communities for the same reasons that brought us together in the first place, now exacerbated under the austerity measures passed during the G20 summit.
We need donations to support these efforts. You can support the detainees legal costs and help alleviate some of the other costs of navigating the court system, and help us keep organizing.
You can donate by cheque or PayPal (at g20.torontomobilize.org).
Cheques can be made payable to the Toronto Community Mobilization Network and can be mailed to:
TCMN, 360A Bloor Street West, PO Box 68557, Toronto, ON M5S 1X0. •