Labour Day 2008 and Canadian Workers
Labour Day 2008 in Canada sees a number of longer term trends over this period of neoliberalism intensifying – downward pressures on real wages, growing precarious
and marginal work, undermining of public sector services and work, increasing reliance on migrant workers with restricted rights, and mounting global inequalities. A recession resulting from the overaccumulation of capital in key sectors in the U.S. and Europe has been spreading across the world market. This cyclical crisis of global capitalism has been aggravated by the turmoil in the financial sector due to the overextension of credit, and the tax-cutting excesses and liberalisation policies of national governments and the international financial institutions. This has weakened labour markets across the major capitalist countries and encouraged employers to step up their political struggles against unions in favour of further policies of labour flexibilization.
Economic Slowdown
These global economic trends have ended the export-led – particularly driven by high demand and prices for Canadian commodity exports in metals and fossil fuels – mini-boom in Canada over the last six years. Over the first half of 2008, the Canadian economy has been growing at well under 1 percent for the year. Growth forecasts continue to be lowered. Export growth has now fallen for four consecutive quarters, and is down 5 percent, as the U.S. recession lowers demand for autos, oil and gas and lumber. The nonsense from business and government economists that Canadian resources would somehow insulate Canada from the U.S. downturn has again been confirmed. The most significant sign of the export decline has been the fall in the value of the Canadian dollar from well above par last year to below 95 cents US.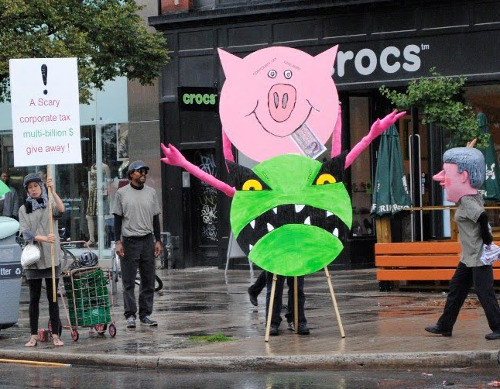 These developments have meant that consumption-sensitive sectors, such as housing and retail, are all stalling. While the credit bubble in Canada – in mortgage, personal and commercial credit – is not as devastating as in the United States, parallel problems exist. Bank credit and loan capital of all kinds is tightening, even with a looser monetary policy. Job losses are consequently mounting in the labour market. The economic recession, with the hardships and pressures it will bring for working class Canadians, should be a major factor in the coming federal election as the minority government, led by the hard right Conservatives of Stephen Harper, dissolves.
Labour Movement Challenges
The Canadian labour movement is thus faced with major challenges and struggles as fall 2008 approaches. The economic recession points to the incredible absence of an anti-neoliberal movement and agenda in Canada, and the need for the Left in the labour movement to be at the forefront of this effort. The continuing announcements of workplace closings in the manufacturing sector, and pressures on collective bargaining across all sectors, suggests the need to build an anti-concessions movement that is willing to explore more militant workplace tactics.
The public sector confronts new limits to workers' rights and working conditions in the context of still ascendant neoliberal policies. A few campaigns here – notably some of the anti-privatization struggles around health care, universities and municipal services – have had some successes, but these community-union alliances remain fleeting, even when major campaigns and demonstrations suggest their enormous potential. Without major support from the main political parties, and in the absence of new Left organizational capacities forming in Canada, these efforts have not been able to shift the balance of social forces. Organizing campaigns in the service sector and with migrant workers have also made some gains, but these have not yet been able to push past stagnant union density levels (at levels that have fallen substantially from high points) in Canada.
And crucial international solidarity campaigns, notably with respect to the miserable conditions of Palestinian workers in the Occupied Territories and inside apartheid Israel, the continued assaults on unionists in Columbia, and against the NATO alliance wars and occupations in Afghanistan and Iraq, have only built up fragile support. These essential internationalist campaigns require major mobilizing efforts by the Canadian Labour Congress and the union affiliates. Significant educational work and targeted political activity could play a major role in breaking Canada's imperialist foreign policies as the American empire's greatest ally.
Labour Movement Impasse
These are, indeed, major challenges for Canadian workers. It is important to underline that key struggles and signs of political resistance keep surfacing in all these areas, from both inside the labour movement and also associated social forces and movements. But aside from a few important initiatives in locals and labour councils – the most visible being some of the living wage and immigrants' rights struggles undertaken by the Toronto and Vancouver District Councils, the union movement remains directionless and limited by defensive and weak leadership. The CLC convention of this summer was notable only for its complete lack of a sense of urgency of the issues facing the union movement and the failure to move any significant organizing, mobilizing or political agenda ahead.
This failure of vision and initiative has pushed union affiliates increasingly toward 'competitive unionism,' and striking special agreements with employers (such as the CAW-Magna Framework of Fairness agreement), and collective agreements laced with moderate wage proposals and workplace concessions. Some unions, notably the Canadian Auto Workers, have followed other unions in the educational, construction and commercial sectors into an embrace of the Liberal Party. While the rest of the labour movement clings tenaciously to the NDP, even while that party moves ever further away from union and working class issues toward a 'post-partisan,' 'post-class,' and 'post-campaigning' political organization. The lack of a socialist Left, with ties to rank and file and activist groupings across the working class in all of Canada's regions and diverse communities, is plainly evident in all this.
This impasse inside the Canadian labour movement is reflective of a wider decline of the Canadian Left. The long-term drift of the NDP, going back to the late 1970s, toward a blend of U.S. style Democratic Party politics and British 'Third Wayism,' led to a now more than two decade long period of denial amongst social activists of the social democratic realignment and an effort to work through social coalitions and networks. None of these – even in their loosest organization form as national and local offshoots of the World Social Forum – exist as actual movements in Canada today. The New Politics Initiative to reposition the NDP was, perhaps, its last significant effort.
This failure to comprehend the new political challenges posed by neoliberalism has been matched by the stale rigidity of a range of the small Left radical groupings that maintain a marginal presence in progressive campaigns in Canada. But in taking their political instruction from London, New York or Havana, they have been stuck in political frameworks formed in quite different political moments and contexts. The ideological, political and organizational terrains have long since shifted and a period of experimentation in new political formations and political creativity is now on the agenda. This can be seen by the important political struggles in Latin America, but also the significant political realignments and breakthroughs unfolding in Greece, Germany, France and Portugal. From once leading some of the most noteworthy fightbacks against neoliberalism and globalization over the 1980s and early 1990s, the Canadian Left is now fractured, at a major impasse and fighting only minor rearguard actions.
Labour Day
Labour Day in Canada is not only a day to celebrate the historical accomplishments of Canada's unions and working people to build a just political order. This we should do, as well as take heart in the many important struggles and battles being waged daily in our workplaces and unions. But we should also take time to reflect on the obstacles we are now confronting in Canada and the limits of our current organizational capacities. Even the best campaigns and most significant struggles have been stalling. There is an imperative to building an anti-capitalist movement and politics to support the immediacy of the fights, for example, against neoliberalism, the wreckage of the recession, the needs of migrant workers and Canada's growing military role in Afghanistan and the Middle East. There is also, finally, the active rediscovering of a 21st century socialism to confront the mounting ecological, militarist and social barbarism of capitalism. The Canadian labour movement and Left have often played a key role in advancing these struggles. We should also contemplate on Labour Day on how we can do so again.
The Labour Platform below is a contribution by the Socialist Project to the debate on the kind of orientation that our labour and socialist movements in Canada need to consider to move forward. •
Labour Movement Platform
As workers, we are today confronted with the challenge of defending what we have and making gains in the face of an ever-expanding and relentless employer offensive. The employers' drive to increase productivity and profits – central to capitalism everywhere – demands that we accept job loss and insecurity, concessions, new forms of speedup, and expanded management control in the workplace. More of us are forced to work in precarious forms of employment, making ourselves 'flexible' without access to unemployment and other social benefits or hope of a decent pension. Our economic insecurity makes it possible for employers to divide us and force upon us a false choice between jobs or the environment. Governments continue to reinforce the power of our employers with policies designed to undermine both individual and collective resistance. Our unions are weakened by divisions over how to respond, but most pursue strategies that fail to challenge the underlying causes of the problems we face. Many of us are experiencing a terrible isolation, as we lose both our links to the labour movement and our confidence in collective struggles.
Given these realities, many of us are asking: How can we rebuild workers' strength and confidence? How can our movements retake the initiative and turn things around?
Read the full Labour Movement Platform.