June 29, 2007: AFN Day of Action
On May 31, the Assembly of First Nations (AFN) called for a national day of action on June 29, to force changes in key features of federal aboriginal policy. On June 12, the Harper Conservative government responded with an important reform of "specific claims" settlement policy. Now as the day of action approaches, the AFN's limited and reformist direction for the day's protest plans remains uncertain. So does the Harper government's ability to appear responsive on this file without either a costly resort to repressive force against protesters, or a costly investment in the kind of self-government structures that would further alienate its neo-conservative base.
On his May announcement, AFN Chief Phil Fontaine made three core demands of the government:
rapid movement toward self-government agreements on the basis of an AFN plan;
restoration and expansion of federal funding to First Nations' organizations, removing 2% annual funding caps, implementing the $5 billion Kelowna Accord, and building population growth and inflation into future funding formulas; and
accelerated resolution of over 800 outstanding specific claims.
The government response included $250 million for each of the next ten years, to settle the specific claims backlog, and a three-point reform of the settlement process. The Indian Specific Claims Commission will become a dispute resolution body; smaller claims will be targeted for accelerated settlement; and a panel of "impartial" judges will be appointed to make binding decisions in cases where negotiations fail. Specific claims arise from alleged government violations of existing treaty obligations and other federal responsibilities: new comprehensive agreements or treaties are handled separately.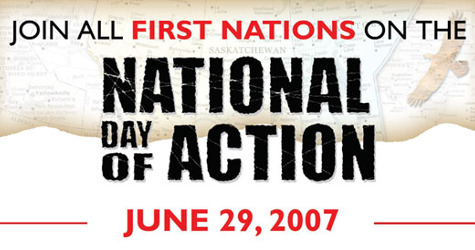 The government's move had been foreshadowed in mid-May, and builds directly on the December 12 Senate report on specific claims, Negotiation or Confrontation: It's Canada's Choice. Like the government's recent environmental announcements, the reform is substantial. Like those announcements, it has been highly publicized as a break with Liberal practice, but also breaks with widespread perceptions of recent Conservative philosophy. But like the recent environmental reforms, the change also carefully targets the least controversial matters in dispute, leaving questions like the Kelowna Accord and comprehensive claims to one side.
The impartiality of the new appeals process will have to be judged in the light of the actual judicial appointments. But after a period of isolation as a perceived ally of the former Liberal government, Chief Fontaine can already present a partial gain to the AFN's member chiefs and first nations. For its part, the government has partly deflected attention from its break with the Kelowna Accord; and it has also begun to blunt the indignation of moderates in the run-up to the day of action. If sentiments continue to rise in the run-up to June 29, the government has other points on the AFN's list that it could address in full or in part. And in the longer-term, a steady stream of positive, but modestly priced announcements can now follow, particularly in places like rural BC where specific claims – and Conservative votes – are clustered.
The Situation in British Columbia
The implications of these announcements vary strongly by province. Of these, BC stands out, with the vast majority of its rich public lands untreatied. Half the outstanding specific claims affected by the June 12 announcements also originate there. Problems in BC may therefore play straight into events at the end of June.
This possibility may seem surprising. BC Premier Gordon Campbell's sharp change of course has been one of the most important recent developments in Canadian aboriginal affairs. After championing an anti-treaty referendum campaign in his first term, Campbell has championed the Kelowna Accord and signed a "New Relationship" agreement with First Nations leaders in his second.
This about-face has won the premier unprecedented support from many BC chiefs, undermining the BC NDP's reputation as a First-Nations ally and complicating the Liberals' otherwise natural alliance with federal Conservatives. BC business needs the certainty of land and self-government agreements to extract rural resources profitably, and it also needs a positive world image leading up to the 2010 Vancouver/Whistler winter Olympics. BC Liberals also find aboriginal agreements more palatable, as business-led development models become more important elements in both interim and long-term agreements.
However, the pace for most BC treaty talks is still glacial, and some of the most advanced talks are in trouble. In the Prince George area, the 250-member Lheidli T'enneh was the first BC First Nation to initial an agreement under the treaty commission. But they narrowly rejected that agreement at the end of March. Chief David Luggi of the neighbouring Carrier-Sekani Tribal Council (CSTC) now leads an emergent group called the Indigenous Rights Alliance, which opposes the BC treaty process. On May 14, the Alliance called on First Nations to reject the BC treaty process on June 21, which is National Aboriginal Day, just a week before the AFN Day of Action. It is not yet clear how much support this position enjoys, whether generally or within the eight-nation CSTC. Those most dissatisfied with the treaty commission process are now turning their attention to the Tsawwassen First Nation, whose traditional lands surround Vancouver's major ferry terminal. They vote on their agreement July 25.
Protest Beyond the AFN
In responding to the AFN call, some indigenous leaders and opinion makers have therefore announced protest plans that differ from what the AFN contemplates or condones. This trend is evident far beyond BC.
South of Winnipeg, Roseau River Chief Terrance Nelson, long known for militant protest, has called for indigenous people to block rail-lines and highways for a week. Chief Nelson's own community is located along a major north-south land transportation corridor.
On the same day as the Conservative aboriginal policy announcements, Cree artist Floyd Favel rejected the AFN's call to action in a Globe and Mail op-ed piece. While highly critical of the government, he was equally critical of what he described as a dysfunctional AFN and an often-corrupt and self-serving leadership supporting it in reserve communities.
In an interview for this article, Mohawk academic and political philosopher Taiaiake Alfred has echoed Favel's criticisms, viewing a more direct and sustained confrontation than the AFN's day of action as necessary to serve indigenous people well. Indeed, Alfred argues that the end of the AFN itself is a necessary step towards real progress for First Nations, and the current treaty process has become a tool of assimilation. The best that could be hoped, in Alfred's view, is that more sustained confrontations could redirect energies that now fuel the everyday violence within indigenous communities, and simultaneously destabilize what he considers to be essentially colonial institutions both on and off reserve.
Rather than a comprehensive, revolutionary movement that would cut across the country, Alfred looks to a more diffuse decolonization process. As autonomous pockets of indigenous freedom and regeneration arise from this process of resistance, the wider forces of capitalism and colonialism would not be overthrown, but would be compelled to engage in an increasingly transformative process of adjustment.
The real question in the current context is whether indigenous withdrawals from the treaty process would feed into growing confrontations and a better outcome for first nations; or feed into deeper indigenous marginalization, a more sterile policy impasse, or a return to sharper repression.
Possible Federal Responses
Despite the federal government's recent initiatives, undermining the AFN and the treaty process may not particularly trouble leading elements within it, albeit for different reasons than the AFN's indigenous critics. Tom Flanagan, senior advisor and associate of Prime Minister Harper, has long criticized modern treaties and First Nation self-government. How would the present government respond to any substantial broadening of militant indigenous protest this summer?
The recent report of the Linden inquiry in Ontario serves as a reminder of the possible stakes. The inquiry concerns the 1995 death of Dudley George during the indigenous repossession of Ipperwash Provincial Park. Linden explicitly exculpated senior provincial Progressive Conservatives, including then-Premier Mike Harris, of directly ordering the police attack on indigenous protesters that led to George's death. But it also concluded that key Ontario conservatives, including the premier, had acted rashly in demanding a quick end to the indigenous action, and that several of them, including Harris, had made racist remarks to drive this point home to police. Linden also faulted the slow federal specific claims process for leaving Ipperwash protesters no plausible alternatives to their own actions.
But arguing from past experience and associations has not proven especially helpful in predicting the Harper government's recent moves. Personal links between the Harris cabinet and the present federal cabinet are ultimately less important than the new security context in which protests will take place this summer. In this regard, the Globe and Mail reported on March 31 that the Canadian military had been preparing a confidential manual on counter-insurgency techniques. The manual included specific references to the Mohawk Warrior Society and other militant indigenous organizations as examples of domestic targets. After protests from aboriginal and opposition leaders, Defence Minister Gordon O'Connor denied that indigenous organizations would actually be targeted, or included in the manual's final draft.
But it is important to note that drafting of this manual had begun under the previous Liberal government. And it is quite unclear that any blunt response would serve the current federal Conservatives and their allies very well. The government's ultimate tools of repression are otherwise preoccupied, much of them half an empire away. Furthermore, the government's most desperate political need right now is to avoid fulfilling the left-liberal expectations of them that are widespread in the various opposition parties and their constituencies.
If such rational calculations prevail in the Conservative leadership, if moderate aboriginal protest is muted, and if more militant protest exceeds the costs that the government deems acceptable, one might anticipate heavy but localized police actions to break up any "extremist" actions. Federally, the logical strategy would then be to divide, mute, and sit through subsequent criticism from both indigenous and non-indigenous sources. This "outsourcing" of any overt repression to local police could be accompanied by an economical "public-private partnership" in applying fines as a deterrent. CN Rail has responded to the actions at Deseronto by filing injunctions and suits against the protestors. Notably, Ontario Progressive Conservative leader John Tory has supported extending this slap-suit approach, ostensibly to reduce the costs of future protests to "third parties."
Some of the Federal strategy is already beginning to appear. Indian Affairs Minister Jim Prentice has been conducting a cross-country campaign to deflect wide-spread direct action campaigns during the June 29 Day of Action. In particular, a long-outstanding specific claim has apparently been settled, expanding the Roseau River First Nation reserve territory on the eve of June 21, National Aboriginal Day (although important questions have already been raised about the future uses of the land parcel). Chief Terrance Nelson has publicly acknowledged this settlement. While he has emphasized that problems with Ottawa remain, he has called off his threat to block major rail lines. This use of recent specific-claims reforms as an immediate tool to neutralize protest this month reflects the wider tendency of the present government to drive policy change primarily in response to immediate political embarrassment.
Emancipation, Aboriginal Nationalism and the Canadian State
As conservatives wrestle with their private demons – now necessarily at public expense – more progressive activists and thinkers face important challenges of their own. For across the political spectrum, there are critics of the current AFN, of the treaty and self-government project, as well as of the various expressions of more radical indigenous nationalism. It is easy to concede that political corruption and class exploitation are dangers in all polities, dangers that citizens can and should resist in their own leaders. But a thornier problem for progressive praxis is the widespread perception that indigenous nationalism also constitutes, whether in whole or in part, an unacceptable and inherent affront to enlightenment values such as individual equality, universalism, and wider solidarities.
All Canadian governments also face pressures to limit the emancipatory demands of First Nations. This, more surely, is a consequence of the interlocking imperatives of capitalism, internal colonialism, and racism. In assigning blame for this, it is easy to finger the business interests concerned with "uncertainty", the supposedly "unenlightened" rural and resource-based constituencies most immediately affected, and those who associate most indigenous protest with a crisis in law and order.
It is much harder to acknowledge, let alone resist, the greater or lesser structural implication of all non-indigenous persons in the benefits of Canadian colonialism. The path to this dual emancipation may be uncertain. But it surely begins when non-indigenous Canadians refuse the four-fold tools of repression, wardship, neglect, and delay, four riders of an indigenous apocalypse that their state has unleashed in their name. •
1. National Day of Action
for Aboriginal Peoples:
Toronto
Friday June 29th 2007, @ 12 PM
31 Kings College Circle
March to Queens Park
Speakers, Performances, Food
On May 23, 2007 the Assembly of First Nations called on First Nations, Canadian citizens and corporations, to stand united and demand that the Government of Canada respond to the crisis in First Nations communities.
Since Confederation in 1867, First Nations have been subject to repeated attempts by the Government of Canada to forcibly assimilate their communities and erase their identities.
In a call for action, First Nations have put forward a reasonable plan that provides for reconciliation and begins to close the gaps between First Nations and Canadians. Working in collaboration, this plan will contribute to a more productive, prosperous and harmonious Canada.
First Nations are calling for immediate action to improve their quality of life. This Day of Action is an opportunity for all Canadians to stand together in support of a better life for First Nations Citizens in Canada.
We call on the Government of Canada to adopt the United Nations Declaration on the Rights of Indigenous Peoples and to respect the decision by the United Nations Human Rights Council that the Declaration establishes the essential standards for respecting the rights of Indigenous Peoples jurisdiction and responsibility over their lands, peoples, and right to govern themselves as Nations.
On June 29th, join Canadians across the nation in peaceful demonstrations for First Nations rights. We will march from King's College Circle to Queens Park; demanding a better quality of life for all First Nations.
For more information please contact: nsa.exec@utoronto.ca
2. Connecting Our People
National Aboriginal Day of Action (Toronto)
On June 29th, The National Aboriginal Day of Action, Toronto Council Fire in cooperation with the Mississaugas of the New Credit, will be organizing a walk and gathering to bring awareness to National Aboriginal issues including the Mississaugas' Toronto land claim.
The gathering will take place at Little Norway Park which is located at the end of Bathurst Street at Queen's Quay (south of Fort York). The gathering will take place between 10 AM and 2 PM with approximately 700 people expected to attend. A light lunch will be served at the site and Action Day t-shirts will be available. Participants are encouraged to bring signs, banners and Nation flags.
For those able to attend, Council Fire will be organizing a walk to the gathering place, starting at the Centre (439 Dundas Street East at Parliament) at 8:30 AM. Individuals and groups can join us at the start point or along the route which will go West along Dundas to Bay Street, South on Bay to Front Street, West on Front to Bathurst and South on Bathurst to
Little Norway Park at Queen's Quay Blvd. Buses will also leave from the New Credit Reserve band office at 8am.
To confirm your participation or for additional information please contact Jayne, Patricia, Jennifer or David at Council Fire: Tel.: (416) 360-4350 or email esecretary@councilfire.ca
3. Kingston residents call for
Celebration of National Day of Action,
June 29, on the railroad tracks. The Kingston Mohawk Support Network, a primarily non-native organization is planning to hold demonstrations on the railroad tracks in and around Kingston, Friday, June 29th.
We will be calling upon upon our government to respect its historical agreements with First Nations, and to begin to conduct itself peaceably, justly and honourably in its dealings with all First Nations and peoples.
We have chosen the train tracks as the location for this event to demonstrate our solidarity with the numerous road and railway blockades that are being planned by First Nations communities across Canada as part of this National Day of Action.
"A big part of celebrating the National Day of Action will be educating the non-native public as they cross the tracks," says Rosa Barker, an organizer with KMSN, "but equally important is showing the government and First Nations that First Nations are not alone in their fight for justice and the land they were promised."
People who have different comfort levels around civil disobedience will all be able to participate in different ways. For example, some people may choose set up lawn chairs and "relax on the tracks," while others may choose to stand by the side of the road and pass out pamphlets and refreshments to motorists (where roads cross the tracks), and still others may play music, chat with passers-by, or play Frisbee on the grass. We are hoping to foster a positive and celebratory tone to the protest, with music, street theatre, dancing, and free food. We want to encourage the participation of as many people as possible, in as many ways as possible, on this historic day, and as part of the ongoing struggle to end colonial oppression.
Contact us at: mohawksupport@riseup.net