National Strike Called on Cost of Living Crisis in South Africa
On August 5, the South African Federation of Trade Unions (Saftu) held its second Working Class Summit. This was the first gathering since July 2018, and since the COVID-19 pandemic, economic instability, and continued government incompetence and political incoherence has made things worse. Inequality, job loss, and social polarization are all heightened. The first summit's declaration called for a mobilization of workers in opposition to the "crisis of late stage capitalism." In this summit, SAFTU has called for a national strike across South Africa for August 24 against the rising costs of living, load shedding, more privatization of state assets, and the wider economic crisis.
SAFTU has over 600,000 members and some 20 affiliates unions. This was an inspiring event, allowing not just radical trade unions but also allied social and environmental movements to forge unity in an independent oppositional working-class movement. Given recent turmoil on the South African left, the emergence and the success of the process was unexpected and encouraging. The Declaration from the summit is produced below.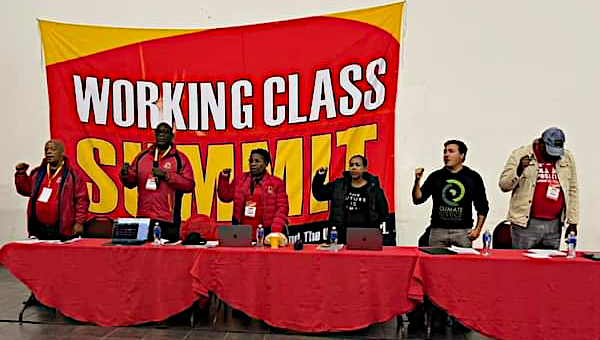 Declaration of the 2nd National Working Class Summit held on 5 August 2022
We the 500 delegates gathering in the Braamfontein Recreation Centre, joined by scores of others, representing over 150 working-class formations across the length and breadth of our country, meet during unprecedented crises.
We meet during devastating social stresses, in essence a civil war that has not been declared, but that is being waged mainly from above, by those in the boardrooms and the state, and also by those among us who have guns but have no apparent morals. No less than 67 citizens get killed every day in the streets of our country.
In recent weeks we saw 22 young people perish at Enyobeni Tavern in East London, followed by massacre after massacre in Gauteng and KwaZulu-Natal taverns. Then came the gang rape of young women by balaclava-clad thugs in Krugersdorp. We have learnt that this is a lived reality of women in the whole of West Rand, with some women having been raped by up to 20 monsters, in attacks that have been going on for years.
The Kagiso community uprising against Zama-Zama informal mineworkers – with several more fatalities and more signs of divide-and-rule – requires us to analyse areas suffering the worst detritus of exhausted circuits of capital. There, we know that criminal mining syndicates exploit both local and foreign workers, reducing them to scavengers to survive the brutality of the system. We must guard against our people being mobilised against each other, merely for the sake of supplying left- over bits of gold to a corporate-dominated market that cares not what misery arose capitalism's brutal mining sector.
Our anger against gang rapes must be directed at the state for leaving matters to deteriorate in declining mining areas, and even further, against the multinational corporations which depleted those assets, leaving nothing behind while exporting the profits to London. They abandoned over 6000 mine shafts, leaving them unrehabilitated, and therefore opening a space for syndicates to set our people against each other in these terribly dangerous workplaces, as they seek to escape the brutalities of their poverty and unemployment.
It is true, that one root cause of patriarchal violence is the moral decay inherent in the capitalist system. This is especially acute, when it appears to our society that capitalism is simply incapable of providing us even with jobs.
Inequalities have worsened, too, especially during COVID-19's lockdowns when so many in the working-class – at one point more than two million – lost their livelihoods. The assets of the wealthy soared, with a stock market that recently hit an unprecedented high, while poverty has overtaken nearly two-thirds of the population.
None of the crisis indicators we raised in 2018 was addressed. Land hunger has not been resolved despite the ANC's posturing that it will implement Expropriation Without Compensation. Violence, especially directed against women and children, has worsened. Not even police officials are spared. The social crisis has led to all kinds of epidemics such as drugs, gangsterism, alcoholism and extraordinarily high levels of depression, with suicide rates rising in particular amongst young men.
The Marikana Massacre of 16 August 2012 remains a permanent stain on post-apartheid class power relations, and after ten years of state inaction, it is appropriate that the victims' families are demanding reparations, including R1-billion from lead Lonmin investor Cyril Ramaphosa. His inflammatory emails on 15 August instructed authorities to view the wildcat strike as 'dastardly criminal,' at the same time his own firm encouraged Lonmin to engage in massive Illicit Financial Flows to Bermuda instead of paying the living wage of R12,500/month that workers demanded. We will join all the commemorations of the tenth anniversary this month, to revive that spirit of struggle against the ugliest, more violent tendencies of multinational corporate extractivism.
In addition to the depletion of our mining wealth by multinational mining houses, other ecological crises are raging. It was due to climate change that on April 11, 350 millimeters of rain bombed Durban, killing 500 people, with ongoing threats of mudslides because thousands of households remain homeless there due to Treasury austerity and the local government's unwillingness to build sturdy, well-located homes. Some people remain buried in the mudslides!
Our planet is on the way to becoming uninhabitable not only because of the imperialists' refusal to cut emissions, but also because our own South African leaders within the state and corporations continue to resist paying the subsidies that are required for all of us to have clean energy, decent public transport, and organic agriculture.
We gathered not just to narrate our suffering at the hands of the brutal capitalist system, but to develop concrete strategies for uniting organised and unorganized workers, communities, and social movements into a single army of the working class to fight back.
Where our students lead, demanding that #FeesMustFall, we unite and back their campus protests.
Where working-class women insist not only on safety, but also on more public services – creches, clinics and reproductive rights, programmes to combat GBV, higher child support grants and a Universal Basic Income Grant to survive the hard times – we amplify their voices.
Where community activists demand Free Basic Water and Electricity in adequate amounts – not current tokenistic levels – and when they insist on environmental justice so that pollution is eradicated instead of occurring as a racist phenomenon in black townships and rural areas, we march alongside.
When health workers struggle to combat a deadly pandemic, requiring more healthcare providers, medicines, and vaccines, we join those battles, recalling how matters also seemed hopeless when combatting AIDS until labour joined forces with the Treatment Action Campaign to force the state's U-turn on giving us anti-retroviral medicines. With that victory, our country's life expectancy soared from 52 in 2004 to 65 just before COVID hit us.
Where our citizenry is rising up for free basic communications data, privacy rights, an end to parastatal commercialisation and outsourced work, and finally to eradicate state and corporate corruption in all its forms, we are there with you, too.
We call on those who identify with the demands we list below to join us as we campaign every day, as we shut down the country on the 24 August and as we continue to embark on more demonstrations, strikes, mass marches, etc beyond the 24 August 2022.
1) The campaign against the swelling cost of living
The cost of food basket has increased by 14,29% since June 2021. Electricity tariffs increased by a combined 16,53% in 2022, by over 30% in 2021 and by 460% between 2007 and 2020. Petrol prices have now reached unprecedented levels with a litre of 93 unleaded petrol costing R26,31 cents, having increased by 52% since June 2021 and 72% since March 2020. Economists predicts the prices of fuel to reach a high of R40 per litre before they subside.
The government through its inefficiency and corruption has weakened PRASA to the point that 80% of workers use taxis to work. Yet while private sector bus companies receive subsidies, the taxi industry which is controlled by black people is not receiving subsidies. Using blunt tools to curb inflation rate, the South African Reserve Bank (SARB) has increased interest rates to 4,75%. Supposedly in a bid to normalise the interest rate, i.e., to reflect pre-pandemic levels, it is predicted the SARB will raise rates by a further 100 basis points (1%) later in the year. This will make many basic goods purchased on credit, including housing, cars and durable goods – unaffordable.
Premised on this analysis, the first campaign will focus on the fighting against the massive increases in the prices of food, electricity, fuel, household financial assets, etc. "We can't breathe!"
2) The campaign against the rolling electricity blackouts
In addition to the swelling prices of electricity, the masses of working class and poor people are also facing a crisis of loadshedding. For the past 15 years, we have been subjected to electricity cut-offs because of at least three things:
a) The aim to privatise Eskom has led to a deliberate engineering of a crisis that undermined the building of internal generation capacity so our grid could contribute to economic growth.
b) Since tortoise steps were taken from 2007 to expand the generation and distribution capacity of Eskom, the state was increasingly taken over by a kleptocratic clique of comprador bourgeoisie, who having been shunned by traditional colonial capital (white monopoly capital), looted Eskom for their own means, most notably when Hitachi was successfully prosecuted in Washington, DC (under the US Foreign Corrupt Practices Act) for bribing the ANC but nothing yet has been done here and the Zondo Commission turned a blind eye in spite of ongoing failures at Medupi and Hitachi.
c) The incompetent Chief Executives, especially the incumbent, Andre de Ruyter, have failed to add the obvious solar, wind and storage required to stabilise the grid. De Ruyter has not only cut off black townships through the inhumane 'load reduction' strategy (even if households have paid their bills and purchased pre-paid electricity) that does not apply in wealthier areas but has shed more megawatts of electricity than any Chief Executive before him.
We are taking the battle not only to demand the immediate resignation of the Eskom CEO, Andre de Ruyter and the Board, but we are calling on the entire government of the ANC to step aside.
3) The campaigns against austerity programmes
Government has cut expenditure on social goods and services by cutting that component of the budget from 33.2% to 31.5% of GDP, but this is only one reflection of the crisis, since desperation rose in 2020 when more than two million jobs were lost. Sector by sector, in areas such as health, education and housing, Treasury's austerity regime is hitting double-digit percentage cuts in real terms. Encouraged by institutions such as the World Bank and the International Monetary Fund (IMF), which now have Pretoria under their thumb due to nearly R100-billion worth of loans from 2020-22, the ANC government is committed to neoliberal fiscal 'discipline'. They have planned to cut R303-billion from the public sector wage bill over the Medium-Term Expenditure Framework (MTEF: 2021 – 2025).
We are calling on the public sector workers to prepare for a strike against the wage freeze that government has imposed through their Medium-Term Expenditure Budget. The unions must reject the 1.5% to 2% that government is offering in favour of their demand for a 10% raise, given how much they have been short changed since Treasury violated its contractual obligations in February 2020 and ever since.
In addition, we want government to fill all the 200 000 vacancies in the public sector that were said to be vacant. The demands for the expansion of the public sector wage bill must be combined with communities' demands for better services. Government must address the chronic infrastructure backlog in our schools, hospitals, police stations, correctional services, the housing backlog, etc. We demand an end to budget cuts on the basic services that are meant for the poor — who constitute 70 – 80% of the population depending on public services.
As poverty, inequality and unemployment continue rising to unbearable levels, our social welfare and lifeline benefits must be raised, including through a universal Basic Income Grant of R1500/month, Free Basic Services that are higher than the current tokenistic levels, and the subsidised nutritious food we urgently need to end hunger!
4) The campaign against privatisation of the state-owned enterprises
We reject the plans to hollow out Eskom, following what the progressive US scholar Noam Chomsky called the "standard technique of privatisation" in which neoliberal governments on the way toward privatisation "defund and make sure things don't work." This is how the consent of the unsuspecting masses is manufactured.
Look at how people are angry at Eskom, to the extent of even ululating when hearing of privatised power generation that contributes to unbundling by allowing "competition" in energy generation. This was their plan from the White Paper on Energy in 1998, repeated again in the Accelerated Agenda Toward the Restructuring of State Owned Enterprise in 2002. As so many cases (such as the US states of California and Texas have conclusively proven), if we leave generation (and later transmission and distribution of power) to mostly-foreign profiteers, we are setting ourselves up for a brutal case of blackmailing.
We demand that Eskom be positioned under a different leadership that will ensure that it drives the introduction of renewables. But not only that, we believe the entire government must resign because its commitment to neoliberalism will continue to run down and hollow out Eskom, whilst gradually replacing it with Independent Power Producers (IPPs) who will hold us hostage.
We further demand the renationalisation of Sasol, Iscor, SAA, and other state-owned enterprises that this ANC government has brought to its knees in addition to a full makeover at Denel, PRASA, PetroSA, Transnet, etc, to reflect social and labour needs.
5) A campaign against job losses and catastrophic levels of unemployment
We will campaign against job losses. We lost over 2 million of jobs as result of the COVID-19 pandemic. The pandemic merely accelerated jobs bloodbath which was underway. Official unemployment increased from 24% in 2012 to 34%, and when we factor in those who have given up looking for jobs, 45.5% (12.4 million) of the labour force is unemployed. Moreover, 66% of the youth between the ages of 15 and 24 is unemployed, 53,3% of black women in the labour force are unemployed, whilst 46,3% of the youth between the ages of 15 and 34 were Not in any form of Employment, Education and Training (NEET).
As a result of this, our country is facing extra ordinary levels of social crisis, including high levels of depression with more and more young men resorting to suicide, drugs and alcohol abuse, increased crime, and sheer violence.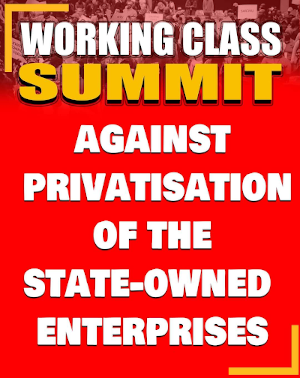 6) Campaigns against extra ordinary high levels of crime including Gender Based Violence and killing of police officials
According to the South African Police Services (SAPS) Crime Statistics, South Africa experienced 68 people being killed daily in the financial year 2021/22 — from April 2021 to March 2022.
Women are under siege. There were 120 recorded rapes taking place daily in the first three months of 2022, and this is a highly conservative figure given than many do not bother reporting such heinous crimes because of degenerating state policing and social-work services.
The police officials who are supposed to our defenders are not spared. In the recent period, there have been increasing reports of police officers killed, as our society reaches the stage of extreme desperation, prone to the kinds of unrest chaos witnessed in July 2021.
We demand a total overhaul of the inherited colonial economic structure so we end our current dependency on exporting raw materials and importing ever-more expensive manufactured products, as is so often promised but never delivered by the neoliberal state, and we will craft a new economy based on meeting the needs of working-class people, with goods and services under increasing worker control of the means of production, and with all due health and environmental protection!
We declare that we have no further tolerance for state inaction when it comes to causes and effects of climate catastrophies – which in South Africa we suffer when Gqeberha and other Eastern Cape municipalities go dry, when 500 die in KwaZulu-Natal Rain Bombs, when terrible Karoo droughts are followed by locust infestations, and when terrible fires result – and we insist on creating public works jobs to climate-proof our country, including a genuine Just Transition to transform the sources of high-carbon and high-methane emissions!
To these ends, we begin our programme of action with the announcement that 24 August will be a day for a national shut-down including a general strike. On 8 August we will submit a Section 77 Notice to Nedlac, so that this will be a fully protected strike.
This is only the beginning of our movement's resurrection. Forward to working-class power, forward! •
SAFTU's website saftu.org.za.