Ford Government Stumbles into Healthcare Staffing Crisis
Job vacancies across the Ontario economy have sky-rocketed over the last two years, with a ten percent increase in 2020 and a 66% increase in 2021. Compounded that represents an 82% increase in two years.
Correspondingly, the average offered hourly wage for all occupations went up 4.6% in Ontario (to $23.70) from the end of 2019 to the end of 2021. The increase in job vacancies is particularly marked in healthcare industries. In hospitals, there has been a continuous increase in the number of job vacancies and in the job vacancy rate since 2015, with a sharp spike in the last two years.
Job vacancies went from 3,635 at the end of 2015 to 8,855 at the end of 2019 (just before COVID), and then onto 16,685 by the end of 2021. That is a 359% increase since the end of 2015 and a 88% increase since the end of 2019. The hospital job vacancy rate has increased from 1.6% at the end of 2015 to 6.3% at the end of 2021.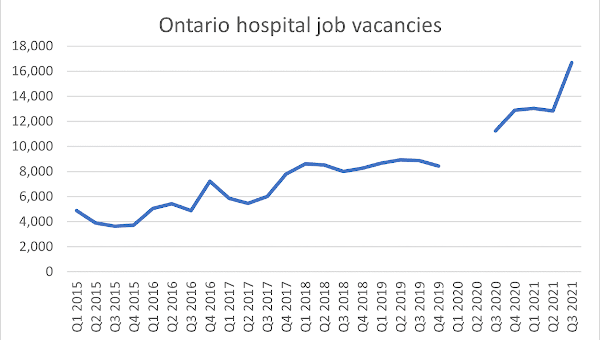 Nursing and Residential Care
In nursing and residential care facilities the pattern has been broadly similar. There has been a continuous increase in the number of vacancies and the job vacancy rate since 2015.
Job vacancies grew from 2,885 in 2015 to 6,095 in 2019, and then onto 16,075 in 2021. That is a 457% increase since 2015 and a 164% increase since 2019. The job vacancy rate increased from 1.6% at the end 2015 to 7.1% at the end of 2021.
Hospitals and nursing and residential care facilities have over 32,000 job vacancies. Add another 10,350 for ambulatory healthcare and the total for these three healthcare sub-sectors is over 42,000 job vacancies. That is up from about 10,000 at the end of 2015, a four-fold increase.
Occupations in healthcare have seen an explosion in job vacancies in Ontario. Over 2020 and 2021, RN vacancies more than doubled and RPN vacancies more than tripled. Nurse aide and orderly vacancies more than doubled. Other "assisting occupations in support of health services" saw vacancies more than quadruple.
Broader provincial public sector workers have faced wage restraint in one form or another since 2010, with wages falling far behind inflation as well as wage settlements in the private sector and the municipal sector. The consequences of that policy are now coming home to roost.
This is a big problem for the Ford PC government. They are trying to suppress compensation for healthcare (and other broader public sector workers), but they cannot attract and retain enough healthcare workers under those conditions. The Ford PC government has responded to this contradiction by making unilateral, one-off compensation improvements for this or that health profession.
Their latest attempt (Bill 106 currently going through the legislature) institutionalizes this approach by allowing the government to unilaterally intervene in the labour market, circumventing Bill 124, employers, unions and the collective bargaining process. But that creates resentments among favoured and unfavoured workers, worsening already difficult morale problems within the hospital and long-term care workforce. Willing agreement and cooperation by all parties (workers and employers) is absent. With this approach, the government owns the problems created 100%.
Bigger Problems on Horizon
Bigger problems are on the horizon: an aging population means that healthcare will have to become a bigger and bigger portion of our economy. Just over the next few years an additional 59,000 long-term care nurses and PSWs will be required – and that is above and beyond the normal replacement of staff due to retirements, deaths, leaves, or career changes. More staff will be needed in other health sub-sectors and in other classifications.
The current staffing shortages and the need to recruit more healthcare staff in the immediate future are going to be challenging if the government continues on the path of wage suppression. It doesn't create a very tempting work environment, especially as inflation and private sector wage settlements head upwards.
The government's attempt to suppress wages and block free collective bargaining in the broader public sector via Bill 124 and other initiatives has deepened the healthcare staffing crisis. All of this is sharpened right now by the sixth wave of COVID which has caused large numbers of healthcare staff to be absent from work. That is not caught in the Statistics Canada figures from the end of 2021, but it is causing even hospital CEOs to regret Bill 124. We are in a perfect storm of government incompetence. Can we expect better after the election? Hard to see if the current bunch are re-elected. •
This article first published on the Defend Public Healthcare website.