'Sounding the Alarm': Ontario Workers and the Ford Government
"Ontario workers are sounding the alarm," begins a statement by the Ontario Federation of Labour on January 20th, demanding the Ontario Doug Ford government change course in its public health and employment policies. Endorsed by over thirty labour leaders, including the president of the OFL and various union organizations, the statement cites the dire and deteriorating state of healthcare workers well-being and their working conditions in Ontario. The pandemic and the Omicron variant have put enormous pressure on the hospitals and the workers who deal with the disease every day. Those who need to access healthcare for COVID treatment and many other serious illnesses are paying for it with their health and their lives. (The OFL statement is included below).
The OFL statement – similar to others issued across the country in other provinces – attacks the actions of the Ford Progressive Conservative government in ignoring the working conditions, safety, and overall health of workers and communities. The Ford government continually bends to the interests of business and 'getting the economy going' as well as to the hard right political forces the Conservatives have been currying in Ontario and across the country for a long time. The Ford regime has been using the pandemic crisis to attack the rights of workers and unions in the healthcare sector and the broader public sector. And the statement quite properly – and angrily – cites the lack of access to sick days for workers and, affordable and available child care, dependence on private for-profit COVID testing, and the moves the government is steadily making toward two-tier healthcare. The pandemic crisis, for the Conservatives, is an opportunity to pursue the further privatization of healthcare in general and long-term care in particular.
The OFL statement demands that the legislature call an emergency session to address the crisis in Ontario through a series of actions: repeal of legislation that limits the rights of healthcare workers; employer-paid sick days; a summit of stakeholders in the healthcare system to hire "tens of thousands" of needed healthcare workers; plans to make workplaces safe and properly ventilated; and an emergency healthcare campaign to build support for "a comprehensive public health strategy."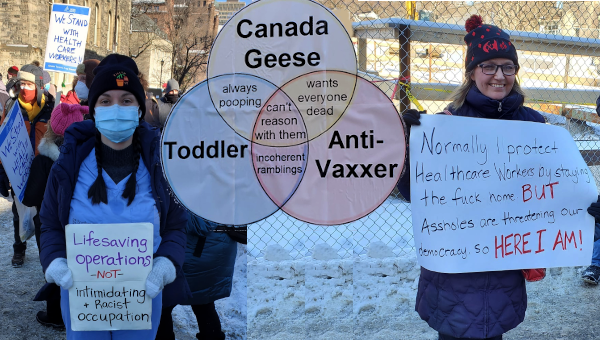 Statements are Important, but…
While this is an important statement of intent, it appears in the midst of a general paralysis of the Canadian labour movement in the face of the ongoing pandemic crisis, weariness with public health protocols, and in the shadow of the ongoing 'protests' by libertarian and far-right militants as well as populist-inspired independent truckers in a number of Canadian and Ontario cities. There has been no sustained collective effort by the union movement as a whole to educate, organize and mobilize their members and the working class over the course of the pandemic.
Such mobilization would include a mass educational effort led by the union movement on rebuilding and transforming the public healthcare system, development of alternatives for collective provisioning of long-term care, the integration of healthcare workers trained into employment, a major overhaul of health and safety protocols in workplaces, training in health provisioning and skills in remote and First Nations communities, a reallocation of health resources to address the social determinants of health for workers in high-risk communities, and so forth. The demands in the statement could and should be expanded, taking advantage of the lack of public confidence in Ford government's handling of the pandemic, raising demands for a wealth tax and other forms of progressive taxation to support essential services, pay increases for front-line healthcare workers, as well as provision of public transportation for workers to get to their workplaces in hospitals and care facilities.
Such measures are urgently needed, but they ought to be just the initial component of making sure that future health pandemics don't end up becoming existential crises for the healthcare system. The neoliberal policy regime advocated by successive Liberal and Conservative governments, at both the federal and provincial levels, resulted in almost continual cuts to public healthcare and health provisioning of all kinds. The political leaders have blocked and rolled back the wholly inadequate mix of public and private systems that is the Canadian medicare structure. The focus on austerity and mimicking the 'lean production' of the private sector abused and completely misread the basics of public health in the misguided attempt to run hospitals near – and often just beyond – full capacity. But the failures of the Ontario and Canadian governments have been pervasive: productive capacities to manufacture, stockpile and distribute key medical machinery were inadequate; vaccine production and personal protective equipment (PPE) were allowed to be run-down and even disappear; 'just in time' approaches that were used to maintain stocks of PPE, notably N95 masks, and distributing them to key centres of outbreaks has been a disaster; the airborne nature of the pandemic virus was denied; the mandating and legislating of suitable paid sick days was vetoed; and this only the tip of the iceberg. The Ontario state, quite simply, has so few long-term planning capacities that it has proved itself completely incapable of responding to the crisis.
Labour Actions Needed
There are number of actions that the labour movement could take, some direct, like collective solidaristic actions by workers who are not on the healthcare frontlines where work stoppages are highly problematic. These could include rotating work stoppages in CUPE and SEIU non-hospital or non-care facility workplaces; or auto workers organizing rotating absentee days in support of front-line workers. The details here are not so important as establishing that the crisis is so grave that the labour movement needs to take aggressive direct action to back up its demands for rebuilding the public healthcare system.
Anything that is done by the labour movement has to be tied to grassroots educational campaigns, with unions training co-workers to speak to members in workplaces and in their communities – with the latter doing education with neighbours, friends and family. If unions aren't willing to work together – and go beyond signing joint statements – on a common project such as this, the labour movement will fail to play the essential role in workers' lives so urgently required at this very political moment. Instead, some working people will come increasingly under the sway of the hard-right populists that have animated the (misleading) truckers' convoy. The social forces and ideological beliefs that have fueled Trumpism are announcing their political presence in Ontario and Canada (building on the People's Party of Canada gains in the federal election).
Of course, another crisis is looming, running in tandem with the pandemic, but bigger and even more ominous, and is unfolding on the world stage – the climate emergency. It, too, will require a kind of collective crusade by the labour movement and, in fact, a societal rupture with the logic of neoliberalism and unfettered capitalist accumulation. In Ontario and across Canada, the lack of preparation for the COVID-19 pandemic, the erosion of basic public policy planning capacities, the reliance on market measure, and the logic of sustaining profits and capitalist interests at the expense of social needs, is just as evident in climate change policies.
The labour movement has a critical role to play not just in pursuing a just transition in work but also in conversion of the capital stock through workers' plans and controls. We can work to create the material conditions in manufacturing workplaces that have been closed, or are potentially closing, by transitioning to non-carbon, socially necessary production, as part of a publicly owned and planned, worker and community-centred economic sector. Doing education with members, through Labour Councils, about the need to transition manufacturing away from private corporate-driven production of fossil-fuelled personal vehicles, and into socially necessary forms of transportation equipment, with energy from non fossil fuel sources, would be a step in the right direction. Working people and communities have already been getting behind such projects, for example Green Jobs Oshawa (and the free transit movement), and arguing for similar projects.
The OFL statement opens a dialogue. We can't just sit back and hope that in a mad scramble to undo the now obvious effects of a public health crisis – or any other such emergency such as climate change – the situation can be mitigated by stopgap measures that punish working people. We need to start to take new actions now before the political climate turns even worse. •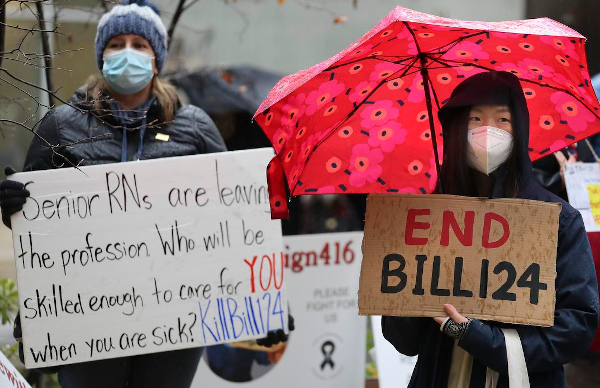 Ontario is in Crisis. The Ford government must act now.
Ontario workers are sounding the alarm. Our province is facing its worst public health crisis since the COVID-19 pandemic began almost two years ago. Healthcare providers are describing it as a "full-blown emergency." And the situation is getting worse with each passing day.
Just weeks into 2022, Ontarians are witnessing the collapse of our healthcare system. Healthcare workers are burnt out, demoralized, and getting sick in the thousands. Women and racialized workers are among the hardest hit.
Many healthcare workers are leaving their jobs, or have left already. There is a massive staff shortage. Ambulances are tied up for hours as understaffed hospitals struggle to offload patients. Long-term care facilities are appealing to restaurants and hotels to help feed their residents.
As Omicron spreads to all regions of the province, we're running out of beds and tens of thousands of surgeries have been cancelled. Our healthcare system is rapidly approaching its breaking point.
It didn't have to be this way.
At every stage of the pandemic, Doug Ford's government has failed to protect workers and keep our communities safe. Instead of following the advice of public health experts and frontline workers, Ford has taken shortcuts, implemented half-measures, and catered to Big Business.
He has consistently put "economic" concerns ahead of public health and the well-being of Ontarians.
Now Ontarians are paying the price.
Schools aren't equipped to protect students and education workers. Staff are being forced to work in conditions that fuel the spread of COVID-19. Families are terrified about their kids getting sick, but the lack of affordable childcare means they can't take time off work to keep them at home.
Most Ontarians still don't have access to paid sick days. Too many workers must choose between going to work sick or staying home and losing pay. When workers try to isolate, they can't access testing to show their employers they're sick.
Meanwhile, private for-profit testing centres are popping up to fill the void, providing coverage for those who can shell out hundreds of dollars per test. Ford's failure to properly fund our healthcare system has accelerated the drive to privatized, two-tier healthcare.
The entire province is reeling from Ford's failures. And women, racialized communities, migrant workers, injured workers, and people with disabilities are bearing the brunt of it.
Enough is enough.
The Ontario Federation of Labour (OFL) is joining with frontline workers in healthcare, long-term care, education, and other sectors to issue this emergency appeal. The Ford government must:
Recall the legislature for an emergency session to address the deepening public health crisis facing Ontarians.
Repeal Bills 124 & 195, two of the greatest contributing factors to the unprecedented staffing crisis in our healthcare system. Bill 124 prevents employers from providing urgently needed supports to recruit and retain healthcare workers. Bill 124 has also negatively impacted hundreds of thousands of public and broader public sector workers in education, childcare, and social services. Similarly, Bill 195 has empowered employers to attack frontline workers' labour rights and is unnecessarily adding to the burn-out of healthcare workers.
Legislate a minimum of ten permanent employer-paid sick days for all workers in the province, and ensure an additional 14 paid sick days during the pandemic. Workers who contract COVID at work must also have greater access to WSIB support.
Hold an emergency summit of all stakeholders in the healthcare system and develop a rapid response plan to hire the tens of thousands of registered nurses, registered practical nurses, personal support workers, and other healthcare workers required to address the staffing crisis. In the long term, Ontario requires a strategy to address the chronic underfunding of healthcare and other public services.
Require healthcare and educational institutions to provide airborne precautions to staff, patients, residents, and students, including fit-tested respirators for staff (e.g., N95s), enhanced ventilation (e.g., HEPA filters), and appropriate social distancing measures (e.g., smaller class sizes). The same protections must be extended to frontline workers in grocery stores, food service, transit, and other essential sectors.
Launch an emergency public health campaign to communicate the urgency of the situation facing Ontarians and to build broad public support for a comprehensive public health strategy.
These demands represent the bare minimum of what is required to confront this unprecedented crisis, but they are only a start. The Ford government must act decisively to implement the full recommendations of public health experts, healthcare and education professionals, and frontline workers. We can no longer afford shortcuts, half-measures, or empty rhetoric.
As we issue this emergency appeal to the Ford government, we are also making a direct appeal to the Ontario public: we need your active support to win these demands. Only a united, province-wide response can push the Ford government to act.
If we move together, we can win. But we can't wait a moment longer.
Our lives, our health, and the survival of our healthcare system are at stake. •
These demands have been endorsed by labour organizations, which collectively represent more than one million Ontario workers. See signers here.