Ontario's Adoption of IHRA Definition Weakens Our Collective Fight Against Discrimination
On October 25, Doug Ford's Conservative government, through an order-in-council, adopted the International Holocaust Remembrance Alliance's (IHRA) "working definition of anti-Semitism."
Not only is this unilateral move in keeping with the Ford government's anti-democratic tendencies, the flawed IHRA definition poses a direct threat to freedom of expression. It also fails, as David Feldman has written in The Guardian, to "make any ethical and political connections between the struggle against anti-Semitism and other sorts of prejudice."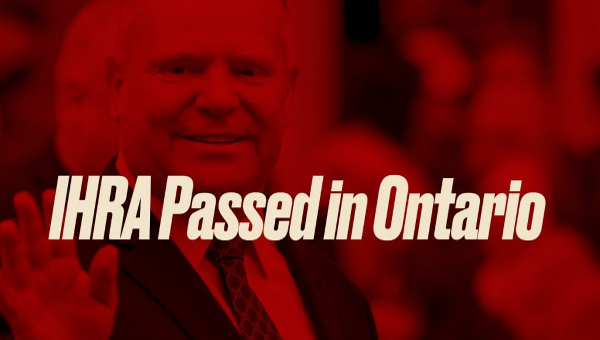 More worryingly, the order-in-council only addresses racism and bigotry directed against Jews and implicitly relegates to a lesser status the racism faced by other racial and religious minorities in Ontario reported below:
Systemic Racism
These studies indicate that many groups, including Indigenous peoples, Black Canadians, Chinese Canadians, Muslims and Jews, face racism in various forms across this country. Clearly, then, Ontario needs comprehensive tools to combat all forms of hatred and bigotry, not a vague definition that has been widely criticized for conflating legitimate criticism of the Israeli government and its military with anti-Semitism. At minimum, the provincial government should not ignore the statistics that report extreme prejudice and hate against Muslims in Canada.
While it goes without saying that fighting anti-Semitism and all forms of oppression is essential, by adopting the IHRA definition the Ontario government is implicitly creating a hierarchy of victimhood and, by extension, downgrading the urgency with which other targets of racism must be protected.
The IHRA definition is problematic in a number of ways. Not only does it render Jewish identity and Jewish supremacy advanced by the State of Israel inseparable, it treats those "who wish to take part in the struggle for emancipation from colonial rule" as nothing but bigots and racists. As Lara Friedman, president of the Foundation for Middle East Peace, has written, the IHRA definition "exclude[s] criticism of Israel from the bounds of acceptable discourse."
In fact, seven of the 11 illustrative examples provided by the IHRA conflate criticism of Israel with anti-Semitism.
In July 2018, the Jewish majority in the Knesset passed the Basic Law: Israel as the Nation-State of the Jewish People (informally known as the Nation-State Bill) which stipulates that "Israel is the historic homeland of the Jewish people and they have an exclusive right to national self-determination in it." This blatantly racist piece of legislation subordinates the rights of 22 per cent of its citizens who are Palestinian Christians and Muslims.
One of the IHRA's illustrative examples claims that "denying the Jewish people their right to self-determination, e.g., by claiming that the existence of a State of Israel is a racist endeavour" is anti-Semitic. This is a tacit endorsement of the Nation-State Bill, as it dismisses any historical account concluding that the formation of the State of Israel in 1948 was accomplished through violent processes of dispossession and ethnic cleansing.
This example could be used by the Israel lobby to target anyone supporting the rights of the Palestinian people for self-determination or anyone advocating for equality in a democratic non-sectarian country instead of an explicitly "Jewish state" – one that grants superior rights to Jews (as Israel is currently constituted). This is tantamount to punishing genuine calls for racial and ethnic equality in the name of stopping the spread of anti-Semitism.
The Ford government's adoption of the IHRA definition is troubling because it gives licence to those who would like to paper over the institutionalized discrimination faced by nearly two million Palestinian citizens of Israel. It also harms other anti-racist initiatives by setting a troubling standard for freedom of expression while also threatening academic freedom, as has been pointed out by the Ontario Confederation of University Faculty Associations (OCUFA) in a response to the adoption of the IHRA definition. •
OCUFA Opposes Ontario Government Circumventing Democracy and Public Debate on Bill 168
The Ontario Confederation of University Faculty Associations (OCUFA) is shocked that the Ford government has abused its power and circumvented democracy and public debate to ram through provisions of Bill 168, the Combating Antisemitism Act, through an Order-In-Council, which enshrines into law the flawed International Holocaust Remembrance Alliance (IHRA) working definition of antisemitism. This law will further conflate legitimate criticism of the policies of the State of Israel with antisemitism.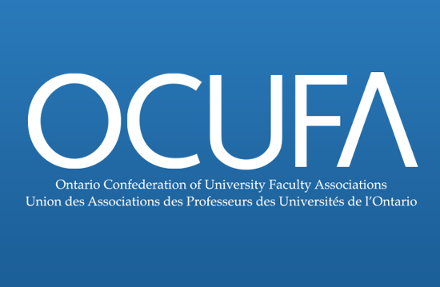 "OCUFA condemns antisemitism and all forms of racism and hatred in the strongest terms. However, we remain concerned with the IHRA's flawed definition of antisemitism and its list of illustrative examples," said OCUFA President Rahul Sapra. "The working definition, with its list of illustrative examples, conflates legitimate criticism of the state of the State of Israel with antisemitism and may compromise academic freedom at Ontario's universities by promoting censorship on campus and beyond."
The IHRA's working definition and its list of illustrative examples restrict free speech and threaten academic freedom by limiting the ability of scholars to engage in pedagogy and scholarship that include critiques of a foreign state. The adopted definition and its application are likely to increase the ongoing intimidation, censorship, and attacks on scholars and academics who are critical of Israeli state policies.
This anti-democratic maneuver threatens the highly regarded principles of university autonomy and collegial governance. While the IHRA's working definition is presented as "non-legally binding," in the UK the government is requiring universities to adopt the IHRA's definition and threatening funding cuts if they do not.
Bill 168, the Combating Antisemitism Act, was scheduled to go through public hearings this week and receive public submissions by October 30th. Ford's heavy-handed move to ignore the democratic process and ram through provisions of this controversial bill demonstrates the government's lack of respect for Ontarians and their rights to free speech and democratic engagement.
"We are alarmed that the government has bypassed the democratic process to push parts of this bill through. It makes one wonder whether the government was worried that this flawed bill would not hold up to public scrutiny or debate," said Sapra. "We are equally concerned by the new Order-In-Council's implications for Ontario's universities and our members and will continue the important work of protecting academic freedom and free speech on Ontario's university campuses." •