Community Fridges and Mutual Aid Amid the Pandemic
The COVID-19 global pandemic has revealed many things about the structural social inequalities of capitalism – from the class and global inequalities of access to public healthcare and pharmaceuticals; to the ways the ruling classes can barricade themselves off from the surrounding chaos even in a pandemic by purchasing the services of low-income workers bringing, food, transit, leisure to their doorsteps; to how forty years of neoliberalism has gutted the public health, education, transit, housing, and social supports that are so critical to working class people and communities. One of the central axes of division revealed by the politics of the pandemic is access to food. Catered meals, high-end take-out delivery services, personal grocery shoppers for the enclaves of the professional and capitalist classes; long lineups outside bulk grocery stores for those still with incomes; and food banks unable to meet the demands of the thousands now out of work and unable to provide enough food for themselves and families. The class inequalities of access to food of proper quantity and quality further intersect with the inequalities of race and place, and often making for desperate situations in many communities.
And running alongside the class polarization of food provisioning has been the enormous food waste of the capitalist agro-industrial complex along every step of the value chain, from production to distribution to retail – an estimate of over $30-billion in food waste in Canada every year. One response to the food crisis has been the movement for community fridges, community food tables, household stands offering books and dry goods. In a sense, this has been a spontaneous rediscovery of working class solidarity through the practices of mutual aid. What the capitalist market will never provide for those with low incomes, and what the neoliberal state has never compensated for, we will do ourselves. In Toronto, like elsewhere in Canada and the United States, we have seen the movement for community fridges and zero food waste grow. The practices of mutual aid pointing, insistently, toward the necessity of the provisioning of food based on need and not on money and capitalist markets. — Socialist Project
On one side of a refrigerator that stands on a sidewalk in New Orleans, two alligators encircle a woman with dark mocha skin wearing a tattered white slip. Her hair is a single braid that reaches the ground. She stands with her right foot on top of an orange snake. Above her, white birds seem to be flying toward a celestial body. Below her, two white Bengal tigers prowl between two halves of a papaya. This is just one of several paintings created by artist Sydney Calderon in support of New Orleans Community Fridges (NOCF), which is a mutual-aid effort setting up refrigerators around the city that offer free food to community members, many of whom currently struggle with hunger.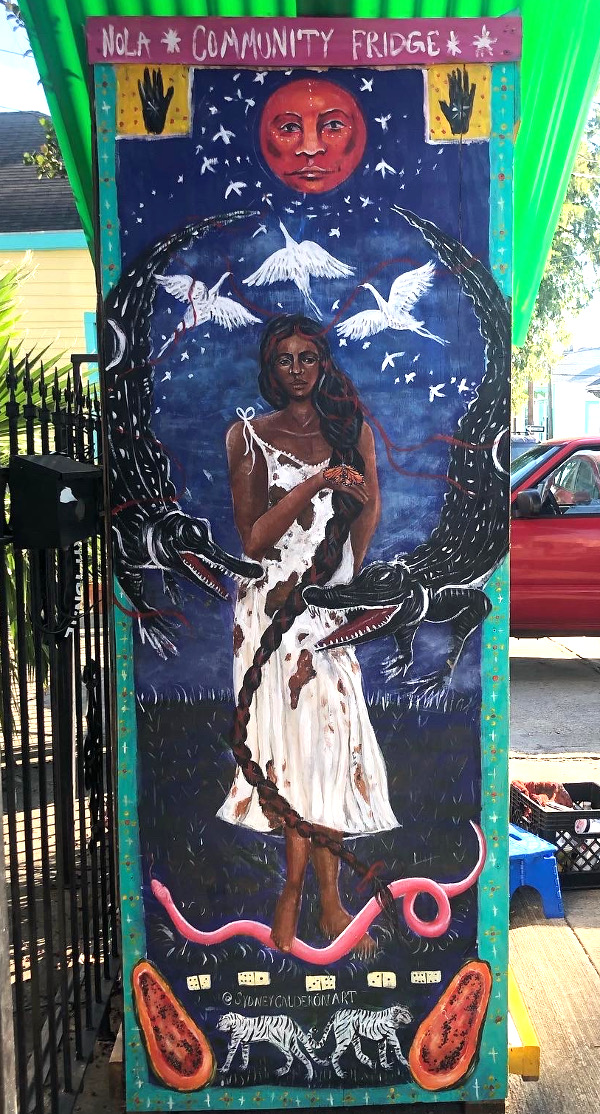 Twenty-four-year-old Calderon, originally from Richmond, California, says about her art, "[I am] deeply inspired by my Mexican heritage, and aim to honor it within my art. To me, painting is more than a career; it's the core of my existence." She says New Orleans is the home she's always been searching for in her heart.
"My intention was to combine my personal artistic style of Mexican folk art with various aspects of New Orleans, to create a piece inspired by the whimsical and colorful character of this city," Calderon said. "My goal in painting the [fridge for NOCF] was to create something beautiful and colorful that everyone could have some sort of ownership over. I think we all kind of absorb our surroundings and are impacted by what we see/experience on a day-to-day basis. I think more regular exposure and accessibility to art could play a huge role in nourishing our community."
Many Community Fridges
The fridge arrayed with Calderon's paintings is just one of many community fridges that have been set up outdoors across New Orleans and around the nation by activists looking to provide mutual aid in their communities in response to the economic realities of COVID-19. Hunger and food scarcity were already issues for many Americans who struggled to put food on their tables prior to the economic strain of the pandemic. Since many businesses were forced by the circumstances to shut down during the virus outbreak in March, millions of workers have been displaced, causing US unemployment rates to skyrocket. Since the outbreak of the pandemic and its economic impacts, large swaths of the American population have been struggling to feed themselves and their children. The impacts of the virus and the irresponsible response carried out by the Trump administration are worsening the already serious hunger crisis in America. More than 54 million people will potentially experience food insecurity in 2020 because of the coronavirus pandemic, according to the nonprofit Feeding America.
To set up a community fridge, organizers find a willing business or residence that will let them plug in a fridge in an accessible outdoor location. The fridges are stocked by donations from community members with extra food to spare, or local bakeries, restaurants, grocery stores, food pantries and sometimes farms looking to offload extra food. Inside a community free-food fridge, on any given day people will find fresh veggies, dairy products and other basic perishables meant to feed community members struggling with food access. Stacks of non-perishable items are often also found in baskets or crates surrounding the fridges, up for the taking.
This community-led solution to hunger has been gaining speed since around February. That is when Thadeaus Umpster, a longtime organizer with the mutual-aid-oriented anarchist collective In Our Hearts NYC (IOH), says residents working with IOH installed New York City's first community fridge in Brooklyn.
"Our goals in doing this are to make sure that people have enough to eat, and also to address food waste," he says. "Another thing that we're very focused on with this project is helping to build stronger, more resilient, self-sustaining, autonomous communities."
Umpster has been involved with community organizing efforts focused on addressing food waste since 1999, when he first became involved with the local Food Not Bombs project. He says the issue is not one of food scarcity in America, but of distribution and access. According to estimates from the US Department of Agriculture (USDA), food waste makes up 30-40 percent of the American food supply. According to the USDA's Economic Research Service, that equated to about 133 billion pounds and $161-billion worth of food in 2010.
The USDA website states that this much food waste impacts society, as "[w]holesome food that could have helped feed families in need is sent to landfills," and "[l]and, water, labor, energy and other inputs are used in producing, processing, transporting, preparing, storing, and disposing of discarded food."
Umpster notes that food waste worsened with the onset of COVID-19 as restaurants and hotels and other major buyers of food from farms and suppliers began to shut down and farms across the nation dumped their produce and dairy products en masse.
"Even before COVID, though, that was happening on a regular basis," he says, noting that nearby chain grocery stores like Trader Joe's and Whole Foods, in particular, throw out "tons of food" each day, and have done so for years.
Since early February when the initial community fridge was set up in Brooklyn, the effort has grown "exponentially," says Umpster. There are so many community fridges in New York City today that he has lost count, but guesstimates that there are at least 40 of them throughout the city. He has also spearheaded an effort to organize community fridges across the nation, by connecting hundreds of organizers and volunteers using the encrypted messaging app Signal. As community fridges gained attention from the press, volunteers and organizers interested in starting community fridges in their own towns began to reach out by the hundreds, he says, so IOH created free-food fridge groups via Signal for the various neighborhoods in NYC as well as different cities around the United States – stretching all the way to Los Angeles.
He says the free-food fridge project has been a connection point for communities as much as it has been a source of physical nourishment. Of his own neighborhood in Brooklyn, he says the project has allowed him to get to know the names and stories of many neighbors he once only waved to in passing.
"It's a much more tight-knit community than it used to be," Umpster says. "People are watching out for each other more and working together more and supporting each other. It has just become a lot better – and it's not just on my block that I've seen that. I've heard from people doing fridges and other neighborhoods [that] it's very much the same thing."
Art and Free-Food Fridges
To spread the word initially about the free-food fridge effort, Umpster says IOH put up signs and did ample outreach on social media; however, he says the artists who have painted and transformed their local community fridges are largely responsible for generating attention and awareness about the effort.
"A friend of mine who paints under the name Hugo Gyrl painted one of the earliest fridges we have, and it changed the whole vibe, the whole feeling on the block that it's on," he says. "It made it into the spot where journalists and photographers wanted to come take pictures and spread the idea of what we're doing."
Colorful, diverse and elaborate designs cover the community fridges that now dot America, and in large part that artwork is created by BIPOC (Black, Indigenous, and People of Color) artists who have either donated their time and creativity to the cause, or have been paid a small fee for their labor.
For Calderon, who painted the free-food fridge in New Orleans, community art provides a greater narrative around the value and worth of art. She says on a personal level she has been undergoing a "long process of unlearning" the things most of us are taught to assume about fine art, "most importantly, rejecting the idea that fine art is centered around wealth/whiteness."
"There is absolutely a place for BIPOC in the world of fine art, and I often feel very inspired to depict BIPOC in classical art themes," she says, pointing out her use of baby cherubs holding a banner that carries messages like "free food" and "community fridge" on one side of the fridge she painted for NOCF.
"As I've grown, I've begun to challenge what it means to be a 'great artist,'" she says. "Is it years of technical training and an expensive education in the arts? Or is it the passion and emotion you pour into your work because you have no other outlet or way of expressing yourself? Is it thousands of followers on social media? Or is it direct involvement with your community?"
Calderon adds, "Most recently, I've begun to challenge the capitalistic side of fine art. I strongly believe that art is for everybody, not just a handful of wealthy collectors who can afford the standard price for a work of art. Painting the [fridge for NOCF] really enforced that for me."
Race Inequities and Food Access
Umpster says most of the free fridge project's Instagram followers, close to 71 percent according to self-identification on Instagram, are women. And, women of color are largely responsible for the spread of the free-food fridge movement, as they are behind most of the organizing efforts around the United States.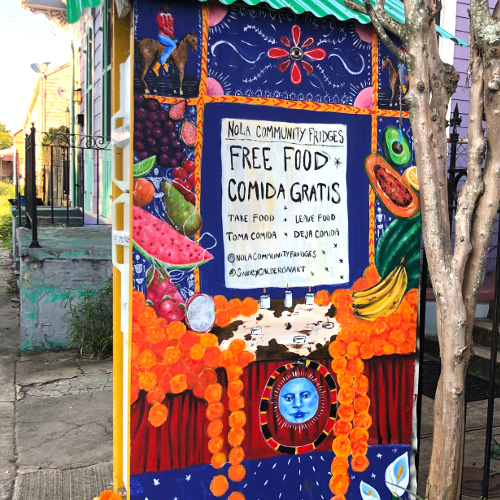 "This movement is very much a women-of-color-led movement," he says. "It's mostly women of color who are setting up these fridges, keeping them stocked and making sure their things are running smoothly."
Brynn Comeaux, an organizing member of NOCF – which has been live for just a short time, having begun in July 2020 – pointed out in an email interview that food access issues are inextricable from racial inequities.
"When you look at a map of the city, it's no coincidence that areas experiencing higher rates of poverty, unemployment, and housing insecurity are also areas that lack access to fresh, affordable food," she said. "They are also areas with higher populations of African Americans, Latinx, and Vietnamese residents. Going even further, you would see that these areas are notoriously undercounted and underrepresented in the census. What that means is that outside of a pandemic, in New Orleans it is hard to determine exactly what portion of the population is food insecure. And even if a need is determined, it is often underfunded. These issues are only exacerbated in the event of a global pandemic or natural disaster."
The same trends hold across the United States, as food insecurity is typically heightened for Black and Hispanic populations. And, as detailed in a New York Times article, the pandemic has deepened those existing disparities.
As a national study, "Examining the Impact of Structural Racism on Food Insecurity: Implications for Addressing Racial/Ethnic Disparities," published in 2018, notes, "An analysis examining trends in food insecurity from 2001 to 2016 found that food insecurity rates for both non-Hispanic Black and Hispanic households were at least twice that of non-Hispanic white households."
Comeaux said the free-food fridges are "a physical manifestation of ways we can directly give back to our community."
"Given the nature of how we have had to shift socially and as a community during the pandemic, the fridges offer us that way to connect that seems so far away these days," she said. "We have seen folks starting their own fundraisers to support this project. We have seen restaurants cooking a little extra for their family meals or adding pay-it-forward options to help keep the fridges stocked. We are also starting to see culture-bearers of the city like Mardi Gras krewes and the BIPOC artists… come together to make this uniquely New Orleans. Everyone has their part to play. Our hope is that movements like this normalize mutual aid. This is solidarity, not charity." •
This article was produced by Local Peace Economy, a project of the Independent Media Institute.