Austerity and the Crisis in Healthcare
Analysis of the Ontario Government's Economic Statement
Ontario's government released its economic statement today (March 25). Overall, they are providing $3.3-billion for healthcare, another $3.7-billion in supports for people and businesses, and $10-billion for other deferrals and tax "relief."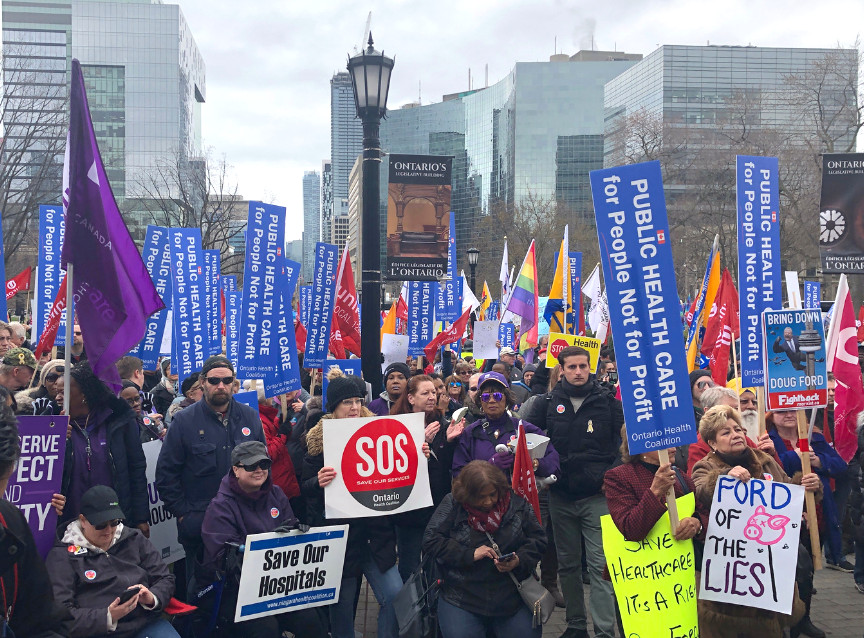 The Ontario Health Coalition's key message: The overall funding announcement for healthcare of $3.3-billion amounts to a funding increase of about 5 per cent. This is approximately what is needed to just to meet population growth, aging, inflation and utilization at not much more than current levels. Please note: that total includes the $1-billion COVID-19 contingency fund that the government announced today.
Within the particular health subsectors (see below) the numbers need to be put into the context. Ontario is far behind due to years of austerity budgets, downsizing of public hospitals beyond all reason, and rationing of long-term care to levels far less than population need. We have a long way to go just to catch up. It is not unreasonable to demand that we catch up. Ontario funds healthcare at among the very the lowest rates of any province in Canada and we are at the bottom of the country in hospital funding.
We are hoping that the ramp up of testing and tracking happens quickly, people are waiting for tests and test results. We are supporting the unions' and healthcare workers' advocacy for immediate and urgent ramp up of N95 masks and other personal protective equipment. The hospitals are pushing for more Critical Care beds to take the expected influx of patients, and for ventilators and other equipment. We also know that there is already a staffing crisis in long-term care and the staff are working miracles to care for residents while families cannot go and visit.
We are echoing the important call on everyone to please take this seriously and stay home. I know the numbers of confirmed cases right now do not look large now and people do not see the reality of the threat, but it is real. More than 10,000 people are waiting for test results in our province right now. Only those with serious symptoms are being tested.
We are also calling on all our healthcare leaders to protect the principles of public medicare and ensure that capacity is build as quickly as possible in the public interest, under public governance and operated as non-profit services. This is not the time to take advantage and privatize.
We have inserted some analysis under each of the key budget items in healthcare that were announced today. Here are some of the details the Ford government provided and our quick analysis:
$1-billion contingency fund for COVID-19 this is included in the overall 5 per cent health funding increase.
$935-million for the hospital sector, including $594-million for current capacity issues, as well as $341-million for an additional 1,000 acute care and 500 critical care beds and additional assessment centres in response to COVID-19.
Health Coalition analysis: The total of $935-million is very close to the amount that the Ontario Hospital Association asked for in December to maintain existing service levels prior to COVID-19 and begin to address current capacity issues prior to COVID-19. We called for slightly more, again to address existing needs prior to COVID-19. To ramp up, all the supplies, staff and so on need to be in place. With the contingency funds that have been announced, there could be funding available to expand capacity. It is impossible to assess what will be enough in these changing circumstances.
Increasing public health funding by $160-million to support COVID-19 monitoring, surveillance, and laboratory and home testing, while also investing in virtual care and Telehealth Ontario.
Health Coalition analysis: this finally wipes out last year's public health cuts and increases their budgets.
$243-million for surge capacity in the long-term care sector, as well as funding for 24/7 screening, more staffing to support infection control, and supplies and equipment to help tackle the COVID-19 outbreak.
Health Coalition analysis: this will help to broaden capacity but there are 36,000 people on the wait list so it cannot address that. It does not address existing staffing shortages and improving levels of care to 4 hours average per resident per day as all of the family, resident, public interest, union and other advocates have been calling for.
$75-million to supply personal protective equipment and critical medical supplies to front-line staff to tackle COVID-19.
Health Coalition analysis: We are behind and 55,000 N95 masks in stockpiles expired rather than being rotated through and replaced to keep the supplies up to date. Later, when conditions improve, there needs to be accountability for this. In the meantime, urgently, staff and their unions are reporting that they are being told to work without proper protective equipment. We support their advocacy to address this as a priority. In addition, ventilators and other supplies are needed. This funding is encouraging but the supplies are needed now.
Overall: at a 5 per cent increase including the COVID-19 contingency of $1-billion, this is not enough to address what is needed and will likely be needed. •
OHC's Ontario Pre-Budget Brief
Ontario so far behind that emergency funding just brings us to where we should have been pre-COVID-19
In advance of the Ford government's economic statement being released on March 25th, the Ontario Health Coalition released an analysis of the numbers to date to give some context to the announcements that are being made regarding COVID-19 healthcare funding as follows: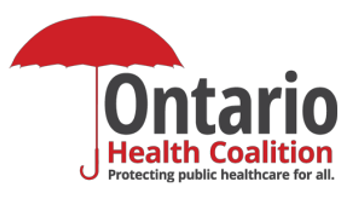 "We believe that governments are beginning to flow resources and may get to what is needed, ultimately, but most people have no idea how to assess what the announcements so far actually mean," said Natalie Mehra, executive director.
"We are providing this briefing so that there can be some accountability and meaningful analysis of what is happening. The bottom line is that Ontario had fallen so far behind in terms of healthcare funding that the emergency announcements only now bring us close to where funding should have been just to keep us at the same level of service per person – that is, to meet inflation, population growth and aging pressures – before COVID-19. And that, only if we include last fall's hospital overcrowding funding announcement and count last weeks' COVID emergency funding announcements as though they can all be considered to be added to the current year's budgets (this fiscal year ends at the end of the month). Ontario hospital and long-term care home capacity has fallen far below population need and funding was at the bottom of Canada before the pandemic."
Where is Ontario Hospital Funding?
Public Sector Health Funding Per Capita 2017
Newfoundland & Labrador
$6,018.93
Saskatchewan
$5,535.74
Manitoba
$5,434.79
Alberta
$5,428.19
Prince Edward Island
$5,052.36
Nova Scotia
$5,043.89
New Brunswick
$4,805.27
Quebec
$4,547.07
Ontario
$4,409.85
British Columbia
$4,373.16
Average of other provinces
$5,137.71
Source: Ontario Health Coalitioncalculations from CIHI, National Health Expenditures Database 2019
In the 2019 Ontario Budget the Ford government gave $384-million in increased funding to Ontario hospitals.
This is approximately a 2 per cent increase. But inflation, on its own, last year was an average of approximately 2 per cent (until the economic downturn with COVID-19). So this level of funding, far from "ending hallway medicine," did not even meet population growth (equals 1 per cent) and inflation (equals 2 per cent) or aging costs (equal 1 per cent). In addition, health experts generally note that there is about 1 per cent growth in utilization that is not accounted for in those figures.
There was deep consensus in the year leading into the election that we needed about 5 per cent growth to maintain existing service levels.
Bottom line? Ontario set the budget far short of the funding needed just to maintain the overcrowded service levels that existed without cutting more services.
In the fall the Ontario government announced another $68-million to address hospital overcrowding.
This did not quite bring us up to inflation and population growth. It did not cover costs for aging.
In the spring Ontario's Fiscal Accountability Office reported in its 3rd quarter report that Ontario had underspent its healthcare budget funds by $400-million.
In the last few weeks the Ontario government has announced additional funding for COVID-19 as follows:
On March 11 Premier Ford announced a $100-million contingency fund to fight COVID-19 for medical supplies, additional staff, testing kits, protective gear and anything else deemed necessary.
On March 17 – Ontario announced a $300-million investment in healthcare to combat COVID-19. $100-million was earmarked for hospitals.
It is not clear if the March 11 announcement was reannounced in the money announced March 17.
It is also not clear if that money is for the current fiscal year (ending March 31) or the next fiscal year.
Public Hospital Funding Per Person, 2017 Current $
Newfoundland & Labrador
$2,406.94
Prince Edward Island
$2,120.01
Nova Scotia
$2,093.86
Alberta
$2,008.35
New Brunswick
$1,953.07
Manitoba
$1,915.96
Saskatchewan
$1,802.32
British Columbia
$1,594.39
Quebec
$1,480.48
Ontario
$1,450.75
Average of the other provinces
$1,930.59
Difference between Ontario and the average of the other provinces
Ontario funds hospitals at $479.84 per person less
Source: Ontario Health Coalition calculations from CIHI, National Health Expenditures Database 2019
Hospital Beds Per 1000 (population)
By Province 2017-18
Newfoundland & Labrador
4.5
New Brunswick
3.7
Manitoba
3.3
Nova Scotia
3.3
Prince Edward Island
3.3
Saskatchewan
2.7
Alberta
2.7
British Columbia
2.5
Ontario
2.2
Average other provinces
3.2
In any case, even if we add it all together, giving the most generous latitude and assuming that all of it counts in the current fiscal year and that there were no reannouncements of previous funding and the underspending by the end of the third quarter was spent in the final quarter, this is what we get for hospital funding in Ontario:
$384-million (increase in hospital funding in 2019 Budget)
$68-million (fall hospital overcrowding announcement)
$100-million (March 11 COVID-19 contingency fund announcement if we assume it all goes to hospitals)
$100-million (March 17 COVID-19 emergency investment for hospitals)
$652-million – which would have been a less than 4 per cent increase to hospital funding, thus not quite, but almost brings the funding up to the level required just to meet normal inflation, population growth and aging costs.
The Ontario Health Coalition asked for a 5.3 per cent increase in hospital funding in our 2018 election platform document to maintain existing services and address overcrowding and wait times.
Even the Ontario Hospital Association issued a report in December asking the provincial government for a 4.85 per cent increase in hospital funding (almost $1-billion) in the Ontario Budget to maintain existing access to care. This was prior to COVID-19.
For long-term care additional major funding increases are needed to address the crisis-level PSW shortage before COVID-19 and get care levels up to a safe standard. We hope these numbers help put government funding announcements into proper context. •
OECD Hospital Beds
Per 1000 Population, 2017
Japan
13.1
Korea
12.3
Germany
8.0
Austria
7.4
Hungary
7.0
Czech Republic
6.6
Poland
6.6
Lithuania
6.6
France
6.0
Slovak Republic
5.8
Belgium
5.7
Latvia
5.6
Estonia
4.7
Luxembourg
4.7
Switzerland
4.5
Slovenia
4.5
Greece
4.2
Australia
3.8
Norway
3.6
Portugal
3.4
Netherlands
3.3
Finland
3.3
Italy
3.2
Iceland
3.1
Israel
3.0
Spain
3.0
Ireland
3.0
United States
2.8
New Zealand
2.7
Denmark
2.6
United Kingdom
2.5
Canada
2.5
Sweden
2.2
Ontario
2.2
Chile
2.11
Mexico
1.38
OECD Average
4.7
These press releases first published on the Ontario Health Coalition website.