BDS in the face of Israeli Apartheid
On July 9th, Palestinians marked with a mix of alarm and hope the 14th anniversary of the BDS Call (Boycott, Divestment and Sanctions), launched by Palestinian society in 2005 in pursuit of freedom, justice and equality.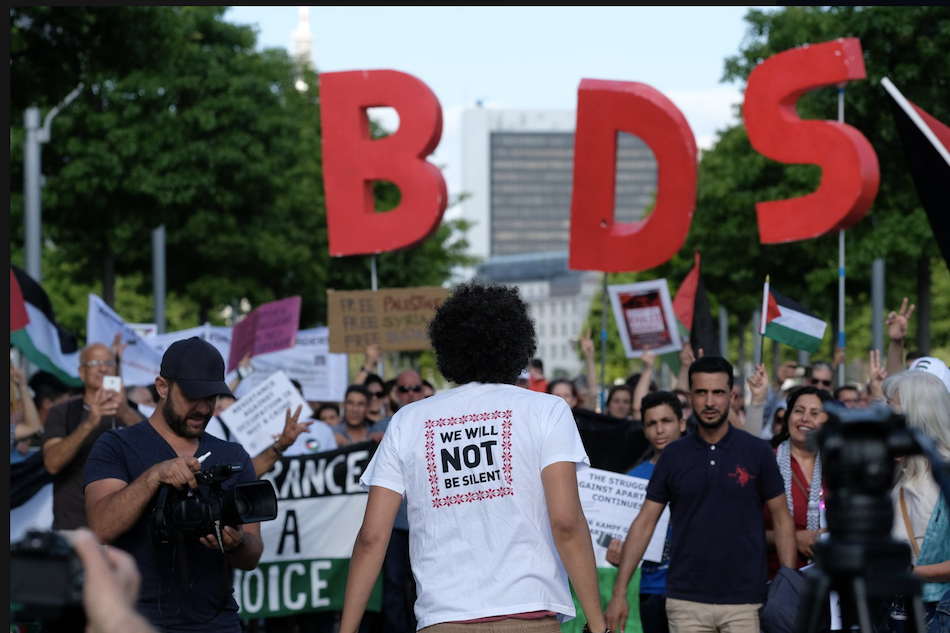 The growth of our popular resistance and the global, Palestinian-led BDS movement give us hope at a time when Israel's far-right regime is intensifying its system of apartheid and crimes against our people, in open partnership with the anti-Palestinian Trump Administration, and with the complicity of the European Union and despotic Arab regimes.
Israel's ongoing Nakba against the Palestinian people is most brutally manifested in its illegal siege and repeated massacres that have reduced Gaza into an uninhabitable ghetto, causing unspeakable suffering to its two million Palestinians.
It is also evidenced in its continued denial of the internationally recognized right of return for millions of Palestinian refugees, its gradual ethnic cleansing of indigenous Palestinians, particularly in Jerusalem, and its adoption of the so-called Jewish Nation-State Law, that makes its decades-old apartheid regime constitutional.
The Illegal Wall
This day also marks the 15th anniversary of the International Court of Justice's decision to condemn Israel's wall in the occupied Palestinian territory as illegal and to remind all states of their obligation not to recognize, aid or assist Israel in its violations of international law, and instead act to end them. Fifteen years since, Israel continues to build its illegal settlements and the apartheid wall, which Trump uses as a model to justify his intended anti-immigrant wall along the Mexican border.
But we are fighting back with the help of unions and social movements representing millions around the world which are joining the BDS movement. They recognize that Israel's fanatic regime of oppression against Palestinians has become a model for racist, xenophobic and fascist political tendencies in Europe, the US, Brazil, India, the Philippines and beyond.
#Apartheid was the second most popular hashtag trending during Eurovision in apartheid Tel Aviv, partly explaining the contest's failure to attract more than 5,000, in contrast to the 40,000 to 50,000 that had been expected to show up. More than 100 commercial, cultural and sporting activities in Italy declared themselves free of Israeli apartheid in June, joining dozens of city councils and cultural spaces in the Spanish state and across Europe.
The Argentinian national football team cancelled last year a friendly match with Israel after receiving appeals from Palestinians and international solidarity groups. During the same year, Natalie Portman, Shakira, Lana del Rey, among other prominent artists, cancelled engagements in Israel to protest its crimes against Palestinians. Dozens of DJs and other musicians joined the cultural boycott of Israel.
Two weeks ago, more than 100 artists and cultural figures, including Hollywood names, condemned the McCarthyism of a German festival that cancelled a performance by rapper Talib Kweli because of his refusal to renounce his support for BDS.
Three weeks ago, the British for Middle Eastern Studies (BRISMES) adopted the academic boycott of Israeli universities over their complicity in planning, implementing and justifying Israel's grave human rights violations. BRISMES joins a number of American academic associations that have adopted the boycott in recent years. Israeli Apartheid Week 2019 was a big success, despite rising anti-democratic repression in the US and Europe.
FNV, the largest Dutch trade union, with 1.1 million members, dropped Hewlett-Packard as a partner, over the complicity of HP-branded companies in Israel's apartheid and violations of international law. The global online action #StopCemex reached over 1 million people, effectively transforming the annual propaganda effort of the cement giant into a powerful campaign against CEMEX's complicity in Israel's illegal settlements and wall.
Pressure on Governments Continues
The National Congress of Chile overwhelmingly voted to ban products from illegal Israeli settlements built on stolen Palestinian land last year, while the campaign to ban settlement products from European markets is ongoing.
Even major financial institutions are bowing to popular pressure. A fully owned subsidiary of the insurance giant AXA divested from Israeli drone manufacturer Elbit Systems, which sells weapons used by the Israeli military in attacks on Palestinians, following a pressure campaign that is continuing until AXA fully divests from Elbit and from Israeli banks that finance Israel's settlement enterprise.
This comes after HSBC confirmed late last year that it had fully divested from Elbit Systems. Now campaigners are working to ensure HSBC divests as well from Caterpillar, whose equipment is used regularly by Israel's military and security forces for the demolition of Palestinian homes, schools, orchards, olive groves and other agricultural lands.
In response to Israel's ongoing Nakba, the most effective way to mark the BDS anniversary is by escalating our BDS campaigning through:
Advocating at all levels of government to cut military and security ties with Israel, and pressuring universities and research centers to end military/security research with Israel.
Defending the right to advocate for Palestinian rights through the nonviolent tactics of BDS, as a matter of freedom of expression that should be protected in any democracy.
Joining the growing boycott and/or divestment campaigns against complicit corporations, such as AXA, HP, CEMEX, HSBC and Puma, among others.
Passing BDS resolutions in more churches, academic associations and cultural spaces.
Promoting and respecting the Palestinian guidelines for ethical tourism and pressuring Airbnb, Booking.com, Expedia and Tripadvisor to end their complicity in normalizing Israel's illegal settlements and other human rights violations. •
BDS Demands are as Canadian as Maple Syrup
Did you know that the campaign for Boycott, Divestment and Sanctions of Israel (BDS) conforms 100% with official Canadian policy? Don't believe us? Compare the three BDS demands to Canada's official policy on Israel, Palestine and human rights. (US policy is similar too).
The three BDS demands:
Ending Israel's occupation and colonization of all Arab lands and dismantling the Wall
Recognizing the fundamental rights of the Arab-Palestinian citizens of Israel to full equality; and
Respecting, protecting and promoting the rights of Palestinian refugees to return to their homes and properties as stipulated in UN resolution 194.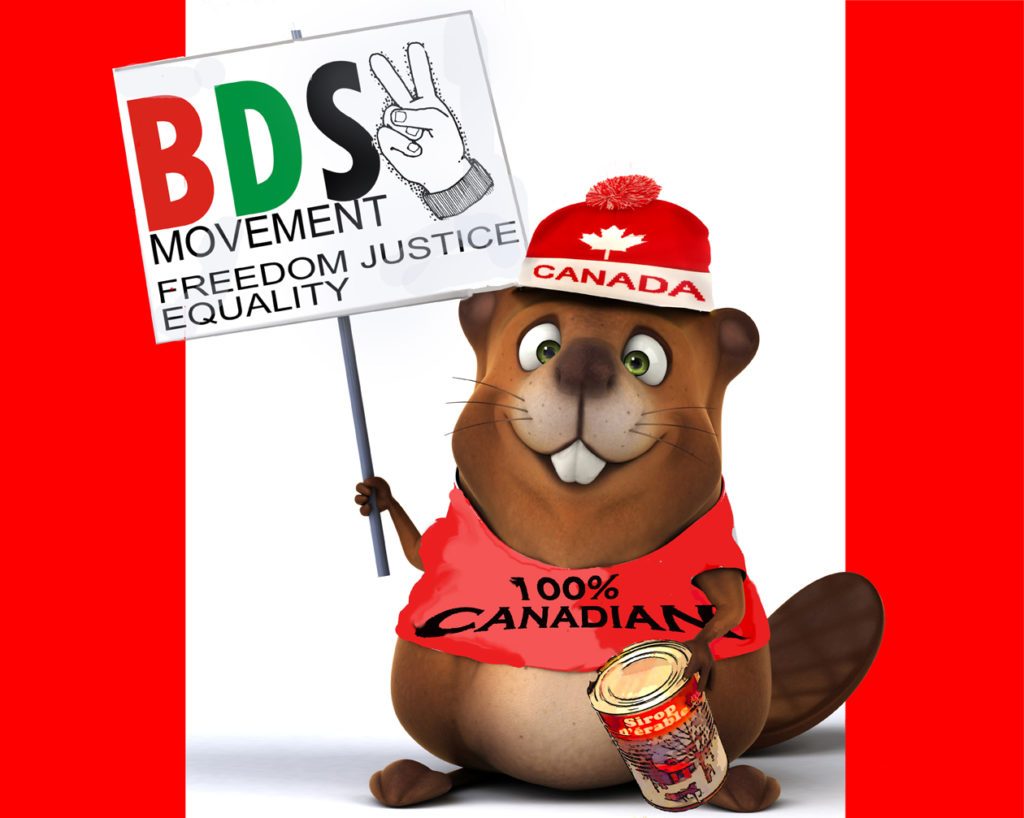 The Canadian government's official policy on Israel, Palestine and human rights:
"Occupied Territories and Settlements: Canada does not recognize permanent Israeli control over territories occupied in 1967 (the Golan Heights, the West Bank, East Jerusalem and the Gaza Strip)." "Canada opposes Israel's construction of the barrier inside the West Bank and East Jerusalem which are occupied territories."
"The promotion and protection of human rights is an integral part of Canadian efforts abroad. As part of this commitment, Canada champions the values of: inclusive and accountable governance; peaceful pluralism and respect for diversity; human rights including the rights of women and refugees"; and "international indigenous rights."
"Canada believes that a just solution to the Palestinian refugee issue is central to a settlement of the Israeli-Palestinian conflict, as called for in United Nations General Assembly resolution 194."
Our government and the Israel lobby are hypocritical when they condemn BDS as radical, antisemitic or anti-Israel. When they defame us, they fail to mention what the actual demands of the BDS movement are.
The grassroots BDS movement will end when Israel complies with international laws which Canada claims (but so far refuses) to uphold. •
Guide for Canada of Economic Boycott
The BDS movement is building an economic boycott of Israel and developing effective campaigns against companies that participate in Israel's oppression of Palestinians.
International companies aid and abet Israel's violations of international law, including by operating in illegal Israeli settlements and acting as contractors for the Israeli military and government.
The economic boycott of Israel aims to put pressure on Israel to comply with international law and to persuade private companies to end their participation in Israel's crimes.
Grassroots BDS campaigning is leading to major companies and investors changing their attitudes toward Israel and its oppression of Palestinians.
The Israeli economy is especially dependent on international trade and investment, making it especially susceptible to international economic boycotts.
Campaigning has led to major companies selling up and leaving Israel altogether and a range of investors divesting from Israeli and international companies.
The UN, the World Bank and other experts say that BDS is having an important economic impact on Israel.
Impact on Israeli companies of Consumer Boycott
BDS campaigning has had a serious impact on Israeli companies. Carmel Agrexco, Israel's largest agricultural export company, entered liquidation after a huge boycott campaign against the company pushed Israeli farmers to export their products through other companies. SodaStream was forced to close its operations in an illegal Israeli settlement after BDS campaigning led to retailers taking its products off its shelves. SodaStream is still a boycott target over its role in ethnic cleansing of Palestinians in the Naqab (Negev).
Experts report growing economic impact of BDS: According to the authors of a UN report, BDS was a key factor behind at 46% drop in foreign direct investment into Israel in 2014 compared to 2013. The World Bank partially attributed a 24 per cent drop in Palestinian imports from Israel to boycott. Reports by the Israeli government and the Rand Corporation have predicted that BDS could cost the Israeli economy billions of dollars.
Does the BDS movement call for a boycott of all Israeli products or just products and companies from illegal Israeli settlements?
The BDS movement calls for a boycott of all Israeli products. However, some of our biggest campaigns are against companies that operate in illegal Israeli settlements in the Occupied West Bank. This is simply because targeting these companies are, at this stage, more capable of winning widespread support and succeeding. As our movement grows, so do our ambitions and the BDS movement is currently in the process of moving away from campaigns focused mainly on illegal Israeli settlements.
Identifying Israeli Products
A barcode starting with 729 usually indicates a product of Israel. But this is not always reliable. The best way to tell if a product is made in Israel is to look for a "Product of Israel" label or to ask the retailer if they can guarantee a product isn't from Israel.
Consumer Boycott Action List
BNC Campaign: Priority Boycott & Related Actions
HP plays a key role in Israel's oppression of Palestinians. It provides technology, equipment and services to the Israeli military, including for the checkpoints and ID card system that underpin Israel's apartheid policies and its movement restrictions for Palestinians.HP relies on its good image and its contracts with public organizations, civil society bodies and private businesses. Effective grassroots campaigning can push HP to end its role in Israeli apartheid and settler colonialism.
ACTIONS:
Sign the international pledge to boycott HP.
Join the more than 1.8 million people have signed a petition calling on HP to end its role in Israeli apartheid and settler colonialism.
Retailers selling HP Products: In Canada consumer boycott focused on Best Buy and Staples, but not limited to these retailers. (see links)
HP Free Zones: Call on student groups, faith communities, not-for-profits, institutions, other organizations, businesses, along with governments declare that they are HP Free. This could include owning no HP products, publically getting rid of HP products, or declaring will not buy any further HP products and placing "This is my last HP" sticker on all current HP products.
For Palestinians, agriculture is much more than the production of olives, citrus fruit and other fresh produce, or keeping livestock. Farming is tied to the Palestinian people's identity, history and resistance to Israel's colonial occupation.
ACTIONS:
Boycott based on information provided, and by looking for Country Code 729, Made in Israel and talking with the store manager/retailer.
Individual actions
Support Amnesty International campaign calling Canadian government to comply with UNSC resolution 2334 through Occupation@50
Promote alternate Palestinian products (if source).
Israeli Fruit and Vegetables, including Dates
Fruit and vegetables are one of Israel's biggest exports and all Israeli agricultural exporters are complicit in Israel's violations of international law as they operate on stolen Palestinian land.
Wineries
As an example, approximately 60-70 products labelled "made in Israel" are available through the LCBO in Ontario. Many of these have connection with illegal occupation of Syrian Golan or Palestinian territory.
Include the word "Israel" in the LCBO search to find stores and products to take action
See Canada Palestine Association re wine boycotts here.
Sabra
Sabra hummus is a joint venture between PepsiCo and the Strauss Group, an Israeli food company that provides financial support to the Israel Defense Forces.
Determine where it is sold in Canada.
Plan actions at Consumer Shows across Canada. Check sabradips.ca.
Air Canada sells Sabra on board its planes.
Dead Sea Salt
Check out CJPME resources here.
Ahava
Ahava cosmetics is one of Israel's best known export companies.
Find locations selling this project HERE.
Action: contact Ahava stores and head office, and the Bay.
See resources from the United Church of Canada and CJPME
SodaStream
SodaStream home drinks machines are one of Israel's best known exports.
For stores see here.
Major retailers include Hudson Bay, Canadian Tire, Home Outfitters, Walmart, London Drugs and Bed, Bath and Beyond.
See resources from the United Church of Canada and CJPME.
HSBC: end complicity in Israel's militarized repression of Palestinians
The international HSBC bank is a major shareholder in companies selling weapons and military technology to Israel and also provides those companies with the loans they need to operate.
ACTIONS:
HSBC Customers: Boycott HSBC, let HSBC know if you are withdrawing your services.
Everyone: Head over to the War on Want website to email the head of HSBC, and tell him to end HSBC complicity in Israel's crimes against the Palestinian people.
Everyone: learn about HSBC in Canada and find locations near you. Use your own voice and creativity, along with tools to let HSBC, their customers and other know HSBC's complicity.
Hyundai
Boycott Hyundai to end its complicity in Israel's ethnic cleansing of Palestinian communities in Jerusalem and the Naqab.
#BoycottHyundai
The Boycott, Divestment and Sanctions Committee of Palestinian Citizens of Israel (BDS48) call upon our Palestinian people in the homeland and the Diaspora, the peoples of the Arab world, and people of conscience worldwide to boycott and divest from Hyundai Heavy Industries (HHI), until it ends its involvement in Israel's violations of our human rights, particularly in Jerusalem and the Naqab (Negev).
Future purchasers: Don't buy Hyundai products, and let Hyundai know locally along with their Canadian head office know you will not be buying Hyundai.
Current Owners: Let local Hyundai know that this is your last Hyundai product if you own Hyundai.
Everyone: check out Hyundai Canada. Use your own voice and creativity, along with tools to let HSBC, their customers and others know Hyundai complicity.
Boycott the Following (research by Who Profits)
Coca Cola
Africa Israel: clothing line
Motorola
Naot
Pay Pal (see UCC)
Trip Advisor
Airbnb
Remax (see CJPME)
Ketter (see UCC)
Aroma Espresso Cafes
Toyota
Land Rover
General Motors
Mitsubishi
Note: several of these organizations have been on leaked UN Blacklists as well. Canada has two companies expected to be on the UN list when it is available but the names have not yet been released. We expect to provide more information on Canadian companies doing business in settlements and in support of the occupation, as well as further information on other products that have been verified by Who Profits and other groups.
Retailers
The following have had verification work done previously:
IMPORTANT NOTE
The global nature of today's economy means that there are thousands of companies that have links to Israel and are complicit to various degrees in Israel's violations of international law. However, for our movement to have real impact we need our consumer boycotts to be easy to explain, have wide appeal and the potential for success. That's why we particularly focus globally on a select few strategic campaigns. We also encourage the principle of context sensitivity, whereby activists in any given context decide what best to target and how, in line with BDS guidelines. There is a lot of information online claiming that some large companies give money to Israel, some of which turns out to be false. BDS has built a reputation for strictly adhering to established facts and producing the most accurate information.
Besides boycotting Israeli goods, what else can I do?
The BDS movement is about much more than consumer boycotts: it is also about campaigning alongside others to pressure institutions, unions, and companies to boycott or divest and to isolate Israel academically, culturally, economically and militarily. Check out the other areas of this Get Involved page for more information and ideas.
Frequent Questions and Answers
Will more items be added?
Yes. More products and organizations will be added as research is completed, and new campaigns added through the BNC, the Canadian BDS Coalition or local organizations.
What if I find a product, company or retailer that might be added to the list?
Provide details to bdscoalition@gmail.com
Should I make direct contact with companies and/or retailers before taking an action?
It is always advisable to make contact with the companies and retailers. For BNC campaigns this contact has been made at global level. For those organizations listed by Who Profits, they have been directly contacted by Who Profits. Similarly organizations like CJPME and UCC have made this contact before moving forward with campaigns. As part of publishing this list the Canadian BDS Coalition has made contact with organizations at a national level (still to be done). Best practices would be for local organizations and also individuals to also make such contact related to any boycott action or locally developed campaign.
CJPME: Canadian for Justice and Peace in the Middle East
UCC: United Church of Canada •