Amazon Warehouses: Unsafe for Workers and Communities
Sen. Bernie Sanders (I-Vt.) and Rep. Ilhan Omar (D-Minn.) led a group of 13 members of Congress urging the US Department of Labor to immediately investigate chronic violations of workplace safety at all Amazon warehouses, "owing to the breadth and severity of past violations as well as mounting public revelations of brutal and hazardous working conditions."
Their letter to the Department of Labor's Occupational Safety and Health Administration (OSHA) comes in the wake of a Monday work stoppage by Amazon warehouse workers in Minnesota to protest unfair and unsafe conditions in the midst of Prime Day, Amazon's biggest sales event of the year.
Dear Deputy Assistant Secretary Loren Sweatt:
We are writing to request that the Occupational Safety and Health Administration (OSHA) launch a comprehensive investigation into the workplace conditions at the warehouses from which Amazon.com, Inc. and its subsidiaries and contractors operate.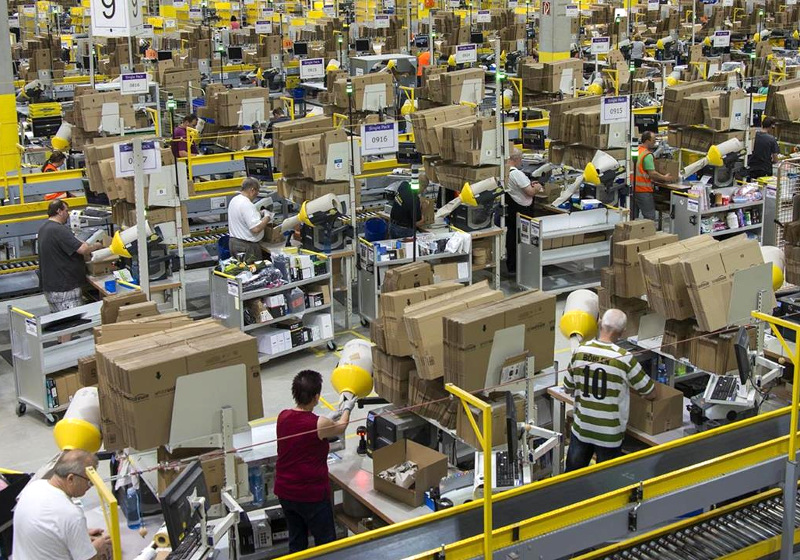 In the year 2019, working conditions in the United States of America should be the best and the safest in the world. Unfortunately, according to numerous media reports, and reflected in previous fines levied by your agency, that is not the case at Amazon. In fact, the working conditions at this highly profitable company have been described as "unsafe," "bruising," "grueling," "a recipe for disaster," putting "workers and communities at risk," and "intrusive."1
Work Stoppage on Prime Day
Just this week, Amazon workers in Minnesota organized a work stoppage in order to protest their employer's unfair, unsafe practices. Workers at the Minneapolis facility, and all of Amazon's warehouses across the country (referred to by the company as "fulfillment centers" and "sortation centers") undertake work that is physically demanding, often requiring walking more than 10 miles in a single shift and repeatedly lifting heavy objects, all while being afforded minimal rest breaks, not being allowed to sit, and being forced to work "mandatory overtime" shifts.2
This work environment creates a high risk of physical injuries, a risk increased by Amazon's intentional disregard for the health and safety of their employees. Last year the National Council for Occupational Safety and Health (NCOSH) put Amazon on its "dirty dozen" list of most dangerous places to work in the United States, referencing Amazon's "disturbing pattern of preventable deaths," which includes "seven workers killed at Amazon warehouses since 2013 – including three workers within five weeks in 2017."
Earlier this year, Mother Jones published an investigation showing that "hazards on the warehouse floor can launch months and years of medical injury that ultimately result in worker disability." When workplace injuries occur, Amazon has repeatedly ignored their severity. Last year The Guardian published an investigation that revealed "numerous cases of Amazon workers suffering from workplace accidents or injuries in its gigantic warehouse system and being treated in ways that leave them homeless, unable to work or bereft of income."
Desperate Working Conditions
Hundreds of stories shared with our offices paint a picture of desperation and a corporate employer with little regard for the health of its employees. We heard from an Amazon worker who described the warehouse as a "21st century sweatshop." Workers shared stories of high temperatures in some warehouses and an inability to take water or bathroom breaks for fear of retaliation: "I myself take medication so I will not have to use the restroom and drink little fluids also to help. Sometimes I think is this torture really worth it??;" "afraid to drink water for fear of not hitting [his] rate;" "no air conditioning when it's hot in the facility;" "the air conditioning was not working and you could easily pass out from the heat in Arizona going on 115 that week;" "please help stop the mandatory overtime and ten hours shift in a humid atmosphere." One worker issued this plea: "please send OSHA to investigate these conditions that are affecting workers physically and mentally."
In addition to the intense physical stress, Amazon pushes workers to the emotional brink. Over the last five years, emergency workers were called to Amazon warehouses at least 189 times at 46 different locations for workers experiencing a mental health breakdown or at imminent risk of suicide. A navy veteran and former Amazon employee told our offices that "there was a point where I would find myself crying on my shift… I really felt like I just didn't wanna be alive anymore."
In another story shared with our offices, a former Amazon employee said, "working at Amazon was one of the most depressing periods of my life. For nearly four years I worked in isolation barely speaking to anyone. At work you never heard much from anyone other than how much they hated it there and wanted to leave. I imagine prison is very similar… My mental state began to decline until I began to feel unstable. My nights were spent walking around in circles in the warehouse pulling things from shelves for hours until it made me want to snap. One day I just broke. I found myself unable to get out of bed where I stayed for five straight days. I ate nothing. I thought about suicide."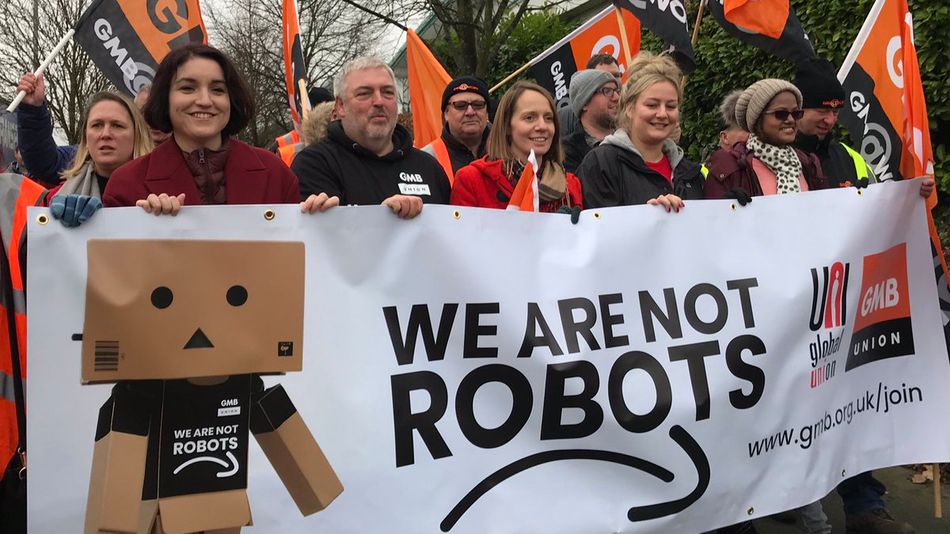 Workers also commented directly on injuries and safety concerns: "someone would get injured in the building every day. They would talk about working safely yet keep demanding high rates. That's why there were so many injuries. They also filled WAY too many items in the warehouse. This caused items to fall off shelves onto workers. It was common to hear someone received a concussion or back injury." Another worker noted that safety was disregarded during busier periods: "while generally my supervisors are concerned about safety that seems to fly out the window when we are under pressure to fill orders on time." Another worker said, "I frequently see the ambulance come to the warehouse. Three laborers fainted in front of me – they keep a wheelchair in the middle of the warehouse."
Amazon operates more than 100 warehouses across the country that employ more than 125,000 people,3 and yet in the last five years OSHA has reported conducting only 150 inspections of Amazon spaces and issued just 41 violations.4 OSHA has previously found that Amazon fails to report worker injuries and when OSHA does investigate, your agency has found instances of egregious injuries, including fractures and amputations.5
In one year at one facility, OSHA found 26 separate cases of "work-related fatality, injury or illness" that Amazon failed to report. Those incidents included falls resulting in head injuries, face wounds that were "glued closed," as well as a number of severe back, shoulder, and wrist strains. After finding these unreported injuries, OSHA issued one "other-than-serious" violation with a penalty of $7,000.
When Amazon employee Phillip Terry was "fatally crushed when a forklift's lift fell on him while he was doing maintenance work on it," the corporation was fined just $28,000 for "failure to 'provide adequate training' and to develop and document certain safety procedures."
That is unacceptable. Owing to the breadth and severity of past violations as well as mounting public revelations of brutal and hazardous working conditions, we request that OSHA launch a thorough and comprehensive investigation into the workplace conditions at all of Amazon's warehouses, and that any violations uncovered in the course of such an investigation be prosecuted to the fullest extent of the law. OSHA's mission is to "ensure safe and healthful working conditions for working men and women." We ask that you intensify your efforts to ensure that goal is met for all Amazon workers. No employee, especially those who work for the wealthiest person in the world, should be forced to work in unsafe conditions.
We look forward to your response. Sincerely,
Bernard Sanders
United States Senator
Ilhan Omar
Member of Congress •
A PDF of this letter is available here.
Further information: "Amid Amazon Prime Day Protests, Sanders and Omar Lead Call for Probe of 'Brutal and Hazardous Working Conditions'," by Jessica Corbett.
Endnotes