Opportunities for the Montreal Urban Left
Opportunities exist for an organized urban left one year into the Projet Montréal administration's mandate. That was the key message of a recent event organized by the Montreal Urban Left, an initiative launched in the wake of the 2017 Montreal election.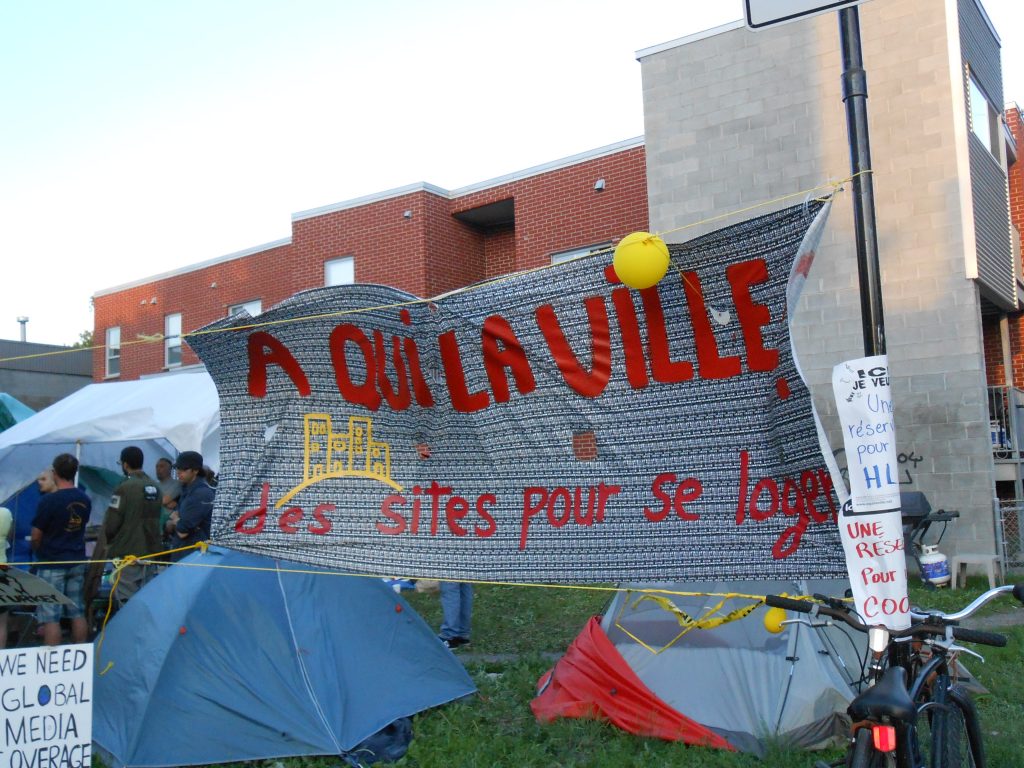 "We saw the need to provide some sort of organized left counterweight committed to holding the new municipal government's feet to the fire with respect to its pre-electoral promises and more recent commitments in areas like social justice, the environment and municipal democracy," said Andrea Levy, a member of the Montreal Urban Left coordinating committee.
Roughly 70 people attended the Montreal Urban Left's public forum on January 31 to assess Projet Montréal's first year in office and to identify opportunities for a municipal left. Project Montréal is a liberal democratic to social democratic municipal party formed in 2004, rising in prominence to win the majority of council seats for the first time in 2017 under the leadership of mayor Valérie Plante, Montreal's first woman mayor.
Projet Montréal's First Year
"The Montreal left needs to see the victory of Projet Montréal and the new administration of Valérie Plante as an opportunity to be seized with a view to effecting deeper change to make the city more just, ecological and democratic," said Jonathan Durand-Folco, the opening speaker at the Montreal Urban Left forum. Durand-Folco is a professor at the School of Social Innovation at the University of Saint-Paul and author of À nous la ville (Écosociété, 2017).
While different in character and approach from the previous administration of mayor Denis Coderre, the Plante administration does not represent a rupture or structural break with its predecessor, instead embodying a contradictory form of "progressive neoliberalism" that appeals to the urban party's base, Durand-Folco said. "Progressive neoliberalism infuses standard neoliberal doctrine with feminist, ecological, anti-racist, and LGBTQ+ politics that have little to no vision of structural change," he said.
"Ecogentrification" is a hallmark in many neighbourhoods, Durand-Folco said, with an emphasis on beautification and expanding a green transit network into gentrifying neighbourhoods amidst rising housing prices and rapid condo development – an approach that appeals to a young urban professional voter base.
The administration's economic development strategy, Accélérer Montréal or "Accelerate Montreal" (2018-22) centres on stimulating entrepreneurialism and promoting Montreal as a global city. The strategy emphasizes priority sectors including cultural and creative classes, biotechnology, informatics, transport and an emerging Artificial Intelligence hub. In many of these cases, the primary beneficiaries are large firms and multinational corporations that use big data for profit maximization and consumer data collection, automation, and marketing.
Social Housing Pinch Amidst Gentrification
Projet Montréal has a "20-20-20" model for future developments – 20% social housing, 20% affordable housing, and 20% family housing.
"I have no difficulty saying that this is better than our current situation, even if I don't think that 20% social housing is sufficient to protect neighbourhoods from gentrification," said François Saillant, the second speaker at the event. Saillant played a formative role as coordinator of the Front d'action populaire en réaménagement urbain (FRAPRU), a housing rights advocacy organization. He is also the author of a book on social movement battles around housing in Quebec (Écosociété, 2018).
The concern with this mixed housing approach is that it has become the preferred approach to social housing development, tying social housing to private real estate development. "Inclusion, which can be an instrument of protection in popular neighbourhoods, should not become the Trojan Horse of gentrification," Saillant said. In addition to this problem of social housing used as a Trojan Horse for gentrification, Saillant said that social housing also faces a "dual dependency" on provincial funding and property taxes.
The dictates of Quebec City set the parameters. The newly elected CAQ government is set to release its first budget this March and is calling for austerity across provincial departments despite a budget surplus. FRAPRU organized a march in early February outside of the Premier's office calling for investment in social housing.
One of Projet Montréal's election commitments was the construction of 6,000 social housing units and 6,000 affordable housing units for a total of 12,000 units during its first term in office. Despite this promise, Montreal needs an additional $100million from Quebec just to fund the 3,200 social housing units that have already been allocated to the city, but not yet built for lack of sufficient funds.
Passed under the former provincial Liberal government, Bill 21 in principle gives the mayor power to meet her commitments, as Montreal now has a free hand to manage the AccèsLogis housing program. However, the city is dependent on budget decisions that are made in Quebec City. Faced with a shortage of provincial funding, the city relies on property taxes to fund many of its commitments. "How can municipalities resist the will of real estate developers when their income is largely dependent on property taxes and, therefore, on the value of the land and the buildings that are built there," Saillant asked.
This Catch-22 exists in a context of rapid gentrification in the urban core, with high-rise condos shooting up across the city, bidding wars, problems with Airbnb and very limited available affordable housing stock (lower than 1% in some boroughs). The situation is not nearly as severe as Toronto or Vancouver, but the hot Montreal housing market is having immediate impacts on low-income and often racialized urban communities.
Guide Dog, Watch Dog: Organizing the Next Urban Left
Durand-Folco shared a comrade's analogy, saying that the urban left needs to be both a guide dog and an attack dog. As a guide dog, the urban left can put forward proposals for a more socially just city. As an attack dog, the left can defend previous social gains and advance new causes.
"If the Plante administration is wrong on some key issues, do not hesitate to criticize, denounce, go out into the streets," said Durand-Folco. "But it is also necessary for the left in Montreal to propose progressive public policies, with concrete measures against gentrification, for example."
Municipal initiatives in Barcelona and the Fearless Cities "municipalist movement" offer an exciting vision of concrete radical ways forward, Durand-Folco said. Promising anti-racist, LGBTTQ, community organizations and grassroots initiatives in Montreal have made concrete gains.
For his part, Saillant said the left must get involved in ongoing and emerging urban struggles, especially the right to housing, and that it must make its voice heard independently of the municipal government. "The existence of a broad, diversified and active urban movement is most promising, although it is important for this movement to build unity and its cohesion if it hopes to lead common struggles," Saillant said.
Next Steps for the Montreal Urban Left
The Montreal Urban Left held a special meeting on February 12 to revitalize its working groups, of which there are currently five: participatory and direct democracy, housing and the right to the city, mobility and ecological transition, economic democracy, and equality and inclusion.
It is planning two events in the coming months to discuss the history of the urban left in Montreal, from the Front d'action politique (FRAP) in the late 1960s and early 1970s to the Rassemblement des citoyens et citoyennes de Montréal (RCM), which had a two-decade history from 1973 to 2001, including holding power from 1986 to 1994 and a movement of left internal dissent which eventually led to an exodus from the party.
"There is an abiding need to stimulate left analyses and structured discussions of critical urban issues from housing and land use to transportation and waste management," Levy said. "And that's one role the Montreal Urban Left group aims to play."
If you are interested in getting involved contact the Montreal Urban Left on Facebook or email: gaucheurbainedemontreal@gmail.com.
Project Montréal 2017-18 positives (listed by Durand Falco):
Cancelation of Formula E race, withdraw of anti-pitbull law
300 hybrid busses
Extension of blue line, closure of Camilien-Houde road
Announcement of 12,000 social housing units in four years
Creation of a food council, the Conseil du système alimentaire montréalais (CSAM)
Public police meetings
Public consultations on rapid bike lane expansion (réseau express vélo)
$9.2M for the social economy development fund
Creation of the pink line office to build a new metro line
Forum on participatory democracy
Objective of being carbon-neutral by 2050
$1.6M for student housing
Participatory budget (the borough of Hochelaga)
Discussion of social and free transit rates (youth and seniors)
Policy cracking down on Airbnb
Project Montréal 2017-18 negatives (listed by Durand Falco):
Speech to business community upon election
Tax hike and its subsequent poor handling
Ongoing politics with Amazon
Support for the REM light rail network (contributing to suburban sprawl)
Supports to first-time home buyers (fostering condos instead of social and affordable housing)
Economic development strategy, Accellerate Montreal (2018-2022)
Summit on artificial intelligence and efforts to be AI hub (largely benefiting multinational corporations, not people)
Pursuit of ecogentrification and absence of a plan to counter its effects •