Sugarcane and Steelworkers' Strikes in Iran
In the past two months, two major strikes by the workers of "Iran National Steel Industrial Group" (INSIG) in the city of Ahvaz and "Haft Tapeh Cane Sugar Agro-Industrial Company" in Shush, took place simultaneously.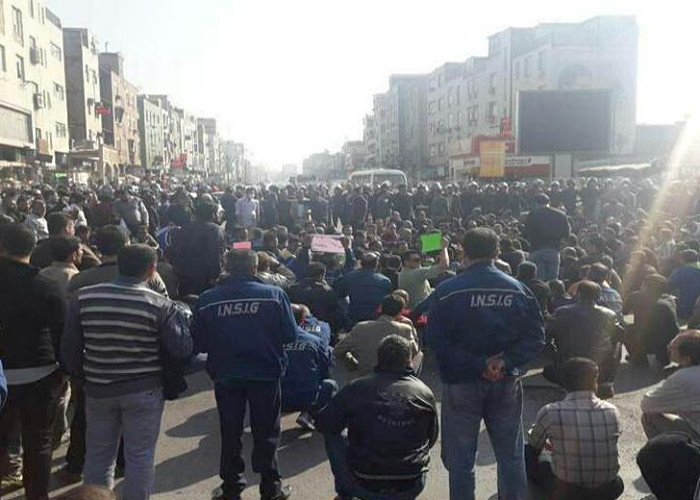 Workers in both industries have been fighting against privatization of their respective companies and unpaid wages. In addition, workers have been calling for the removal of corrupt management and domination of what steelworkers have called "The Mafia" in their industries. Workers are also protesting against the government's "free market" policies, which have led to austerity measures, massive corruption and ever-increasing job insecurity. Workers have denounced the inexplicable practices of the "Iranian Privatization Organization," an entity created by the Ministry of Economic Affairs and Finance. Decisions of "Privatization Organization," which is under the direction of the government, has led to rampant nepotism and shady practices that resulted in selling off public assets, properties and companies to people with special privileges, who are closely connected with authorities.
Fightback Against Privatization and for Workers' Self-Management of Their Factories
This neoliberal policy officially began in late 1980s during the Rafsanjani administration, and especially after the end of the Iran-Iraq war (1980-88), and has been consistent with "Structural Adjustment" policies advocated by the World Bank (WB) and International Monetary Fund (IMF). It has been forcefully imposed by all various ("Reformist" and "Hardliner") administrations of the Islamic Republic of Iran (IRI).
As a result, along with numerous other anti-worker policies of the IRI, including creation of free industrial zones that undermine even their own pro-capital labour law which does not allow formation of independent labour organizations, have led to massive job losses, layoffs and closing of factories and workplaces throughout Iran in the past three decades.
In addition to massive joblessness and depleted industrial production, these privatizations have created unprecedented conditions for growing corruption, in addition to significant income and wealth disparities in Iranian society. Workers have called for cancellation of the privatization of these major industries that have been beneficial to the whole country and the return of the industries to the public sector with more control and administration by workers and their elected representatives. Although not necessarily a full consensus among all workers, the formation of independent workers' councils became a popular aim.
Government Crackdown and Attempts to Impose Islamic Labour Councils
Striking workers in Haft Tapeh and Ahvaz have been protesting against continued privatization of the Iranian economy. The Islamic Republic of Iran and its intelligence and security forces have responded to these strikes once again with their usual brutality and a campaign of intimidation, to divide and conquer. They violently arrested almost all worker representatives in Haft Tapeh on November 18, 2018 and eventually released them following public condemnation in Iran and by workers' organizations internationally. While in custody, one of the key spokespersons of the strike, Mr. Esmaeil (also Esmail or Smaeil) Bakhshi, was severely tortured (refer to IASWI previous statements and Esmaeil Bakhshi's January 4, 2019 open letter about the tortures he was subjected to). Although Bakhshi has been released on a 400-million Toman bail on December 12, 2018, so far, he has been charged with "assembly and collusion against national security" and "disturbing public order" and will most probably face trial in the near future. Esmaeil Bakhshi was among strong advocates of autonomous workers' councils and the return of the factory to the public sector during the strike.
In addition to overt repression, various government authorities have also started resorting to different tactics to divide the striking "Haft Tapeh" Sugarcane workers in order to put an end to the strike while their representatives were incarcerated and persecuted. Because of the strike's strength and its huge success in mobilizing workers, families and the entire city of Shush (which is one of the oldest cities in the world) in support of workers, the government and employer were forced to yield and submit to some of the demands by workers, such as paying some of the back wages and replacing the company's management with an individual who is allegedly "decent" and not corrupt.
It is crucial to emphasize that workers' demands and their determined struggle against privatization and corruption has become a major national issue, which is a significant victory for workers. However, some of the Haft Tapeh workers' representatives, who were conditionally released from prison, were threatened by intelligence forces to moderate their position and collaborate with the government and the employer. Such intimidation campaign in "Haft Tapeh" has led to a premature call for an end to the strike by a group of pseudo "Workers' Representatives," and has caused confusion and division among some workers. These "representatives" have given away numerous concessions to the employer and government authorities in the past few weeks and have become a close ally of the newly appointed management of the company.
At the same time, the intelligence forces violently arrested Mr. Ali Nejati, who's a member of the board of directors of "Syndicate of Workers of Haft Tapeh Sugarcane Company." Ali Nejati, born in 1962, has been arrested numerous times throughout the years and was instrumental in organizing the strikes in 2007-08 which led to the formation of the sugarcane workers' Syndicate. The Haft Tapeh workers' syndicate' position during the recent strike was in favour of a stronger stance and non-collaboration with the management and government authorities and were critical of the government's repressive measures against workers. Ali Nejati was arrested even though he was not playing a leadership role in the current strike; he was arrested as an attempt to crush the Syndicate and send a strong message to pro-strike and pro-syndicate workers. The Haft Tapeh Workers' Syndicate's Telegram Channel was popular and very active during the strike with frequent updates and news. Arresting Ali Nejati has not stopped the Syndicate's work and activities, their updates continued. There are currently campaigns for Ali Nejati's freedom who also suffers from serious health issues including heart problems.
To prevent further mobilization and strikes by sugarcane workers, the security and intelligence forces hastily forced the creation of an "Islamic Labour Council" in Haft Tapeh Sugarcane Company. Their aim is to undermine all renewed efforts to strengthen the Syndicate and also to weaken the influence of independent workers' representatives such as Esmaeil Bakhshi and other current organizers who advocate for workers' class autonomy. Unfortunately, some of the former workers' representatives ran for the Islamic labour council under threats and intimidation by the intelligence forces and hence added to additional divisions among workers in Haft Tapeh. The intelligence forces, the labour ministry and all other relevant government authorities with the full support of the employer held a mock election on December 31, 2018 according to which eight workers were elected as members of the Islamic Labour Council of Haft Tapeh Sugarcane Company. The majority of workers in Haft Tapeh did not participate in this sham election and do not recognize the Islamic Labour Council and call it a bogus state-sponsored entity to control workers' activities and prevent workers' mobilization in future.
On December 17th and 18th, 2018, security and intelligence forces raided homes of steelworkers in Ahvaz and arrested over 40 leading strike organizers. All except five of them have reportedly been released as January 7, 2019. It has been reported that the remaining workers are under extreme pressures, interrogations and regularly beaten. According to various reports, the names of the remaining detainees in Ahvaz are as follows: Meisam Ali Ghanavati, Taregh Khalfi, Karim Siahi, Behzad Alikhani and Gharib Havizavi. Moreover, Mohammad Reza Nematpour, another steelworker in Ahvaz, was also arrested on January 1, 2019. The Ahvaz steel complex is now very much occupied by security and intelligence forces and workers' activities are closely monitored and repressed at this time.
Additionally, intelligence forces with the support of reactionary figures like Alireza Mahjoub, who is an MP and the permanent head of "Workers' House of the Islamic Republic of Iran" are planning to create an "Islamic Labour Council" in Ahvaz Steel complex as well. This is while workers have been organizing their independent general assemblies in recent months and have been able to organize one of the most popular and coherent strikes in recent years in Iran. While many worker activists continue to be in prison or face persecution, the government is using this as a great opportunity to create divisions among workers by allowing the more conservative representatives to take over and replicate the Haft Tapeh scenario.
All of this has caused great anxiety and tensions among workers in both Haft Tapeh and Ahvaz and many disgruntled workers have vowed to continue their strike actions and street protests until they put an end to the privatizations, corruption, and the release of all arrested workers from prison.
The Challenges and Tasks Ahead
Sugarcane and steelworkers, through these two strikes, have been able to highlight workers' issues not only in Khuzestan province but across the country and internationally. They also have built close connections and solidarity with each other. It behooves the international labour movement to support these exemplary striking workers in Iran, and support all their demands for the payment of their back wages, for the right to organize independent organizations such as trade unions or workers' councils, continuation of their campaigns against privatization, corruption and all their demands for workers' and public control of national resources and industries.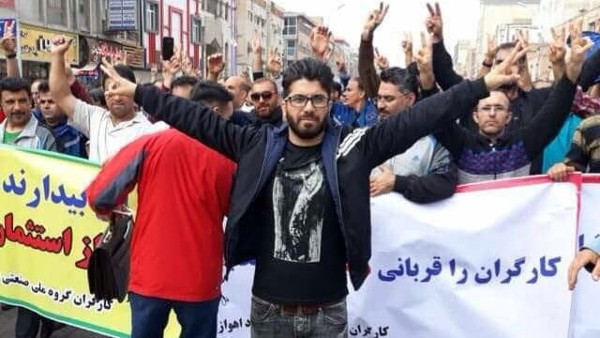 The repressive Islamic Republic of Iran does not intend to recognize independent workers' organizations. As we have been emphasizing, President Hassan Rouhani's administration is as much committed to the capitalist system and its inhuman practices and repressive measures as the previous administrations. The so-called "Islamic Labour Councils," as well as other official and government-sponsored groups, are institutions that fully and publicly support the entire repressive order in Iran and the regime of the Islamic Republic of Iran; their delegates openly call themselves "Soldiers of Velayat-Faghih" (the so-called "supreme leader"). Alireza Mahjoub and other mercenaries of "Workers' House" and "Islamic Labour Councils" are responsible for direct physical attacks on independent labour activists in Iran and promoting reactionary and fascist politics, including promotion of xenophobic and racist slogans against Afghan migrant workers in Iran; they are systematically against workers' solidarity in Iran and have done all they can to destroy formation of authentic and autonomous worker organizations in the country.
IASWI and other progressive solidarity organizations will continue to campaign for the release of all imprisoned workers in Iran and for the formation of genuine and independent workers' organizations in the country. We will also highlight the tortures and cruel treatment of workers' activists by the anti-worker regime in Iran. However, we need the support of all workers and progressive organizations and trade unions around the world.
Many trade unions, labour federations, and global unions have been strongly supporting the strikes by Haft Tapeh sugarcane workers and Ahvaz steel workers and their demands. IndustriALL Global Union has issued a number of supporting statements, ITUC Congress in Copenhagen passed an urgent resolution in solidarity with workers and students in Iran and against the repression of workers' activists by the Iranian government while simultaneously denouncing the U.S. administration's economic sanctions. French, British, Danish, Norwegian, Swedish, Italian, German and Canadian trade unions, among others, have been protesting against the recent crackdown on workers' movement in Iran. The entire Iranian left and progressive movements and the whole independent labour movement in Iran are aligned on the urgency of supporting Iranian workers in their struggles for social and economic justice and against government repression.
Here are some concrete actions that can be done:
Express your support and solidarity with workers in Iran by issuing open statements addressed directly to them.
Send protest letters addressed to the authorities of the Islamic Republic of Iran, condemning cruel treatment of labour activists, demanding immediate and unconditional release of all incarcerated workers, and compliance with internationally recognized workers' rights including setting up of independent workers organizations.
Use your websites and social media to cover the news of workers' struggles in Iran.
Build worker to worker solidarity by connecting with organizations like IASWI that could connect you with the labour movement in Iran.
If possible at all, file grievances with the ILO's Committee on Freedom of Association against the government of Iran's violation of workers' rights because Iranian workers' do not have the right to that themselves. IASWI can help with that.
Adopt resolutions in support of workers' rights and struggles in Iran. We have a number of sample resolutions that could propose, including resolutions that aims at building worker to worker solidarity.
Strongly condemn the U.S. government's economic sanctions against Iran. The Iranian workers' movement is strongly anti-capitalist and against all imperialist policies around the world. In Iran, the workers' movement is facing serious obstacles and systemic and brutal repression by an extremely corrupt and repressive regime. An international workers' solidarity is crucial on all these fronts. •
For more information, please contact IASWI or email at info@workers-iran.org.