Mining Conflicts Multiply: Extractivism Critics Gather in Johannesburg
The World Social Forum's "Thematic Forum on Mining and Extractivism" convened from November 12-15 here in Johannesburg, on the heels of the Southern Africa People's Tribunal on Transnational Corporations. Hundreds of radical activists from community groups and social movements, grounded in concrete local grievances, met to agree on their systemic critique.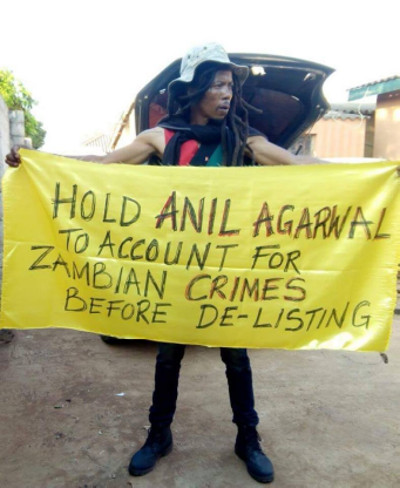 This is the appropriate moment – here and across the world – for the grassroots to tackle mining, oil and gas. In spite of South Africa's resurgent state-corporate alliance since the February ascent of former mining magnate Cyril Ramaphosa, world economic chaos is deterring investment.
Mining houses cite not just South Africa's black-empowerment ownership requirements, but a host of structural problems: weak commodity prices compared to the 2011-15 plateau, China's unstable demand, higher production costs, embarrassing revelations about the sector's debilitating Illicit Financial Flows (tax evasion), society's pushback against systemic corruption and violence, ongoing labour militancy especially against looming mass retrenchments, more effective localized resistance campaigns, and rising climate consciousness aimed not just at fossil fuels but also carbon-intensive minerals smelting.
Against Extractive-Sector Reformism
A profoundly critical standpoint against mining can now take root, in part because of ineffectual reformism associated with Corporate Social Responsibility gimmicks (such as the World Bank's long-standing celebration of Lonmin) and with the mining sector's civilized-society watchdogging. That occurs at the mainly uncritical Alternative Mining Indaba, an NGO-dominated event held annually in Cape Town as the corporations gather nearby for the African Mining Indaba.
The Thematic Forum firmly opposes 'extractivism'. Unlike the Alternative Indaba, it aims to connect the dots between oppressions, defining its target as extraction in a way that is "devastating and degrading." Mining exacerbates "conditions of global warming and climate injustice. It subjects local economies to a logic of accumulation that privately benefits corporations." Mining represses "traditional, indigenous and peasant communities by violations of human rights, affecting in particular the lives of women and children."
The last point is not incidental, as two of the main Forum organizers were the Southern Africa Rural Women's Assembly and the Johannesburg-based WoMin network: "African Women Unite Against Destructive Resource Extraction."
Inspired by Amadiba Crisis Committee (ACC) activists led by Nonhle Mbuthuma, the fight to halt titanium mining on the Eastern Cape's Wild Coast generated a popular new slogan, the #Right2SayNo. The most famous local martyr in the anti-extraction struggle was the ACC's Bazooka Rhadebe, a 2016 assassination victim.
Saying No to Mining Capital
Such rights language proved invaluable in South Africa's Constitutional Court last month, when the Itireleng community won a judgment against displacement from their North West Province farm, which is under attack by a local platinum mining house.
Just before that, at a Xolobeni conflict in last month, Mining Minister Gwede Mantashe revealed how desperately he wants investment by the likes even of the aggressive Australian firm MRC. But the week after the Thematic Social Forum ended, a Pretoria court gave the ACC an unprecedented victory: confirming the residents' ability to reject mining according to their community rights over the land they have lived on for generations.
Mantashe reacted: "The risk that goes with the judgment is that I suspect that within the next ten years the right to issue licenses is systematically shifting from government to communities and if we do that there will be no mining. With the attitude to mining in South Africa, within the next 20 to 30 years mining will be banned in this country."
The "Right to say No!" cry reverberated amongst the Thematic Social Forum's 500 delegates.
On the Forum's second day, delegates interrupted lunch to demonstrate at the next-door headquarters of AngloGold Ashanti. The JSE-listed firm was shamed in 2005 by Human Rights Watch for its alliances with warlords during the minerals-related murder of millions of people in the eastern Democratic Republic of the Congo.
In 2011, AngloGold Ashanti won the title "world's most irresponsible corporation" at the 'Davos Public Eye' ceremony organized outside the World Economic Forum after critique by a key Social Forum participant, Hannah Owusu-Koranteng from Ghana's Wassa Association of Communities Affected by Mining.
Since then the firm has attracted even more intense community, labour, feminist and environmental protests from Chile to Colombia to Ghana to Guinea to Tanzania, as well as at home in South Africa over mass retrenchments, inadequate pay and delay of silicosis-related compensation payments. It's a sick company, with its local stock market price having fallen by more than half since a mid-2016 peak.
Criticised by investors who believe "AngloGold has not matched up to its global peers" in large part because of less profitable SA holdings, AngloGold Ashanti is rapidly exiting its home base. The firm made its fortune during the notorious 20th century era of extreme apartheid extractivism when it was run by the Oppenheimer family. The brand new AngloGold Ashanti boss, Kelvin Dushnisky, previously led Toronto-based Barrick (the world's largest gold producer) during its recent reign of mining-related repression.
The mining corporations under fire at the Forum are not only the typical pinstriped, ethics-challenged cowboys from the London-Toronto-Melbourne-Johannesburg circuits. Next door in Mozambique, Rio-based Vale's coal-mining operations at Moatize were disrupted last month, due to "excessive pollution [and] acceleration of the decay of houses due to explosion of dynamites," as activists documented.
In Mozambique, Vale as well as the Indian firms Jindal, Coal of India and Vedanta have been criticised for displacement and destruction. Community protests against foreign companies are prolific in coal-rich Tete Province. Further east, on the Mozambican coastline, beach sands in some communities have been destroyed by the voracious Chinese firm Haiyu. As several Zimbabweans testified, the looting of $13-billion in diamonds from Marange was done jointly since 2008 by Anjin from China and generals from Harare.
Vedanta boss Anil Agarwal, who is also Anglo American Corporation's largest single investor (holding more than 20% of shares), is perhaps the target of the most sustained critique, including a mass protest in May against Vedanta's Thoothukudi Sterlite copper plant. His officials responded with a massacre of 13 Indians demanding an end to pollution.
Protest against Africa's largest copper mine, Vedanta-owned Konkola, centres on 1,826 Zambian farmers poisoned by toxic waste. Just before the London Stock Exchange delisting of Vedanta last month, popular reggae musician Maiko Zulu protested (and was arrested) at the British High Commission in Lusaka, demanding that authorities deny Agarwal his escape from London prior to justice being served. Agarwal bought Konkola for just $25-million in 2004 and a decade later bragged that ever since, he had taken $500-million to $1-billion home from Konkola annually.
After Extractivism
Such Western+BRICS super-exploitation exemplifies the mineral, oil and gas looting underway across Africa. Extraction of non-renewable resources that is uncompensated by reinvested profits amounts to an estimated $150-billion annually – far more even than the $80-billion that the African Union's Thabo Mbeki commission on illicit financial flows identified disappears mainly via mining and petroleum firms.
But increasingly, corporations are pushing the people and environment too far, and resistance is rising. According to Rosa Luxemburg Foundation officer Tadzio Mueller, a key strategist of Germany's anti-coal movement, "We are doing here what effective social movements have always done: identify our opponents' power, and shut it down."
As Anglo American Corporation leader Mark Cutifani remarked in 2015, "There's something like $25-billion worth of projects tied up or stopped" by mining critics across the world. How activists can increase that figure motivated the week's discussions.
More difficult, though, was overcoming inevitable North-South intra-movement contradictions, and moving from critique to strategies for post-extractivist systems of political economy, political ecology and social reproduction. The central questions remained to be explored in future events: what minimally-necessary mining can be justified, and how to socialize those benefits but decisively prevent the vast costs of business-as-usual? •
Productivism, Endless Growth and Accumulation for Accumulation's Sake Must be Reversed
Final statement of the international civil society Thematic Social Forum on Mining and Extractivist Economy, held at Johannesburg, November 12-15, 2018.
We, the participants of the Thematic Social Forum on Mining and Extractivist Economy, are gathered in Johannesburg, South Africa to consolidate a broad movement of resistance, to build common struggles for solidarity, to guarantee the integrity of nature and to ensure a better world for present and future generations.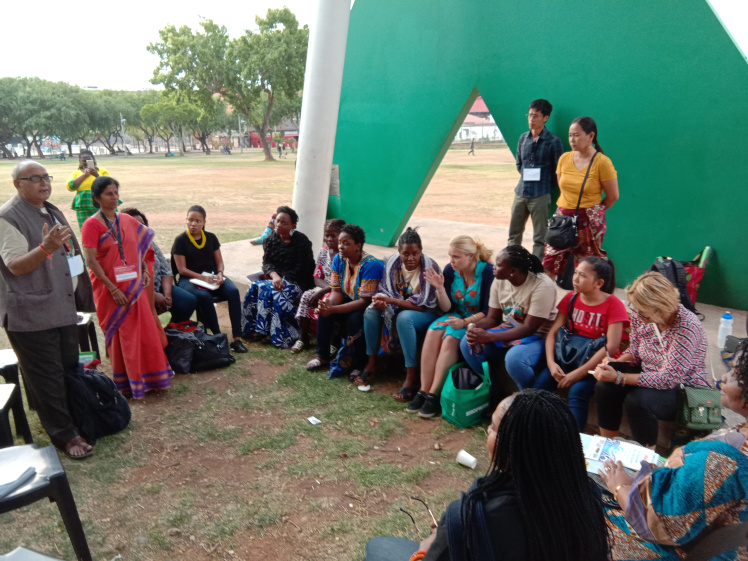 We come from mining-affected communities, trade unions, people's organizations, the women's movement, LGBTI people, faith-based groups, indigenous peoples, workers, small scale farmers, fisherfolk, youth, support groups and academics from 60 countries, including from 28 African countries, as well as from the Americas, Asia Pacific and Europe.
We celebrate our diversity, recognizing our different perspectives and the alternatives that we offer, but understanding that we are bound together by our desire for a future free from the destructive effects of extractivism.
Extractivism is a destructive model based on the exploitation of so-called "natural resources" and people of which mining is a prime case.
Current Realities
Over the last decades, we have seen the intensification of this racist, patriarchal and colonial model, based on the fantasy of the possibility of endless economic growth on a limited planet. It is rapidly undermining the conditions that make life possible on earth. In the name of progress and development, it has been devastating and degrading. It has involved the super-exploitation of workers, the systematic dispossession of communities, intensifying conditions of global warming and climate injustice. It subjects local economies to a logic of wealth accumulation that benefits transnational corporations – the new rulers of the world.
As if this was not tragic enough the rise of fascist forces and old and new authoritarianism, are threatening to unleash new waves of violence and repression. Their driving logic is to exploit the crisis through the deepening of the assault of nature, opening up new frontiers for further commodification and financialization.
Oceans, rivers, forests, entire ecosystems are set to be put at the service of profit making. Accompanying this process of recolonization and the scramble to control scarce strategic resources by competing global and regional powers, lies the spectre of new genocidal wars, which will see the extermination of the 'excluded' and marginalized.
Peasants, small-scale farmers, migrants, refugees, pastoralists, displaced persons, indigenous and working class women are enslaved by this extractivist patriarchal development model. They work hard to guarantee the survival of family and community under increasingly precarious conditions. Their labour of care, subsistence production, social reproduction and the recreation of fragile threatened ecosystems is invisible, unrecognized and undervalued. Their labour subsidises capital's profits and serves the interests of patriarchy.
Furthermore, extractivism is leading to the undermining of workers' rights – where they exist. Health and safety regulations are systematically violated, workers are informalised and wages are being driven down. Militant trade unionism is attacked and only compliant unions are permitted. The so-called fourth industrial revolution of high tech, big data and artificial intelligence, represents another form of extractivism posing a great threat to decent work.
Resistance
We, especially peasant, small-scale farmer communities, indigenous people and others across the world, are currently resisting this systematic attack on our territories that, through displacement, deforestation and the destruction of water sources, threaten to destroy our way of life. Women play a particularly important role in these struggles. Women are demanding the right to say no!
This claim to the right to say NO to extractive activities in our territories, is at the same time a clear YES. YES to other alternative ways of living in harmony with the rest of the web of life. YES to the right to decide how to live our own lives.
YES to the recognition that nature cannot be conceived as a collection of so-called resources to be exploited at will in the search of (maximizing) profit. YES to valuing the work of subsistence and care over economic growth and profit. YES to production for use and not exchange. YES to valuing of indigenous identity, knowledge and perspectives. YES to a new sustainable economic order, sensitive to social and environmental justice.
And YES, to reparations of the historical, ecological and social debt owed to the peoples of the South and which has gained new relevance through the concept of the climate debt.
We actively support the ongoing Global Campaign to Reclaim Peoples Sovereignty, Dismantle Corporate Power and Stop Impunity. Corporate privilege and power, institutionalized through investment and trade agreements, must be abolished. Therefore, the ongoing negotiations at the United Nations for an internationally legally binding treaty for corporations with regards to human rights and other national and regional initiatives, are particularly critical and the process should be accelerated.
Criminalization and Militarization of our Territories
Communities resisting destructive extractive projects are divided through corruption and false development promises, and deprived of social goods and public services to force their submission. Community activists are increasingly criminalized, threatened, abducted, assaulted and murdered. When this State and corporate sponsored violence is against women who dissent, it often takes a sexualized form. Even youth and children are targeted.
Communities refusing to consent to mining and other extractivist projects, and militant trade unions are attacked by the combined forces of the state and corporations. Generally, the space for resistance is deeply threatened and being closed down.
Alternatives
The planetary emergency rising from centuries of capitalist extractivism requires a deep transformation not just of our energy systems but of how we produce, consume and organize our lives. A 'just transition' from the current fossil fuel and extractive based regime is not just necessary to confront the climate crisis but contains the embryo of a new, democratic, eco-feminist, post-capitalist order. It is a myth that stopping climate change and shutting down the polluting extractive industries increases unemployment.
On the contrary, decent livelihoods and work can flourish in building the socially owned renewable energy industries, agro-ecological food systems, land and ecosystems restoration, community health and social housing that underpin the just transition.
Just transitions are already alive in the resistances of women to their way of life, of communities resisting mining and nurturing their food systems, and of workers fighting insecurity and privatization. A just transition should be based on industrial conversion where workers in polluting industries would retrain to do socially and ecologically necessary work.
Workers (and individuals) unable to transition to these new livelihoods would be guaranteed an income and essential public services, paid through redirecting existing state subsidies of the extractives industry, by halting illicit financial flows and by taxing transnational corporations and the rich.
Central to the struggles for alternatives is the right to say NO. We say NO to this model of extractivism and converge on the position that all remaining coal, gas and oil reserves must remain underground; circular economies in which minerals and metals are recycled and brought back into production must characterize a sustainable future; moving into new frontiers of extractivism, such as deep sea mining, is a false solution; the excessive consumption of all in the global north and south must be curbed, based on the principles of sufficiency. Productivism, endless growth and accumulation for accumulation's sake must be reversed. As it was said during the Forum: "We do not live to produce but we produce to live."
The co-option of traditional leaders to facilitate the penetration of extractivism into our territories is rapidly undermining the legitimacy of these structures and calls for the renewal of popular democracy at all levels especially at local community level.
Local initiatives are the foundation for building the necessary counter power needed to challenge the system. In this regard we are convinced of the need for the expansion of the commons. Nature, climate, water, resources and all forms of life are not on sale! They are the commons that we have to protect and share with all peoples and future generations. The right to the commons and respecting its preservation is an ethical imperative and the guarantee for peace and social justice.
In this regard, we are inspired by the perspectives of many of our peoples, indigenous groups and communities who affirm the rights of nature and understand that nature is not a property: Every ecosystem has the right to live and flourish, "water has the right to flow and birds to drink and fly." Rivers and land are rights-bearing entities, and we need to recognize their sacredness.
The convergences and solidarities forged in this Thematic Social Forum provide the inspiration for our collective campaigns, actions, new global alliances and assemblies of the peoples which will guarantee our common future. •