Another Stream of Martin Luther King's Legacy
The Dodge Ram Trucks' 2018 Super Bowl ad, harnessing the rousing oratory of Martin Luther King Jr.'s call to service, the "Drum Major Instinct" speech, to loving close-ups of 350-horsepower pickup trucks, attracted instant, widespread condemnation. Many lampooned the use of King's image to sell trucks, and a parody of the ad, recut with King's critique of the ad industry's persuasions from the very same speech used by Ram, has been viewed over 2 million times.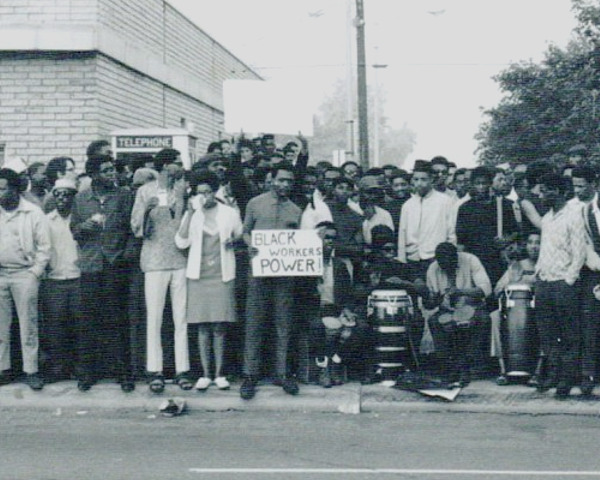 The controversy is the latest example of an ad maker stepping just a bit too far in the ongoing, unceasing cannibalization of everything noble, meaningful, fun, or weird in our culture by the machinery of capitalism; the chorus of derision it provoked can be understood as the policing of the excesses of that process as a breach of corporate etiquette, in a way that allows the overall commercialization of everything to proceed as usual. "We're just in a place where we get called on authenticity and people don't want to be emotionally manipulated," concluded ad executive Susan Credle in the New York Times. Those who condemn the ad, however, ignore the deep connection of Dodge Chrysler, Ram Trucks' predecessor company, with America's Black liberation struggle.

Strike Against Dodge in 1968
The Ram Trucks ad on Super Bowl Sunday highlighted the fact that MLK gave the speech exactly 50 years earlier; February 4, 1968. That same year, Dodge autoworker and Black revolutionary General Baker wrote a letter to the corporation after being fired for participating in a wildcat strike. Baker wrote:
"Even though you have falsely placed the banner of leadership of a wildcat strike upon my shoulders, I should wear it proudly … In this day and age under the brutal oppression reaped from the backs of black workers, the leadership of a wildcat strike is a badge of honor and courage …
Baker echoes King's critique of capitalist exploitation through consumption, but with an added consideration of the point of production:
"Black people are expected by the Chrysler Corporation to purchase Chrysler finished products, but are brutally oppressed and overworked and harassed on the production lines."
Baker concludes by recognizing Chrysler has advanced "the struggle between black workers and white racist Corporation owners and operators," "the most vicious of all existing struggles in the world today," to "a new and higher level and for this I sincerely THANK YOU."
His letter was no empty threat. Over the next several years the Dodge Revolutionary Union Movement, or DRUM, a black worker insurgency cofounded by Baker, Marian Kramer, Chuck Wooten, and eight others, organized an assault on white supremacy and capitalism, dynamics they, like King in his last years, saw as fundamentally mixed in America's concrete foundation. DRUM moved against Dodge and a United Auto Workers they argued was complicit in the exploitation of black workers, contesting union elections, producing newsletters, and leading wildcat strikes. Other Revolutionary Union Movements were formed across the city and beyond, which were united in 1969 as the League of Revolutionary Black Workers.
Surveill, Intimidate, and Harass
Dodge had given them a lot to work with. As I detail in my book Blood, Sweat, and Fear: Violence at Work in the North American Auto Industry 1960-1980, speedup and violence directed at workers by supervisors and the labor process was constant at Dodge's Detroit plants in the late 1960s. At the time, the company was capitalizing on the Vietnam-driven economic boom by driving its workers hard, upping the speed of the assembly line, often instituting mandatory overtime that meant 6-7 day workweeks of up to 12 hours a day, while neglecting safety and maintenance. Dodge increased the number of supervisors in order to surveill, intimidate, and harass workers into getting the cars out faster, and faster; Dodge workers were subject to unsafe work, threats, verbal and sexual harassment as part of the labor process. The industrial cannon fodder chosen to carry out this assignment were largely young and Black, so many workers sardonically dubbed Dodge's labor process "Niggermation."
This sped-up hyper-exploitation regularly injured and killed Dodge workers, which, as a company official admitted to journalist Rachel Scott for her 1974 book Muscle and Blood, was part of the company's business plan; it was more cost-effective to pay compensation to sick and injured workers and move on than it was to install the safety equipment that would have prevented their harm. The company also furnished a valuable service to the U.S. empire Dr. King came to oppose, as a producer of military transport vehicles and tanks. The radical handout the Eldon Ave. Liberator attacked a Chrysler campaign to get Chrysler workers to spend their paychecks buying Chrysler products, noting Chrysler's products might well be deployed the next time the state responded to an uprising like the one that roiled Detroit in 1967: "you better believe that you'll see these monsters rolling down Grand River, Twelfth St., Linwood, Mack, and anywhere else where 'hot niggers need cooling off!!'"
Workers often responded to these hellish conditions with violence. In researching my book, I reviewed every available grievance record from Dodge Main, the company's major plant, and its associated foundry, from 1950-75. By doing so, I was able to track the meteoric rise of individual workplace violence in the plant in the late 1960s and early 1970s, as workers pushed to the limit attacked supervisors and each other with fists, knives, and guns. [Ed. see 1978 movie "Blue Collar."] At another Detroit Chrysler plant, the Eldon Avenue Axle factory, Black autoworker James Johnson cracked under the strain of racist harassment and a violent, dysfunctional workplace, murdering two supervisors and a co-worker after being suspended. In the nationally publicized trial that followed, Johnson's radical attorneys, Ken Cockrel and Justin Ravitz, successfully put Chrysler on trial, arguing their labor process was a crucial factor in Johnson's act. The jury found Johnson not criminally responsible. After that, attorney Ron Glotta successfully won worker's compensation for Johnson while he was held in a mental institution. Reviewing this history reveals not only the racism and exploitation of Dodge's plants in the 1960s and 70s, it shows that acts of individual violence at work so often understood as solely the transgressions of individuals are often deeply connected to the labor process, working conditions, and workplace culture.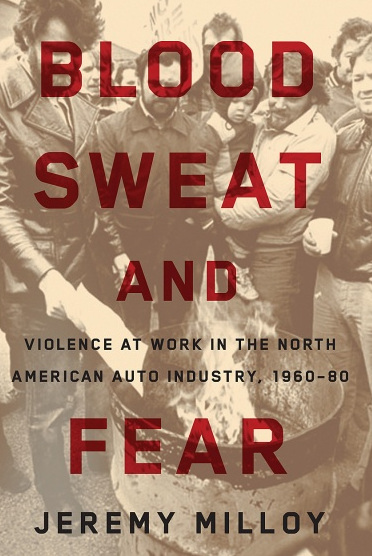 It is also a necessary context to understanding DRUM and the League of Revolutionary Black Workers, groups sometimes demonized and dismissed because of their commitment to violence, at least rhetorically, which has often been lazily contrasted as the "Bad" Black activism against King's nonviolent "good" activism. DRUM's embrace of violence did cut both ways, inspiring supporters and forcing Dodge and the UAW to take notice on one hand, alienating many potential allies among fellow workers on the other. It is crucial to remember, though, that it was not adventurist or deranged; it was formed and inspired by the violence visited upon them every day as they built Dodge vehicles.
DRUM's very first newsletter covers a struggle that erupted from a fistfight between a worker coming back from break and the plant guards he alleged harassed him. In another issue, DRUM noted that foremen forced workers to go without new safety gloves that would protect them, as they received a bonus from management for not using up equipment: "DRUM feels that since our safety is in danger than [sic] it's only fair that somebody else's be in danger also. So it's a bonus vs. an ass-kicking, and you can have both." While the differences between MLK and DRUM were real and important, it is also important to remember that DRUM's critique had much in common with Dr. King's contention that "The evils of capitalism are as real as the evils of militarism and evils of racism;" the RUMs saw all three in abundance at Detroit's auto parts. So, Ram Trucks: Thank you for your service. •