How Corporations Hope to Eviscerate Workers' Right to Strike
Joe Oliveira and his coworkers relied greatly on donations of food and gift cards after going on an unfair labor practice strike against multibillion-dollar specialty steelmaker ATI in 2021. They cut household expenses to the bone, burned through their savings despite the public's generous support of their cause, and held fundraisers to help one another cover mortgages and car payments during three and a half months on the picket line.
As much as the strike tested workers, however, it pressured ATI even more and ultimately enabled Oliveira and more than 1,300 other members of the United Steelworkers (USW) to secure long-overdue raises and stave off the company's attempt to gut benefits.
Corporations so fear this kind of worker power that they're asking the US Supreme Court to rig the scales and help them kill future strikes before they even begin.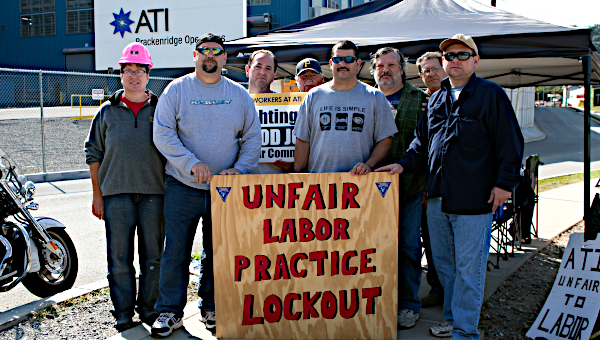 Strikes and Litigation
Glacier Northwest, a company in the state of Washington, sued the International Brotherhood of Teamsters seeking compensation for ready-mix concrete that went to waste amid a weeklong drivers' strike in 2017.
The Washington Supreme Court threw out the case, but Glacier Northwest appealed to the US Supreme Court, betting a right-wing majority that's already proven its animosity toward unions would seize the opportunity to kick working people once again.
Corporations anticipate that a ruling in favor of Glacier Northwest will encourage a frenzy of similarly frivolous claims against unions nationwide, bleeding precious resources and eviscerating workers' right to strike.
The justices held arguments on the case on January 10, 2023, but it's not known when the court will rule.
"That's our greatest strength," said Oliveira, vice president of USW Local 1357 in New Bedford, Massachusetts, pointing out that the right to strike helped working people over many decades win not only fair wages but also retirement security, safer working conditions, and fairness on the job.
"It's rotten when it comes to that point," he said. "It's very hard on families. It's not any fun. But I think it's probably the greatest weapon we have in our arsenal."
And it's sometimes the only way to force employers like ATI to bargain in good faith.
Lockout in 2015
The USW made progress toward a new contract with ATI before COVID-19 hit in 2020. But when negotiations resumed in 2021, the company demanded unnecessary concessions that not only failed to recognize the sacrifices workers made during the pandemic but also would have compounded the harm ATI inflicted on the union members with a months-long illegal lockout that began in 2015.
"There was absolutely no way we were going to go for that," recalled Oliveira, noting his coworkers and USW members at several other ATI locations overwhelmingly authorized the strike and then stood strong together until ATI came to its senses and began bargaining in earnest.
The shared struggle brought workers even closer together.
Oliveira could scarcely believe his eyes when striking USW members from ATI locations in Ohio and Pennsylvania showed up unannounced at one of his own local's fundraisers. They drove hundreds of miles to support their USW family.
And Oliveira recalled how his heart swelled when the president of a large Pennsylvania local – one with hundreds of members – stood up at a meeting and vowed to continue fighting until ATI agreed to job security language that the 60 union members in New Bedford urgently needed.
"He was adamant about that. It was an unbelievable moment for me. Being a small local, it meant a whole lot to us," explained Oliveira, adding that the New Bedford representatives also "showed our integrity" by going to bat for language that workers in other locations wanted just as much. "I couldn't be more proud to be a USW member."
That's exactly the kind of strength that Glacier Northwest and its pro-corporate allies hope to decimate with a Supreme Court ruling giving companies free rein to try to divide workers and suppress strikes, creating a sword that will hang over every union when its members are left with no choice but to consider striking.
Glacier Northwest failed to make adequate preparations for the strike, leaving it unable to deliver the concrete that remained in drivers' trucks at the start of the walkout. The company now wants the union to pay for the undelivered concrete – an outrageous demand when the very purpose of a strike is to put economic pressure on unreasonable employers.
When planning a strike, unions often meet with management to discuss an orderly shutdown of operations because the workers, who care about returning to a safe plant when their strike ends, want to avoid damage to the furnaces, smelters, and other equipment where they work.
"If you're worried about losing product, don't be a jerk. Sit down with the union," Oliveira said, stressing that unions strike only as a last resort.
While Glacier Northwest's suit seeks to punish workers for striking, it's increasingly common for employers to throw workers into the street with lockouts, refusing to let them do their jobs in an attempt to force concessions. And Glacier Northwest's alleged losses pale next to the harm companies intentionally inflict on workers, families, and communities during labor disputes.
After locking out about 1,200 USW members in Massachusetts in 2018, for example, National Grid brought in less experienced managers and scabs to perform the highly dangerous work of maintaining natural gas lines.
Besides depriving workers of their paychecks, National Grid callously cut off their health coverage, leaving families scrambling to care for grievously ill children.
"You're basically just a number to them," said one union member, explaining how National Grid ripped away his health insurance shortly after doctors found cancer in his young son's kidney and lymph nodes.
The option to strike remains as crucial as ever, Oliveira observed, noting that employers are doubling down on union-busting efforts as more and more Americans seek to join unions in the wake of the pandemic.
An adverse decision in this case will be just another weapon that American companies will use to force their workers into less favorable contracts.
"We can't afford to go backward," Oliveira said. "We need to go forward. We need more rights, not less." •
This article was produced by the Independent Media Institute.