Copping Out at COP23, Avoidance and Possibility in a Burning World
During the recent COP23 summit in Bonn, a taxi driver provided a clear summary. Asked what he thought of COP 23, he replied "the climate is in crisis, but here, this is about money." He had provided what had been missing inside. As we race toward certain and expanding catastrophe, he underscored that profiteering off a destructive cycle production, consumption, shipping, the unnecessary transport of products over vast distances and continuous growth models form the basis from which these discussions are framed. It is as though the elephant in the room is never acknowledged, with few exceptions.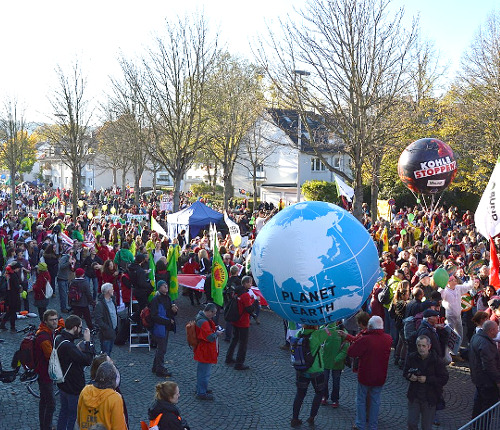 How does this appear? In North America you can try this experiment. Turn down the volume of your TV and watch the myriad of commercial advertisements where someone is unhappy until they possess a certain product and suddenly, presto! Everything is great and everyone is happy. The same rubric repeats, again and again. Buy and smile. Smile and buy. Crave to belong as if this will somehow connect us together and create momentary windows of happiness while the earth burns. A crude system of modern feudalism has engulfed the planet where a handful of men – eight, to be precise – own half the planet. In this obscene reality a man can be worth more than a nation. Political leaders and major institutions act as though by convincing a handful of rich sociopaths we can save life on the planet.
Yet power does not, and never has, surrendered anything without a fight or creation of something new. Our uncomfortable future demands that climate criminals should not be enabled with our caps in hand with appeals to do the right thing – certainly those outcomes have been far too modest to date. The rules of the game must change that would remove them from their pedestals of power and our addictions to things we really do not need (and often having them increases the cycle and need for more) while altering the current definitions of value including patriarchal approaches thousands of years old of competition and 'winning' at the expense of another.
At COP we are like hamsters on a wheel, living off the ripples of colonialism and wealth accumulation while discussing the speed at which the wheel turns through a series of silos and frameworks. What is needed is to get off that wheel and reconnect with our essence, the earth, and one another.
War and Profit for 1%
In this madness, the darker your skin the more you pick up the slack now resulting in myriads of climate refugees fleeing a crisis created while a minority of the planet went shopping. Under current conditions this phenomenon will play out over and over. Hungry people intent on survival will be blamed and shamed, even attacked for doing the only thing left to them: escape to a better place. When people are hungry, what can you expect? Famine breeds war and conflict. The world's greatest militarist, the United States, built on dispossession has essentially been at war with someone on a continuous basis for nearly two centuries of conquest, often aided by one ally or another. Since 2001, that nation alone has spent $7.6-trillion on the military and Homeland Security in an ongoing war economy.
Little was accomplished at COP, a few very modest breakthroughs (or diversions) lacking any enforcement mechanisms or meaningfully incorporating a gender or Indigenous analysis into the core of action. While climate talks are essential, they are rendered ineffective by living in this bubble. One former UNFCCC official told me that people know this but are locked into a series of "frameworks" and disconnected silo building that does not dare upset the apple cart, a centuries-long mercantilism built on exploitation, greed and accumulation at the expense of the other and all living systems. This same system that uses the atmosphere as a chemical sink for profit. The oil continues to flow and the coal dug.
No longer can it be business as usual where the new normal is unprecedented and frequent catastrophic weather conditions (which can only get worse) and will be normalized for new generations. A tweak here and there won't cut it.
Indigenous peoples appear to have a better grasp of living with the earth rather than against it as their lands continue to be exploited for resource extraction and profits. Indigenous voices are tolerated, welcomed even, but rarely is this wisdom applied to our reality. In the Canadian context, this vision is met by a system where Indigenous colonized peoples are undermined by super mines, pipelines and general disrespect.
It does feel good to see any progress whatsoever and we hang our hat on that. Political cachet can be earned by playing to domestic audiences as part of this theatre. No better example exists than the myth of Canada as a progressive nation and its new proposed phase-out of coal policy. Through carbon offsets, which shall keep the coal burning until at least 2060 and exports continuing after that date (hardly a victory). While presented as progress it is ineffective, and a diversion which obscures the continuing plan to build pipelines and keep dirty Canadian oil flowing. The tyranny of oil extraction and the use of the atmosphere as a chemical sink for profit remains while the human and animal population subsidize this senseless tragedy.
Who will take on international transport, shipping and aviation? If these sectors were a country they would be the seventh largest polluter where products that could be produced locally at less environmental cost are shipped vast distances.
Solutions
What does this mean for workers? As we say, don't oppose, propose. The Union I represent, the Canadian Union of Postal Workers (CUPW) know that a just transition out of destructive practices requires better approaches that we all need to be a part of. We live in a society where some work too much and others have no possibility at all. Incorporation of other more holistic and sustainable values allows us to step outside the box and refocus. Our Delivering Community Power initiative, driving Canada Post to be an engine of the next economy including the use of renewable non-polluting energy, transforming and retro-fitting post offices to produce energy at the local source and eliminate carbon from delivery systems – the latter which has already happened in over 20 cities in Norway (and is growing). Putting more postal workers on the street and less cars also means more face to face contact and added community value by checking in on senior citizens who are isolated. Postal workers have put climate change on the bargaining table. By incorporating Indigenous and feminist values of nurture and care into our future we shift the nature of work and become meaningful actors in solutions. This approach was energized and inspired by the Leap Manifesto which calls for a restructuring of the Canadian economy and an end to the use of fossil fuels. This is framed by respect for Indigenous rights, internationalism, human rights, diversity, and environmental stewardship. We cannot leave it to corporations and politicians. We are all part of this solution now and have the opportunity to claim the space to do it.
The indigenous Ojibwe have a saying about the seven generations. They say that for every move we make, it must always be done with a view on how it could impact people seven generations from now. The leaders of this planet would do well to listen to that advice.
We require a new kind of COP. There will be no shopping on a dead planet and reassembling the deck chairs of the Titanic will not help. Creativity and better value systems can. •
Originally translated and published in the German daily, OXI.