The devastating fires in Fort McMurray show the urgent need to transition to an economy that supports people and the planet, and this is part of a transition in climate justice politics.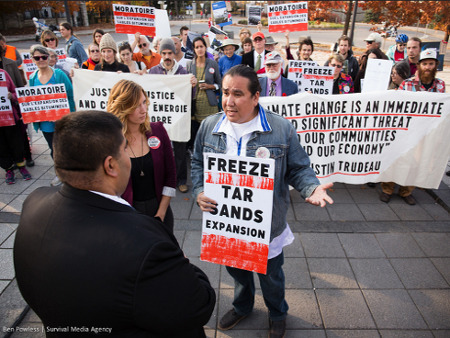 The mainstream environmental movement used to be dominated by a narrow focus on consumerism, individual lifestyle choices, and single issue politics – taking for granted the broader context of colonialism and capitalism. The environmental movement talked about saving the planet in the abstract, without acknowledging the territories on which we're living or supporting Indigenous communities defending them. There was even a racist campaign against the right of the Makah nation to hunt whales, which they've done sustainably for millennia. The environmental movement talked about changing our individual consumer choices without questioning what we collectively produce and how workers themselves can be part of the solution. While the protests against logging in Clayoquot Sound successfully stopped the company, it led to bitter divisions between environmentalists and workers.
Fast-forward twenty years and there was a Defend Our Coast mass sit-in in Victoria. It was led by Coastal First Nations, and had support from environmentalists/workers. As a CAW activist explained, "the ongoing risks that these tar sands pipelines and tankers pose aren't worth any price. Tens of thousands of unionized and other jobs depend on healthy river and ocean ecosystems." The Yinka Dene Alliance has united First Nations against pipelines crossing territories and reached out to labour. Unifor and the BCTF signed the Solidarity Accord with the Save the Fraser Declaration: "We, the undersigned, say to our First Nations brothers and sisters, and to the world, that we are prepared to stand with you to protect the land, the water and our communities from the Enbridge pipelines and tankers project and similar projects to transport tar sands oil."
Obviously this position is not shared by the entire labour movement or NDP, as we saw in the reception of Leap Manifesto at the NDP convention (8-10 April, 2016). But this conversation is in transition, and it's driven by changes to the climate and the economy.
Transitions in Climate and Economy
The scale and urgency of the climate crisis means it can't be solved through individual behavior. There has to be a massive shift in the economy away from fossil fuels and this means workers need to be involved in this process.
The disproportionate impact of the climate crisis on poor and racialized communities also means it can't be understood as an abstract single issue. Increasingly unnatural disasters, from Hurricane Katrina to Typhoon Haiyan, have shone a light on environmental racism. As well as global warming, there's also local impacts – disproportionately impact Indiginous communities, from cancer rates at Athabasca Chipewyan First Nation, asthma rates at Aamjiwnaang, and the threat of Line 9 to Chippewas of the Thames – highlighting colonialism.
At the same time there's an ongoing economic crisis, which has cost 400,000 manufacturing jobs across Canada in the past decade – which also disproportionately affect Indigenous and racialized workers. This has been double-edged. For years we've been told that while the oil economy might worsen the climate crisis, it's the only solution to jobs crisis, reinforcing the old divisions between workers and the environment. But now the fall in the price of oil has exposed how unsustainable those jobs are not only for the climate but also for workers. The same corporations and governments who have ignored Indigenous and climate concerns are showing how little they care for workers in their own industry. Oil corporations have slashed tens of thousands of jobs to maintain their profits. Governments who claimed there was no money for healthcare, education, social services are continuing to bail out oil companies with billion dollar subsidies while refusing to provide a just transition for workers who are suffering.
The scale of the climate and economic crisis, and the disproportionate impact they have, won't automatically build a movement against them. People can respond to the climate crisis by blaming workers, or respond to the economic crisis by ignoring Indigenous people, ignoring the climate or blame refugees. But instead, the climate justice movement has risen to unite all those affected – including Indigenous and migrant communities, environmentalists and workers, anti-poverty and anti-war organizations.
Transition in Climate Justice Politics
This is not just because of changes to climate and the economy but also because of a transition in climate politics. This is thanks first of all to Indigenous communities defending their territories – from healing walks and toxic tours exposing environmental racism, to blockades and land defense, and legal challenges to assert Indigenous rights. Through this process, frontline communities are not only defending their own land, but also providing a climate justice framework for the whole movement. Climate politics are transitioning from consumerism to anti-colonialism, and from blaming workers to building a new economy.
The backlash against the Leap Manifesto included the accusation that it represents Toronto elites who are anti-Alberta and anti-worker. But Leap Manifesto reflects a climate justice movement led by Indigenous communities, many in the heart of Alberta, who are including workers in their vision for change. As Melina Laboucan-Massimo of the Lubicon Cree First Nation explained:
"Ever since I was a child I have seen immense change to the land which infringes upon our ability to have access to clean air, clean water and live a healthy lifestyle. We have also seen massive oil spills on our traditional territory, with one of the largest in Alberta's history just a few miles away from my family's homes in 2011… Our communities deserves justice. For many of us from impacted communities the choices are literally life and death. It's time Canada stopped burying its head in the tar sands and bring about the just transition. Workers deserve to be with their families instead of flying across the country to work in the tar sands only to leave their families for 3 weeks out of every month. In Canada we are so well positioned with such highly skilled workers that we can transition to long term green jobs. There are the economic alternatives for our families and communities. Even in the heart of the tar sands we can build a different kind of economy with clean energy and green jobs without compromising our families and communities."
The transition in climate justice politics is also happening within the labour movement, which is building solidarity with Indigenous communities and raising its own demands for good green jobs for all to address the climate crisis, economic crisis, and the disproportional impact on racialized communties. As the Toronto and York Region Labour Council wrote:
"We don't have to choose between the economy or the environment. Real climate action means investing in mass public transit, clean energy infrastructure and affordable housing. It means expanding low-carbon sectors like health, education and sustainable agriculture. By taking real climate action, we can create an economy that is more fair and equal and offers hundreds of thousands of good new jobs. We want an economy where workers win, communities have more democratic control, and those most impacted and impoverished are the first in line to benefit. An economy that honours Indigenous peoples' rights and recognizes their role in protecting the land, air and water for everyone. An economy that respects the limits of the environment made clear by climate science."
The climate justice movement is raising the possibility of mass transition in society for Indigenous communities to regain control of their land and for workers to win control of their labour – both of which threaten the colonial state and the corporations it defends. So in response we've seen a transition in the tactics of the 1%: from Harper to Trudeau.
Transition in Tactics of the 1%
As Dene scholar Glen Coulthard wrote about Harper:
"In the delicate balance of having to ensure that his social conservative contempt for First Nations does not overwhelm his neoconservative love of the market, Prime Minister Harper has erred by letting the racism and sexism of the former outstrip his belligerent commitment to the latter. This is a novice mistake that Liberals like Jean Chretien and Paul Martin learned how to manage decades ago. As a result, the federal government has invigorated a struggle for Indigenous self-determination that must challenge the relationship between settler colonization and free-market fundamentalism in ways that refuse to be coopted by scraps of recognition, opportunistic apologies, and the cheap gift of political and economic inclusion."
Whereas Harper claimed Canada has no history of colonialism, Trudeau has announced nation-to-nation relationships without implementing it – leading Athabasca Chipewyan Chief Allan Adams to leave recent climate meeting.
Whereas Harper used defunding as a weapon against First Nations, Trudeau has promised billions of dollars without actually delivering them – leading Mik'maq activist Pam Palmater to write, "Trudeau's promise of 'renewed relationship' with First Nations evaporated with Liberal budget."
Whereas Harper dismissed UNDRIP and TRC, Trudeau claims to support them but he continues to ignore its calls to action, including #92 to "commit to meaningful consultation, building respectful relationships and obtaining the free, prior and informed consent of Indigenous peoples before proceeding with economic development projects." This includes not only pipeline projects like Line 9, but also hydro-electric projects like Site C dam on the west coast.
Whereas Harper left the Kyoto accord, Trudeau announced a historic deal in Paris that has no mechanism to achieve it; and there were two critical issues to climate justice that were relegated to the preamble, Indigenous rights and just transition for workers.
Whereas Harper dismissed demands for green jobs, Trudeau has greenwashed his budget – spending a fraction of what is actually needed for real green job transition while using "clean growth" to justify giving more funds to oil and gas.
Harper failed to beat the climate justice movement into submission so now Trudeau is trying to embrace the movement to smother it. The deficit that exists between Trudeau's rhetoric and reality shows the next steps for the movement, and highlights a transition in leadership.
Transition in Leadership
Speaking to the wealthiest of the 1% at the World Economic Forum, Trudeau said that "Technology itself will not determine the future we get. Our choices will. Leadership will." This is true, but it's not Trudeau's leadership that will bring real change.
Real change is coming from the climate justice movement. Even before the federal election there was a climate welcome of direct action announced for the new PM because no party echoed the climate justice movement and whoever was elected would need pressure from outside Parliament. Even with Trudeau's "sunny ways" charm offensive 25,000 people marched on Ottawa the month after he was elected chanting "real change, not climate change."
Real change is coming from Leap Manifesto and People's Climate Plan, which is debunking false choices of jobs vs environment and articulating a vision for climate justice.
Real change is coming from the labour movement. Instead of waiting for Trudeau's vague promises of green jobs, there are labour campaigns for just transition for workers. The Canadian Labour Congress has endorsed the Million Climate Jobs campaign, which outlines in detail how spending a mere 5 per cent of federal budget could create a million jobs and cut emissions by 25 per cent in the next decade. We know the money is there. The release of the Panama Papers show all sorts of money hidden in tax havens. But the biggest corporate tax haven is Canada's record low corporate taxes which have been cut by Liberals and Tories, and kept by Trudeau. We know part of the infrastructure for just transition already exists. As the Delivering Community Power campaign for postal workers explains:
"Our postal service can deliver the sustainable infrastructure of the next economy: postal banking that finances green energy, services for seniors, farm-to-table food delivery, coast-to-coast charging stations for electric cars, and much more."
And we know workers are increasingly asking for the just transition, including workers in the heart of the oil sands like Ken Smith who are defending their jobs and asking for just transition. Or like the organization Iron and Earth: "We're calling on the government of Alberta to invest in training programs, starting by retraining one thousand out-of-work oil industry electricians in Alberta in solar panel installation… By preparing the renewable energy workforce it is a win-win for Canadian workers, our families, our economy, and the environment."
Real change is continuing to come from Indigenous communities – from ongoing movement for justice for missing and murdered Indigenous women, to occupations of government offices to demand justice for the youth of Attawapiskat, to the legal challenge of the Chippewas of the Thames First Nation.
A community shouldn't have to fundraise huge sums to uphold their basic rights. Indigenous rights are supposed to be protected in Section 35 of the Constitution but this section only exists and will only be respected from pressure. Pierre Trudeau omitted Indigenous rights from the original draft of the Constitution as yet another attempt to assimilate after the failed White Paper. It was only after mobilizations from Indigenous communities across country – including a Constitution Express that chartered trains from west coast to Ottawa that Section 35 was added, and its only ongoing pressure that will make it a reality. It was only after mobilizations by Metis people and Indigenous women that Section 35 was clarified to include all Indigenous people, and gender equity. But since then the Canadian state has ignored and violated this section repeatedly.
This fall the Chippewas of the Thames and Clyde River First Nations are going to the Supreme Court to challenge decisions by the National Energy Board to allow tar sands and fracking companies to use their land without their consent. This case is not a test of Indigenous rights, which are inherent and which predate the Canadian state. This case is a test of whether a colonial state will respect it's own constitution, which depends on the balance of forces outside the courts, the strength and solidarity of climate justice movement.
Chippewas of the Thames have launched a legal defence fund, and everyone should transition money into this fund and ask their friends, neighbours, and organizations to do the same. Every dollar raised will help defend Indigenous rights and defend the climate we share and on which we all depend. •
This article first appeared on Socialist Worker.