Decolonization Against Austerity
Support Kitchenuhmaykoosib Inninuwug's Battle Against Mining!
The community of Kitchenuhmaykoosib Inninuwug (KI) poses a challenge and opportunity for the left in Turtle Island to (re)think strategic alliances between leftist anti-austerity struggles and indigenous anti-colonial struggles taking place in the area commonly called "Canada." KI is a small fly-in Anishaninii (sometimes called "Oji-Cree" or "Severn Ojibwa") community in Northwestern Ontario, about 580 km north of Thunder Bay, and has a long history of survival and resistance in the face of the colonial settler state.
The most recent threat is God's Lake Resources Inc., a junior gold mining company, that plans to begin exploration directly on KI sacred burial grounds. KI has been actively mobilizing solidarity across the province, especially in Toronto, as it did in the face of similar recent threats. With the Ontario government clearly supporting the mining industry, KI will be looking to community allies and its own deep community capacity to continue the struggle against the destruction of their traditional territory. At a time when anti-austerity pressures are morphing globally into a variety of forms of resistance, it is time once again for those of us who are settlers to consider our relationship to centuries of anti-colonial struggle by indigenous nations. When we struggle ourselves against dispossession, we need to consider the tensions of doing so on stolen land.
Cycles of Resistance:
Fighting Off Platinex and the New Mining Act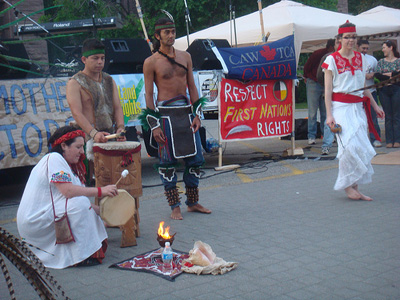 Over the past decade, KI has received a great deal of media attention for their struggles against mining on their territory. In 2008, the community successfully resisted attempts by Platinex to undertake exploration in the area, but not without dramatic consequences. KI, in alliance with other indigenous communities in Ontario under attack at the time, organized a massive, multi-facetted resistance, including a well-publicized "sovereignty sleepover" at Queen's Park.
Formal union support as well as rank-and-file participation was a huge part of the Toronto mobilization, buttressed by strong support from grassroots communities across the city. These mobilizations eventually saw Chief Donny Morris and five other community members jailed for refusing to yield to mining interests, which provincial law mandatorily required them to do. The Ontario and Canadian governments plainly did not recognize indigenous' peoples right to plainly refuse industrial development on unsurrendered territory.
Because of this and the other effective indigenous resistances flaring around the province at the time, a new Mining Act was written which, along with other revised pieces of colonial legislation, purported to guarantee indigenous communities the right to be consulted around new uses of their traditional territories, but not the right to refuse. Ontario's prior Mining Act, dating back to the 1870s, allowed generally free access to most territories in the province. The revised version was intended to mandate consultation with indigenous communities on traditional territories. In true colonial style, the province still remains the final arbiter on the necessity of consultation for a given plot of land. Ontario maintains its "free-entry" system of claims-granting, making consultation a discretionary nod by the state rather than binding anything to indigenous authority.
Given these clear shortcomings, KI's community leadership set to work developing their own principles and legal frameworks through which any activity on their land was to occur. The community voted overwhelmingly in favour of the Watershed Declaration and the Consultation Protocols, which demand a respect for the balance of the earth's systems and free prior and informed consent to any development on the territories in question.
God's Lake Resources Begins an Unholy Attack
on KI's Territory and Cultural Wealth
Despite these new pieces of written Indigenous Law, KI is once again facing unwanted mining activity on their territory. God's Lake Resources (GLR), has staked claims and has threatened to begin exploration this winter, directly on top of KI burial grounds and sacred sites. The "consultation process" involved a letter sent from GLR to KI, which, when it wasn't immediately answered, was considered sufficient consultation.
The province's response, despite the supposed commitments established in colonial law around indigenous consultation (which emerged precisely because of the resistance to Platinex in 2007-08), has been to deny any ability to limit GLR in exploring its claim. After KI began mobilizing existing community networks in Toronto and other parts of the province, Ontario declared 23,181 square kilometers around KI to be off-limits to mining, except, of course, the GLR claim. KI is now mobilizing to prevent what seems like an immanent incursion by GLR teams.
The provincial government's bungling of their own rules and buck-passing between the multiple provincial ministries involved in this process, as well as confusion over provincial and federal roles, has served as a perfect cover for a total disregard for indigenous community laws. In a very tangible way, companies such as GLR rely on this contradictory legal system to attempt to avoid any substantive recognition of indigenous sovereignty. In a system where provincial ministers have veto power over disputes in the consultation process, the limits to anti-colonialism and decolonization within this framework become quite clear. The colonial legal framework is at best still flawed, even though it has been used tactically by indigenous communities to their advantage.
Against indigenous oral histories and recent historical evidence on the nature of the treaties in the area at issue here, the Crown presupposes that the first peoples of the land effectively surrendered anything off-reserve to the advancing colonial government. Despite a finding by the Supreme Court of Ontario (note that this treaty, Treaty 9, was one of the few treaties to be signed in Canada by the province as well as indigenous leaders and the federal government) that no surrender was explicitly given, the lands in question are seen by the province as part of a mineral exploration staking system. This system requires little more, in terms of legal settler access, than being over 18 and paying a small fee.
KI's watershed is the source of the community's history, spiritual and otherwise, that make up a set of values incompatible with Canadian capitalist economic growth. The fish, moose, water and lands are what fuels the community's survival in ways that make little sense to the province's grid of fungible private property rights and growth plans. KI's struggle against the mining industry is essentially a struggle against colonial-capitalist dispossession. From the perspective of many indigenous communities, resource "development" on their territories involves multiple forms of dispossession. Some resources (forests, minerals) are taken, while others (wildlife, fish, plants, water) are destroyed either through contamination or disturbance. Forms of wealth unique to indigenous cultures and societies are also often destroyed in the process – the potential destruction of KI's cultural heritage through damage to a burial ground represents the destruction of uniquely indigenous wealth.
Colonial Frameworks of Dispossession
Other indigenous communities throughout the area of Turtle Island commonly called "Canada" are waging similar battles against colonial dispossession. Anishinaabe in Grassy Narrows continue to protest Weyerhaeuser logging in their territory, and have recently called for a boycott of Weyerhaeuser forest products. Indigenous peoples in Northern Quebec are waging campaigns against Quebec's "Plan Nord" development scheme. Inuit in Qamani'tuaq (Baker Lake) continue to wage a battle that stretches back for decades against uranium mining in their hunting grounds. Multi-nation alliances are organizing continuously in northern BC and Alberta to reverse the genocidal destruction wrought by the Alberta Tar Sands, the regional natural gas industry, and the giant proposed pipelines that would carry both products to market.
The Algonquins of Barriere Lake, after a wave of imposed federal and provincial decisions and police attacks, have pushed mining interests out of their traditional forests. In the south, First Nations like the Six Nations of the Grand River continue to fight against encroachment on what is left of their territory. Another kind of resistance to dispossession is being fought by communities like Attawapiskat against the federal government for proper funding for treaty-guaranteed and basic human infrastructure (housing, schools, et cetera).
The battles Northern communities wage against colonial restrictions on hunting (such as the struggle over polar bear quotas in Nunavut) and colonial restrictions on exporting products of hunting (such as the struggle Nunavut Tunngavik Incorporated has been waging against the Canadian state regarding the right of Inuit to export narwhal tusks) are also battles against dispossession in-so-far as they are attempts to maintain a thriving indigenous economy. Together these varied struggles highlight an important reality: it is likely impossible to find an indigenous community in Canada that is not battling some form of dispossession.
Meanwhile, the mainstream Canadian left is waging its own struggles against dispossession and more often than not finds itself on the run. We are seeing massive austerity battles in Toronto under Mayor Rob Ford's administration, which has threatened massive cuts to city services (which will disproportionately affect residents already made vulnerable in the broader global capitalist crisis, such as racialized workers, undocumented people, women and trans people, queer people, and urban indigenous peoples), in a fiscal crisis manufactured largely by the Ford administration itself. A cross-sectoral alliance of Torontonians has formed into a Stop the Cuts movement vowing to reclaim the common rights to the city, and has blocked some of the proposed cuts, even as Ford promises to deliver on his remaining austerity promises.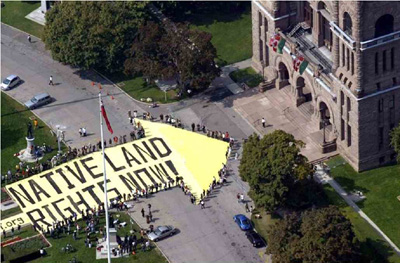 Student movements across Canada continue to fight for tuition reduction and against government cutbacks on post-secondary education more generally in a sustained climate of growing inaccessibility. Women's organizations, queer and HIV/AIDS support groups, and immigrant and refugee communities are clawing to continue building just communities in an increasingly scarce funding environment, while police, military, and security budgets bloat.
Recent strike breaking legislation directed at Canada Post and Air Canada workers, immigration raids against and deportations of precarious- and non-status workers, and union-busting tactics aimed at contracting out city jobs demonstrate quite clearly the immense challenges that the Canadian left is currently faced with. In this context, indigenous and anti-austerity battles make logical allies. Globally speaking, capital has been in a particularly destabilizing, system-threatening crisis since 2008, and has only shored this up by demanding concessions from working people, gutting what was left of post-war welfare institutions and opening up increasing types of common goods to privatization. In a certain sense, our struggles are against the same thing: capitalist dispossession.
At a time when we all seem to be "on the run" – fighting to hold onto what we already have, rather than fighting for more of what we rightly deserve – an alliance of this sort makes more sense than ever before. If workers' demands become indigenous demands and indigenous demands become workers' demands, if we present a unified front against dispossession, we stand a far better chance of succeeding than if we remain divided, atomized, and in different ways with different effects, colonized. The details are to be found in building these relationships with an explicit aim to decolonize, meaning we will have to accept leadership from indigenous communities doing the same. What seem like overwhelming contradictions are maybe best approached by fighting through something together, rather than throwing some under the bus – in a colonial state, that slogan becomes even more critical if we are to find a path to justice.
Indigenous communities also have a great deal to teach about organizing and resisting. Despite over a century of forced relocations, residential schooling, capitalist destruction, colonial hunting laws, the outlawing of indigenous cultural practices – in short, cultural genocide – indigenous cultures continue to flourish on Turtle Island. Any community that can withstand a sustained colonial onslaught and still have the perseverance to continue fighting back is an example to the world of successful resistance. Furthermore, insofar as indigenous cultures are often based on more egalitarian forms of decision making, more equitable types of economic distribution and less antagonistic relations with nature, these communities have a great deal to teach about building a society which is more just and free. It is also questionable whether or not the left in Canada can hope for any sort of success without working together with indigenous communities.
Tensions in Left-Indigenous Decolonization
Left-Indigenous alliance-building is by no means simple. Extractive industries are the lynchpin of the Canadian economy. Our biggest export, Alberta tar sands oil, drives the currency and is closely tied to the financial sector. In Ontario, forestry accounts for about $14-billion annually, aggregate resources (sand, stone, gravel) for the construction industry take in about $37-billion. Mining is worth $11-billion (not including nearly $1-billion in exploration) and brings in about $3-billion in capital investment per year. Toronto is the financial hub of the mining industry, and recently hosted the Prospectors and Developers Association of Canada annual meeting, the biggest such conference in the world.
This extractive dependency spreads beyond just corporate profits or jobs to our pension plans, mortgages, tax base, and many elements of our everyday lives which are tied to the reproduction of extractive profit in complex economic webs. While we as workers struggle to keep our material standards and social benefits high in a sustained climate of vicious austerity measures, we have to remember that those same benefits, in our current system, come out of a colonial relationship. Many of our jobs are often directly or derivatively tied to the health of the extractive sector (including the financial and public sectors) and its disregard for indigenous laws.
In a fight against a global assault on working people (which of course includes indigenous workers), it can be easy to cling to the social gains of the (settler) past without recognizing their colonial context. Many of the social gains which are now being dismantled in the neoliberal assault were built while indigenous communities were being aggressively destroyed. Working-class settlers were many things during the building of our welfare state, but among other things, their labour organizations and grassroots struggles have been too silent around or complicit with the destruction of indigenous lands and peoples. Many of those settlers were migrants escaping their own experiences of dispossession and community destruction in an expanding capitalist world. Nonetheless, they occupy stolen land entering a space created by genocidal destruction (of course inequality and colonial relationships exist also among the settlers). As we fight back against all types of services and community rights being gutted, we can't lose sight of how those came to exist in our current system.
This means that any hope for a strategic alliance between the anti-austerity left and indigenous communities is no simple task. In one sense, alliance-building demands we acknowledge ourselves as settlers and ask ourselves what a responsible relationship between indigenous and non-indigenous peoples can mean both under, and hopefully after, settler colonial rule. Doing the work of decolonization, then, involves more than simply offering endorsements and accepting support roles via a particular community, though those things are crucial in the decolonization struggle. That work has been ongoing for generations, with non-native folk supporting decolonization by exploring ways to substantively support different types of Native anti-colonial struggles with differing needs at different times.
We must also look at how our lives are shaped by a settler reality in an expanding capitalist state, and determine what we can do to end our status as settlers. Among other things, this means seriously questioning the way our society's economy is organized and transforming it along principles of justice, self determination and mutual cooperation. It means creating a society where production is organized to facilitate justice and the satisfaction of human needs instead of serving numbers on balance sheets. While this is no easy task, we need to begin to move in this direction.
Decolonization – Solidarity Against Dispossession
The colonial context means that the onus is on the anti-austerity left to act first, reach out to the anti-colonial indigenous movement, and support their struggles. Resistance to the age of austerity has to be more than defending particular gains in particular instances. It needs to be about the liberation and self-determination of all, which can't happen when colonial relationships are glossed over and sustained. When indigenous communities engage in struggles against industry and the State – be they struggles against mining and other forms of development on indigenous territory, fights for harvesting rights or demands for adequate housing – we should be waiting to support them.
Workers (CUPE, OPSEU, OSSTF, EFTO, and the CLC, to name a few) supported KI during their struggle against Platinex, and we must do the same during their engagement with God's Lake Resources. The way to break through the contradictions of demanding social gains and common rights in a state built on stolen land is to actively choose to do the work of decolonization. This is an unlearning process that, if it is to be done effectively, requires that indigenous solidarity doesn't take a back seat in a laundry list of demands, but is rather central to the development of an anti-austerity agenda.
In the sense of destroying the settler situation, this requires we consider, at every point, what our class struggle does to support indigenous liberation – as workers, we control the sites at which this economy and state function, and can be creatively tactical as to how this support can work. This needs to be done, obviously, in line with tactical and strategic leadership from indigenous communities in struggle – see below for what has been called for by KI in particular. A consideration of our multiple capacities as the direct producers in the capitalist machine, the fuel for its engine, can both expose the immediate and distant material relationships we have as workers to the ongoing colonization of indigenous communities.
There are a large range of options for supporting indigenous struggle when and if our help is needed. Just as organized workers refused to handle goods from apartheid South Africa, we can "hot cargo" goods and business that originate in resource extraction done against the will of our Indigenous brothers and sisters. As of now the KI dispute is hanging in the balance, preparing for GLR to begin exploration while the province waffles, as before. Please read below for what is being called for by KI at the moment, and be prepared for calls to action in the months to come. •
---
For more on how to support KI and their ongoing work against colonization, please:
Visit www.KIlands.org and take action by filling out this form to send a letter to Ontario Premier Dalton McGuinty telling him to respect KI First Nation.
Sign up at kilands.org/take-action to stay informed.
Check out, watch for events, and follow the Toronto KI Support Network Facebook page.
If you're in Toronto and would like a KI presentation done at your next event, meeting, or class, please email: torontokisolidarity@masses.tao.ca
If you're in Toronto and are available for solidarity actions when and if they are called for, join the KI Action Network phone tree by emailing your phone number to toronto.ki.actionnetwork@gmail.com
Read the Watershed Declaration.
Read the Consultation Protocols.
Print out and distribute the flyer.
---