Failed Reconstruction in Haiti Debated in Canada
The first anniversary of Haiti's devastating earthquake was marked in Canada by widespread media disclosures concerning the failure of the international relief effort. Reports showed that considerable barriers exist to delivering the aid and reconstruction so desperately needed one year later.
Many Canadians continue to act in solidarity with the victims of the tragedy. But while the Canadian government promises much, it has delivered little. It staunchly defends an earthquake relief effort that many aid workers, human rights agencies and other observers consider to be deeply flawed. Meanwhile, Canada continues to intervene destructively in Haiti's internal political affairs.
More Promises Than Aid
Ottawa has spent only a fraction of the funds it claims to be spending in Haiti. It says it will have spent "one billion dollars" in Haiti from 2006 to 2012, a figure cited by the media as well. The true amounts are far less.1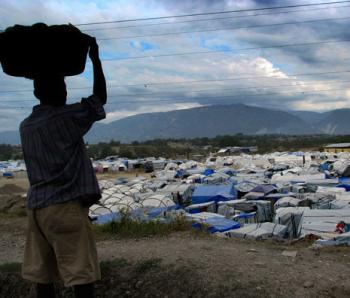 In the two months following the January 12 earthquake, Canada gave some $150-million to UN agencies and NGOs for emergency relief.
At the International Donors' Conference Towards a New Future for Haiti held in New York City on March 31, Canada pledged $325-million to Haiti for 2010/11 and $75-million for 2012 and beyond. $113-million was promised for "recovery and development" for 2010, including $34-million in debt relief. Debt relief was paid; less than half of the remaining amount was disbursed.
In a July 12 press release, Minister of International Cooperation Beverley Oda cited only two projects that Canada had funded to that date – the pre-donor conference $150-million humanitarian expenditure and the $34-million debt relief.
$7-million was donated to international health agencies for cholera treatment following the outbreak of the epidemic in October.
The two largest non-police spending items by Canada are $19-million to the World Food Program and $19-million to construct a hospital in Gonaives. The hospital has been promised for many years and still sits as an empty field outside of Gonaives, with a sign over it announcing a "future" hospital to be funded by Canada.
These spending promises overlap with Canada's pre-earthquake, $555-million aid budget for the years 2006-2011. Much of them are simply the pre-existing budget dressed up in new clothes.
The government says its priority in Haiti is the funding of "security," meaning training and equipping police and building prisons. Since the earthquake, Canada has announced spending in this area of at least $58-million. This includes the construction of a training academy and a new national headquarters for the Haitian National Police.
Leaving aside the dubious claim that backing a repressive and dysfunctional police and judicial system in Haiti constitutes "earthquake relief," even this priority spending has not been fulfilled. According to a January 20 report in the Montreal daily La Presse, three of the six "security" projects announced by the government in 2010 have now been cancelled or postponed.
On January 11, Minister Oda announced several new expenditures totaling $93-million, including "a project to provide free, basic health services to three million people, the rebuilding of Haiti's midwifery school, new maternity beds and a pediatric ward." Details of these projects are typically sparse. Only time and dogged research into inadequate information sources will tell which of them is realized.
Backing Repression and Electoral Fraud
By far the most significant response to the Haiti earthquake by the federal government was the rapid dispatch of 2,000 soldiers and sailors in the days following. They performed rudimentary assistance in the regions of Leogane and Jacmel and were withdrawn a scant six weeks later, their declared mission of assuring "security" in post-earthquake Haiti deemed to be accomplished.2
Providing "security" in Haiti is foreign power doublespeak for preventing a return to the policies of social justice that guided Haiti's last sovereign and freely elected government from 2000 to 2004. That government, headed by President Jean-Bertrand Aristide, was overthrown by a foreign military intervention in which Canada took part.
The fraudulent election of November 28, 2010 shows that the same interventionist policies behind the 2004 coup d'état are still very present in Haiti. The election, which U.S. attorney and Legal Director of the Center for Constitutional Rights Bill Quigley recently termed a "puppet show," was crafted for the express purpose of selecting a president and legislature beholden to U.S. and other international capitalist interests. Only 22 per cent of the Haitian people voted; the country's most popular political party, the Fanmi Lavalas of exiled president Aristide, was formally banned from participation.
The Organization of American States, backed by U.S. Secretary of State Hillary Clinton, then ordered the Haitian government to proceed to a second round (now scheduled for March) in which the declared second place finisher in the presidential race would be replaced by the third place finisher. They made clear that Haiti would pay a steep price if it refused to comply with this dictat.
In an emergency debate on the election held in the Canadian Parliament on December 13, all parties expressed support for taking the fraudulent vote to a second-round runoff.
Canadian Immigration Rejects Almost Half of Haitian Applicants
Immediately after the earthquake, demands poured into the Canadian government from the Haitian community and other interested parties to fast-track permanent or temporary residency of victims of the earthquake with family members in Canada. A special immigration program was established for this purpose; it closed on August 31.
The Ottawa Citizen reported February 10 that 49 per cent of the 4,800 permanent residency applications have been rejected. In contrast, the overall rate of approval for permanent residency applications to Canada in 2009-10 was 81 per cent.
In another area of the special program – temporary visas – the number granted to Haitians actually declined following the earthquake – from 4,400 in 2009 to 3,100 in 2010. Another reunification program fared much better. Operation Stork successfully speeded up the adoption of Haitian orphans by prospective parents in Canada. Most of those parents are not of Haitian origin.
Marjorie Villefranche of the Maison d'Haiti community center in Montreal told the Citizen that rejection rates for Haitians are high because federal officials make few concessions to the situation in Haiti. "They have been acting as if there had been no earthquake at all. … There has been a real lack of humanity" in the way the program has been administered, she charges.
La Presse reported November 4 that the government of Quebec had received 8,354 family reunification applications. Of those, 2,400 were accepted and passed on to Ottawa for final approval. Only 18 had been accepted by the time of publication.
Former Governor General Speaks Out
Among the sharpest critics of the international aid effort in Haiti has been Canada's Haitian-born former Governor General, Michaëlle Jean. Last November, Jean was appointed Special Envoy to Haiti for UNESCO. "As time passes, what began as a natural disaster is becoming a disgraceful reflection on the international community," Jean wrote in an open letter dated January 11, co-authored with Irina Bokova, Director General of UNESCO.
"Official commitments have not been honored. Only a minuscule portion of what was promised has been paid out. The Haitian people feel abandoned and disheartened by the slowness in which the rebuilding is taking place."
The letter was published in major newspapers, including Canada's Globe and Mail and Le Monde in France.
Jean traveled to Haiti on January 12 and called for an abrupt shift in policy. Her concerns were widely aired by television and news reports in Canada during her visit to Haiti. She told CTV's Tom Walters, "It's time that the money that was promised, all those means, they have to start to deliver, deliver changes, and make sure the population is included."
Michaëlle Jean's critical views are echoed by many others in a position to know. Robert Fox, executive director of Oxfam Canada, says extensive rebuilding of Haiti should have started by now. He says government and international agencies are moving too slowly and getting bogged down in bureaucracy. Reconstruction, he wrote in the January 12 Ottawa Citizen, "has yet to begin." Fox's colleagues in Oxfam U.S. produced a highly critical report of earthquake relief on the one-year anniversary.3
The international response to the cholera outbreak in Haiti has also drawn much criticism. In late December Unni Karunakara, president of the International Council of Doctors Without Borders, said "The inadequate cholera response in Haiti … makes for a damning indictment of an international aid system whose architecture has been carefully shaped over the past 15 years."
A Better Year Ahead?
Most United Nations officials and many corporate NGOs are offering quite a different view of their work. Nigel Fisher, the United Nations humanitarian spokesperson in Haiti, told CBC radio on January 12 that aid and reconstruction is going as well as can be expected.
"I've been here for most of the year, now, and I have seen change – debris removed, children back in school. We had a goal of building 30,000 transitional shelters last year and we've exceeded that target.

"Much of the resources last year were focused on humanitarian relief. The development resources have come on tap slower…"
Asked for his expectations in 2011, Fisher said, "We need a better year." Referring to the electoral crisis, he added, "We need political stability. What keeps us worried is how long this current crisis will go on." Fisher and his colleagues in the United Nations' MINUSTAH military occupation regime in Haiti backed the fraudulent election staged November 28, ignoring widespread calls to cancel the vote and start anew at a later date.
A similarly positive spin was presented by the president and CEO of Save The Children Canada, David Morley. "I think the effort at relief worked well," he told listeners to the CBC's Cross Country Checkup January 16. He said the camps of internally displaced Haitians are "in good condition."
"All of the camps I have visited…have health care, the beginning of school and there is water."
This flies in the face of reports by journalists and other Haitian and foreign observers. They report harsh conditions in most camps. Sanitation, potable water, schools for children and job prospects are in short supply. Haitian and international police have proven unable or unwilling to protect women residents of the camps from sexual violence.
Notwithstanding its claim to be "non-political" in its work, the Canadian Red Cross is another of the agencies arguing that the world is doing the best it can in Haiti. It is the largest recipient of donations from individual Canadians as well as Canadian government "matching" funds, some $200-million in total. Red Cross societies around the world have spent less than 25 per cent of the $1.2-billion they received.4
Why this indifference to the urgency of the Haitian crisis? Without doubt it reflects a cynical view in Ottawa, Washington and allied capitals that the desires and interests of Haiti's people can be safely ignored, such as the popular demand for the return from exile of Jean-Bertrand Aristide. But they are running the very gamble they just lost in Egypt, a country of great strategic importance to them – the misguided idea that a people driven to desperate conditions will not find a way to assert their rights and their dignity. •
Originally published in Haiti Liberté print weekly, February 16, 2011.
Endnotes