Artists for a Ceasefire Now, Stop the Genocide in Gaza
Artists and Academics in Canada: Statement of Solidarity with Palestine
We, the undersigned artists, academics, and cultural workers, pledge our support for the Palestinian people in the face of over 75 years of Israeli apartheid, settler colonialism, military occupation, and ethnic cleansing.
We understand that the events of this week did not occur in a vacuum. For two decades, Israel has held Palestinians in Gaza under siege, in an open-air prison, subjecting them to brutal massacres and weapons testing; depriving them of basic goods, food, clean water, medicine, and medical supplies. Since 2000, more than 135,000 Palestinians have been detained by Israeli forces, including 21,000 Palestinian children and hundreds of academics, artists, journalists, human rights defenders, and parliamentarians. Peaceful protests continue to be met with Israeli sniper bullets. Palestinian journalists are targeted for bringing us news on the ground, as in the case of longtime Al Jazeera correspondent Shireen Abu Akleh, who was shot in the head by Israeli forces while covering Israeli attacks on Jenin refugee camp last year.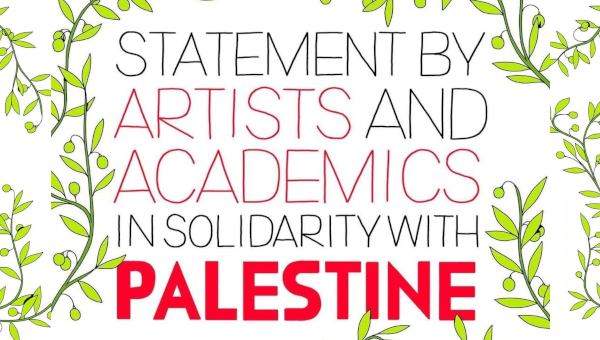 Palestine solidarity supporters and Palestinians around the world, particularly in the US, Canada, and Europe, are being criminalized, intimidated, imprisoned, facing unprecedented levels of anti-Palestinian racism and incitement of violence. This year, Israel's far-right government implemented a criminal policy that legalized raids of Palestinian cities and villages across the West Bank and Jerusalem, reaching a record high of Palestinian deaths and arrests without charge or trial. The whole world understood in the case of Ukraine that resistance to military occupation is justified. It is in fact a right guaranteed by international law. The militant reaction from Palestinians in Gaza on October 7, 2023, is a result of decades of cruel and oppressive treatment.
As the Israeli regime flattens entire neighborhoods in the besieged Gaza Strip, where nearly half of the 2.3 million-person population are children, over 1400 Palestinians have been killed, including 447 children, over 6,000 injured, and over 340,000 internally displaced (Palestinian Ministry of Health as of Thursday, October 12). As the illegal bombardment continues, we call on all people of conscience to show their meaningful solidarity with Palestinians.
We are disappointed and ashamed by the response of the Canadian government, elected representatives, and institutions, who have once again voiced their overwhelming support for apartheid Israel and legitimized the ongoing shelling of Gaza and the escalation of military violence in the West Bank. Understanding the settler-colonial nature of Canada and its foundations on the theft of Indigenous land and life, it is not entirely surprising that Canada would defend siege, slaughter, and the theft of land. Yet, this has created an atmosphere of increased racism, policing, intimidation, and fear for Palestinians and their supporters in the settler colony of Canada.
How must Palestinians in Ottawa have felt to see the Israeli flag projected on Parliament Hill while Israel dropped internationally banned white phosphorus in residential neighborhoods of Gaza, promising to "open the gates of hell"? What message does that send to Palestinians? Voices of conscience are publicly scolded and defamed, suggesting to Palestinians among us that they cannot voice their grief in public. In attacking political and labor leaders who have voiced their support for Palestinians, the Canadian government has built an environment of fear and fueled acts of discrimination against Palestinians and their supporters.
As Israel commits war crimes with overwhelming evidence and documentation, mainstream media has catered to the heavy propaganda campaign launched by Israel and facilitated by Western governments and media. Failing to document the war crimes of the Israeli regime or the suffering of Palestinians, and proliferating racist claims from Israel without substantiation, Canadian media is contributing to the dehumanization of Palestinians in the Gaza Strip and beyond and manufacturing consent for the ongoing massacres.
As artists, cultural workers, and academics, we stand strong in support of the Palestinian struggle for freedom and against all forms of racism and settler-colonial violence. In response to the open call from Palestinian artists and cultural workers for a cultural boycott of Israel, we pledge to accept neither professional invitations to Israel, nor funding, from any institutions linked to its government until it complies with international law and universal principles of human rights. Without international ground-up pressure through the Palestinian-led Boycott, Divestment, Sanctions (BDS) movement, the Israeli regime will continue to practice apartheid and commit crimes against the Palestinian people unhindered.
It is easy to look back at history and recognize right from wrong, but it takes bravery to speak for justice in the present moment. Join us in taking a principled stand. Apartheid is a security threat to all, and none of us are free until all of us are free. •
Partial list of signatories:
Intima2 Program (20 members) for Artists practicing between Arabic-speaking world & Canada
CUPE local 3903 Executive Committee, Graduate Student and Contract Academic Workers, York University (3000 members)
Whippersnapper Gallery (Artist run centre with 2 staff & 7 board members)
Colectivo Abya Yala Toronto (400 members)
SWANA Collective
Flavourcel Animation Collective (10 members)
ARP Books (7 members)
Post Image Cluster, Contemporary Art Research Center (4 members)
Simone Blain, visual artist (student- MFA University of Guelph)
Monda Mahmoud, Writer
Lisa Deanne Smith, Curator
Emily Sirota, artist
Mahnoor Khan, Curator, director, actor
Akbar Khatir, Designer and Instructor, Sheridan College
Michelle LaSalle, Visual Artist
Emma Ryan, Theatre Artist / Photographer
Sandi Rankaduwa, artist
An Open Letter from the Art Community to Cultural Organizations
The arts community is diverse and crosses borders, nationalities, systems of faith and belief. We as artists, writers, curators, filmmakers, publishers, and workers who create the core around which institutions and organizations revolve need to be assured that these are not just safe but humane spaces.
We support Palestinian liberation and call for an end to the killing and harming of all civilians, an immediate ceasefire, the passage of humanitarian aid into Gaza, and the end of the complicity of our governing bodies in grave human rights violations and war crimes.
We demand that the institutional silence around the ongoing humanitarian crisis that 2.3 million Palestinians are facing in the occupied and besieged Gaza Strip be broken immediately. In the words of the UN resident humanitarian coordinator for the occupied Palestinian Territory, "It's about the loss of our humanity if the international community allows this to continue. What we are seeing now is simply inhumane."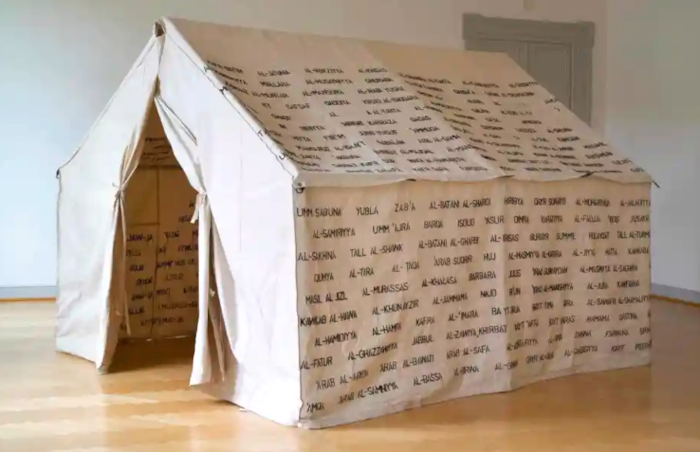 Silence at this urgent time of crisis and escalating genocide is not a politically neutral position. Over the last few years there have been significant steps to institutionally address social justice and inequality. Your artistic programs benefit from these politics. We now ask that they continue and be extended in recognizing the crimes against humanity that the Palestinian people are facing.
The ongoing bombing of Gaza and the killing and forced displacement of its residents has been condemned by Amnesty International, the United Nations, the World Health Organization, and Action Aid. These, among other global bodies, have indicated that the collective punishment of Gaza civilians – which includes the killing of aid workers, journalists, and medics, as well as the destruction of all infrastructure and life-sustaining resources, cutting off water, food, electricity, and medicine – amounts to a war crime.
There is ample evidence that we are witnessing the unfolding of a genocide in which the already precarious lives of Palestinians are deemed unworthy of aid, let alone human rights and justice. With impunity, Israel has already undertaken three of the five defining acts outlined by the United Nations Genocide Convention. As Raz Segal, an Israeli historian and scholar of genocide, writes, "Israel has also intensified its 16-year siege of Gaza – the longest in modern history, in clear violation of international humanitarian law – to a 'complete siege'." This directive to accomplish the systemic destruction of Palestinians and Palestine society in Gaza comes directly from Israeli Defense Minister Yoav Gallant, who has described his targets in degraded terms, as "human animals."
We, the undersigned, reject violence against all civilians, regardless of their identity, and we call for ending the root cause of violence: oppression, and the occupation. We stand in solidarity with the Palestinian people. We ask arts organizations to show solidarity with cultural workers and call on our governments to demand an immediate ceasefire and the opening of Gaza's crossings to allow humanitarian aid to enter unhindered.
We believe that the arts organizations and institutions whose mission it is to protect freedom of expression, to foster education, community, and creativity, also stand for freedom of life and the basic right of existence. We call on you to refuse inhumanity, which has no place in life or art, and make a public demand from our governments to call for a ceasefire.
UPDATE (October 23): While we cannot recirculate the petition to all 8,000 signatories, we, the group that authored the petition – as well as a number of the signatories who have reached out in recent days – would like to repeat that we reject "violence against all civilians, regardless of their identity," and share revulsion at the horrific massacres of 1400 people in Israel conducted by Hamas on October 7th. We mourn all civilian casualties. We hope for the expeditious release of all hostages and continue to call for an immediate ceasefire. •
Partial list of signatories:
A.E Hunt
A.K. Burns
A.L. Steiner
Aaniyah Martin
Aaron Coleman
Aaron Landsman
Aase Nielsen
Abbas Zahedi
Abbey Meaker
Abby Hermosilla
Abdallah Al Shaar
abdallah elchami
Abdallah Haidar
Abed Kobeissy
Abián González
Abigail DeVille