Palestinian Students: Stop the Genocide and End Complicity with Israeli Apartheid
We, the undersigned Palestinian student groups and unions in occupied Palestine, call on students, student associations, and councils around the globe to take action to protect life and stop Israel's unfolding genocide against the 2.3 million Palestinians in the Gaza open-air prison.
Since October 7th, the Palestinians in Gaza have been under the most intense and indiscriminate Israeli bombing ever, devastating entire neighborhoods, markets, schools, universities, hospitals, mosques, churches, healthcare services, and journalists, among others. Entire families have, again, been wiped off the face of the earth. More than 5,087 Palestinians have been killed, over 2,055 of them children, and close to one million have been displaced. The UN is now saying many may "dehydrate to death" as clean water runs out, and UN experts are sounding the alarm about the "use of starvation of civilians as a method of warfare."
In short, Israel is waging a genocidal war on our people, as confirmed by leading Palestinian human rights organizations, more than 800 international scholars, and the US-based Center for Constitutional Rights.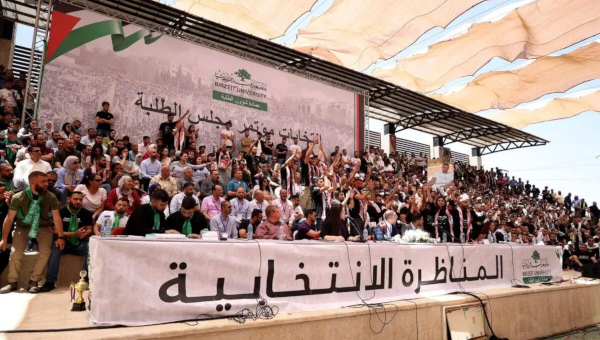 We salute all the global expressions of meaningful solidarity with our people's struggle for self-determination, liberation, and the right of our refugees to return home, with millions pouring onto the streets from Indonesia to Brazil, from the US and Europe to South Africa, and across the Arab world, from Morocco to Iraq. This solidarity, especially at this most testing of times and despite severe anti-democratic repression in the colonial West, gives us true hope.
Israel's 75-year-old regime of settler-colonialism and apartheid will not stop its rolling massacres unless we muster enough people power worldwide to end international state, corporate, and institutional complicity with it and pressure governments to impose targeted sanctions on it, as was done to apartheid South Africa.
Throughout this ongoing bloodbath, the US, EU, and UK have continued to provide Israel with lethal weapons and complete diplomatic protection against accountability, rejected the global call for an immediate ceasefire, and promoted Israel's fabricated propaganda that dehumanizes Palestinians and incites racial violence against Arabs and Muslims. Palestinians consider the US, EU, and UK governments enablers of and complicit in Israel's unfolding genocide. Students in those countries, in particular, are called upon to urgently act, despite the terrible repression, to pressure their governments to end this genocidal complicity.
Like most people worldwide who yearn for a future where justice, freedom, and dignity lay the foundation for real and sustainable peace, we want to see an end to all violence in our beloved homeland. But the very existence of systems of oppression, like settler-colonialism and apartheid, is the initial violence. We recognize that international law stipulates that peoples under foreign occupation and colonial regimes have a right to resist by all means, including armed resistance, so long as they do not harm civilians.
We implore students worldwide to urgently organize and demand that their institutions and elected officials call for:
Immediate humanitarian ceasefire, guaranteed by the UN.
Immediate entry to Gaza for life-saving humanitarian needs (incl. water, food, fuel, and medicine) and lifting the siege on Gaza.
UN protection for the 2.3 million Palestinian civilians in Gaza.
Clear condemnation of Israel's ethnic cleansing, or "second Nakba" plans.
A comprehensive military embargo on Israel, as was done to apartheid South Africa.
A full and swift investigation by the International Criminal Court into war crimes and crimes against humanity, including the crimes of genocide and apartheid.
We invite allied students and people of conscience to also:
Maximize BDS pressure and all creative efforts to hold apartheid Israel to account by, among others:

Getting your institutions to adopt procurement and investment policies that exclude arms companies and all others involved in grave violations of international law.
Convincing large, intersectional coalitions and other justice movements to adopt or escalate relevant, context-sensitive BDS campaigns (corporate, academic, cultural, sports, etc.).
Campaigning to convince businesses, student organizations, cultural and academic organizations, etc. to declare themselves Apartheid Free Zones (AFZ).

Challenge the mainstream racist and dehumanizing anti-Palestinian, anti-Arab and Islamophobic narrative, especially in the hegemonic West, by using factually accurate, well-referenced, ethically consistent, and accessible language to:

Mainstream the charge of genocide, focusing on Palestinians most affected by it.
Contextualize the current crisis (75 years of oppression, 16-year siege, etc.).
Effectively contribute to directly refuting the most dominant, dehumanizing, racist Israeli/Zionist propaganda claims.
Remind the world that this Israeli government is the most far-right, fundamentalist, and sexist in history, but it is a continuation of decades of settler-colonial violence against Indigenous Palestinians. •
Signed:
General Union of Palestinian Students (GUPS)
Birzeit University Student Council
Al Najah National University Student Council
Bethlehem University Student Council
Arab American University Student Council
Al Quds University Student Council
Hebron University Student Council
Right to Education Campaign
IJV-Toronto Stands with High School Students Who Walked Out for Palestine
Independent Jewish Voices-Toronto congratulates the hundreds of courageous students at Marc Garneau Collegiate Institute for staging a walk-out and demonstration on Friday, November 12th, in protest of anti-Palestinian racism and recent efforts to silence voices critical of the Israeli government within the Toronto District School Board.
It comes as no surprise that in reaction to this powerful and inspiring student action, right-wing Israel advocacy groups CIJA and Friends of the Simon Wiesenthal Center (FSWC) are attempting to shame and smear these youth. They have focused their shaming tactics on the slogan, "From the River to the Sea, Palestine Will be Free," which they absurdly claim is antisemitic.
The FSWC also levelled similar baseless accusations against author/activist Desmond Cole in September following a presentation given by Cole to the TDSB in which he used the phrase "Free Palestine." Both IJV-Toronto and Cole himself responded to these attacks.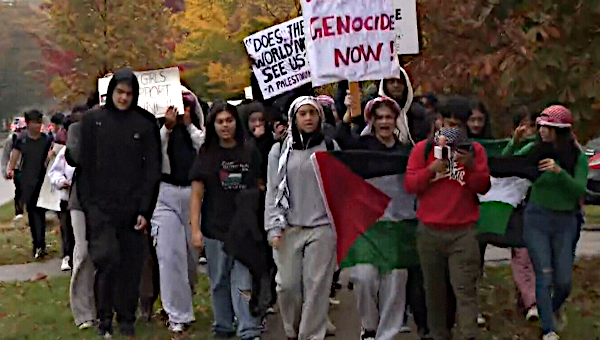 Claiming that Palestinians and their supporters who use this slogan are calling for the death and expulsion of Jewish Israelis – and even more inflammatory, "the annihilation of the Jewish people" – is not only false, but a cover-up of actual social relations in this region. It is a crude attempt to distract from the real and well-documented situation between the Jordan River and the Mediterranean Sea.
In the occupied West Bank, illegal Israeli settlers encroach daily on Palestinian homes and land. Children are arrested in night-time raids and tried before military courts. There are Israeli-only highways, facilitated with a system of separate license plates which make many roads off limits for Palestinians. In Gaza, Israel continues to maintain an inhuman siege, severely restricting the movement of its almost 2 million residents, restricting food and regularly bombing and destroying life and infrastructure. Within Israel's internationally recognized borders, at least 50 different laws contribute to systemic discrimination against Palestinian citizens of Israel. There are Jewish-only towns where Palestinians are denied residence, and separate school systems for Jews and Palestinians, with curriculum controlled by Israel.
The slogans "Free Palestine" and "From the river to the sea, Palestine will be free" are therefore nothing but rallying cries in support of liberating Palestinians from this oppressive reality, which respected international human rights organizations such as B'tselem and Human Rights Watch have concurred constitutes a form of apartheid.
Faced with this reality, growing numbers of TDSB students are objecting to this system of injustice. In a free and democratic society such as our own, they must not only be allowed to voice these objections, but they must also be encouraged to do so.
Furthermore, we are concerned by the fact that the TDSB regularly consults and collaborates with CIJA and FSWC on matters of curriculum relating to Israel-Palestine. Yet these same organizations have proven that they are intent on silencing Palestinian student voices and those sympathetic with Palestinian human rights. We therefore demand that the TDSB drop its relationship with these organizations. There are growing numbers of Jews in Canada and the United States who do not see Israel as embodying the ethics of Judaism and reject that Palestinians are our enemies.
IJV-Toronto stands with the brave students who walked out of Marc Garneau C.I. and supports them in calling for a society with full human and civil rights for all people in Israel-Palestine. We proudly join them in saying, "from the river and the sea, Palestine will be free" and we encourage the leadership of the TDSB to do the same. •
Gaza: College Students Walk Out Calling for Israel Ceasefire
College students at more than 100 campuses across the country plan to walk out today to protest for a ceasefire in Gaza and for their universities to sever their close ties to arms manufacturers providing Israel with its weapons, like Lockheed Martin, Boeing, and Raytheon. The national walkout was organized by a broad coalition of groups including the Palestinian Youth Movement; the anti-war youth organization Dissenters; Anakbayan, the national organization for Filipino students and young people; the National Students for Justice in Palestine organization; the Muslim Students Association; and others.
Since the Hamas attacks on October 7 – which killed an estimated 1,400 Israelis, mostly civilians, and with more than 200 still held hostage – at the time of writing, Israel's retaliatory siege on Gaza has a death toll of over 5,700 Palestinians, including an estimated 2,000 children, according to the Hamas-run Gaza Health Ministry. On October 24, the World Health Organization announced that nearly two-thirds of Gaza's hospitals were non-functional; the same day, the Gaza Health Ministry also announced that 700 Palestinians were killed overnight in strikes from Israel.
Polling last week from CBS and YouGov found that Americans are largely mixed on the US providing arms to Israel; another poll from Data for Progress found that 66% of voters who responded support a ceasefire, which goes up to 70% when restricted to respondents under age 45.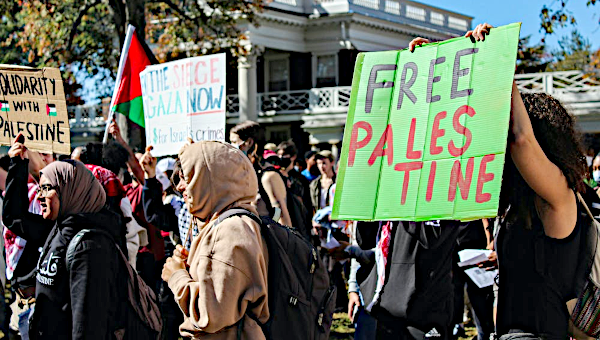 "The goal of our walkout and moment of silence is to disrupt the day-to-day complicity on American college campuses across the US" to bring them into the movement calling for a ceasefire, says Zoë DeMercado, a student and Dissenters fellow at Xavier University of Louisiana, one of multiple historically Black colleges and universities (HBCUs) participating. DeMercado tells Teen Vogue that other students she's spoken to at HBCUs have felt compelled to participate by Palestinian solidarity with Black American communities during movement uprisings in both 2014 and 2020: "We can't stay silent about this."
Advocates say that anti-Semitic and Islamophobic hate crimes are on the rise, with one group finding that anti-Semitic attacks have doubled in New York City since October 7, as reported by The New York Times. The weekend following the Hamas attack, six-year-old Palestinian American Wadea Al-Fayoume was killed at his home outside Chicago. According to the Council on American-Islamic Relations (CAIR), a 20-year-old Palestinian American was hospitalized on Sunday after a hit-and-run in Cleveland; on Monday, CAIR called for authorities to investigate it as a hate crime, alleging the driver yelled "Kill all Palestinians" at the victim.
The news out of Israel and Gaza has incited an active anti-war movement among students and young people not just domestically but globally (including even climate activist Greta Thunberg). In the US last week, thousands of high school and college students walked out of schools to call for a ceasefire, with large-scale actions across California, in Philadelphia, Detroit, and Boston. Over 1,800 scholars associated with the Rhodes, Fulbright, Truman, and more fellowships are circulating a public letter with signatories calling for a ceasefire.
Campuses including Harvard, New York University, the University of Pennsylvania, Columbia, Cornell, and more have seen conflict and controversy among their student bodies, professors, and school administrations. National Students for Justice in Palestine, who were criticized for calling the October 7 Hamas attacks "a historic win for the Palestinian resistance," are facing campus bans from the likes of Florida Gov. Ron DeSantis and his chancellor.
Wednesday's walkout marks the first nationally coordinated student action of this scale since October 7. "The student movement is a historic sector that has mobilized thousands during a variety of anti-war moments in the United States," Kaleem Hawa, an organizer with Palestinian Youth Movement, tells Teen Vogue, explaining that students have been inspired by past student movements against the Vietnam War and South African apartheid.
"It's a painful moment for a lot of Palestinians, Arabs, and Muslims," says Hawa, citing harassment of those speaking publicly on the conflict, in addition to the dehumanizing rhetoric and hate crimes. "It's scary stuff. So when I see campaigns like this, I feel very proud, because the students are always more courageous than their [institutions]."
For DeMercado, her perspective in looking to the Black liberation movement made her choice to participate in the walkout feel obvious. "Black and Palestinian solidarity has gone as far back as the Black Power and Civil Rights Movement," she says.
The US has so far supported Israel's military campaign against Gaza, with a White House spokesman saying a ceasefire would only benefit Hamas. A number of congresspeople are working on various legislative proposals on US engagement: Within the Democratic party, one letter signed by "every Democratic Jewish member and 128 other Democrats in Congress" backed a continuation of the Biden administration's support for Israel, as well as humanitarian support for Gaza; a resolution by Reps. Rashida Tlaib, Ilhan Omar, Cori Bush, and others calls for a ceasefire.
On October 24, US Secretary of State Antony Blinken defended Israel's military campaign to the United Nations Security Council, but said "humanitarian pauses must be considered" as Israel prepares for a ground invasion into Gaza. Also on that day, the UN's secretary general called for a ceasefire, saying the "appalling" Hamas attacks "cannot justify the collective punishment of the Palestinian people." •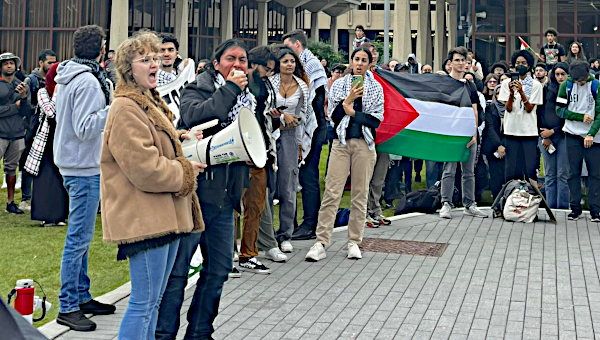 This article first published on the Teen Vogue website.