Palestinian Resistance: Israeli Occupation and Siege of Gaza
The cross-border attack by Hamas militants in Gaza on Israel was a surprise to the world. Yet contrary to the way the attack has been covered in the international press, and responded to by world leaders, far more important than the details of how this attack was carried out is the deeper reality that it communicates: there is no path forward for the decades-long illegal occupation of Palestinian land by Israel. If the reality of the brutal strangulation of Gaza has long since made clear to anyone paying attention that any notions of the Israeli occupation of the coastal strip having ended in 2005 with the withdrawal of military personnel and settlements was a farce, the current attack has pointed up the delusion that this ongoing mass imprisonment of innocent human beings is somehow sustainable given Israel's technological superiority – with the "Iron Dome" missile defense system and high-tech surveillance capable of neutralizing even the relatively minimal threat Gazans posed to Israeli lives and property.
As always, we condemn the taking of innocent civilian lives. But it is impossible to accept the narrative of "both sides-ism" purveyed by dominant media. The overwhelming cause of the violence, today and every day in Israel and Palestine, is the ongoing, illegal Israeli occupation. It is this that bears most responsibility for all lives lost in the recent days of fighting – with much more brutal response from Israel sure to come, as the far-right leaders of that state pledge to repeat the strategy of collective punishment and mass slaughter of the past. And it is this that has now brought us, once again, to the brink of a wider and more terrible region-wide war. As Canada, along with the US, have been indispensable in supporting the ongoing oppression of the Palestinian people, this responsibility is also theirs. As such, the Canadian state should immediately cease all support for Israeli violence, and exert maximum pressure on Israel to once and for all commit to finally terminate its brutal colonization of the Palestinian people and their land. — Socialist Project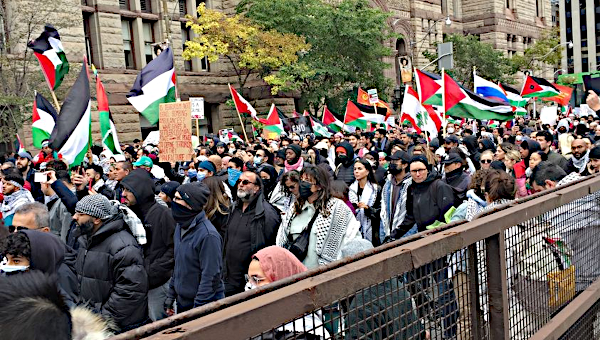 Ceasefire and Systemic Change in Palestine-Israel
With over 600 Israeli and nearly 400 Palestinian casualties so far, the pain felt by those of us both in the region and connected to it cannot be overstated. The lives cut short in the past 48 hours are a tragedy, evidence of the need for an immediate ceasefire, not an escalation of violence.
Attacks against civilians are in violation of international law, regardless of the perpetrator and whether by immediate violent force or by long-term structural oppression. The civilian deaths caused by the Hamas offensive are an unacceptable consequence of 75 years of unacceptable conditions, part of an attack that is neither unprovoked nor justifiable. Israel needs to be held accountable for its decades of crimes against humanity, crimes that have put Palestinians in a position where violent retribution and death feels like justice.
For decades, civilians in Gaza have been subjected to routine massacres, restrictions on electricity, medical attention and water, faced bombings and lived under a suffocating blockade. In the past year, Palestinians have been targeted by Israel's most right-wing government in its history, which has escalated its attacks against them.
Now, Israeli civilians are being abducted and killed in the deadliest attack on the state in years.
IJV calls on Canada to demand a ceasefire immediately. But that is not enough to guarantee a more hopeful future for everyone in occupied Palestine – Israeli apartheid, occupation and settler colonialism are the underlying issues that must be addressed in order to move toward a future for the region where all can thrive. If these issues remain unaddressed, we fear that Israel will not be satisfied until it has satisfied a bottomless desire for disproportionate revenge, as has been proven time and time again.
The Canadian government has opposed Palestinian attempts at non-violent resistance, whether through efforts to boycott, divest and impose sanctions or through appeals to international courts and the UN. When non-violent resistance is seen as unacceptable, labelled antisemitic or terroristic, Palestinians are thus stripped of the tools to advocate for their lives, liberties and livelihoods.
The conditions under which Palestinians have been forced to live in the Gaza Strip are unconscionable. The only solution to this ongoing violence is to address its root causes, and that requires supporting Palestinian-led movements to confront and resist Israeli apartheid, as well as pushing governments like Canada to oppose Israeli crimes against humanity.
Canada's ritual and vacuous endorsement of Israel's "right to self-defence" gives the right-wing Israeli government cover to continue destroying Gaza, committing further violence against Palestinians under occupation. We must remind everyone that Palestinians, like any occupied people, ultimately have the right, by international law, to resort to armed violence to resist their occupation – so long as that violence distinguishes between civilians and combatants.
Canada must call for a ceasefire, condemn Israeli apartheid and work toward a peaceful resolution that upholds the rights to life and freedom of both Palestinians and Israelis. •
Say No to Canada's Unconditional Support to Israel
The Coalition of the Canadian Palestinian Organizations expresses profound concern regarding the continuing violence in Palestine and Israel. We firmly object to statements that unconditionally support the Israeli government, as they perpetuate a troubling trend of overlooking the underlying causes of this violence. We firmly assert that the loss of civilian lives is never acceptable.
Nevertheless, the violence we are witnessing today underscores the daily hardships faced by Palestinians, whether due to Israel's severe blockade of Gaza, persistent attacks on Palestinian civilians by settlers, or the unlawful occupation of Palestinian territories.
The Coalition of Canadian Palestinian Organizations reiterates its strong condemnation of all forms of violence and opposes any form of discrimination.
The present violence serves as a harsh reminder of the consequences of a 75-year-long unchecked occupation, the continuous expansion of illegal settlements, the ongoing denial of fundamental rights to Palestinians, a severe blockade, and a persisting system of apartheid. Unfortunately, the Canadian government, in conjunction with the international community, has consistently disregarded early warnings and Palestinian appeals to halt Israel's aggressions against the Palestinian people. These violations include grave disrespect for holy sites and places of worship within the occupied Palestinian territories, sacred to both Islam and Christianity. For two decades, we have implored the Canadian government and the international community to lift the 17-year-long illegal blockade that has ensnared Gaza.
In the immediate term, we call upon the Government of Canada, in collaboration with the international community, to employ all diplomatic means to de-escalate the situation, demand restraint from Israel, and remind Israel of its legal obligations as an occupying power to safeguard those living under its harsh occupation.
Furthermore, we urge the Government of Canada to refrain from issuing one-sided statements that unconditionally support Israel. It requires courage to acknowledge that the international community's pattern of affirming such unconditional and unchecked support has not contributed to peace but has instead provided diplomatic cover for Israel's violent actions against Palestinians.
Furthermore, the Canadian government should release a statement condemning Israeli attacks on residential buildings and civil society structures, which have resulted in the deaths of more than 200 civilians. Reports suggest that violence is escalating, leading to even more civilian casualties. In response, Canada should cease all arms trade with Israel and suspend the Free-Trade Agreement with Israel.
Finally, we call on the Government of Canada, in collaboration with the international community, to prioritize the resolution of the Israel-Palestine issue. Peace in the region remains elusive, partly due to the international community's reluctance to address root causes and hold Israel accountable for violating international law. A solution can only be achieved with the full participation of the Palestinian people, adherence to international law, and an end to the occupation. Without these measures, we will continue to be trapped in an ongoing cycle of violence. We implore the Canadian government to demand accountability from those responsible for recent developments, with both Canada and the international community playing crucial roles. •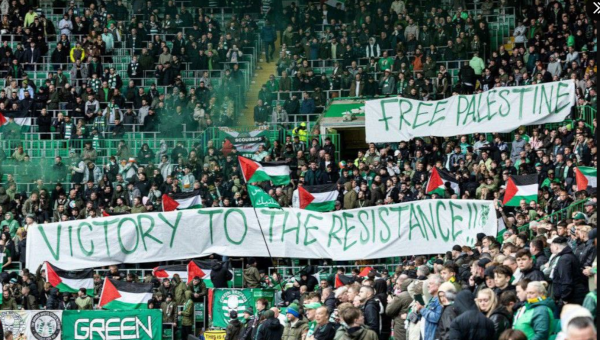 Urgent Action Alert for Meaningful Support for Palestinians
As apartheid Israel's war planes continue to bombard the besieged Palestinian population in Gaza, murdering 704 and thousands more, we call on our supporters to show immediate and meaningful solidarity with Palestinians now.
The BDS movement strongly condemns the governments of the colonial West for, once again, hypocritically standing with apartheid Israel and duly adopting its deceptive timeline of the current "violence" as if it all began on Saturday with the powerful armed reaction of the oppressed Palestinians in Gaza. This skewed timeline is meant to hide the initial and escalating decades-long colonial violence of the oppressor.
Israel's far-right government, the most racist, fundamentalist and fanatic ever, has been ruthlessly escalating its ethnic cleansing, siege, killings, incarceration, and daily humiliation of millions of Indigenous Palestinians in the occupied Gaza Strip and the West Bank, including East Jerusalem. It believed that its unmasked brutality would force Palestinians to simply surrender and accept oppression as fate.
The BDS movement calls on all supporters to mobilize now! Join or organize solidarity demonstrations in your town or city. Your support is needed now more than ever!
Here are five more actions you can take to challenge this complicity and support the Palestinian struggle for freedom, justice and equality:
Work with progressive networks to pressure parliaments and governments to (a) end all military-security cooperation and trade with apartheid Israel; (b) ban all goods/services of companies operating in Israel's illegal colonial settlements; and (c) promote UN action to investigate and dismantle Israeli apartheid, as was done with the apartheid regime in South Africa.
Mobilize institutional pressure campaigns (including boycotts or divestment) against Israeli and international companies and banks that are complicit in Israeli war crimes and crimes against humanity. This includes all Israeli banks (Leumi, Hapoalim, etc.) and major multinationals such as: Elbit Systems, Google, Amazon, HP and HPE, CAT, JCB, Volvo, Hyundai Heavy Industries, Chevron, Siemens, CAF, G4S/AlliedUniversal, AXA, PUMA, Carrefour, Booking.com, Airbnb, Sabra, Barclays, Expedia and more.
Mobilize your community, trade union, association, church, social network, student government/union, city council, cultural center, or other organization to declare it an Apartheid Free Zone (AFZ), ending all relations with apartheid Israel and companies/institutions that are complicit in its system of oppression.
Initiate/support boycotts of all academic, cultural, sports, and tourism engagements taking place in/sponsored by apartheid Israel or its lobby groups and complicit institutions.
Join a BDS campaign or a strategic Palestine solidarity group near you to act collectively and effectively.
Channel your anger and mobilize to meaningfully support dismantling apartheid and all forms of racism and oppression. •