Vancouver's Sweeps Are Cruel, Costly, and Counterproductive
Less than six months into their term in office Mayor Ken Sim and his ABC majority have made clear their vision for Vancouver: more police, less justice. More inequality, less compassion.
Early Wednesday morning (5 April), with traffic cameras at Hastings and Main temporarily (and conveniently) out of service, police and City crews moved in with a massive show of force. All day, they blocked off Hastings, even denying access to media, and systematically displaced people and threw their belongings away.
By the end of the day, several arrests had been made and housing and press freedom advocates across the country had condemned the actions of the Vancouver police and City officials.
Incredibly, Mayor Sim issued a press release boasting that eight of the displaced people had accepted offers of temporary shelters. Eight. The remainder of approximately 200 people scrambled to back alleys, or wandered the streets with nowhere to go.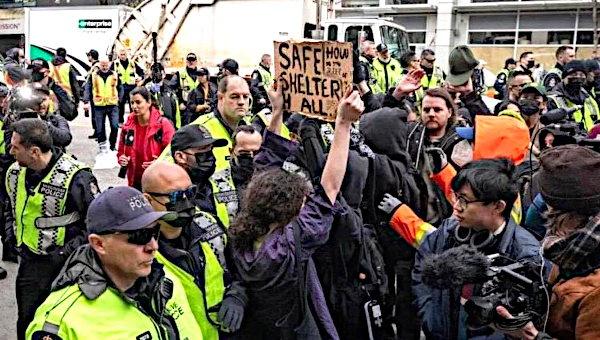 The 1%
On the other end of downtown, in the ballroom of the Wall Centre, Premier David Eby and a who's who of the province's developer and political class mingled at the annual Housing Central conference. When questioned on the raids, Eby indicated he supported the police action but lamented it as a "sad day." Just months ago, within days of being appointed as premier, Eby had vowed to coordinate government actions in the Downtown Eastside (DTES).
Despite Sim's public statements, both the Vancouver City manager and provincial authorities conceded to reporters that sufficient housing options did not and do not exist for those being displaced by the sweeps. You can send in all the cops you want; people can not move into homes that do not exist.
The solution to the homelessness crisis is well known to all, and has been implemented successfully in cities around the world. Build social and public housing at a vast scale and across the entire city. To fund this, governments could simply tax the overhoused ruling class. ABC's biggest financial backer, billionaire Dennis "Chip" Wilson, lives in a $74-million mansion complete with a tennis court, pool, and nine bathrooms.
Invest in Public Housing
Once upon a time, many decades ago, governments at all levels in Canada understood the need to invest in public and co-op housing.
If governments continue to ignore this reality in the name of profits, the violent sweeps and police punishments will continue and spread along with the numbers of encampments of unhoused residents. This isn't a Downtown Eastside issue. This is an issue for the whole city and the whole country.
"I was thrown to the ground as the Vancouver Police Department (VPD) started pushing the crowd back. I saw the police use traffic barriers and bicycles to slam into people, including an Indigenous elder in a wheelchair. I saw them smash a ceremonial smudge plate to the ground, which is most likely a hate crime. I saw city workers throwing people's belongings in the trash while destroying their homes." ~ Stop the Sweeps – Sean Orr Statement.
This article first published on The Thorn website.