Brazilian Unions Call for Renationalisation of Energy
As the Lula administration closes its second month in office, we review key trade union demands, summarise key energy takeaways from the 2023-2026 Lula governing plan, and interview a leader of the Workers' and Peasants' Platform on Water and Energy (POCAE), a coalition of leading trade unions and social movements in Brazil.
While policies are still taking shape in Lula's new administration, we can ground our analysis on the 2023-2026 governing plan, published in mid-2022 during the electoral campaign by Lula and his centre-right running mate, Alckmin. Of the document's 120 points, four points (75-78) specifically reflect energy policy commitments: support for energy sovereignty, opposition to ongoing privatization measures for Petrobras and Electrobras, and increasing the energy mix with renewables.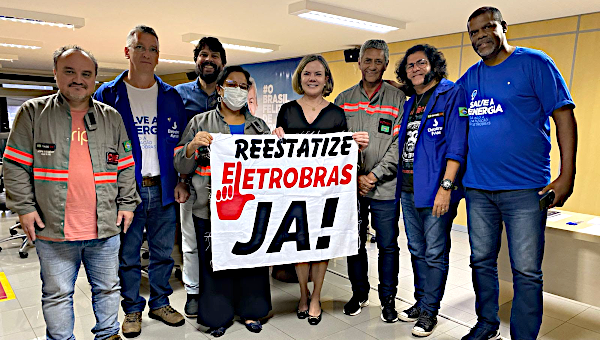 Trade Unions Demands
Electrobras underwent privatization in 2022 under Bolsonaro, with the federal government's shares falling from 72 per cent to 43 per cent, and a measure limiting its voting power to 10%. Eletrobras is responsible for 30 per cent of all generation and 45 per cent of transmission in Brazil. Íkaro Chaves, Director of the National Collective of Electricians (CNE), urges, "It is not a popsicle factory; it is a company that provides essential public services to society, and its public control is regulated in the constitution," adding that Lula "made it clear that the goal is to undo this banditry against the [public ownership] and eventually if conditions are favourable (…) to re-nationalise." Reclaiming majority public ownership would require recovering 7% of the shares. CNE has argued for the re-nationalization of Electrobras and recently laid out their demands in an open letter to the Minister of Mines and Energy (MME), Alexandre Silveira.
This week, members of the CNE also met with the President of the Workers Party, Gleisi Hoffman, to discuss the renationalisation of Eletrobras. In their meeting in Brasilia, the electrical workers emphasized that "defending renationalisation of Electrobras is defending Brazil."
‍Petrobras has become a "dividend-paying machine," according to Oil Workers Federation (FUP). Private shareholders currently hold nearly 65% of Petrobras' capital, and the company is considered the world's second-largest dividend payer. Last year, Petrobras produced a record net profit of R$ 188.3-billion in 2022 at the high cost of privatizations and a dramatic reduction of investments in the country. Nearly all profits (R$ 180-billion) went directly to investors. The amount invested in Brazil, about R$ 52-billion or US$10-billion, is 80% below the level of annual investments observed between 2010 and 2013 under PT administrations.
Deyvid Bacelar, Coordinator of FUP, has spoken about the investment crisis and the public pathway alternative, stating, "Petrobras in recent years has become a dividend-paying machine, transferring to shareholders all the profit obtained from privatizations and abusive fuel prices. We urgently need changes in the pricing policy and to reclaim the state-owned company so that it once again invests in Brazil with long-term policies."
In a recent interview, he added, "we will have a process of rebuilding what was destroyed by previous governments. It is time for the oil trade union movement to put pressure on our government and the management of President Jean Paul Prates so that what was presented in President Lula's government program will be put into practice."
To organize and prioritize their demands, the Social Observatory of Petroleum, linked to the National Federation of Petroleum Workers (FNP), published a 10-point manifesto, "Petrobras for Brazilians," including Point 10: "Retake a 100% state-owned Petrobras, repurchasing its shares – especially those traded on the New York Stock Exchange – and closing its capital. Additionally, reinstate the state monopoly of Oil and Gas."
Popular Demands to the Brazilian Ministry of Mines and Energy
The Workers' and Peasants' Platform on Water and Energy (POCAE), a coalition of leading trade unions and social movements in Brazil, has published its collective energy transition demands and proposals to the leadership of the MME.
In the past, MME Minister Silveria opposed privatisation in the energy sector, but unions recognize the need for ongoing pressure from the trade union movement to move him and the new administration toward policy reforms that support a public pathway in energy. The demands made by POCAE to the MME were published in December 2022 in the document "For Energy Sovereignty and Open Prices." The demands include recovering energy sovereignty, reclaiming Electrobras and privatized parts of Petrobras to the public sector, and instituting policies for the state-led reindustrialization of the energy supply chain.
According to Fernando Fernandes, coordinator of POCAE, "The leading trade unions and organizations that make up the Workers' and Peasants' Platform for Water and Energy have been presenting proposals in the energy and water sectors. Lula was elected with the support of a broad front of diverse social sectors, some of who disagreed with the proposals of the unions and popular movements. In view of this, we have collectively built this document to present our concerns and list some points that we hope will be commitments assumed by a minister of Mines and Energy in Lula's government," explained Fernandes. Speaking to POCAE's priorities in upcoming months, Fernandes asserts, "first, it is necessary to pressure the MME to commit to pro-public energy policies and to reversing the privatisations of public companies, which have worsened the living conditions of the Brazilian people. It is critical to continue to push trade union and organizational demands as well as alternative programs." •
This article first published on the Trade Unions for Energy Democracy website.