Delivery Workers' Union Takes on Amazon Japan
Delivery workers in Japan are fed up with Amazon Japan's practices that make accidents and injuries more likely by increasing delivery volume and speed. They are now organising unions to take on Amazon. Here is their story.
In his 40s, Susumu Adachi (not his real name) has been delivering for Amazon for nearly three years. "The last mile is the toughest part," he said. The "last mile" refers to the final stage of delivery: from the distribution centre to the point of delivery.
Amazon workers like Mr Adachi would pick up packages for delivery at the distribution centre at 8am. They'd then go out to deliver them before returning to the centre by 3pm to load up for the afternoon.
From 8am to 9pm, the drivers are jumping in and out of the trucks to continue dropping packages at the doorfront. Although one-hour lunch break is taken into account during the day, in reality, there is no time for lunch or even a break.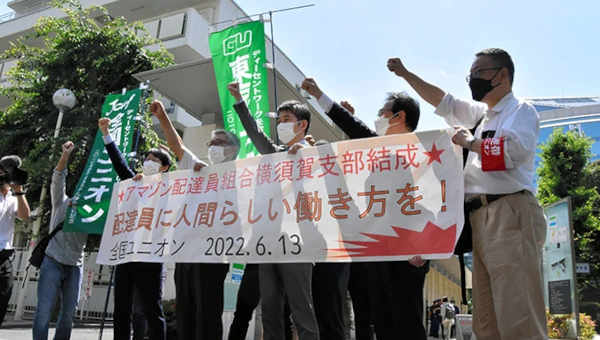 Working for Amazon
Mr Adachi started delivering Amazon packages in January 2020. Since the spread of coronavirus promoted telecommuting nationwide, the use of Amazon and other mail-order services has increased rapidly in Japan.
The previous year, an Amazon distribution centre was opened in Yokosuka, Kanagawa Prefecture, and Japanese transport companies also entered the market.
Mr Adachi, who had always loved driving and had delivered newspapers while receiving a scholarship for his university education, was quick to learn the geography and deliver goods efficiently. When he heard that an acquaintance had set up a subcontracting company, he immediately took on the job of delivering Amazon products.
Mr Adachi, who had experience and aptitude, says that at first he was "rather overpaid" for his daily wages. Not on an employment contract but as a so-called sole trader or freelancer, he must lease a delivery vehicle from the company for 1,000 yen a day (30,000 yen a month, or $212 US). He delivers the goods in the most efficient order as he has the delivery routes in mind.
Mr Adachi says that in the early days when the unit price was 170 yen, he used to deliver an average of 100 packages a day (17,000 yen, or $120 US), with sufficient breaks. During the peak season, the delivery would increase to around 120 packages.
In July 2020, the company decided to fix the daily wage to 18,000 yen for a 13-hour day. Until then, the daily cargo volume had fluctuated somewhat, so Mr Adachi and other delivery workers welcomed the changes as the fixed daily allowance would lead to a stable income. However, a year later when Amazon introduced artificial intelligence (AI), the situation deteriorated quickly.
More Packages and Faster Delivery Required
Amidst the spread of coronavirus, the number of packages to deliver kept increasing, finally exceeding 200 a day. Yet the payment for each package was halved.
AI calculates that it takes about four minutes to complete one delivery — traveling to the next delivery location, scanning the package, ringing the doorbell and handing it to the customer. Of course, the delivery addresses are not always close to each other, and sometimes heavy packages have to be carried to the fifth floor of an apartment building without an elevator.
"It may be hard to understand when you hear that we deliver for 13 hours a day," Mr Adachi said. "But in reality we are constantly getting in and out of the truck without a break. I'm trying my best to somehow finish delivering the packages I've been entrusted with in time."
Every drop-off that the drivers make is managed down to the second by AI, but, realistically speaking, four minutes is not enough to complete a delivery. Even so, they feel compelled to finish their deliveries for the day, no matter what it takes.
Is this loyalty to the company? Mr Adachi says it is more out of a desire to respond to the fact that customers are waiting for their packages.
Nevertheless, if they work for 13 hours a day, or even longer in some cases, without a break, they are exhausted both physically and mentally by the end of the day. Not only do the smiles disappear off the drivers' faces, but the drivers would have to bow their heads to beg for forgiveness from the clients for being late after 9pm, which is set as the last hour of delivery.
Delivery routes were calculated and decided by the AI, which had no real-world vehicle experience, never adding one-way streets, railway crossings and detours at construction sites into consideration. Although humans set the routes these days, delivery times remain fixed and the volume of goods keeps increasing in response to the rising demands.
The only way to fill the gap is to drive faster. Drivers try to make up for delays, causing frequent traffic accidents and creating a very dangerous working environment. The film, "Sorry We Missed You," directed by British film master Ken Loach, reflects exactly how Amazon drivers work.
Time for a Union
In June, Mr Adachi and ten other workers formed the Yokosuka branch of the Amazon Delivery Workers' Union in an attempt to change these dangerous working conditions. Following this, in September, 15 drivers in the southern Japanese city of Nagasaki also started up the Nagasaki Branch.
The union immediately requested collective bargaining with subcontractors, demanding that the company treat the workers as direct hires rather than contracting businesses under disguise because their work is closely monitored and managed via the delivery app Rabbit. Also in the demands was the long working hours that need to be shortened by optimising the volume of deliveries.
This trade union organising led to the discovery of another shocking reality. It was revealed that the company had instructed workers to use someone else's code if their weekly working hours exceeded 60 hours.
Personal codes are given by the company to each driver in order to keep track of their arrival and departure times, their location and the progress of their work. However, with regard to drivers who had exceeded 60 hours, they were instructed to use someone else's code, such as a retiree.
Further problems that could lead to other work-related accidents have also emerged. According to union members, packages are mislabeled for their weight.
In some cases, packages are labeled '0.0 kilograms' while in other cases the boxes that weigh more than 25 kg, which require 'team lifting', are not labeled as such. Even if the packages are labeled correctly, they should not be included in the day's load as the delivery crews work alone.
In addition, as transport trucks are subject to a maximum loading limit, overloading due to the lack of proper weight labels can also affect braking and handling and cause road accidents.
Many delivery workers who are forced to drive for long periods of time suffer from serious back pain, joint pain and cervical strain. The back pain can become so severe that walking becomes difficult. They also suffer from tendonitis in the fingers of their hands from the repetitive process of grabbing boxes out of the back of the truck.
Taking on Amazon Japan
Seeking accountability of the retail giant as an employer, the trade union organised by Mr Adachi and his colleagues has requested collective bargaining with Amazon Japan LLC regarding these demands.
However, Amazon has declined to negotiate, claiming it has no direct employment relationship with the delivery workers, only a subcontracting agreement with the second-tier subcontractor.
Amazon Japan, which refuses to take the workers' voices seriously, plans to increase the volume of cargo further, and is considering changing the daily delivery from the current 200 to 250. Will delivery workers' cargo increase even more than they do now? When we sent a letter of enquiry to Amazon Japan, the company declined to comment on specific questions.
"We are deeply grateful to the drivers who deliver our products to satisfy our customers' requests. Drivers work under Amazon's contracted delivery service partners ('DSPs') and are not Amazon employees," Amazon said, adding that they are not the direct employer.
"Amazon works with all DSPs to ensure that DSPs and drivers do not feel undue pressure for their work, and requires DSPs to provide a safe working environment and to comply with relevant laws and Amazon's standards. If we identify any instances of non-compliance, we will take appropriate action."
If the company did ensure not to put drivers under undue pressure as it claims, there should not be frequent accidents. Hoping that multiple labour problems will be rectified as soon as possible, Mr Adachi urges Amazon users to think about the 'last mile'.
"I'd be grateful if people start thinking about how the things they want are created and how they are delivered to them because many people's lives and livelihoods are at stake," he said. •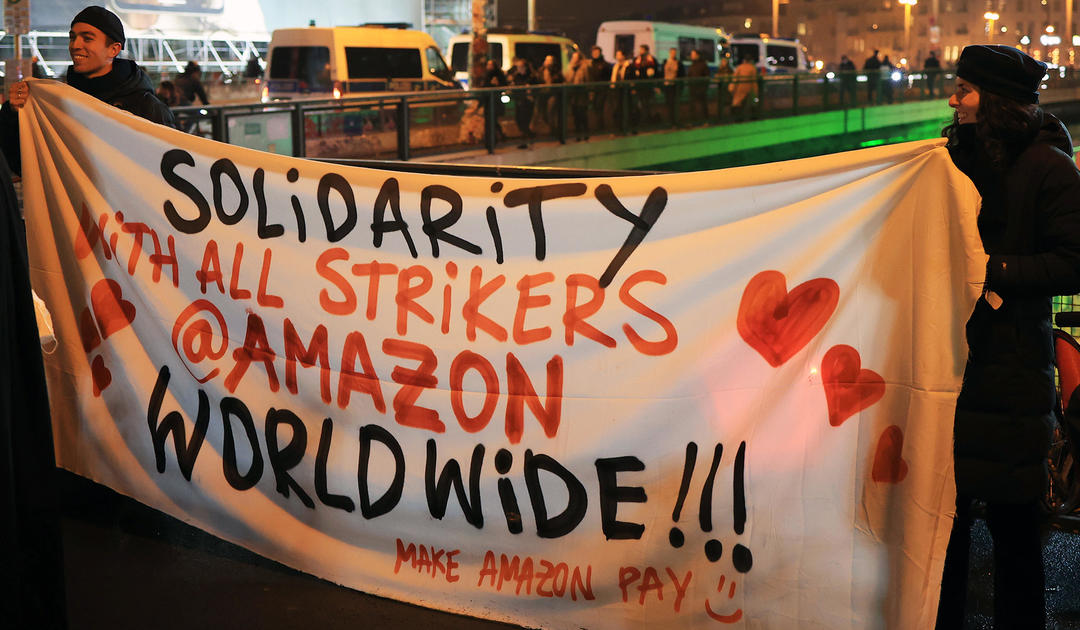 This article first published on the Labour Review website.