In Solidarity With the Palestinian Struggle
After a long period of Israel intensification of its military occupation and isolation of the 'Palestinian Territories' of the West Bank and Gaza direct conflict and confrontation has again erupted. Rocks and rockets being flung by Palestinian defenders of their rights being met by Israeli military drones and air strikes hitting Gaza. Casualties and physical destruction on each side being proportional to the weapons deployed – meaning a massively disproportionate number of Palestinians dead and injured and physical destruction of buildings and infrastructure in the occupied territories. The isolated population of Gaza is again being punished by large numbers of civilian casualties, including children, and the targeted destruction of housing complexes. As Israel intensified its occupation over the last decades, it has steadily built settlements, took control of water supplies, and laid its 'apartheid wall' and separate road system across the West Bank (with the consequence of severely damaging the Palestinian economy). In Jerusalem, Israel has been slowly but persistently ethnically-cleansing East Jerusalem in a deliberate, planned policy of 'Judaizatiion' through forced evictions, house demolitions, arcane judicial rulings on housing rights, and building new blocks for Israeli settlers. Israel engages in continual harassment and threats to Palestinian cultural sites, including threats to demolish the al-Aqsa mosque, one of Muslim's holiest sites and build a 'third temple'.
In the last weeks, court hearings on further evictions of Palestinian housing in Jerusalem were followed by an annual provocative march of Israelis through East Jerusalem (formally cancelled but re-routed to the Jaffa Gate) to celebrate their conquest of this part of the city and the West Bank in the 1967 war. Then on Monday, hundreds of Israeli police and soldiers wantonly attacked and cleared the al-Aqsa mosque firing rubber bullets, tear gas, and stun grenades, and injuring hundreds of Muslim worshippers (often targeting the head and eyes of victims). All this, in violation of a range of international accords and following a historical pattern of Israeli provocation and intimidation.
On both sides of the political conflict, the existing political systems are at a stalemate, politically corrupt and offering no meaningful way ahead. Thus the Israeli state's determination to continue its colonization project and expand its territories and pacify, disorganize, and disperse the Palestinian populations. The two-state solution, so often brought forward by Israel's North American backers, is in an extremely fragile state, facing new challenges, and with apartheid legal and military structures laid over what is effectively now, in administrative and operational terms, one state.
The Socialist Project stands in solidarity with the Palestinian people in their right to resist occupation, the struggle for self-determination and national liberation, the end of the apartheid legal structures of Israel, and the right of return to historical Palestine. There is urgency to stopping the killing and assault on Palestinians and Gaza in particular. We join other Canadian organizations, such as Independent Jewish Voices, Labour for Palestine, and Palestinian solidarity groups in Canada in supporting the boycott, divestment, and sanctions (BDS) campaign for Palestinian rights, an end to the occupation, and statehood. We reject the empty gestures and calls for peace from the Canadian government even as it deepens economic, military, and cultural ties with the Israeli state, and consistently and openly supports the use of violence and military force by Israel in Gaza and the West Bank. There is an immediate need to stop Canadian arms shipments to Israel, break military and security arrangements, and take Israel off the safe country list for arms sales. Solidarity with the struggles of the people of Palestine are struggles against settler-colonialism in Canada and against all forms of Western militarism and imperialism.
We publish here three statements below in support of BDS and solidarity with Palestine.
— Socialist Project Steering Committee.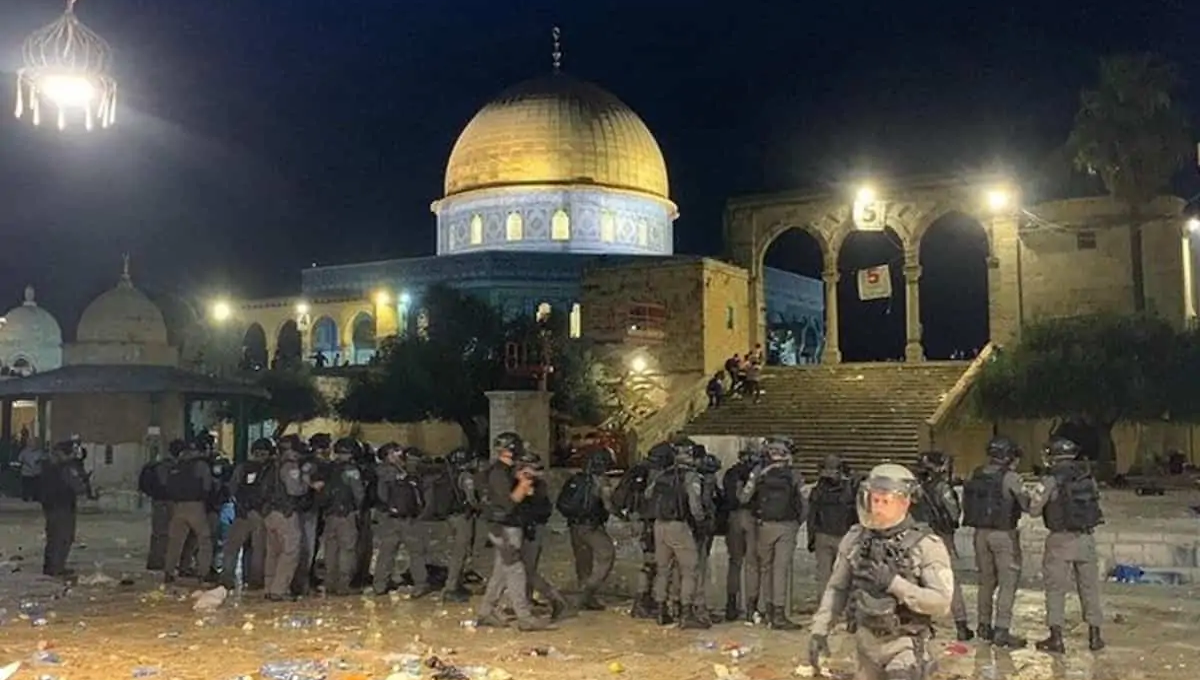 Call for Labour Action Against Israeli Ethnic Cleansing of Palestinians
Labour for Palestine Canada expresses our unconditional solidarity with the people of Palestine in their struggle for liberation and resistance to the violence of Israeli settler colonialism and apartheid. We add our voice to condemn in no uncertain terms the ongoing ethnic cleansing of indigenous Palestinians.
The violent storming of the Al-Aqsa mosque by thousands of Israeli occupation soldiers during Ramadan earlier this week left more than 300 peaceful and unarmed Palestinian worshippers injured. Meanwhile, Palestinian families in the Sheikh Jarrah neighbourhood in East Jerusalem continue to be threatened with illegal expulsion from their homes. Israel has now started to bomb Gaza and the civilian death toll, including children, is rising.
This ethnic cleansing began in 1948 and continues to this day across occupied Palestine. We unequivocally support the Palestinian people's right to resist. The oppressed cannot be blamed for the oppressor's crimes.
As we stand in solidarity with the inspiring resistance of Palestinians today, we also call on workers, trade unionists and their unions across the country to do the same. The labour movement in Canada has an important role in support of justice for the Palestinian people. We need to challenge our political leaders and to do more than issue statements of concern against these crimes against humanity. We need to immediately impose sanctions against the State of Israel, including a full military embargo until Israel abides by international law.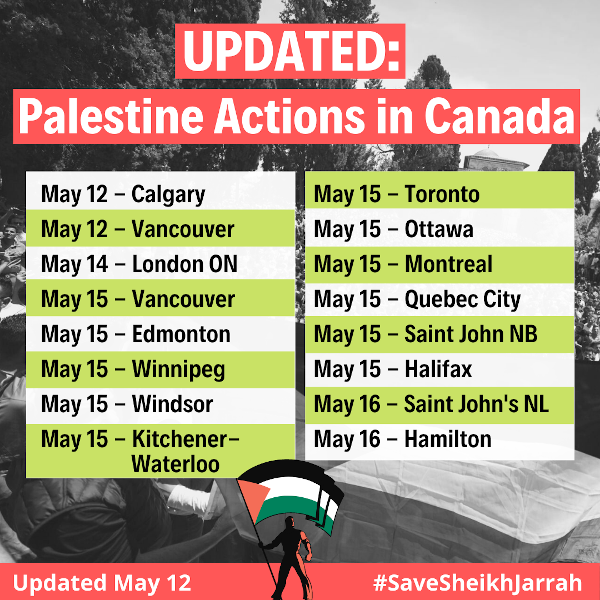 Only those who side with the oppressor can defend or justify the recent illegal expulsions and violence perpetrated against Palestinians in the Sheikh Jarrah neighbourhood, the Al Aqsa Mosque and in Gaza. The violence of Israel, as an occupying force, knows no limits. The world is watching, and we know the call by governments to "end to the violence on both sides" is no less then complicity and permission for Israel to continue its act of genocide with impunity.
This is the moment for unions in Canada and around the world to stand up and support the international Boycott, Sanctions and Divestment (BDS) campaign. Labour played an important role in the fight to dismantle South African apartheid regime, and we can do that again in the case of Israeli apartheid. •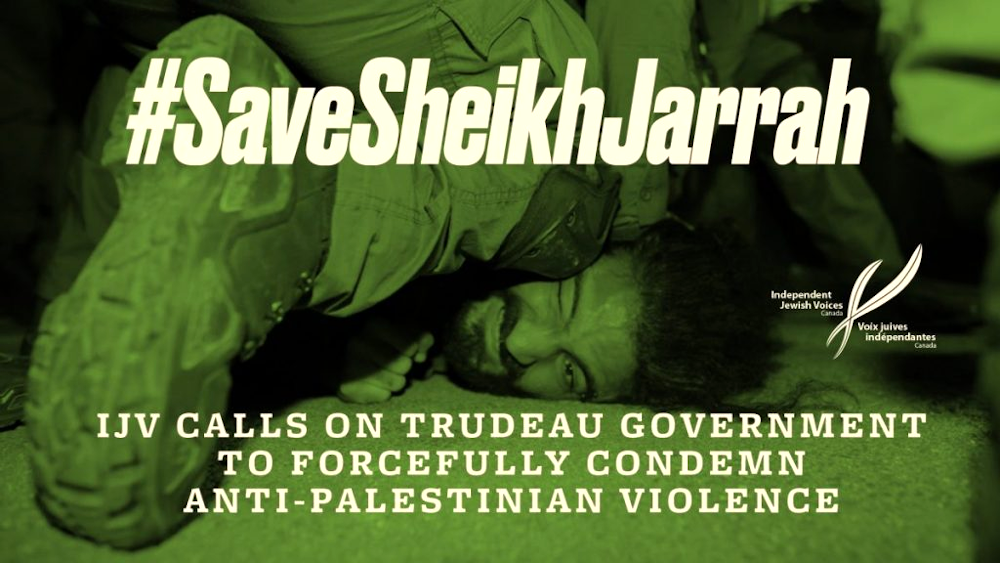 IJV Calls on Trudeau Government to Forcefully Condemn Anti-Palestinian Violence
Independent Jewish Voices Canada (IJV) is calling on the Trudeau government to forcefully denounce brutal Israeli violence against Palestinian protestors and Muslim worshippers as hundreds have been wounded today so far in and around the Old City of Jerusalem. The Al-Aqsa Mosque – the third holiest site in Islam – was again a site of attack today, both inside and outside the mosque, as Palestinians mark the final week of Ramadan.
Today's violence also comes as Israelis celebrate "Jerusalem Day" (the 28th of Iyar on the Hebrew calendar), the anniversary of Israel's capture and subsequent occupation of East Jerusalem, and with it, the Palestinian West Bank and Gaza Strip in 1967. An annual Israeli march through the Old City is set to begin at 11:30 EDT and is expected to put Palestinian residents and Muslim worshippers at further risk of attack by violent far-right Israeli civilians seeking to reinforce Jewish dominance over the city.
Meanwhile, just outside of the Old City walls, residents of the Palestinian neighbourhood of Sheikh Jarrah are struggling to hold on their homes in the face of efforts by Israeli authorities to evict them and literally replace them by Jewish-Israeli settlers intent on 'Judaizing' the area and clearing it of its Palestinian inhabitants.
"As Canadian Jews, many of whom came to Canada fleeing anti-Jewish persecution and violence, we refuse to sit back idly while Israel commits these atrocities in our names," said Corey Balsam, IJV's national coordinator. A recent opinion poll found that 82% of Canadians want Jerusalem to be a shared capital between Israelis and Palestinians. Israel's dangerous actions in East Jerusalem not only threaten such a prospect, but also the very presence of Palestinians in the city.
"We need to be clear about what's unfolding in Jerusalem today: it is mob violence, ethnic cleansing, religious persecution and police brutality" continued Balsam. "All of these are symptoms of Israel's regime, which is now widely acknowledged by human rights organizations as constituting the crimes against humanity of apartheid and persecution."
"It is beyond shameful that the Trudeau government continues to stand so closely behind Israel, despite all the atrocities it is committing," continued Balsam. "Mild calls for 'de-escalation of tensions and for all sides to avoid any unilateral actions' are simply not going to cut it. It's time for Minister Garneau to forcefully denounce Israel's actions on no uncertain terms, and to back his words up with concrete measures, including cancellation of the Canada-Israel Free Trade Agreement."
Demonstrations are planned in several cities in Canada and around the world. •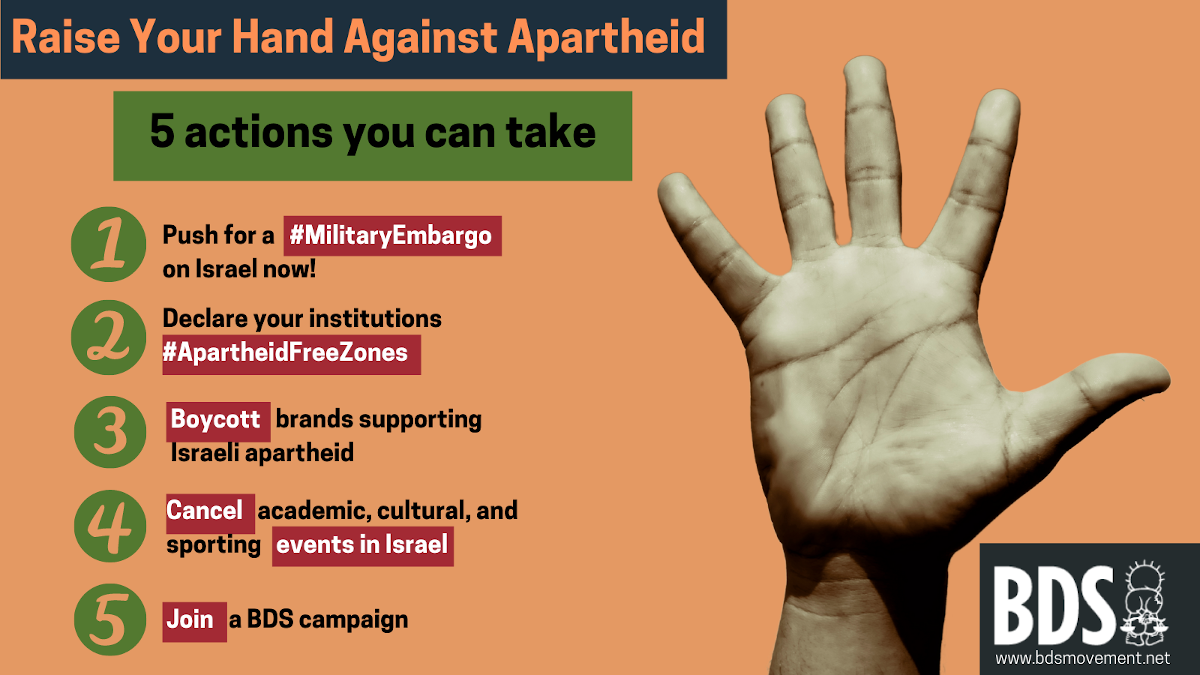 Five Actions to Free Palestine and End the Occupation
Palestinian BDS National Committee
Outraged at apartheid Israel's crimes against Palestinians? Here are 5 things you can do.
In many countries, governments and corporations are deeply complicit with Israel's decades-old regime of military occupation, settler-colonialism and apartheid, just as they were complicit in the apartheid regime in South Africa. Israel can only sustain this regime of oppression with international complicity.
Share our five actions to tackle Israeli apartheid and impunity!
Here are the five most effective things you can do to challenge this complicity and support the Palestinian struggle for freedom, justice and equality:
Work with progressive networks to pressure parliament and government to (a) end all military-security cooperation and trade (military funding in the US case) with apartheid Israel and similarly criminal regimes of oppression worldwide, (b) ban all goods/services of companies operating in Israel's illegal colonial settlements; and (c) demand a UN investigation of Israeli apartheid.
Mobilize pressure in your community, trade union, association, church, social network, student government/union, city council, cultural center, or other organization to declare it an Apartheid Free Zone (AFZ), ending all relations with apartheid Israel and companies that are complicit in its system of oppression.
Boycott products/services of, and/or mobilize institutional pressure to divest from, Israeli and international companies and banks that are complicit in Israeli war crimes and crimes against humanity. This includes all Israeli banks (Leumi, Hapoalim, etc.) and major multinationals such as: Elbit Systems, HP, G4S/Allied Universal, AXA, CAF, PUMA, General Mills/Pillsbury, Caterpillar, Hyundai Heavy Industries, JCB, Volvo, Barclays Bank, Alstom, Motorola Solutions, and CEMEX.
Cancel all academic, cultural, sports, and tourism engagements in Israel or supported/sponsored by Israel (or its lobby groups and complicit institutions).
Join a BDS campaign or a strategic Palestine solidarity group near you to act collectively and effectively.
Take these five actions to challenge Israeli complicity and support the Palestinian struggle for freedom, justice and equality! More information at bdsmovement.net •