A Miscarriage of Justice: Support Hassan Diab!
You may already know of Hassan Diab – the wrongfully persecuted Ottawa sociology professor whose life hangs in the balance. The entire spectrum of the Canadian press has covered his unfolding story since its inception in 2007. Dr. Diab is the Canadian citizen who, at the behest of France, was sought for extradition on trumped up charges.
Dr. Diab is subject to allegations of involvement in the bombing of a Paris synagogue in 1980, he was pursued and harassed by the RCMP in 2008. Arrested on November 13th of that year, denied bail, and jailed in the disreputable Ottawa Carleton Detention Centre, he was then released in April 2009, only to be placed under the most draconian house arrest conditions.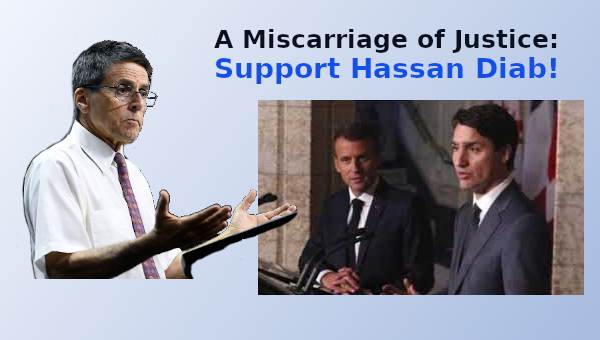 In 2014, after prolonged and suspect hearings, his extradition to France was sealed. He spent over three years in solitary confinement without charge or trial in the Fleury-Mérogis prison and was finally released in 2018. Judges found no evidence to justify a trial. He also had a powerful alibi: he was not in Paris at the time of the bombing (1980), but in Beirut, writing exams. In 2018, his return to Canada from France was breaking news.
But while Dr. Diab's nightmare was suspended for three years, its spectre returned on January 27th, 2021. On that day, France's Appeals Court ordered him to stand trial even as evidence against him had been entirely annulled.
This flagrant miscarriage of justice is clearly of a political nature and Dr. Diab's supporters are now appealing to Prime Minister Justin Trudeau, asking him to intervene and bring this case to an end. We invite you to do the same.
Please write to Justin Trudeau (pm@pm.gc.ca) and demand that he guarantee Dr. Diab's freedom once and for all.
You may copy your letter to the following politicians:
chrystia.freeland@parl.gc.ca
marc.garneau@parl.gc.ca
David.Lametti@parl.gc.ca
Also, please consider making a donation to help cover the cost of Dr. Diab's ongoing legal defence in France. Your support will help to prevent his wrongful conviction. A donation of any amount is much appreciated and can make a difference.
For more information, please see justiceforhassandiab.org. •